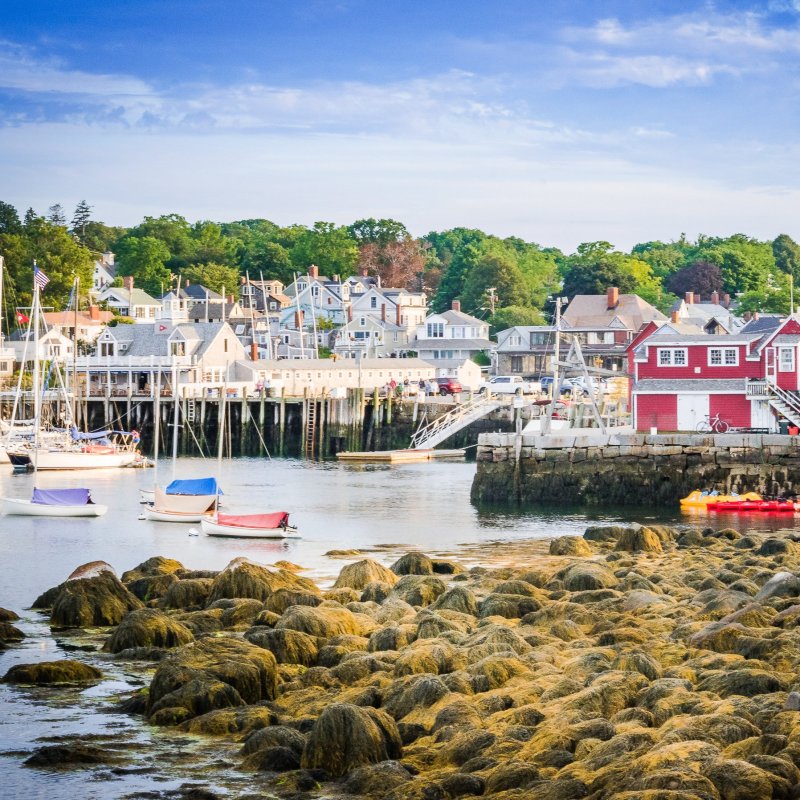 New England is a fun and fascinating fusion of magnificent nature, early American history, and quirky culture, all set against the backdrop of the Atlantic Ocean.
There are plenty of amazing big cities to check out on the East Coast, but if you're searching for a laid-back vibe and a healthy dose of vitamin D, these quaint seaside towns definitely deliver!
1. Bar Harbor, Maine
Beautiful Bar Harbor is the best place in Maine to lace up your hiking boots and take in some extraordinary nature. Acadia National Park has over 158 miles of pristine trails to explore, as well as dozens of campsites. If your happy place is the sea, you can always head out on the open water and see some gentle aquatic giants in their natural habitat. Whale watching is a popular activity in Bar Harbor during the summer months. You might even get lucky and see some puffins.
Of course, no trip to Maine would be complete without some freshly caught treats from the sea. In Bar Harbor, you can have lobster for dessert with sweet butter-flavored lobster ice cream at Ben & Bill's Chocolate Emporium.
2. Rockport, Massachusetts
Rockport, Massachusetts, is a tiny town on the tip of the Cape Ann peninsula, and if your idea of summer fun involves getting out on the water, Rockport is where you need to be. Adventurous souls can rent a sea kayak for the day, enjoy a sunset dinner cruise, or take a guided tour of the harbor.
If you prefer to keep your feet dry, you can simply stroll the streets of this picturesque town and browse the many unique shops. You'll see a red fishing shack on one of the wharfs. If it looks familiar, it's because Motif No. 1, as it's known, is one of the most painted buildings in the world. Be sure to check out Rockport Music's schedule before you visit. The Shalin Liu Performance Center is a beautiful and intimate venue to enjoy any type of musical performance.
3. New Shoreham, Rhode Island
The smallest state in the union is home to one of the remotest beach towns on our list: New Shoreham. This minuscule town is located on Block Island, 10 miles south of Rhode Island's coast. To get to this secluded utopia, you'll need to hop on a ferry from the mainland.
Once you arrive, paradise is at your fingertips. New Shoreham is a bike-friendly, laid-back place with a fantastic wildlife refuge and a lighthouse that hearkens back to the time when Block Island was tasked with keeping ships away from the dangerous shallows. You can even take to the skies and check out Block Island from above on a helicopter tour.
4. Provincetown, Massachusetts
With a population of 2,500, Provincetown, Massachusetts, is one of the bigger towns on our list, but it retains its small-town charisma and welcoming character.
Provincetown is known for being LGBTQ+ friendly and a haven of inclusivity and artistic expression. Commercial Street is a famously popular shopping district for picking up one-of-a-kind souvenirs or merely taking a stroll, so if you love unearthing unique finds and supporting local businesses, Provincetown is the perfect destination.
If you're in the mood for fitness, Provincetown's mildly difficult bike trail is 5 scenic miles of bliss with some inclines that are sure to get your heart pumping. And of course, there's always Provincetown Harbor, where you can catch a phenomenal sunset.
5. New Castle, New Hampshire
New Castle, New Hampshire, redefines picturesque. This sweet seaside town is on a small island of its own and is a must-see for any nature lover or history buff.
Fort Constitution was the site of a pivotal colonist revolt during the American Revolution. The nearby Portsmouth Harbor Lighthouse is also historically relevant, and you can visit both in the same afternoon.
New Castle is also home to some stunning wildlife and beautiful beaches. This little town isn't yet on the tourist radar, so there's a great chance that you'll get all of its dazzling nature and fascinating history to yourself.
6. Camden, Maine
For some of the most beautiful spring and summer blooms that you'll ever see, head to Camden, Maine. This stunning seaside town boasts the Merryspring Nature Center, a celebration of themed gardens and all things floral. Admission is free, and you might even spot some elusive Maine wildlife on your tour.
Camden Hills State Park is home to an abundance of trails for every skill level. The park opens at 9 a.m., and you can explore all day until sunset. Remember to stay on the marked paths and bring plenty of water and sunscreen. Laite Memorial Beach Park is a fantastic place to cool off in the ocean and get an unparalleled view of the sailboats meandering through the harbor.
7. Siasconset, Massachusetts
This teeny-tiny town is one of Massachusetts's most overlooked treasures, and if you're looking for solitude and relaxation, you'll feel like you've hit the jackpot
Siasconset is on the very cap of Nantucket Island. It's a walkable, inviting, cozy little town with spectacular beaches and views of the sunset, as well as some of Massachusetts's best bike trails. The affectionately nicknamed 'Sconset Bike Path is a comfortable ride that ends on the beach.
If you want a truly panoramic view of the island, check out Altar Rock. The hike is slightly strenuous, but you'll be rewarded with a grand perspective of the land and the Atlantic Ocean.
8. Monhegan, Maine
If Siasconset has too much of a big-city vibe for you, why not retreat to a spot whose main selling point is that its population has consistently hovered beneath 100? Miniscule Monhegan, Maine, is an artistic haven, and a fantastic place to kick back and relax.
Monhegan is full of larger-than-life folks and artists who revel in the natural beauty of the place. The greatest thing about the town is that you can find community easily or simply keep to yourself. There are no rules, other than relaxation and respect for the natural environment. The island is popular with birders looking to enjoy spring and fall migration.
With its unspoiled nature and big open skies, Monhegan is a car-free Eden and a wonderful place to unplug and get back to nature.
9. Stonington Borough, Connecticut
Stonington Borough, Connecticut, encompasses a small peninsula on the border of Connecticut and Rhode Island and is both unpretentious and utterly fashionable.
Its arts and culture scene is equal parts sophisticated and classic, and you can easily pass a pleasant afternoon browsing the antique shops and fashionable boutiques of Water Street's shopping district.
If you love delving into history, check out the Richard W. Woolworth Library & Research Center, which is full of meticulously kept historical records and artifacts. The La Grua Center is Stonington Borough's beating heart, and proof that quaint seaside towns can also offer a plethora of cultural options and world-class speakers.
The beaches surrounding Stonington Borough are perfect for water sports like kayaking and paddling, and you won't want to miss the opportunity to sample freshly caught seafood while taking in a perfect sunset.
New England's coast is a gold mine of picturesque tiny towns and villages. On your next trip to this splendid slice of the East Coast, remember to think outside the box and seek out places that are not on the tourist map.