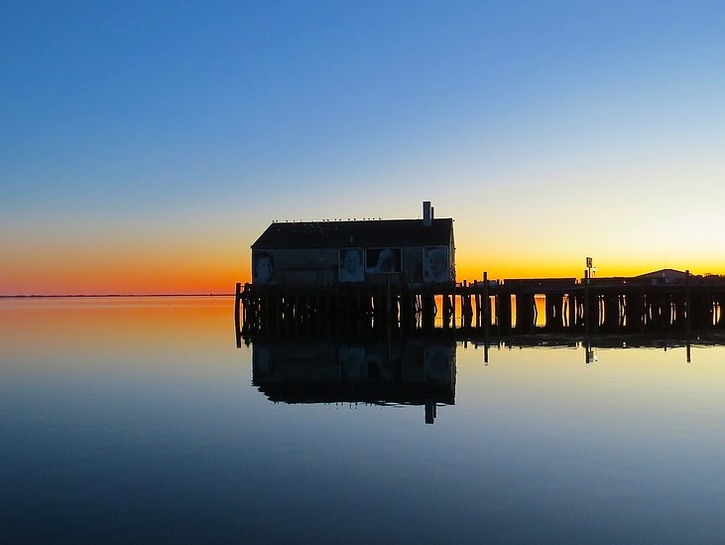 P-town, as it's called by the locals, is literally the end of the road on Cape Cod. While it may have the look of quintessential New England, the vibe is unique. Art defines it. It's actually America's oldest continuous art colony, with 60 galleries in three square miles.
The town has what it calls a Trap Shed Program, allowing artists to rent space in four designated sheds on MacMillan Pier. This means you can see their work during your visit! What better place to find a truly unique piece to remember your trip than down on the wharf?
The town has inspired artists of all flavors. Playwright Eugene O'Neill debuted his first play here, giving birth to modern American theater, and Tennessee Williams wrote here as well. Atlantic House, or A-House as it's called, was their hangout, and it's still in operation today. Some say it's the oldest gay bar in the country; it delicately blends the raucous atmosphere of a party hotspot with the geniality of a neighborhood bar. That's part of Provincetown's charm: everyone feels welcome.
If you want to get out of town, spend some time at the Cape Cod National Seashore surrounded by the beautiful dancing dunes. There's plenty to explore. From spring through fall, you can take a ranger-guided hike or even a canoe trip.
One experience you shouldn't miss is a dune tour at the National Seashore. You're not in a dune buggy but a large SUV, traversing the vast sand-covered landscape. The movement of the sun changes the look of the dunes throughout the tour, as the beach grass waves in the ocean breeze.
Art's Dune Tours offers a variety of options from a nice one-hour experience around the dunes to several hours for sunrise and sunset tours. This is a good place to splurge. Art's offers a sunset dune tour, with a New England clambake (lobster, clams, chowder, red potatoes, corn on the cob), and, depending on how many people you're travelling with, you can even add on a bonfire on the beach with s'mores! This experience will cost you, but it will be difficult to top.
Back in town, there is plenty of history to explore. The Pilgrims landed here in 1620, before sailing on to Plymouth and it's where they signed the Mayflower Compact. You can't miss the monument dedicated to the Pilgrims. It's in the heart of town and 252 feet high, which you can climb if you want an even more spectacular view. However, it is closed most of January and all of February and March.
With everything to do, don't forget to eat. Commercial Street is where it's at gastronomically speaking; it's home to so, so many great options. Connie's Bakery & Café serves fabulous pastries, sandwiches and salads.
You should try the fried dough, or malassada, from Provincetown Portuguese Bakery. The name says it all – it just doesn't mention the dusting of powdered sugar. Fried dough is similar to doughboys or elephant ears found in other parts of the country, but even those treats don't really compare to this New England specialty. The bakery doesn't have a website, but it's located at 299 Commercial Street.
If you're craving seafood, head straight for The Lobster Pot. You'd need to catch it yourself to get it any fresher. The Mews Restaurant & Café is another fabulous choice for dinner. Pronounced 'myooz', the menu at this waterfront eatery will make it difficult to choose just one entrée. Try the baked oysters as an appetizer, but you're on your own for the main course; there are just too many mouthwatering choices for me to make a recommendation.
Driving to Provincetown and back to Boston in a just day isn't a great idea. There is a seasonal ferry that leaves from (and returns to) Boston Harbor, making a day trip a technical possibility. But with so much to do, it's worth staying a night or two.
If you do decide to spend the night, check out The Provincetown Hotel at Gabriel's. Your stay includes breakfast, and every room has a fireplace, creating a cozy, intimate atmosphere. Some rooms also have outdoor seating. The beautiful courtyard with its fire pits is also a lovely place to enjoy a cocktail and unwind at the end of your day. Gabriel's allows you to relax while putting you close enough to all the action. It's a short walk to all the galleries and restaurants.
While your stay at Gabriel's includes breakfast, if you're in P-town on Sunday you should check out The Red Inn's jazz brunch. The view, the music, the food… There's no better way to start your day. The hours at this waterfront location are seasonal, though. Reservations are recommended and can be made up to six weeks in advance.
Provincetown is known for embracing the LGBTQ community, which means some weekend and week-long festivals draw large crowds. Check this website for a calendar of events.