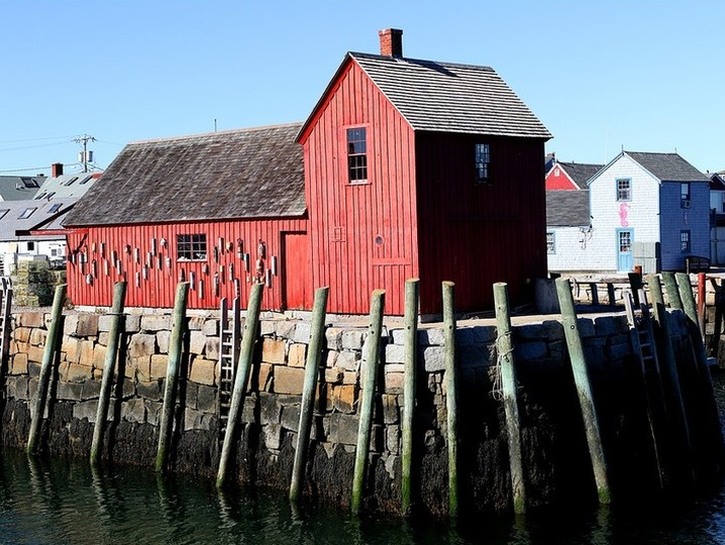 The seaside town of Rockport, known for its artist community and beautiful ocean views, sits on Cape Ann about an hour northeast of Boston. You've probably seen Rockport, or at least a piece of it, before without even realizing it.
America's most painted and photographed building sits on Rockport's harbor. Called Motif Number One, it's located on Bradley Wharf on Bearskin Neck. The dark red fishing shack is recognized around the world and received its name from artist Lester Hornby, who noticed that art students often chose the popular site for their works. Today, its popularity has earned it its own festival, which is usually held on the third Saturday in May.
Shops, restaurants and galleries fill the buildings that were once fishing shacks on Bearskin Neck. It's a touristy area, but because it's oozing New England charm, it doesn't feel that way as you enjoy a leisurely stroll. The water surrounding it adds to the ambiance, gracing visitors with picturesque views.
Rockport boasts more than three dozen art galleries. The area is known for its fantastic natural light and beautiful sunrises and sunsets, which have lured here since the mid-1800s. The Rockport Art Museum and Association holds classes for artists of all experience levels throughout the year.
If you want to pick up a truly unique piece of art, plan to be in Rockport on the first Saturday in May. That's when the association hosts its annual art auction featuring works from Cape Ann artists. The competition to land the perfect piece could be tough, as the fundraiser draws art collectors from across the country.
The town's connection to the arts is a prominent part of the Rockport Cultural District's free guided walking tours. Tours of the downtown area are offered every day in July and August, and on weekends between Labor Day and Columbus Day. They leave from Dock Square at 10 a.m. Monday-Saturday and Sunday at 1 p.m. The walk lasts 1 hour and 15 minutes and it's the perfect way to soak up Rockport's history.
While on the tour, you'll notice lobster traps stacked on the wharf on Bearskin Neck. If this makes you hungry for one or two of tasty crustaceans, stop by Roy Moore Lobster Company. It's not fancy, but it's fresh, and you can enjoy your lobster with beautiful ocean views. The salty air makes the lobster taste even sweeter! There isn't a website, but you can check them out on Facebook.
If you want to enjoy more of the outdoors, Halibut Point State Park, north of downtown, is a former granite quarry. It has lovely walking trails, and every Saturday from Memorial Day through Columbus Day weekends there are stone cutting demonstrations to celebrate Cape Ann's historic granite industry. On a bright day, you can see parts of New Hampshire and Maine from the park.
Two guided hikes in the Rockport and Gloucester woods offer opportunities for something a bit more strenuous and unique. These are not leisurely strolls. The terrain is hilly and rocky, so you need to be in decent shape, but you will see some interesting sites including Dogtown, one of the oldest ghost towns in the country. You'll also see the Babson Word Rocks which are boulders inscribed with inspiring words from the Great Depression. There is a charge for the guided hikes.
Another interesting opportunity for an outdoor adventure is visiting Thacher Island, home to two of the three lighthouses in the area. You can kayak, take your own boat, or join the Thacher Island Association to get there. Members get a free boat ride to the island, but you do need to reserve your spots in advance.
Kayaking to the island, while possible, is not for first-timers. Thacher Island is about a mile offshore and most of its coast is very rocky. Depending on the weather, the water en route can be choppy, so make sure you go on a calm day. In addition to the cost of renting your kayak in town, there is a landing fee of $5 per person when you get to the boat ramp. Once you arrive on the island, there are three miles of groomed trails. If you plan on exploring, make sure you bring something to eat and drink.
The Twin Lighthouses on the island are the only multiple lights left on either U.S. coast. They were built in 1789 to help ship captains find their true north. At the time, the towers were just 45 feet high. Rebuilt in 1861, each one now stands 124 feet. While on the island, you can climb the tower of the south lighthouse.
Straitsmouth Island is home to the other lighthouse in the area. It's is a bird and wildlife sanctuary and is closed to the public except when the Massachusetts Audubon Society, which owns the island, offers kayaking excursions.
There are other ways to get out onto the ocean while in the Rockport area. Just down the road in Gloucester, there are several whale watch and fishing charter companies. Boats leaving from Cape Ann can get to the whales feeding grounds more quickly, allowing you more time with the world's largest mammals and a greater chance of seeing one. Capt. Bill & Sons Whale Watch http://www.captbillandsons.com, Cape Ann Whale Watch http://www.seethewhales.com, and 7 Seas Whale Watch https://www.7seaswhalewatch.com all guarantee you'll see a whale during your trip.
Rockport's connection to the sea and the arts is especially evident at its Shalin Liu Performance Center. The beautiful building on Main Street opened in 2010 and looks out onto the water. The center seats 330 people making for an intimate evening. If you're not able to see a performance, the center is open Tuesdays, Thursdays, Fridays, and Saturdays from 10 a.m.-2 p.m. from mid-June through mid-October. A docent is available from 11 a.m.-12:30 p.m. The dates can change due to rehearsals and other events, so be sure to call ahead. http://rockportmusic.org.
There's a home just outside of downtown Rockport that you really need to see, because you may not believe it otherwise. It's called The Paper House because it's actually made of newspapers, and just not the outside, the furniture is too. Leave it to a mechanical engineer and avid newspaper consumer to create such a place. It's off the beaten path, so follow the directions from the website to get there. There is a small fee. https://paperhouserockport.com.
If you want to make your day trip to Rockport an overnight stay, try the Yankee Clipper Inn http://yankeeclipperinn.com. It's located on a rocky bluff overlooking the ocean and is north of downtown. It has a salt water pool and includes a complimentary breakfast.
If you prefer to stay in the heart of the action, try Bear Skin Neck Motor Lodge http://yankeeclipperinn.com. It's not fancy, but it is literally steps from the action and right on the water.
I'm not sure why you wouldn't want to eat a lobster while in Rockport, but if you are in the mood for something simple and inexpensive, try Top Dog of Rockport http://topdogofrockport.com. They have hot dogs and burgers and offer some fried seafood options in case you need something on the side.
Before you leave town, stop at the Bearskin Neck Country Store. They have candy options you haven't seen in a while and at prices you'll remember.