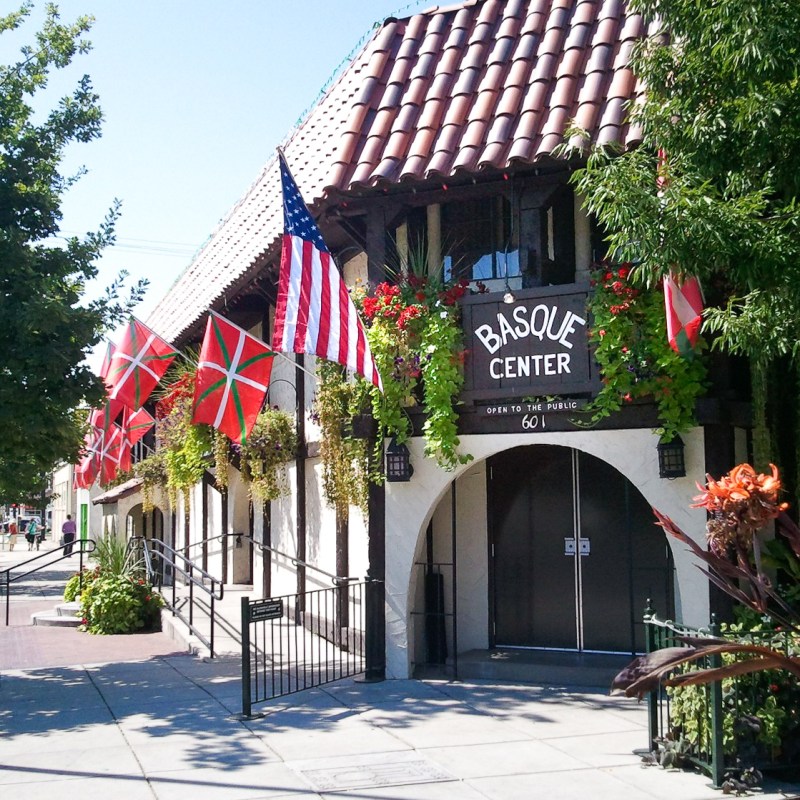 We love making unexpected cultural discoveries on our travels. If you do too, then head to Boise, Idaho, right away. On our recent visit, we discovered that Boise has a thriving Basque community. In fact, Boise is home to the largest concentration of Basque people in the United States.
Many Basques immigrated to the area during the late 1800s to work as sheepherders. Those who came to Idaho found the work plentiful and told their friends and relatives back home to come and join them. And while the sheepherding business has since fallen away, many people with roots in the Basque Country, the mountainous region of Europe straddling France and Spain, remain in Boise.
The Basque Block is a thriving, walkable neighborhood in the heart of downtown Boise filled with Basque history, culture, and cuisine. You'll know you are there when you see a large wall mural and artwork marking the entrance to the area. During our time in Boise, we were fortunate to experience the authentic flavors, sights, and sounds of this vibrant community. We visited markets, restaurants, museums, and historic sites as we immersed ourselves in a wonderful culture that we'd known little about before our trip.
Here are just a few of the highlights that made us want to experience even more of the Basque culture.
The Basque Museum And Cultural Center
Because we knew so little about the Basque people, we thought we'd start by getting some basic information. Who are the Basques, where do they come from, and how did they end up in Boise, Idaho, of all places?
We learned the answers to these questions and many more at The Basque Museum and Cultural Center. The only Basque museum in the United States, this cultural hub offers a number of permanent and temporary exhibits covering the Basque Country in Europe, the immigration of the Basque people to the United States, and aspects of the group's culture and lifestyle. We explored a photo exhibit honoring the inner strength of Basque women that featured more than 100 portraits of those who traveled from their homeland to the West. Video interviews offered insights into the personal journeys of these incredible women. Each woman provided such inspiration that we had to tear ourselves away to explore other offerings. The museum also has a small gift shop where you can purchase everything from apparel and accessories to books and souvenirs.
The Cyrus Jacobs House
When Basque immigrants came to Idaho seeking work, many of them found it as sheepherders. They had a solitary and seasonal life while they were busy moving the sheep, but they craved a sense of community, and when the work was on hiatus, they flocked to the city.
This led to the development of a strong Basque social network in Boise and ultimately the establishment of rooming houses where immigrants could stay temporarily. The Cyrus Jacobs House, the oldest surviving brick house in Boise today, was built in 1864 for Cyrus Jacobs and his wife. By 1910 the private home had been converted into a Basque boarding house. Over the next 50 years, the house served as a social center for Basque immigrants to Idaho and was integral in preserving Basque food, music, dance, and other cultural elements in Boise. The home was added to the National Register of Historic Places in 1975.
Tours of the home are available, and you get a real sense of what life was like in the early and mid-1900s for the Basque immigrants who stayed there. You can even see marks on the brick walls where the occupants struck matches to light their cigarettes.
The Basque Market
Of course, since we're culinary travel writers, we love to experience a culture by trying its cuisine. So it's no surprise that we spent a great deal of time exploring what Basque food and drink are all about, and one of the best places to do that is at The Basque Market.
The Basque Market is both a place to shop and a place to dine. Like the Basque Block itself, it's a compact, jam-packed spot loaded with information and authentic tastes of the Old Country.
The first thing you'll notice when you look around the market is that its walls are lined with all manner of products — food, wine, accessories, spices, and more. While some of the products are local or from other parts of Europe, products from the Basque Country are labeled with little Basque flags for easy identification. Giant paella pans hang from the ceiling, highlighting one of the market's most celebrated specialties. We perused the many other offerings, including olives, preserved seafood and vegetables, peppers, and wine.
Dining is generally at communal tables, so we joined a family who was in the midst of a long road trip. We made it just in time to nab one of the last paella specials, which included chef's-choice tapas, paella, salad, and a fresh dinner roll. We had fun chatting with the folks at our table as well as exploring the unique aspects of Basque cuisine.
In addition to lunch and dinner, the market hosts weekday happy hours, classes, private parties, and events. Every Wednesday and Friday at noon, there's a "Paella on the Patio" event where you can sip a glass of wine or soda while watching the employees make paella for the paella lunch.
Other Places To Eat And Drink
There are other spots where you can taste Basque cuisine on the Basque Block. Leku Ona was opened by a sheepherder immigrant from the Basque Country who decided to stay in Boise. The restaurant's name means "good place," giving you a sense of just how much the Basque people feel at home here. The restaurant offers fine Basque dining prepared by Basque chefs, and the menu features traditional dishes such as croquettes and red bean soup as well as modern takes like Basque burgers and Basque BLTs. Enjoy a Basque wine to complete your meal. If you like the vibe, you can book a room at the adjoining hotel.
Bar Gernika is another spot on the Basque Block where locals hang out. It's a casual spot with plenty to choose from, whether you want a snack, a meal, something sweet, or just a drink. Solomo, or marinated pork, and chorizo, or Basque pork sausage, are on the menu, as are Basque-style rice pudding and flan to satisfy your sweet tooth. True to its name, Bar Gernika offers a lot of local brews, ciders, and even wines and unusual drinks like wine with cola that are straight out of the Basque Country playbook.
Festivals And Events
Many groups love to celebrate their culture with food, music, dance, and arts festivals. The Basques in Boise are no exception. Jaialdi means "festival" in the Basque language, and Jaialdi is a huge celebration of Basque culture that takes place every five years in Boise. It welcomes more than 40,000 attendees, so it generally takes place at the Idaho Fairgrounds. The festival offers dance and musical entertainment by performers from around the world. There are also fun sports exhibitions and competitions such as weight lifting, wood chopping, and hay-bale throwing as well as plenty of food and drink. This spirited event highlights Basque culture and teaches visitors about the living heritage the festivities represent. The next Jaialdi is scheduled to take place in the summer of 2020.
The San Inazio Basque Festival is an annual event honoring Saint Ignatius Loyola, the patron saint of the Basques. Held right on the Basque Block, this three-day celebration attracts thousands of attendees, both Basques and people interested in Basque culture. Dance troupes, musicians, and athletes provide entertainment for adults and children alike. There's plenty of Basque food available, too. Hosted by Boise's Basque Center, the festival provides a gathering place for Basques as well as an opportunity to promote Basque culture.
We've just scratched the surface of what you will discover of Basque culture in Boise. It's a surprising but significant part of the city's history. After visiting the Basque Block and learning about its people and history, getting a taste of Basque cuisine, and experiencing Basque hospitality, we were happy to have discovered this cultural treasure in Boise. Now we're considering traveling to the Basque Country itself!