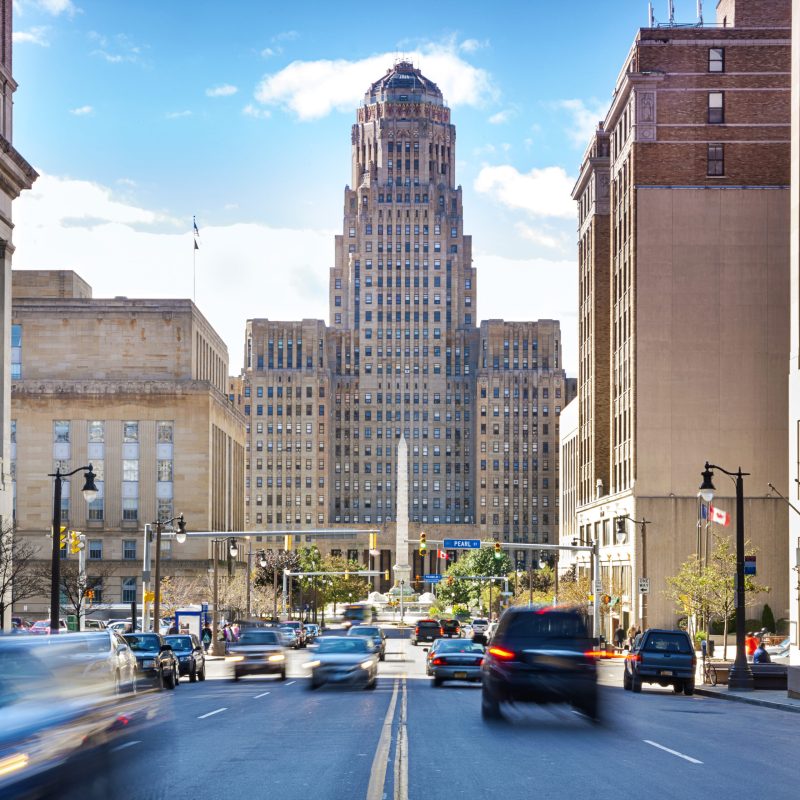 Craving a memorable New York vacation that won't drain your bank account? Think outside the Big Apple and set your sights westward toward the Great Lakes.
Buffalo, New York, is a fabulous little metropolis nestled in the crook of Lake Ontario and Lake Erie. The city is more than just the birthplace of the iconic Buffalo wing — it's also home to the architecture of legends like Frank Lloyd Wright and correspondence from some of the world's greatest explorers.
Buffalo is a mere 30 minutes away from Niagara Falls, and the city is full of epic hiking trails and cozy hometown breweries.
This former Rust Belt city has come into its own and is the perfect location for a weekend away. Here are some things to do while you're in the area.
Marvel At The Architecture
Frank Lloyd Wright, one of the most influential American architects of all time, was known for fusing construction and nature into beautiful, minimalist designs. You can find some of his most exceptional work on the winding side streets of Buffalo.
Wright was very fond of Buffalo, and his affection for the region is evident in masterpieces like the Darwin Martin House complex and Graycliff. These complexes are not wheelchair accessible and contain plenty of stairs, which could pose a challenge to those with mobility limitations or knee and back problems.
Fortunately, Frank Lloyd Wright devotees can also see his work at Buffalo's Forest Lawn Cemetery, where President Millard Fillmore and pop star Rick James are buried. Wright's Blue Sky Mausoleum is a creative and somber work of architecture commissioned by Darwin Martin.
You could spend all weekend paying homage to Frank Lloyd Wright's work, but you'd be missing out if you didn't visit the Buffalo Central Terminal, a restored art deco masterpiece on Buffalo's East Side. The Richardson Olmstead Campus is a former psychiatric asylum that recently opened its doors to visitors. For years, this Gothic-style building was the subject of ghost stories and local folklore, but now you can walk the renovated halls and learn about its controversial past firsthand.
Our Lady of Victory National Shrine & Basilica rivals old-world European cathedrals in size and opulence. It's located on the edge of Buffalo's South Side and is worth checking out for its marble statuary, exquisitely detailed stained glass windows, gigantic dome, elaborate ceiling murals, and bronze doors.
Check Out Correspondence From Legendary Explorers
There are Karpeles Manuscript Library Museums all over the country, but Buffalo is the only city lucky enough to have two within walking distance of each other. There is no admission fee, and both museums are open Tuesday through Sunday from 11 a.m. to 4 p.m.
Both the North Hall and Porter Hall branches boast a bevy of fascinating and historically relevant documents, including correspondence from famed Spanish explorer Ferdinand Magellan.
Explore The Great Outdoors
New York State is known for its abundance of trails and gorgeous natural spaces, and you won't have to venture too far from the heart of Buffalo to find pure bliss in the great outdoors. Lace up your shoes and head to Devil's Hole State Park for a brisk hike down into the lower Niagara Gorge.
The trails at Devil's Hole are clearly marked but may become slippery during thunderstorms, so check the weather and plan your hike for a warm, dry day. Generally speaking, late spring is the best time to go hiking in Buffalo. Bring plenty of water and snacks with you, since the Devil's Hole trek can take up to 2 hours, and the hike back up the gorge is strenuous.
Chestnut Ridge's Eternal Flame Falls is an incredible and less taxing trek that ends with a beautiful and mysterious surprise. Nobody knows why or how this Eternal Flame is still burning. Its ethereal visage behind a cascade of water remains an enigma. You can see it for yourself during the drier late spring months in Buffalo, when the terrain is more hospitable.
Take A Stroll Around Canalside
Buffalo's Canalside neighborhood used to be a hotbed of poverty and crime, but like the rest of Buffalo, Canalside has shaken off its gritty past and become one of the top tourist attractions in the state.
From its wacky and wonderful Shark Girl statue to its history walking tours, Canalside draws locals and tourists alike with its funky mix of old and new, paying homage to its industrial past while ushering in an artistic future. Canalside hosts events all year, but the best time to visit this harborfront neighborhood is during early summer, when you can hit the harbor on a kayak or waterbike and explore this remarkable area on your own.
It's free to walk around Canalside, although you'll have to pay for some events and rentals. Since most of this district is paved and relatively flat, it's accessible to all.
Get Up And Close And Personal With Niagara Falls
You can't visit Buffalo without making the 30-minute trip north to Niagara Falls. This astonishing natural wonder straddles the United States-Canada border and attracts millions of visitors from all over the world.
The majestic falls have attracted daredevils, engineers, and even P. T. Barnum, who saw the natural wonder as an ideal spot to set up shop. You shouldn't miss Niagara Falls on your trip to Buffalo, but why see it the conventional way when you could get up close and personal?
The Cave of the Winds tour combines a crash course in Niagara history with a chance to get within feet of Bridal Veil Falls. You'll be given a full-body raincoat and escorted down the Hurricane Deck to the foot of the falls in a heart-pounding natural encounter that you won't soon forget.
Eating In Buffalo
When it comes to comfort food, nobody does it quite like Buffalo. This northern city is famous for its snowy weather, and a mayor once advised residents to "stay inside and grab a six-pack" rather than face the elements. When the blizzards rage outside, Buffalonians reach for the wings, beef on weck, and craft beer inside.
Buffalo Wings
As any true Buffalonian will tell you, Buffalo wings were the product of a happy accident at Anchor Bar back in 1964. These deep-fried goodies were smothered in a secret blend of Frank's RedHot and butter and served alongside blue cheese, celery, and carrot sticks, and the rest is history!
Although Anchor Bar has the distinction of serving up the first plate of this revered Buffalo bar food, there are plenty of other places that have put their own spin on the dish. Check out Duff's Famous Wings, Bar-Bill Tavern, Wingnutz, Nine-Eleven Tavern, or Mr. Goodbar for some of the best wings in town. Just don't ask for ranch dressing!
Beef On Weck
The combination of slow-roasted beef au jus and spicy horseradish on a kimmelweck bun is a Buffalo classic. Nicknamed "beef on weck," this tasty sandwich helped put Buffalo on the culinary map.
You can get beef on weck just about anywhere, but if you want it done right, head to Swannie House, Ulrich's 1868 Tavern, or Anderson's.
Craft Beer
Buffalo is a city fueled by craft beer, and you can't walk more than a few blocks without discovering a delicious pint. From hometown staple Flying Bison to Resurgence, Big Ditch, and Gene McCarthy's, Buffalo is known for its prolific and consistently delicious watering holes. Wash down your beef on weck or Buffalo wings with a pint of Aviator Red or a frosty Hayburner.
Shopping In Buffalo
Whether you'd prefer to wander through the funky and fun shops of the Elmwood Village or browse the high-end retail at the Fashion Outlets of Niagara Falls, Buffalo has got you covered.
Buffalo's Eclectic Markets
The Broadway Market and The West Side Bazaar are phenomenal places to pick up Buffalo-themed merchandise and unique regional gifts as well as to support small-business owners. You'll find bags of sponge candy, Buffalo Bill merchandise, and signature hot sauces, as well as frozen pierogi and paczki to bring home.
Fashion Outlets Of Niagara Falls
If you're searching for designer goods at reasonable prices, check out the Fashion Outlets of Niagara Falls. With stores like Ann Taylor, Coach, and DKNY, the Fashion Outlets are a popular destination for both locals and visitors. There are sales going on all the time, so there's an excellent chance that you'll score a fantastic deal.
Elmwood Village
A stroll through the Elmwood Village combines shopping and people-watching and is a relaxing way to spend a few hours in the heart of Buffalo. There's no shortage of quirky and cool merchants in the village, so grab a coffee and wander down Buffalo's most celebrated and artistic street. You're bound to find plenty of unique Buffalo-themed gifts on this stretch, and you'll enjoy soaking in the sun and atmosphere as you do it.
Buffalo is going through a massive renaissance and is right on the edge of a tourism explosion. Visit now, and experience everything this bright and beautiful Great Lakes city has to offer.