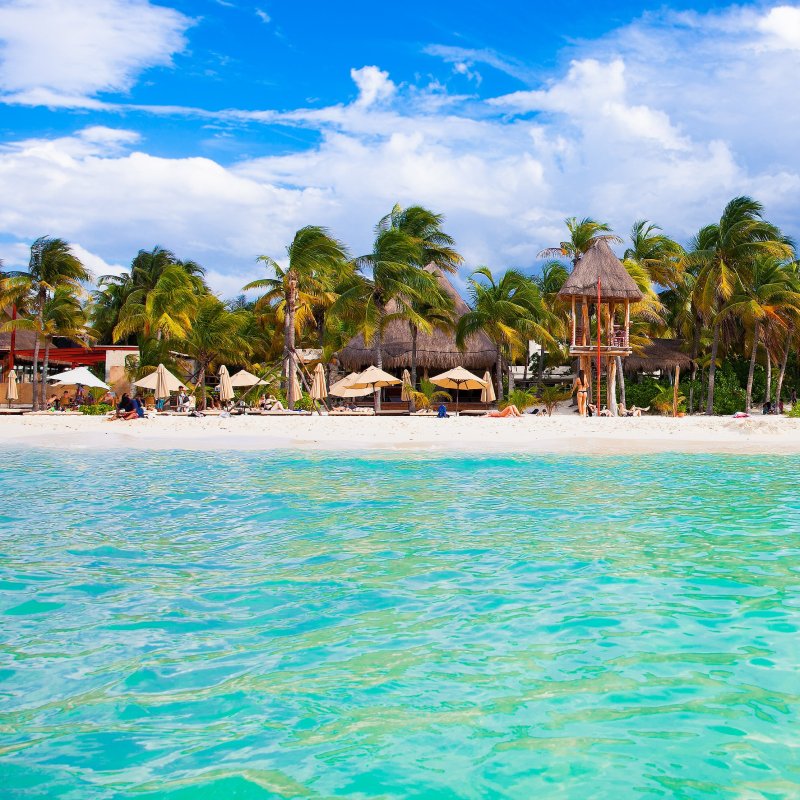 For many of the millions who visit the Caribbean each year, Cozumel is the Mexican Caribbean.
Isla Cozumel — among the most popular cruise destinations in the world (and possibly the most visited of all, depending on the source) — is likely to appear on any cruise itinerary in the Western Caribbean.
That means that many visitors to the area will see Cozumel — and only Cozumel — on their trips to Mexico's spectacular Caribbean. That's a shame, because the state of Quintana Roo along Mexico's eastern coast is home to a string of stunning little islands that are big on vistas and culture and relatively small on crowds.
While Cozumel is undoubtedly beautiful, with its white-sand beaches and colorful reefs, the 30-mile-long island — Mexico's largest — is far from a hidden gem.
During a sponsored press trip to Quintana Roo, I learned about five other Mexican Caribbean islands worth visiting.
1. Isla Mujeres
At 13 miles or so from the Mexican city of Cancún, Isla Mujeres is not exactly an off-the-beaten-path spot either, with its regular boat trips from the busy tourist center.
Still, Isla Mujeres manages to retain a singular charm. From the windswept white seawall on the eastern shore to the blue-green waters and soft white sand of Playa Norte on the northwestern end, the island showcases the best of the Caribbean.
Considered one of the 10 most beautiful beaches in the world, Playa Norte, or North Beach, features warm and shallow water perfect for swimming and snorkeling. And the Malecón seawall on the eastern shore makes for a beautiful walk on a warm, sunny day.
But the shorelines and beaches are just a part of the island's charm. Steeped in history and legend, Isla Mujeres is said to have been sacred to the Mayan goddess of childbirth and medicine, Ixchel — hence the island's feminine name, which translates to "Island of Women."
Pirates also reportedly frequented the island, and their lore is central to another of Isla Mujeres's legends. Near the seawall sits a graceful statue, La Trigueña, depicting a young woman who was said to have been the unrequited love interest of Fermín Mundaca.
According to information from the state's tourism bureau, Mundaca was an 19th-century pirate and slaveholder who used the island as a refuge. Portions of his home, Hacienda Mundaca, remain today.
With its bustling central business district, Isla Mujeres is also the place to buy authentic Mayan souvenirs, from intricately painted Mayan masks complete with obsidian and quartz symbols to colorful Mayan calendars and embroidered tote bags. It's all there along the main Avenida Rueda Medina near the boat dock.
A host of quaint restaurants and hotels also line the island's coastline, making Isla Mujeres a perfect spot for a several-day stay, a day trip, or morning or afternoon visit.
2. Isla Contoy
For a more remote island experience, visitors to the area should make a point to take in the nearby Isla Contoy as well.
An uninhabited island known for its diverse plant and bird life, Isla Contoy only allows 200 visitors per day.
"Isla Contoy is known most for having the most diverse bird sanctuary in the Mexican Caribbean," says the state's tourism bureau.
Located about 18 miles north of Isla Mujeres, Isla Contoy is available to visitors through a limited number of tour companies.
Among these is Asterix, a group of tour guides who offer an all-day tour that includes a stop at Isla Mujeres, snorkeling at the Ixlache Reef, a guided tour of Isla Contoy, and a buffet lunch featuring fresh fish roasted with succulent slices of onion.
The tour also includes about an hour of free time, and this is where Isla Contoy really shines. Floating in the island's warm, buoyant, turquoise-blue water is an experience not to be missed.
Asterix tour guide Ulises Peniche says that Mayan fishermen occasionally visited Contoy between 889 and 1687 A.D., and the island was also an accidental stopping-off spot for Spanish explorers.
Isla Contoy has been protected by the Mexican government since the 1960s, and it was declared a national park in the late 1990s. It is jointly managed by the government and the Amigos de Isla Contoy organization.
"Besides its unparalleled beauty, secluded sandy white beaches, and lush palm trees, the island boasts more than 150 migrating and resident bird species," states the organization's website. "The most numerous and easy to observe are the frigate, the brown pelican, and the double-crested cormorant."
For those who can get a reservation, Isla Contoy offers a slice of island heaven located right at the confluence of the Gulf of Mexico and the Caribbean Sea.
A couple of things to remember before heading to Contoy: There is no fresh water on the island, so everything that is consumed must be brought in. Also, the island is a sunscreen-free zone for the health of the coral reef — a point that is emphasized on the sign at the entrance to the island. Hats, sun-resistant rash guards, and shade umbrellas are recommended for those sensitive to the sun.
3. Isla Holbox
For a similarly secluded spot, but with more amenities, Isla Holbox is the Mexican Caribbean place to check out. It is variously described as a tropical paradise, a bohemian retreat, and a fishing village.
The island, located northwest of Cancún, is separated from the mainland by a shallow lagoon that gives sanctuary to flamingos, pelicans, and other exotic birds.
Holbox is located within the Yum Balam Ecological Reserve and has been declared a Flora and Fauna Protection Area.
"Holbox has beautiful beaches, crystal-clear water, colorful wooden houses, and sandy streets that one can explore on foot, by bicycle, or in golf carts," says the state's tourism bureau. "A true paradise, Holbox is ideal for a pleasant rest surrounded by nature."
Hotels on the island range from rustic wooden cabins and inns to charming and exclusive boutique hotels. Currently, Holbox offers 73 hotels with a total of 1,032 rooms.
Since Holbox is an island of fishermen, the best food is typically the catch of the day. Local dishes tend to highlight fresh fish and other seafood, and the island's unique restaurants serve up traditional Mayan and international cuisine.
Activities on the island include kitesurfing, windsurfing, kayaking in the sea and through the mangroves, snorkeling, diving, and fly-fishing.
The tourism bureau suggests that visitors consider taking cash, because there is only one ATM on the island, and no banks. Holbox is accessible from Cancún by a 2-hour-and-30-minute drive to the port of Chiquillá, where boats and ferries make the 20-minute trip to the island.
4. Isla Pájaros
While in Holbox, birders should make a point to visit Isla Pájaros, a small islet located in the Yalahau Lagoon. It is a refuge for birds such as pelicans, frigates, white ibises, ducks, herons, storks, and flamingos.
It is a protected area, so foot access is not allowed, and the islet is only accessible for observation from a scenic viewpoint.
"Birds can be seen all day, but the real thrill comes at sunset when all the species in residence flock back to the island to roost," says the Isla Holbox website.
Isla Pájaros is located 30 minutes by boat from Holbox and is only 200 feet wide.
5. Cabo Catoche
Another remote island accessible from Holbox is Cabo Catoche, a small island offering a unique combination of nature and history.
In the nature category, Catoche features abundant marine life that makes it an ideal spot to go fishing and snorkeling.
And when it comes to history, Cabo Catoche features the archaeological remains of the centuries-old Boca Church, the first Catholic church built in Mexico, according to information from Quintana Roo's tourism bureau.
Planning a trip to Mexico? Here's everything you need to know about the country's drinking water.