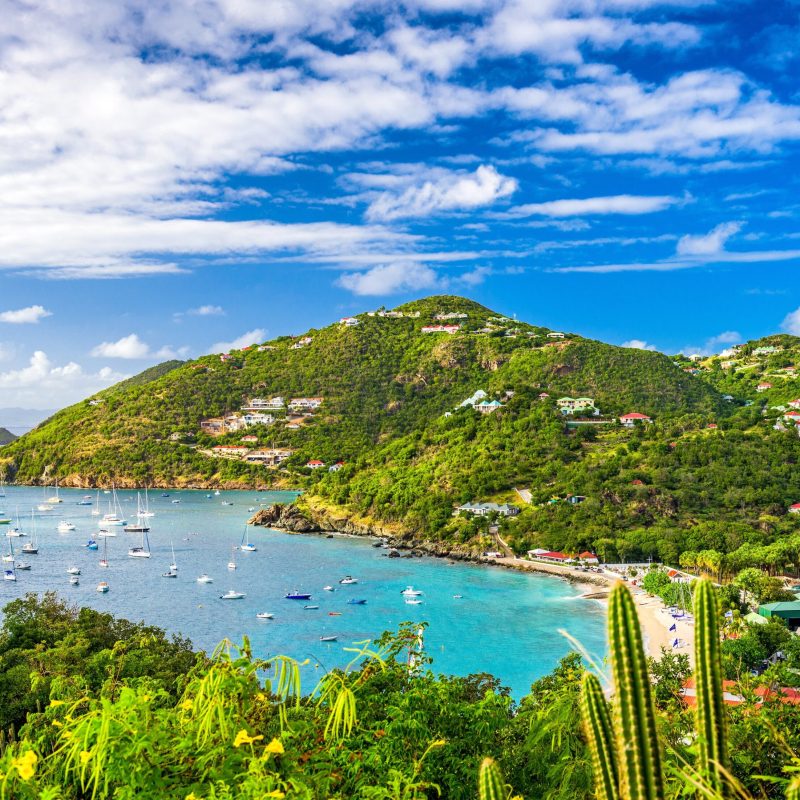 It's not difficult to find an idyllic escape in the Caribbean. But laid-back luxury has never come together with European elegance quite like it does in St. Barts. This jewel of an island seamlessly fuses French flair with magnificent tropical landscapes. Picture a fine bottle of chilled rose with a backdrop of lush mountains, powder-soft sand, lusciously scented frangipanis, and yachts that lilt atop turquoise waves. St. Barts is undoubtedly the Caribbean's darling when it comes to the playgrounds of the rich and famous. Expect fabulous hotels, world-class dining, and designer shopping along with unique French and Caribbean history that dates back centuries.
In 2017, Hurricane Irma devastated much of the island and its hotels and restaurants. But after a careful, dedicated, and passionate effort to rebuild and renew, St. Barts is 100 percent back in business and ready to show off its new look.
But what if you only have one day to see and do it all? This seems overwhelming, to say the least, as there are so many fantastic spots to visit. That said, St. Barts is only 10 square miles, so it's entirely possible to tackle its very best in a single day. Here's your guide for the best way to spend a day in St. Barts.
Set The Scene With Private Views
There's no better way to set the scene for your day in St. Barts than with a hike to Colombier Beach. One of the most beautiful beaches on the island, Colombier Beach is a crescent-shaped bay of turquoise water fringed with powdery sand and emerald-colored hills. What's even more special about this beach is that it is only accessible by boat or hike. And trust us, the hike is worth it. It begins directly off the end of Flamands. Keep in mind it can be a strenuous hike. It is best to begin early in the morning before the heat of the day kicks in. Pack snacks, water, and plenty of sunscreen. If this hike isn't in the cards for you and your travel companions, consider chartering a boat to Colombier Beach.
Get Your Bearings In Gustavia
Seventy years ago, Gustavia, the capital of St. Barts, was just a sleepy fishing village. But the 1960s brought huge investments from jet-setting A-listers like the Rockefellers and Rothschilds, celebrities, and wealthy Europeans. The Gustavia of today is a thriving seaport where glamorous glitterati stroll the lovely promenades. The streets are flanked with upscale boutiques, gourmet restaurants, historic sites, and that iconic French-Caribbean flair.
Here in Gustavia, you'll find most of the island's acclaimed restaurants and bars as well as Shell Beach, which is just a short stroll from the harbor and is one of the most photographed on St. Barts. If you've rented your own villa, be sure to stop at the fish market to pick up the day's catch, from marlin and dorado to tuna and lobster.
Hit The Beach
When on vacation on a Caribbean island, a beach day seems to be sort of a given. Fortunately, St. Barts has some of the most idyllic in all of the Caribbean, so you will have your pick — and all the beaches on St. Barts are free.
Saline is one of the most beautiful, and pristine, on the island. This no-frills beach has just the essentials: sun, sand, and crystal-clear water. Just be forewarned that it is BYO-everything. Shell Beach is another fan-favorite, known for having crushed seashells instead of sand. Those looking to soak up the St. Barts scene won't want to miss St. Jean Beach, home to the fabulous Eden Rock hotel and Nikki Beach, a luxury beach club.
Enjoy A "Pique-Nique"
Al fresco dining is one thing, but you can take it to the next level by planning the perfect St. Barts picnic. Stock up on provisions at Maya's To Go. From smoked salmon on brioche for breakfast to a host of delicious sandwiches, cauliflower gratin, onion tarts, and more, Maya's combines French flavors with authentic island ingredients for a truly unique dining experience. Stop into Le Gout du Vin as well. This specialty shop carries more than 800 labels of wine. It's also the supplier for the top restaurants and bars across many Caribbean islands. Pick up your favorite bottle of chilled rose, and the picnic procurement is done. Just add a beach blanket and be on your way.
Marvel At The Island's Underwater Paradise
St. Barts is very much invested in preserving the aquatic habitat that surrounds it. In the late 1990s, the island created the Natural Reserve of St. Barthelemy, which includes five sanctuary zones around the island that provide protection of underwater ecosystems. Tourists can dive, boat, and fish while still adhering to the reserve's regulations, and it's entirely worth the experience to be dazzled by the kaleidoscope of colors and species that thrive beneath the lapping turquoise waves. The island is surrounded by shallow reefs with 22 dive sites. Be sure to explore the upside-down wreck of the Nonstop, a fancy yacht that sunk in 1989 during Hurricane Hugo.
Treat Yourself A Few Hours At A Decadent Spa
As the ultimate playground for the rich and famous, St. Barts does spa culture justice. Pampering isn't just a perk — it's a way of life. One of the best places to treat yourself is the spa at Le Barthelemy Hotel and Spa. Le Spa is a pocket of pure serenity with treatments for the mind and body. This holistic escape has an open-air atrium that invites the outdoors in, plus a full menu of pampering therapies. Indulge in a facial with La Mer products, or upgrade your look at the nail salon or blow-out bar.
Drink In Swanky Sunsets
For those in the know, Hotel Christopher is a front-row seat to the island's best sunsets. This is the best place to pull up a beach chair, sip a frosty tropical drink, and take in nature's spectacular show. The hotel is very welcoming to non-guests. Grab a seat at Mango Beach Club for a barefoot luxe experience, or step up the elegance at Christo Lounge Restaurant, which overlooks the pool and the beach. Hotel Christopher specializes in organic cocktails and has an impressive wine list, to boot. You won't regret ending the day in such sweet style.
Get Ready To Rock And Roll
Get into the island groove at Baz Bar, a Gustavia hot spot known for its live music — from reggae and rock to funk and blues — and hosting international DJs. The low-key venue on the harbor is plastered with celebrity-signed posters and has an on-site restaurant that serves top-quality sushi.
Eating In St. Barts
Breakfast on St. Barts doesn't get better than Kiki-e Mo. This simple, healthy, colorful cafe in St. Jean offers French, American, and "Royal" breakfasts with set menu items. Bloody Maries and Prosecco Mimosas add to the Royal Breakfast's regal status. Kiki-e Mo also offers fresh juice and yogurt, pastries, and delectable avocado toast.
If you're more of a brunch person, everyone's favorite weekend meal doesn't get more lavish and glamorous than the offerings at Nikki Beach. The ultimate in barefoot chic, this beachside scene in St. Jean recently re-debuted following hurricane damage and is showing off an upgraded and refreshed look. Their brunch is absolutely legendary, so be prepared to indulge and keep your plans for the rest of the day loose. It's unlikely that you'll be getting anywhere on time as you'll want to linger here.
Iconic Shell Beach may be known for the colorful shells that carpet the seaside, but it's also known for the delicious evening cocktails and gorgeous sunset views at Shellona. This completely open-air bar and restaurant is a wonderful place to kick back and reflect on a fabulous day. We hear the Shell Spicy Dream cocktail is to die for.
If you only have one day in St. Barts, deciding where to eat dinner can be a challenge. But if there's one restaurant to try, it has to be Orega, an intimate French-Japanese fusion experience. You'll be treating yourself to one of the most unique dinners in the Caribbean. Orega is located in Gustavia just a few steps from the Anglican Church.
Shopping In St. Barts
With an emphasis on quality, the finer things, and barefoot luxury, you can imagine that the shopping scene on St. Barts is top notch. From local handcrafts to designer boutiques, St. Barts has some of the best shopping in the Caribbean.
Peruse the one-of-a-kind treasures at Mignot St Barth, an understated, luxe shop in the middle of downtown Gustavia. Browse their selection of black Tahitian pearls that have been transformed into bohemian jewelry, adorned leather bracelets, and more.
Looking for that special memento from your vacation? Baya, also in Gustavia, may have just what you're looking for. This unique, boho-chic home goods store is evocative of a whimsical yet upscale bazaar. From cowhide rugs and colorful bags to wooden bowls, pillows, and vinyl mats, this eclectic shop has a little bit of everything.
En route to Salines Beach, just off the main thoroughfare in Saint-Jean, Yume St. Barth is a spacious yet subdued shop with handmade items, from table runners and jewelry to stuffed animals and more.