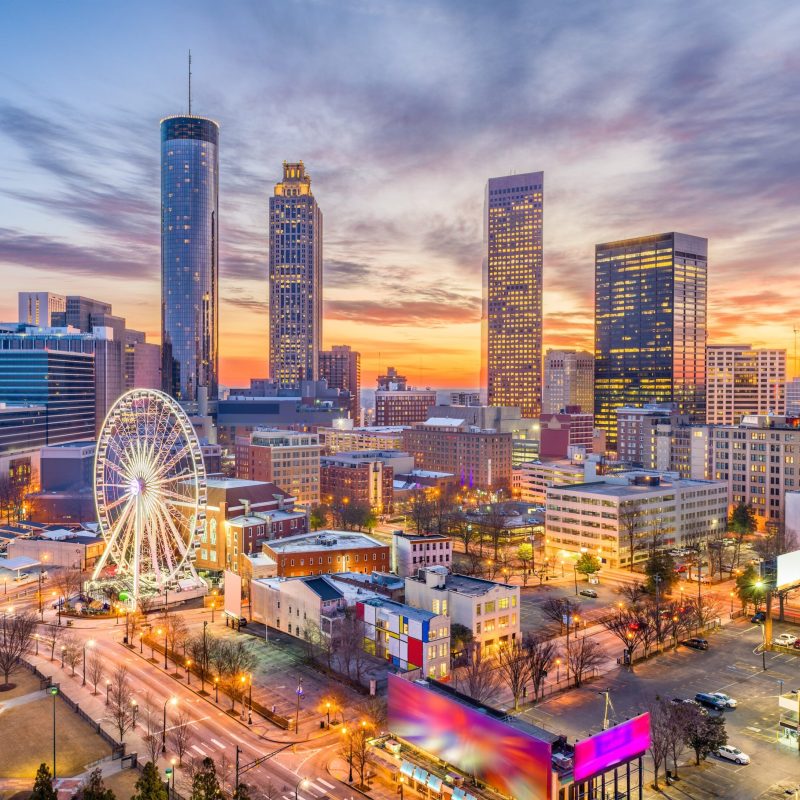 Georgia's largest city is home to a number of famous attractions, like its storied aquarium, its popular World of Coca-Cola Museum, and its stunning Atlanta Botanical Garden. But with 50 million tourists visiting the city annually, smart travelers might be more interested in exploring the city's hidden gems rather than the crowded hot spots.
If you're a return visitor who wants to see another side of The Big Peach — or a newbie who doesn't want to battle the crowds — consider some of these off-the-beaten-path spots, from an inventive coffeehouse to a museum that gets better after dark. Your next trip to Atlanta is sure to be a memorable one!
1. Revolution Doughnuts & Coffee
With two convenient locations, one in Inman Park and one in Decatur, Atlanta's own Revolution Doughnuts & Coffee is the perfect spot to enjoy artisan coffee and inventive pastry items. The peach is the symbol of Georgia, and the doughnut slider at Revolution, usually only available in the summer months, offers a sweet new way to enjoy the famous fruit. It's made from scratch from quality ingredients. Even if it's not available, you can stop in at any time of year for seasonally appropriate and affordable specialties; generally, the pastries range in price from $2 to $4. Some other fun options include doughnut flavors like blackberry cornmeal, caramel bacon, and carrot cake. This sweet shop is well worth a visit!
2. Fernbank After Dark
While the Fernbank Museum of Natural History is well known, some of its programming isn't — especially the Fernbank After Dark series, adult science nights that are held once a month. These events for those 21 and older feature cool hands-on museum experiences, small bites, and craft cocktails. Each month, the Fernbank After Dark event sports a new theme to guide the evening. Past themes have included "Booze and Botanicals" and "Art and Science." The ticket price is less than $20 and includes access to exhibits, special learning opportunities, and live music. Food and drinks are available on-site.
If you're lucky enough to be in Atlanta on the second Friday of the month, check out this unique offering. And if you won't be there then, give the Fernbank's regular programming a try. After all, the museum is Atlanta's home for dinosaurs and has much more to offer visitors.
3. Gilly Brew Bar
Perhaps my personal favorite on this list of Atlanta's hidden gems, Gilly Brew Bar is a must-stop for travelers to the area. It's located on the east side of the city in a small suburb called Stone Mountain. In fact, this creative coffee shop is housed in the oldest building in Stone Mountain, the former mayor's house. The specialty drinks, called elixirs, are crafted in house from completely revolutionary ingredients, and these elixirs rotate seasonally.
During my recent visit, I had an affogato with matcha instead of the traditional espresso. Plus, it had a special locally crafted toffee gelato inside. A friend tried some magical combination that included Parmesan with a cornmeal rim. Consider me the newest member of the Gilly fan club, because I can't wait to go back and sample even more inventive concoctions.
Guests should be prepared for artisanal coffee prices — about $5 or so for a beverage.
4. Jekyll Brewing
Many visitors stick to downtown Atlanta, but if you want to explore a less bustling spot, head north to the large suburb of Alpharetta, where you'll find Jekyll Brewing and its tasty Hop Dang Diggity Southern IPA. Jekyll is named for and pays homage to Georgia's long history of brewing. In fact, it's believed that the first brewery in the South was founded on Jekyll Island in the 18th century. With another location on the way, this off-the-beaten-path brewery is making waves with its handcrafted brews. Try the beer flight and ask about any seasonal offerings or special releases that might coincide with your trip. Brewery tours are also available on-site.
5. Davidson-Arabia Nature Preserve And Panola Mountain State Park
Rather than heading to Georgia's most-visited attraction, the controversial Stone Mountain, consider a trip to Arabia Mountain National Heritage Area, where you can visit the 2,250-acre DeKalb County park known as the Davidson-Arabia Nature Preserve for free. With numerous natural wonders as well as hiking and biking options, this is a great hidden gem in the Atlanta area.
Nearby is Panola Mountain State Park. For an affordable entrance fee of just $5, travelers can enjoy the biodiversity of this pristine wilderness area. There are 30 miles of paved trails for hiking, plus incredible special events like tree-climbing classes and camping in the trees. Additional area activities include archery and bouldering.
If you're seeking an active element to your Atlanta tour, both of these natural areas would provide the perfect backdrop at any time of year.
6. Buford Highway
DeKalb County, which is part of the east Atlanta metro area, is the most culturally diverse county in all of the South; in fact, it even ranks as one of the country's most diverse counties. Unsurprisingly, the area's sleepy Buford Highway is home to an unbelievable stretch of international eateries. There's even a Buford Highway Farmers Market! My personal favorites include Sweet Hut Bakery & Café, Mamak, and Nam Phuong Restaurant. Nearby is the Atlanta Chinatown Mall with its great food court. This off-the-beaten-path area deserves further exploration by adventurous travelers to Atlanta.
7. Callanwolde Fine Arts Center
Another great lesser-known gem in Atlanta is the Callanwolde Fine Arts Center in the dreamy Druid Hills neighborhood. Since the property is about a 20-minute drive from downtown Atlanta and is in a residential area, it is oftentimes ignored by tourists, but the arts center boasts one of the South's largest pottery programs and hosts fun community events like Jazz on the Lawn in its on-site amphitheater. (If you'll be visiting during the summer, try to catch a Friday-evening Jazz on the Lawn performance; tickets start at just $25.) There's even a historic Aeolian organ there.
All of these delightful programs and features are housed within the Coca-Cola founder's palatial estate on 12 acres of land. Callanwolde is a registered nonprofit that considers itself to be a community arts conservatory; it strives to "preserve, restore, and develop the Callanwolde Estate and to be the premier public arts and cultural center."
8. Hopstix Brewery
Just a hop, a skip, and a jump from the famous Buford Highway mentioned above is Hopstix Brewery. The Asian-influenced microbrewery was founded by Indonesian Andy Tan. Menu standouts include the HFC (Asian chicken nuggets), miso ramen, and Super Bowl sushi roll (with pork belly). As for the beer, the bestseller Rice & Shine is light, refreshing, and tasty, especially during the summer months. Opt for the beer flight and try some of the hoppier and funkier flavors.
This cool eatery and brewery is close to losing hidden-gem status, though, since USA Today recently named it the country's number-two brewpub. So get there fast — it's sure to become a favorite spot in the Atlanta metro area.
9. Eddie's Attic
Decatur is known for its thriving arts culture, including its bustling music scene. The Eddie's Attic music venue in this Atlanta suburb is a great, low-key spot to catch some major musicians on the rise. Stars like John Mayer and Sugarland have won Eddie's songwriting contest, and established artists like Justin Bieber got their start playing at spots like this. You could see the next big star on your next visit to Atlanta!
Eddie's offers a pool room as well as covered patio. Tickets for shows generally cost about $10, so it's also an affordable spot.
There are a ton of hidden gems to discover in Atlanta — this list is just a small sampling of what this unexpectedly cool metro area has to offer.
Planning a trip to Atlanta? Here are seven more fun things to do in town. And while you're in the area, consider a trip to the historic and beautiful Savannah, Georgia.