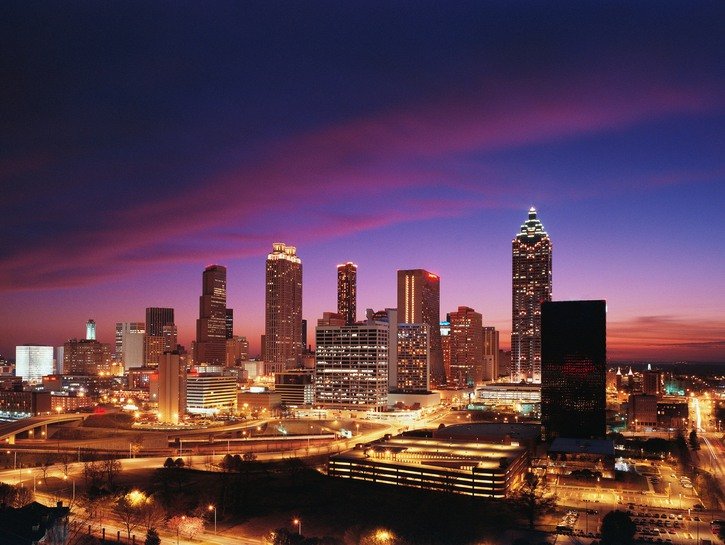 Who doesn't love the comforts of southern food and hospitality? Atlanta, Georgia is known for its good eats, and for producing some of the most prominent leaders of the Civil Rights Movement. When visiting Atlanta, you can chow down while learning about the city's role in the history of equality. And you can check out these seven cool activities to boot!
1. Meet Kermit The Frog At The Center For Puppetry Arts
In 1978, Jim Henson and Kermit the Frog cut the ribbon of what has become the largest nonprofit puppetry theater in the country. When visiting the museum, you'll see over 3,000 puppets in the international puppet collection, from Vietnamese water puppets to Broadway's The Lion King.
Perhaps the most exciting of the bunch is Kermit the Frog himself. You can see him in action, sitting in his very own director's chair. The museum also offers educational film series like I Am Big Bird or Commedia dell'Arte: From Clay to Play! There are also plenty of fun interactive programs for the kids or grandkids!
2. Visit Atlanta's Famous Civil Rights Counter
In the 1960s, thousands of peaceful protestors gathered to desegregate Atlanta's lunch counters. Today, you can visit an interactive exhibit about this at the Center for Civil and Human Rights. You'll get to sit at a counter and put on a pair of headphones and endure the threats, violence, and name-calling that protestors during the Civil Rights Movement endured. You'll even feel your chair being kicked. This powerful exhibit is one you'll never forget. While you're at the Center for Civil and Human Rights, you'll want to check out the other moving exhibits like The Morehouse College Martin Luther King, Jr. Collection "Voice to the Voiceless."
3. Dine At The Spinning Restaurant
Get a one-of-a-kind view of the city from one of the two rotating restaurants in Atlanta, the Sun Dial and Polaris. The history of Polaris began when John Portman designed the blue dome in 1970. The restaurant is located atop the Hyatt Regency Atlanta. In 2004 the restaurant closed until 2014 when it reopened. The unique rotating restaurant features retro plush leather couches and sleek decor. Dining in a spinning restaurant is not something you can do every day! Don't worry: the rotation rate is slow enough that it shouldn't bother you.
4. Eat Lunch Where Civil Rights Leaders Used To
Local favorites Busy Bee and Paschal's are two restaurants with a lot of history. Civil Rights leaders like Martin Luther King Jr. used to meet at these restaurants to find out what was going on during the struggle for equality. Today, politicians and church-goers can still be found eating at Busy Bee, chowing on pork chops, collard greens, and candied yams. Paschal's even claims to use the same fried chicken recipe they did in 1947. These two local eateries are bursting with American history. If only these walls could talk.
5. Robert C. Williams Museum of Papermaking
A refreshing break from today's digital world, the Robert C. Williams Museum of Papermaking is home to more than 2,000 books, and 10,000 watermarks, papers, tools, and manuscripts. The museum is located in the Renewable Bioproducts Institute at Georgia Tech. You can even learn how to make paper by hand at the Dard Hunter collection of tools and books from the industrial era of papermaking.
The exhibit also brings awareness to environmental issues related to papermaking. The museum's mission is to "collect, preserve, increase and disseminate knowledge about papermaking — past, present, and future." After spending the afternoon here, you'll take away a great deal of knowledge on how the paper industry has evolved into what it is today. It's a worthwhile stop for book lovers and artsy-crafty types.
6. Visit The World Of Coca-Cola
The World of Coca-Cola museum is a fun place for soda enthusiasts of all ages. Take a peek at the secret formula, learn about the behind-the-scenes bottling process, have your picture taken with the famous Coca-Cola polar bear, and try over 100 flavors of international and domestic Coca-Cola beverages from around the world. Spending the day at The World of Coca-Cola is fun and interactive for the whole family. Next time you take a sip of your favorite fizzy flavor, you'll know exactly how it was made!
7. Tour The Atlanta Botanical Garden
The Atlanta Botanical Garden is 30-acres of beautiful arrangements of plants and flowers of all kinds. This garden is one of the top 10 in the US, and with good reason. It's known for its famous canopy walk, children's garden, Storza Woods, cascading gardens, bird watching, and Fuqua Conservatory. There are also educational programs for green thumbs who want their gardens to flourish in every season.
The garden is open rain or shine, and it's a relaxing choice for visitors of all ages.
Atlanta has a something for everyone. Whether you want to explore its many museums, learn about the Civil Rights Movement, dine on delicious southern comfort food, or take a guided tour around the city, you'll find plenty of ways to fill up your time here.