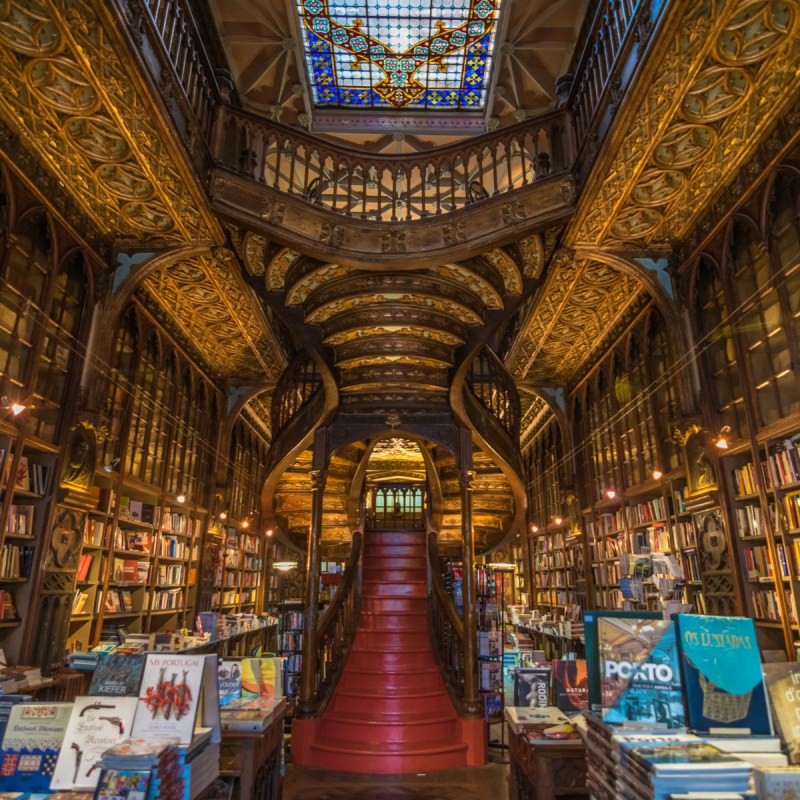 Do you have a love for all things book related? If so, Portugal has an enchanting place you might want to add to your bucket list. Meet Livraria Lello, where your wildest book dreams can become real and you can witness a bit of magic with every step. The architecturally stunning bookstore located in Porto, Portugal, is one of the top tourist attractions in the city.
Stunning Architecture
The unique bookstore was built in 1906 by Xavier Esteves. It has a neo-gothic design which features paintings from Jose Bielman. From the stained glass to the art deco designs on the walls there is a burst of eclecticism throughout the entire place. The "iconic crimson staircase" invokes many emotions amongst visitors according to the bookstore's website.
"Thou who walked the room shall then see a staircase which is a piece of surprising allure, for its apparent lightness which masks the audacity of its design. One feels the urge to climb it yet fears one's weight may make it crumble."
The highlight of the building's design may be the ceiling, which at first glance appears to be carved wood. Upon closer look, you will see it is actually painted plaster. Take an even closer look — the same technique is used on the spiraling stairs.
Ranked One Of The World's Greatest Bookshops
The charming bookstore made third place on Lonely Planet's list of the world's greatest bookshops. They describe the winding red staircase as an "exotic flower" that extends upward from the first floor.
Lonely Planet highlights Livraria Lello's stunning design when describing the bookstore: "A little over 100 years old, this art nouveau gem in Portugal's second city remains one of the world's most stunning shops — perhaps of any kind."
What Livraria Lello Has To Do With Harry Potter
Though many believed Livraria Lello to be the inspiration behind J.K. Rowling's Hogwarts in the famous Harry Potter series, the author has sadly confirmed on Twitter that she never never set foot in the bookshop.
Regardless, many fans find a striking resemblance between the distinct red staircases found in the bookstore and the moving staircases at Hogwarts School of Witchcraft and Wizardry in Rowling's Harry Potter novels.
Other visitors find key resemblances to different whimsical venues found in the world of Harry Potter.
Nerea Moyeno told AFP, "For me, it's the spitting image of Flourish and Blotts, where young sorcerers buy their magic manuals."
Harry Potter fans everywhere should be able to find an appreciation for the building's grand and familiar designs.
Bookstore Entrance Fee
The bookstore has started charging 5 euros to enter the busy tourist site. Visitors may receive the entrance fee back, however, if they wind up making a purchase.
Livraria Lello told AFP the fee was put in place to "manage the stream of tourists and transform them into readers."
Escape to a magical world when entering Livraria Lello. Pick up a book or even just snap a few pictures while marveling at one of the rarest bookstores!
Want to see a Potter-esque marvel stateside? Here's how to see New York's gorgeous Old City Hall Subway Station — a hidden (and exclusive) gem you won't want to miss.