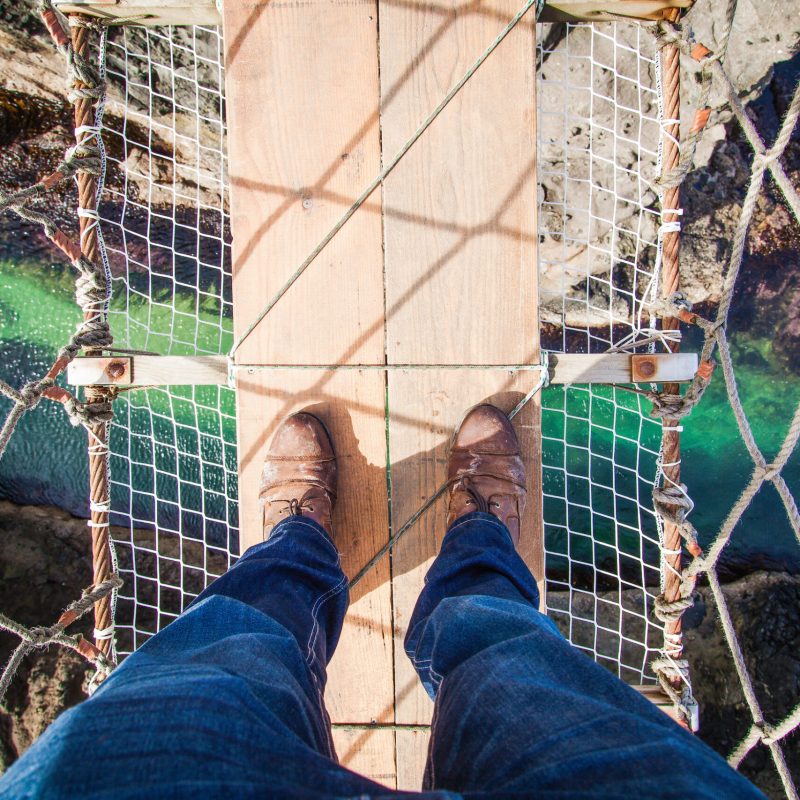 Bridges are such an integral feature of daily transportation that it's easy to take them for granted. Not these bridges. These feats of engineering — all designed for pedestrians — stand out for being especially high, especially long, or sometimes a frightening combination of both. Aside from an adrenaline rush, these dramatic bridges offer unique vantage points of the areas around them, and sometimes even tell a story about the history and culture of the places they connect.
Here are 10 of most terrifying — and most awe-inspiring — bridges in the world.
1. Glass-Bottom Bridges, Hunan, China
With a notable collection of beautiful historic bridges and an impressive list of modern record-breaking bridges, China is a true hot spot for bridge experiences. Not surprisingly, China is also home to several vertigo-inducing glass-bottom bridges and skywalks.
Haohan Qiao, which translates to "Brave Men's Bridge," opened in 2015 in China's Hunan province. Suspended between two sheer cliffs in the Shiniuzhai National Geological Park, this 984-foot-long bridge, made of inch-thick glass, offers a clear view of the ground 590 feet below.
Looking for something more extreme? Travel 7 hours to the west for the world's longest and highest glass-bottom bridge. Opened in 2016, the 1,410-foot-long Zhangjiajie Glass Bridge sits 984 feet above the canyon floor. The bridge is also an ample 20 feet wide and can accommodate up to 600 people at a time.
2. Trift Bridge, Gadmen, Switzerland
Sitting 330 feet above the turquoise Triftsee Lake in the Swiss Alps, this 560-foot pedestrian suspension bridge offers thrills, spectacular scenery, and access to the Trift Hut of the Swiss Alpine Club. However, the truly frightening thing about this bridge is that it exists because of climate change. Historically, people accessed the Trift Hut by hiking across the tongue of the Trift Glacier. Unfortunately, the glacier has been slowly melting for many years, necessitating the construction of the suspension bridge in 2004. Getting to the Trift Bridge requires a cable-car ride to a trailhead that leads hikers on an arduous 1.86-mile uphill trek to the bridge.
3. Carrick-A-Rede Rope Bridge, Ballintoy, Northern Ireland
Situated at a relatively modest 98 feet above rocky terrain, this 66-foot pedestrian rope bridge on the coast of Northern Ireland is a great option for folks wanting to test their mettle for scary bridges. First installed by salmon fishermen in 1755, the Carrick-a-Rede Rope Bridge connects the mainland to the tiny Carrick-a-Rede Island, which is home to an array of seabirds and an old fisherman's cottage. Access to the bridge is via a paved path with sweeping views of the verdant and rocky Atlantic coastline. The bridge is manned by National Trust rangers. Although no one has fallen from the bridge, there have been many instances where visitors, unable to face the walk back across the bridge, have had to be taken off the island by boat.
4. Queshuachaca, Huinchiri, Peru
About 3 hours from Cusco, Peru, the Queshuachaca rope bridge is a relic of the ancient Incan road system, which spanned thousands of miles and included hundreds of these handmade rope bridges. Made entirely out of handwoven twisted grass, the bridge spans 118 feet over the Apurímac River, which rushes 60 feet below. It is the last remaining traditional Incan rope bridge in existence. Although it resembles a giant hammock, the bridge can actually withstand 4,000 pounds of tension, or roughly 56 people evenly spaced. Given that it's made out of natural materials, the bridge deteriorates every one to two years, and it is continually rebuilt by the local people.
5. Capilano Suspension Bridge, North Vancouver, British Columbia
The historic Capilano Suspension Bridge, built by a Scottish civil engineer in 1889, stretches 450 feet across the Capilano River in Vancouver, British Columbia. The knee-buckling bridge sits 230 feet above the ground, providing a bird's-eye view of the nine different types of trees in the area. The bridge is now part of the larger Capilano Suspension Bridge Park, where adventurers can make a day of exploring the temperate rainforest via less-dramatic suspension bridges as well as cantilevered and suspended walkways geared toward thrill-seekers.
6. Royal Gorge Bridge, Cañon City, Colorado
The highest suspension bridge in the United States, the Royal Gorge Bridge stretches 1,260 feet across Colorado's Royal Gorge and sits 1,053 feet above the Arkansas River. Known for its gorgeous, 1,000-foot red granite walls, the Royal Gorge is a scenic 10-mile-long canyon that is sometimes called the Grand Canyon of the Arkansas. The Royal Gorge Bridge is part of a larger amusement park that offers aerial gondola rides across the gorge as well as zip-line and Skycoaster attractions.
7. Hussaini Hanging Bridge, Hunza, Pakistan
Of all the frightening bridges on this list, this one arguably involves more risk to cross than the others. Often called the most dangerous bridge in the world, Hussaini Hanging Bridge is in the Gilgit-Baltistan region of Northern Pakistan and stretches precariously across Borith Lake. It is constructed of nothing more than rope and short wooden planks that are spaced about 12 inches apart. Broken and missing planks are not uncommon on the bridge, and regular strong winds add to the excitement. While locals deftly scoot across the bridge like it's no big deal, visitors will want to take their time on this one.
8. Kakum Canopy Walkway, Cape Coast, Ghana
This series of seven hanging bridges in Ghana's Kakum National Park, located 20 miles north of the city of Cape Coast, gives visitors a chance to experience the verdant coastal rainforest from the treetops. Situated 130 feet above the rainforest floor, the canopy walkway appears to be made from forest materials, but it is actually constructed of wire rope and aluminum with netting on either side to keep explorers safe. Kakum National Park is home to a number of endangered animals, including the Diana monkey and the giant bongo antelope, but those willing to brave these bridges are more likely to see an impressive array of butterflies, birds, insects, and lizards.
9. U Bein Bridge, Amarapura, Myanmar
This simple, picturesque bridge is very old, very long, and has no side rails to keep you from falling off. The good news is that U Bein Bridge, which spans three-quarters of a mile across the Taungthaman Lake near Amarapura, Myanmar, is only a few feet from the water below during the rainy season. If you go during the dry months, you risk a longer fall into the seasonal vegetable gardens below. Built in 1851, U Bein Bridge was originally constructed of teakwood reclaimed from a nearby palace and is said to be the oldest teakwood bridge in the world.
10. Aiguille Du Midi Bridge, French Alps
At an elevation of 12,600 feet, this short bridge built into the side of the Aiguille du Midi mountain in the French Alps is literally a breathtaking experience. The journey to Aiguille du Midi Bridge starts at the French ski resort of Chamonix and requires a two-stage cable-car ride that covers an altitude gain of 9,200 feet. The reward is a clear view of Europe's highest peak, Mont Blanc. The Aiguille du Midi Bridge is just one of many view platforms at the Aiguille du Midi complex. Those looking for the maximum-drama, high-altitude view can head to the glass-bottom viewing room situated off of the uppermost terrace.