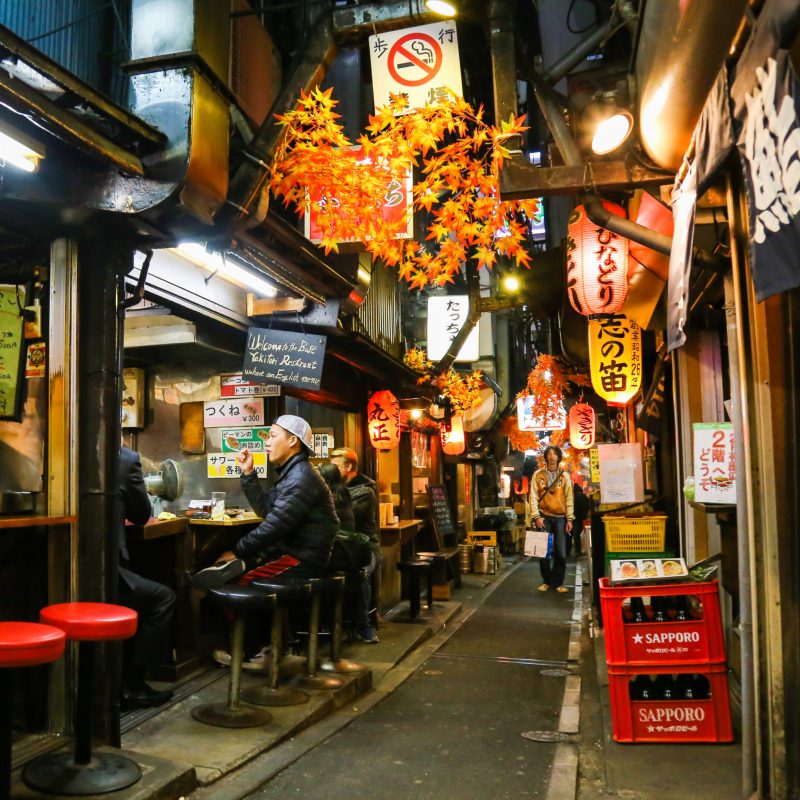 A city like Tokyo is daunting. Try as you might to know it all, it might be better to take a strange comfort in the fact that you never will. Tokyo is as ever-evolving as it is deeply rooted in tradition. That's what makes it so enigmatic, and always a surprise. So while you can count on the fact that no matter how many times you visit you will see thousands of people at Shibuya Crossing, or that you can eat the freshest sushi at 8 a.m. outside Tsukiji Market, or that the best view is from the New York Grill atop the Park Hyatt Tokyo, you can equally count on the fact that you will never uncover all the constantly evolving secret corners that Tokyo keeps hidden for those who want to find them.
If you're ready to uncover some of Tokyo's best-kept secrets, here are eight underrated spots that ought to be on your list.
1. Mannenyu Onsen
Tucked right in the city center, Mannenyu onsen is a splash of the Japan of yesteryear right in the heart of Tokyo. This traditional (yet tattoo-friendly) onsen is just around the corner from Shin-Okubo Station. Onsens are Japanese public bathhouses, where for ages locals have popped in for the medicinal benefits of hot and cold plunges and steams. This one sits at the heart of Tokyo's "Korea Town," a neighborhood heralded for its fantastic food and old-world charm. Inside the onsen you'll find jet stream baths, steamy soaking tubs, and cold plunge pools. Shampoo, soap, towels, and other amenities are also provided. Entry for adults is approximately $4.
2. Golden Gai
Slip into what feels like Tokyo's secret society when you enter the mysterious alleyways of Golden Gai. In a dark (but surprisingly welcoming) corner of the vibrant Shinjuku neighborhood, Golden Gai is a string of connected alleys with a hodgepodge collection of small bars and restaurants. Doors are tightly packed, almost on top of one another, and inside each bar or restaurant is what seems like no more than six seats (though some are larger) — just enough for an intimate conversation or meal with the bartender before you're off to the next stop. Each bar has its own draw, whether it's a signature drink, 24-hour karaoke, or an eccentric aesthetic. It's one of the more local experiences you can have in a neighborhood that has been steamrolled by tourists from all over the world.
Note: Nowadays most of the bars welcome tourists, but some still abide by a "locals only" policy. A good rule of thumb is to notice if there is any English posted out front. If so, you're probably in the clear.
3. Book Town
Book worms, prepare yourselves for literary overload. There is no shortage of great places in Tokyo to buy books, but Jimbocho Book Town is exactly as it sounds — an oasis for lovers of the written, and printed, word. This street is a veritable shrine to secondhand books, flanked on either side with stores or stalls housing mesmerizing collections of art, design, and fashion titles. Most of the books are secondhand, and there are treasures to be found in each of the shops. A good one to know is Komiyama Tokyo, open since 1939, which has a wide selection of books on art, history, and culture. There is also a gallery on the upper floors with regularly rotating art exhibits.
Book Town starts at the intersection of Yasukuni-dori Street and Hakusan-dori Street in the Kanda district of Tokyo. To visit Book Town take the Chao or Sobu lines to Ochanomizu Station, or opt for the Jimbocho Station via the Mita, Shinjuku, or Hanzomon lines.
4. Uplink Cinema
Catching a movie might not be first on your Tokyo itinerary, but when you meet Uplink Shibuya you might change your tune, especially if you're a fan of underground and independent movies. Located on a backstreet of the bustling Shibuya district, this cinema-meets-culture cafe regularly screens indie movies, documentaries, short films, and experimental projects. An on-site cafe serves a surprising menu of Moroccan couscous and vegetarian dishes (go for the Greek pizza or falafel salad — the baba ganoush is also to die for). The cultural complex has free Wi-Fi, a gallery, and a gift shop.
To visit, take the JR Yamanote, Hanzomon, Ginza, Fukutoshin, Inokashira, Den-en-toshi, or Toyoko lines to Shibuya Station.
5. Todoroki Ravine Park
You wouldn't think it, but just 20 minutes from the world's busiest intersection is one of the most secluded and tranquil spots in all of Japan. Hop a train from Tokyo's frenetic, energetic, nonstop Shibuya Station and get yourself to Todoroki Ravine Park. This natural oasis is a hushed paradise wreathed in bamboo trees, pocketed with secret shrines, and veined with babbling rivers. Todoroki is different from traditional Japanese gardens, which are meticulously manicured. This gorge is absolute unadulterated nature, formed by the Yazawa River. The best part? The route through the park is less than a mile and can easily be explored in a single afternoon.
Take the JR Yamanote Line to Shibuya Station. From there, change to the express train on the Tokyu Tokyo Line to Jiyugaoka Station, then the Tokyu Oimachi Line for Todoroki Station.
6. Offbeat Dining
If you're visiting Tokyo, chances are you are fond of Japanese dining. And you will find no shortage of it, from the most hard-to-obtain reservations at Michelin-starred sushi counters to the humblest, most succulent street food. But part of what makes Tokyo so fascinating is its off-beat dining culture. Think themed restaurants that are so elaborate you'll forget you're in Japan (or the 21st century) altogether.
Alice in a Labyrinth is one such example. This fine-dining restaurant is decked out like the darkest recesses of Lewis Carroll's mind. Follow the maze of book stacks that make you feel as if you are actually shrinking. Emerge into the dining room to see scenes from the story, like the hedges from the Queen's garden, a ceiling plastered with massive playing cards, and chairs shaped like rose bushes.
Or shift directions completely and dine at the decidedly macabre Vampire Cafe, tucked amid the bourgeois streets of Tokyo's ritzy Ginza district. A hideaway for gothic lovers, Vampire Cafe lures visitors with its wall-to-wall red velvet, waiters in tuxedos, and waitresses in French maid outfits. Everything about the experience oozes eerie, and like so many other Japanese experiences, no detail is left to the wayside. Sip dark red aperitifs to the sound of baroque music and the fluttering shadows of flickering candlelight. Food items themselves aren't particularly macabre (assorted olives and cheese, foie gras with balsamic drizzle, fried chicken), but the names do stick to the theme: The Bond of Destiny, The Bait of the Demons, The Cross of Darkness. Whatever you order, this is an experience you won't soon forget.
7. Yanaka
Anyone visiting Tokyo will have certain neighborhoods on their list: Ginza, Shinjuku, Shibuya, Harijuku, to name a few. But consider adding Yanaka, one of Tokyo's most traditional neighborhoods, to your list of must-sees. Yanaka is a respite from the tourist-flooded streets of the other more written-about sections of the city. Step back in time to Tokyo's bohemian world, which is perpetually rejuvenated by the energy of its creative residents.
Today, visitors will find fabulous food, artisan workshops, and galleries rubbing elbows with elegant temples and shrines. Be sure to make a stop to the Nezu Shrine, which dates from 1705 and is a beautiful piece of Edo-era architecture. Stop into Himitsudo for traditional Japanese sweets or a shaved ice dessert with seasonal toppings. Want to see it all? Tokyobike offers daily bicycle rentals that will afford you an opportunity to soak in the sites while embracing a local mode of transportation.
8. Saru Island
Welcome to Sarushima, an outdoor respite just off the coast of Kanagawa, a coastal prefecture just south of Tokyo. Sarushima is the only natural island in Tokyo Bay, and is home to beautiful scenery, swimming beaches, hiking trails, and spots for grilling. Barbecue rentals are available at a shop near the pier, though there is a restaurant, Sarushima Oceans Kitchen, on the island as well. Be sure to explore the decaying ruins of the former fortress, erected in 1603 and maintained through World War II as a strategic military point from which to guard the main islands of Japan. There is also a beautiful panoramic view from the observatory area.
To visit the island take the Keikyu line to Yokosuka-Chuo Station, then catch the ferry over to the island.
Penciling in these best-kept secrets? Make time for these 10 great free things to do outdoors in (and around) Tokyo and at least one or two of these six places to take an amazing photo in (and around) Tokyo too!