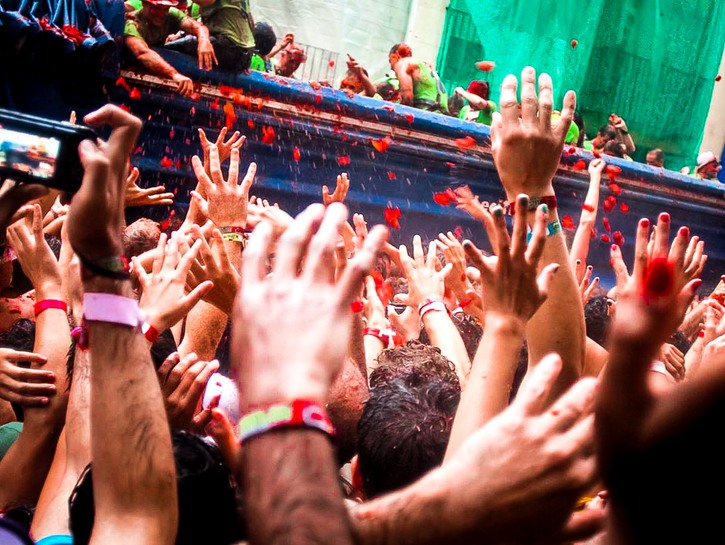 Spain is home to a number of famed annual celebrations that attract travelers from across the globe, including Semana Santa (Holy Week), Feria de Abril (April's Fair), and La Corrida de Toros (the Running of the Bulls). But nothing compares to La Tomatina, Spain's cherished and bizarre tomato throwing festival.
What Is La Tomatina?
La Tomatina is a tomato-throwing festival where participants are not only allowed, but encouraged to hurl tomatoes at one another during a full-on, two-hour-long food fight. Its purpose is purely for entertainment. The festival carries on a tradition that started in 1945 and has now become a staple of Spanish tradition in Valencia.
La Tomatina is also the world's largest state-sanctioned food fight. While some years have seen as many as 50,000 participants, Buñol's La Tomatina festival averages around 40,000 attendees each year.
Participants from around the world join together for a short two hours to pelt each other with tomatoes, using an estimated 150 tons of overripe, unwanted tomatoes from Spain's Extremadura region — more on that below!
When Does La Tomatina Take Place?
La Tomatina takes place annually on the last Wednesday in August, though festivities leading up to the tomato fight begin earlier in the week. This year, La Tomatina will take place on Wednesday, August 28, and in 2020, the festival will be held on Wednesday, August 26.
Where Does La Tomatina Take Place?
La Tomatina is held in the small Valencian town of Buñol, situated on Spain's eastern coast near the Mediterranean Sea. Travelers flying into Spain via Barcelona or Madrid can reach Valencia by air, train, or bus.
How To Participate
For many years, locals and visitors alike could simply show up and participate in the Tomatina festival, but increased attendance has resulted in the city of Buñol charging a small (10-euro) entrance fee since 2013, and today a maximum of 30,000 participants are allowed to partake in the festivities.
While you can save money by purchasing your tickets upon arrival in Buñol, buying your tickets online in advance allows you to arrange transportation to and from Buñol at the same time.
La Tomatina's official site offers tickets to La Tomatina from Valencia, Barcelona, Madrid, Costa Blanca, Cartagena, La Manga, Almeria, and Malaga. Keep in mind that the actual tomato throwing lasts only from 11 a.m. to 1 p.m., so if you plan on buying your tickets upon entrance, you may want to arrive early.
If you don't want to worry about how you're getting to and from the small town of Buñol, or if you're concerned about making the mark for the limited 30,000-participant maximum, consider an all-inclusive La Tomatina tour.
The Buñol La Tomatina Festival Trip, which will escort you by coach from Valencia to the festivities, includes round-trip transportation from Valencia to Buñol, entrance into the festival, a local bilingual tour guide, a plastic bag for your belongings, tapas and drinks, and a shower after the tomato throwing culminates.
La Tomatina Originated From A Street Brawl
Legend has it that La Tomatina originated from a street brawl that occurred in Valencia in 1945 during the city's other most popular festival, Gigantes y Cabezudos (Giants and Big Heads). During the brawl, a food stall filled with vegetables spilled onto the street, and those involved in the fight began throwing the spilled tomatoes at each other.
The following year, a similar incident occurred, but those involved brought their own tomatoes from home to the fight. From there, a tradition was established, becoming La Tomatina. The festival was officially recognized in 1952.
It's A Food Frenzy
Besides the two-hour-long tomato-throwing food fight, there are several events that occur during the week leading up to La Tomatina, including a massive paella-cooking contest. Paella is undeniably Spain's most popular dish and it originated in Valencia, the region where La Tomatina takes place.
Before the food-throwing frenzy begins on the last Wednesday in August, La Tomatina commences with yet another bizarre food-related event. At approximately 10 a.m., just one hour before the food fight, a ham is placed on top of a greased pole, and a competitor has to climb and reach the top to retrieve it. Loud singing and dancing accompany this event, which is known as the official La Tomatina kickoff.
Approximately 150 Tons Of Tomatoes Are Used
According to The Atlantic, participants at Buñol's La Tomatina festival threw around 150 tons of tomatoes during the two-hour-long food fight in 2017. That's 300,000 pounds of tomatoes in just two hours! Though some might consider this wasteful, the tomatoes are over-ripe and come from the Extremadura region in Spain, where tomatoes are less expensive.
There's A Special La Tomatina Event For Kids
Let's be honest, the idea of 150 tons of tomatoes being thrown by rowdy festival-attendees doesn't really sound like a welcoming event for little ones. Since 2013, though, La Tomatina has adapted the event and recreated a version suitable for children ages 4 to 14.
This year marks La Tomatina's 6th annual kid-friendly La Tomatina event, otherwise known as Tomatina Infantil, that will take place on Saturday, August 24 at noon on Buñol's main square, Plaza del Pueblo. This "mini battle" lasts 40 minutes and is a free event!
Important Tips
Considering things do tend to get a little messy and chaotic, the following tips will help you survive and enjoy La Tomatina festival!
1. Bring Earplugs And Goggles
You don't want to underestimate the number of mushy tomatoes that are going to be thrown your way (remember…150 tons of the fruit are involved) at La Tomatina, and bringing a couple of pairs of earplugs will help eliminate the tomato residue from getting in your ears. Plus, it will help drown out the din of shouting and excited participants!
Many Tomatina participants also wear goggles or snorkeling gear to keep the tomato puree out of their eyes and nose, so this is something to consider as well. Plastic visors are another great way to eliminate tomato residue on your head, and they'll block out Spain's blistering summer sun.
2. Store Some Cash In A Ziploc Bag
It's never a bad idea to have some extra cash on you while participating in an event like La Tomatina, and storing some in a Ziploc or dry bag will help keep it fresh and clean. You can also throw other personal belongings, including your cell phone, camera, and forms of identification, in there to keep them safe from tomato residues.
3. Bring A Waterproof Phone Case
While taking your phone out during La Tomatina is risky business, most participants will want a few pictures and videos of the action for the folks back home. Even if you're committed to living in the moment, use a protective case during the epic food fight to ensure your phone withstands the event. If you plan on taking photos with a camera, be sure to bring a waterproof camera case as well.
If you want a top-notch waterproof phone case, consider options from LifeProof, OtterBox, and Catalyst.
4. Wear Clothes You Don't Mind Getting Dirty
This might be obvious, but there are always participants who attend La Tomatina and think they're going to stand back and watch from a distance without getting annihilated by tomatoes. This is similar to going to the beach and expecting to avoid getting any sand between your toes. Do yourself a favor and wear clothes you don't mind ruining, even if you do expect to admire the tomato-throwing frenzy from afar.
5. Smash And Then Throw
Participating in La Tomatina is kind of like going paintballing — some tomatoes are going to hurt more than others. While this rings true, participants do a pretty decent job of smashing their tomatoes before throwing in order to avoid causing injury. Follow suit and make sure to properly squash your tomatoes before throwing! We don't want anyone getting a black eye, now.
If you're vacationing in Spain, do not miss these amazing day trips from Barcelona.
Photo Credit: Iakov Filimonov / Shutterstock
Photo Credit: ULKASTUDIO / Shutterstock