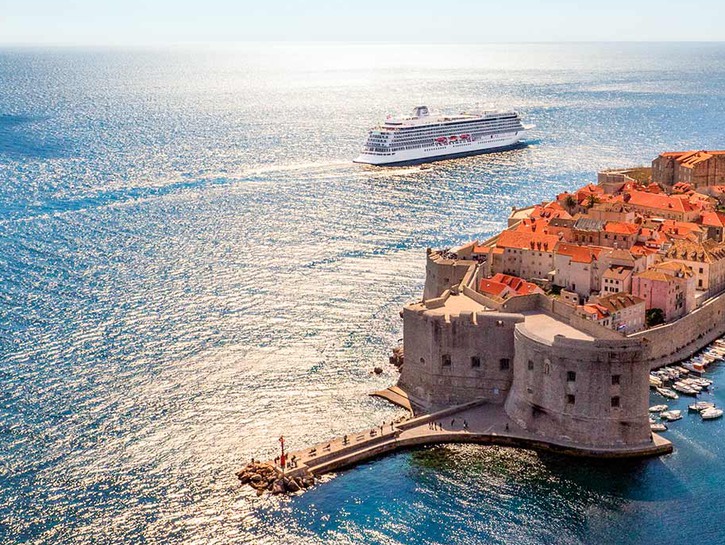 You've booked your Viking Ocean Cruise or you're thinking of booking a cruise. Whatever point you're at in your planning, you'll want to make the most of your vacation when you do go. A cruise can be an expensive investment and, like any investment, you want to make sure that it's worthwhile.
As a recent guest on two Viking Ocean Cruises — both the Cities of Antiquity & the Holy Lands and the Viking Homelands itinerary — I'm here to tell you that the team at Viking Cruises will make your stay so wonderful you won't want to go home. Guests are often so pleased with their trips that they use their on-board discount to book a future Viking Cruise before they depart.
There's a reason why Travel + Leisure rated Viking Ocean Cruises the world's number one ocean cruise line for three years in a row. These luxury ocean liners, like the Viking Star and Viking Sky, accommodate about 900 passengers, unlike your typical large cruise ship that houses between 3,000 and 6,000 passengers. The small size and high staff-to-guest ratio make for a more inviting experience. In fact, even with 900 passengers aboard, each ship is sized and run so well that you'll never feel cramped or lacking for a lunch or dinner reservation. Plus, once you get to know one Viking ocean liner, you'll be able to navigate them all, as all have the same amenities.
Why am I such a fan of Viking Ocean Cruises? It's because you can do all of the following and more:
Enjoy An Included Excursion At Every Port
Viking's included excursions are typically offered multiple times in the morning or afternoon, depending on when you arrive at your destination. You can easily browse and book your excursions on the Viking website. I encourage you to do this in advance as soon as the excursions for your cruise are posted. There are also specialty full- and half-day excursions available for an extra fee. For example, my sister and I booked the fun afternoon Food Tour in Copenhagen when we were visiting Denmark.
Pack Casual Attire For The Entire Trip
Dress is casual — even for dinner. Women don't need any formals and men aren't required to wear a jacket and tie. The only stipulation is "no jeans at dinner time." Otherwise, it's up to you. I did bring two cocktail dresses that I wore in the evening but my boyfriend just wore button downs. I did notice a few men wearing sport coats to dinner which is optional.
Feast On Fabulous Foods From All Over The World
I went on a tour of the galley and can attest that the 99 cooks on board do an amazing job. Nothing is prepared in advance. I saw the bakers assembling the dough for the next morning's croissants and breakfast pastries. Ooh, ooh, ooh, breakfast was my favorite meal. I ate a croissant with preserves each morning.
Executive Chef Donald told us that 120 tons of food are brought on board at the first port for each 14-day cruise. There are specific refrigerators for different types of food to keep everything fresh, and the menu is augmented when local fish can be purchased at a port of call.
The World Café is where you'll find a full buffet at breakfast, lunch, and dinner. And I mean full! Listen to these dinner options: a sushi bar, a salad bar, multiple entrees, made-to-order meals, freshly baked breads, an assortment of desserts and homemade gelato. Are you hungry yet?
In case you get hungry in between meals, there are also quite a few spots for snacking, including Mamsen's, which offers Nordic waffles with fresh toppings in the mornings and evenings and the Pool Grill, where late lunches are available in case you return from an excursion after lunchtime hours. If you get the midnight munchies or desire to have breakfast in bed, there's always 24-hour room service.
For table service, you can make reservations at The Restaurant (or just show up and wait in line to be seated on your own or at a table with other guests to make new friends). The Restaurant offers a standard menu every night in addition to a Destination Menu featuring local cuisines from the country of port. When we were in Israel, I dined on the Destination appetizer of Israeli salad and selected the Destination dessert of olive oil cheesecake. It was so good.
Savor A Selection Of Specialty Restaurants
There are also two specialty restaurants open during evening hours that you won't want to pass up: Manfredi's and The Chef's Table.
Manfredi's serves such delicious Italian cuisine that you'll think you are in Italy (and depending on your cruise itinerary, you just might be)! On the night we dined there, my boyfriend and I shared chilled octopus carpaccio, angel hair pasta with prawns and zucchini, and capellini scampi. For dessert we shared an absolutely awesome tiramisu. Again: so good.
For The Chef's Table, the chefs and sommeliers design an authentic five-course tasting menu highlighting a particular ethnic or regional cuisine. When we dined there, our menu was inspired by China's Cantonese and Huaiyang cuisine with hot and sour soup, fried prawns, wok fried beef, and chilled mango cream for dessert.
Be sure to make reservations at these specialty restaurants in advance (booking is available online). Note: Depending on your cruise package, there may be an additional charge for dining at these restaurants.
Rest Up With A Relaxing Spa Treatment
The LivNordic Spa is a great place to unwind after a day of sightseeing. It's also a nice way to indulge during a day at sea. There are estheticians on board who provide a variety of Nordic-style facials, beauticians available in the salon for Nordic hair treatments, and massage therapists for soothing Swedish or deep tissue massages. These spa treatments do entail an additional cost, and I vote for using any shipboard credit for self-care; you'll be glad you did.
As you plan out your cruise schedule, I strongly recommend booking your treatments in advance. You can usually change the appointment times if needed once you get there, but days at sea book up quickly.
Take it from me, there's nothing better than scheduling a massage the day after you arrive to help get those knots from a long plane ride out of your back. That's what I did when I was on my first Viking Cruise. I had a Swedish massage the second day on board. It was so wonderful. My therapist said I had a PRC or "personal rock collection" in my back, which was riddled with tight muscles and trigger points. She used eucalyptus and lavender oils to relax me.
Spend A Mindful Day At Sea
If you're lucky to have a day or two at sea between ports, there are plenty of things to do in addition to getting those spa treatments I just mentioned. However, before we leave the spa, did I mention that there is a whirlpool, a sauna, and a steam room — and they're all complimentary?
Plus, are you ready for the best part? There's a Snow Grotto! As it says in the brochure, it's "a sanctuary of fluffy snow and chilled air. The Scandinavian tradition is to invigorate yourself in the sauna and steam room and then go cold." I tried but only got as far as my right big toe. It was too icy for me!
If you prefer warmth, there's nothing better than stretching out on one of the comfy lounge chairs by the main pool. This pool has a retractable roof so you can enjoy the poolside rain or shine. With a good book for a morning read and a blanket in the afternoon for a catnap, I'd say you're all set.
For those who prefer a more active day at sea, I like the Sports Deck. This outdoor area has a walking track, putting green, exercise stations, and a selection of games like croquet and shuffleboard. My boyfriend and I enjoyed our walks around the track on days at sea. While there is an indoor gym with equipment and exercise classes, I prefer spending my free time outdoors if the weather is nice. I often saw guests adding to their step counters with a jog around the track in the morning and afternoon.
My favorite way to spend time at sea was chillaxing outside near the infinity pool or inside the Explorer's Lounge watching the breathtaking scenery. The Lounge, located in the very front of the ship, has floor-to-ceiling windows, offering expansive views of the water while cruising. It's a very mindful experience to observe as the ship sails the Mediterranean or maneuvers through Norway's majestic fjords.
Treat Yourself To Tea Time Every Afternoon
Okay, maybe not every afternoon, but do select a few afternoons to treat yourself to tea time in the Wintergarden Lounge. It is such a lovely way to spend the early evening hour between 4 and 5 p.m. It's a classic Viking tradition.
Freshly brewed tea is served to order and homemade scones with cream and jam are worth every last calorie. So are the tea cakes and sandwiches. Did I mention that this is all included in your cruise at no additional cost? It is! It is!
Meet Up With New Friends For Cocktails Or Evening Entertainment
Whether you're traveling with old friends, family, or your significant other, you're sure to make new friends once on board. I spoke with several guests who said they met life-long friends during a Viking Cruise — and now they always travel together. There are so many opportunities to mix and mingle during group excursions, by opting for open seating at The Restaurant, or even while lounging at the pool or perusing the breakfast buffet.
The Atrium usually has live music with the Viking Classical Trio early evenings. It's a comfortable spot to meet new friends for cocktails. If you prefer gathering after dinner, there are shows in the Star Theatre around 9 p.m. and dancing in the Torshavn bar till late at night.
One of my most memorable musical evenings was watching the Viking Singers perform a medley of hits from the Beatles and ABBA. "The Fabba Four," as they were known, managed to get everyone up dancing around the pool deck.
Exceeding Expectations Is What It's All About
The extraordinary staff makes it difficult to say goodbye at the end of a Viking Cruise. It's almost like you become part of the Viking family. They are all so welcoming.
I agree with Captain Tom when he says that "I know that there are lots of competitors out there but what sets us apart is this Viking staff." They come from all over the world and make a commitment to exceed expectations when it comes to service.
The last evening before disembarking is usually spent packing. However, I encourage you to pencil in the Captain's Farewell Reception as soon as you see it on the schedule of the Viking Daily News (which you'll find in your room each day). It's a final gathering held in the Atrium. The entire staff comes to say goodbye. From every part of the ship they give a Viking shout on cue to say thank you to the guests. Seeing this engaged team together will be a reminder of what makes a Viking cruise so memorable and special.
Photo Credit: Viking Cruises
Disclosure of Material Connection: Viking Cruises provided me with a complimentary press trip on the Cities of Antiquity & the Holy Lands Ocean Cruise and Viking Homelands Cruise. Regardless, I only recommend products or services I use personally and believe will be good for my readers.