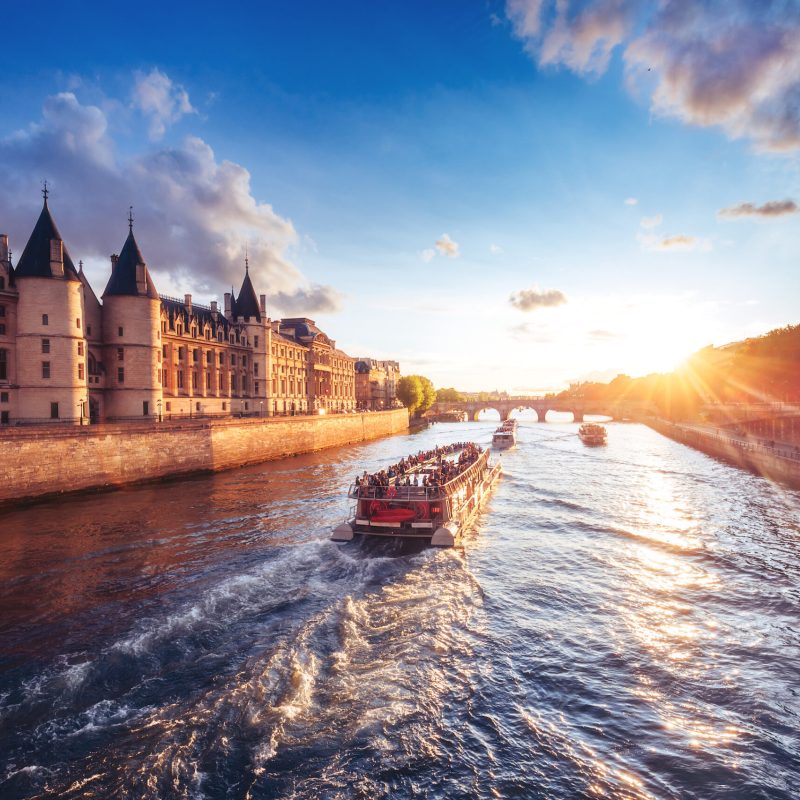 When most people think about cruise vacations, they picture large ships moving across the open ocean, stopping at the occasional tropical paradise. That's certainly one way to cruise — and ocean cruises are an excellent way to spend a vacation — but in recent years, river cruises have presented a viable alternative.
River cruises prioritize excursions and cultural experiences over onboard activities. You'll spend more time in actual cities, viewing the sights and interacting with locals. If you prefer an active vacation, a river cruise might be right for you.
European river cruises offer an especially good value, and they've been gaining popularity. If you're considering this type of vacation, here's what you need to know.
1. Picking The Best Time Of Year For A European River Cruise Is Complicated
So what's the best time of year to take that cruise? Well, that depends. Many river cruise lines book voyages year-round, leaving travelers to juggle four risk factors that rise and fall with the seasons: risk of flooding, risk of drought, tolerance for cold, and price.
According to travel writer Lauri Wakefield's website, Dutch and Belgian rivers see the most traffic in spring, when the tulips bloom. If you'd prefer to visit Central Europe, though, peak season falls in July and August. That's after the threat of springtime flooding has passed, and before temperatures take an autumnal dip. Of course, as you move deeper into the hot summer, the chance of low water levels disrupting your itinerary increases. (One of our writers found out about this one the hard way.)
In short, July seems like the safest bet if your primary concerns are water levels that rise too high or sink too low.
Chris Gray Faust of Cruise Critic says you can catch cheaper fares by booking your trip for September, October, or November, at least on the Danube — but be prepared to stack on those layers when you stand on deck. The holiday season brings crowds to the many Christmas markets along the Danube, raising rates accordingly.
Attentive readers may complain that we skipped a fifth potential risk factor in our analysis above: tolerance for crowds. While it is true that you can schedule trips to avoid particularly busy seasons, there's no avoiding face time with fellow travelers on a cruise ship. These vessels are simply too small; research European river cruises for any length of time, and you'll see the word intimate pop up more than once. If solitary travel is more to your taste, cruises might not be for you.
2. Picking The Best Time To Book Your River Cruise Is Also Complicated
Like we mentioned above, the season during which you book your cruise can really affect the price you pay. But you can sometimes get a better rate by booking your trip in advance.
Lots of cruise lines will have early-booking specials or offer deals throughout the year, and it pays to know about these. It's worth it to sign up for newsletters and to follow cruise lines' social media accounts to keep track of all of the deals. There are sometimes last-minute offers announced, but you have to have an extremely flexible schedule to utilize these. According to travel site Cruise Critic, it's best to book 12 months out for a peak-season cruise and nine to 12 months out for a shoulder-season or off-season cruise.
Traditional travel agents are another great resource for saving money on cruise bookings. As we've discussed elsewhere, travel agents sometimes get "quiet offers" from cruise lines. These are unpublished rates, and they can easily save you more money than you'd pay to the agent for access.
Hey, we don't get the economics of it, either. Travel agents are wizards.
3. Traveling Solo Is Not Complicated
Have no fear, solo travelers! European river cruise lines offer plenty of excursion options and onboard amenities for the single occupant. It isn't hard to find cruises that won't unintentionally penalize you with "single supplement" fees — and some cruise lines even book specifically for solo adventurers. You just need to know if a ship includes single cabins; if it does, you should be able to escape paying for two.
If you know you'll be traveling solo, do your research on the most solo-friendly cruise lines. Then — and we can't stress this enough — sign up for your favorite line's email list and watch for deals. Solo spots often get filled quickly, so this is another instance in which booking early will redound to your benefit.
At least there's one thing you won't have to worry about during a solo cruise along a European river: feeling lonely. Most cruises have onboard events and meals designed to get people to mingle, so there will be plenty of opportunities to meet and talk with new friends.
On the other hand, you could always take a plate back to your veranda. There are reasons we travel solo, after all.
4. River Cruises Are Packed With All-Inclusive Options
When you're looking to book a European river cruise, you'll find that most cruise lines offer a range of all-inclusive package deals. These can be great for reducing your stress during the planning stage, but it's also important to double-check what all-inclusive means to each specific cruise line. Not all all-inclusive trips are created equal.
Your room and meals are typically included with any booking. But there are some really great perks some companies include that you should look for. Airport transfers and port charges can really add up, especially if an airport is far away from the ship. If you can find a cruise that covers these costs, you can potentially save hundreds of dollars.
Free beverages are another perk you might not realize you miss until you set sail. Most cruise lines include drinks with your meals but not throughout the day. If enjoying an afternoon glass of wine on a whim is something you're looking for, definitely watch for travel packages that include drinks.
You can also save money on excursions depending on the package you book. Most all-inclusive packages will cover all excursions — experiences that would be quite expensive if you paid separately.
5. Not Sure Which Vacation To Book? Choose A Theme
European river cruises have become more and more specialized. That's great news for travelers, because it means you can find a themed cruise to match your passion.
Love golf? Travel the Danube, stopping to hit the links in the Czech Republic, Germany, Austria, and more. More of a history buff? Cruise the Seine through France in remembrance of World War II, or ride the Rhine, disembarking to trace Europe's Jewish history.
Wine lovers have their pick of providers, with Rhine Valley wine cruises available on at least five cruise lines. You can even pack up the family and book a kid-friendly river cruise — without sacrificing adult luxury, of course. We've seen cruises for cyclists, cruises for art aficionados, and even cruises for gardeners, all along the inimitable waterways of Western Europe. Oh, there are also plenty of opportunities to celebrate the holidays aboard a luxury river boat, with popular Christmas market tours in December.
If all the variables start to feel overwhelming, just think about how you'd most like to spend your vacation. Odds are you can indulge your interests on your way down a fabulous European river.
6. River Cruises Offer Unprecedented Customization Options
On the other hand, choice is a good thing.
We like to compare river cruises to vacations on the open sea, but, excepting the boat, they really couldn't be more different. Rivers are always close to land. That means travelers have all the options of the open city every time they stop for the night.
River tour companies offer full menus of shore excursions, but they're always optional. Don't feel like joining your fellow passengers on a kayaking trip? No problem. Go shopping, check out the architecture, or take a nap onboard. There's no wrong way to spend time on a European river cruise.
Avalon Waterways even created the Active & Discovery series of cruises to build experiences based on traveler choice. Travel the Rhine, the Rhône, or the Danube, stopping frequently to see the sights, have an adventure, or just relax on deck.
The point is, the providers of European river cruises have noticed that travelers want to chart their own courses. These providers are now offering simple ways to make that happen.
7. How To Find The Best European River Cruise For You
Once you know your budget, it's time to wade through the options. This is the time to get a travel agent involved, if you're going traditional. Otherwise, be prepared to do some research.
You could start by picking a river — have you always dreamed of floating down the Rhine, the Danube, or the Seine? Or you could start by picking a country or area that interests you. If you want to brush up on your French, book a trip along the Seine or the Rhône. For a tour of Eastern Europe, head along the Danube from Germany in the west to the Black Sea in Romania.
You could also choose your trip based on your interests. If you want to watch ancient castles pass by, sail the Rhine. Foodies might prefer a wine-tasting trip down the Rhône. In short, there is no perfect European river cruise — there's just the cruise that perfectly matches your hopes and dreams.
Hop online and open a few tabs. Compare cruise itineraries and prices. Keep track of your research — we like to use a notebook, oddly enough — and narrow down your options. Here's a list of cruise lines voted Travel + Leisure's top 10 in 2018, in no particular order, to get you started: AmaWaterways, Grand Circle Cruise Line, Avalon Waterways, Uniworld Boutique River Cruise Collection, Tauck, Vantage Deluxe World Travel, Viking, Scenic Luxury Cruises & Tours, Crystal River Cruises, and Aqua Expeditions.
Photo Credit: taranchic / Shutterstock