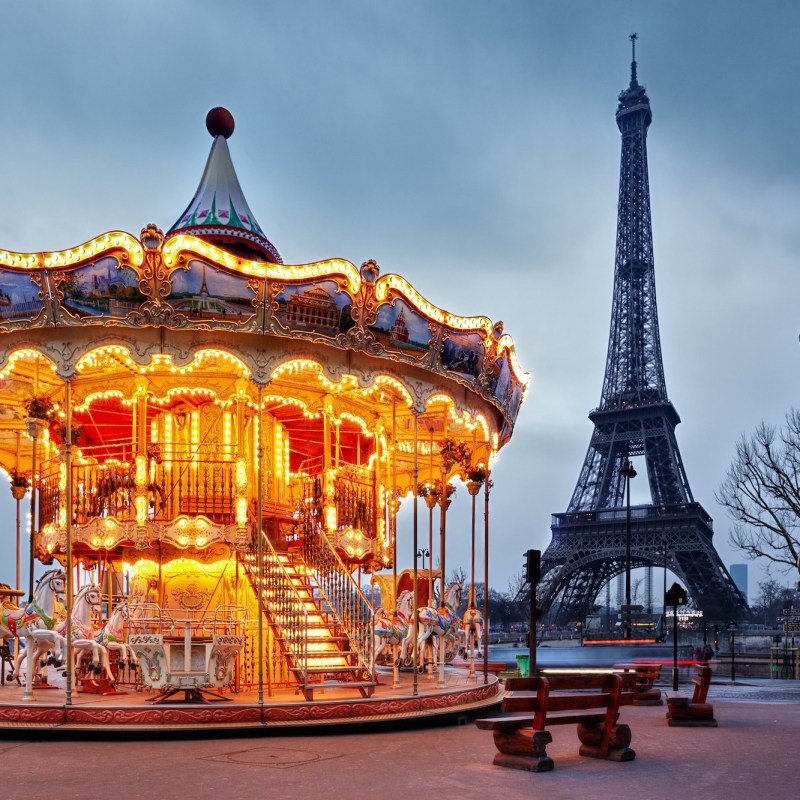 Have you ever read a list of the best things to do in Paris? They're all nearly identical. Visit the Louvre! Go to the Eiffel Tower! Indeed, those are must-see landmarks that no visitor should miss. But Paris is also home to some fantastic hidden gems that you won't find on your average travel list. Taking the time to visit these attractions — even just one or two — will show you the calm, quiet, romantic, historic, whimsical, delightful Paris that locals know and love. Happily, most of these hidden gems are also affordable (or even free!) and have flexible hours to accommodate even the busiest travelers.
1. The Expiatory Chapel
In the 8th arrondissement, not far from the Saint-Lazare railway station, is a memorial chapel built in tribute to some of the most famous French people in history: the executed Queen Marie Antoinette and King Louis XVI. The Expiatory Chapel marks the original position of their tombs and commemorates their lives with statues and other artistic efforts, such as a reproduction of Louis XVI's will. It's an essential pilgrimage site for history and royalty buffs and, with its admission cost of just 5.50 euros, it's an affordable way to see a unique side of the French Revolution. If you happen to be in Paris on January 21, you absolutely must drop by — a memorial Mass is offered annually on that day for the repose of the soul of Louis XVI.
2. The Arènes De Lutèce
The Arènes de Lutèce, built in the first century, is one of the two Gallo-Roman structures that still remain in Paris. In its heyday, 15,000 spectators would crowd into this amphitheater to enjoy gladiatorial combat. For hundreds of years, it was lost, only to be rediscovered in the late 1800s during the construction of a new tramway. Victor Hugo himself led the charge to save and restore as much of the Arènes de Lutèce as possible. Now, on what was the amphitheater's stage, Parisians enjoy one of their favorite pastimes: boules, a game similar to bocce. There's no better place to nibble on a pastry and enjoy the Parisian life.
3. The Home Of Nicolas Flamel
Harry Potter fanatics will want to take a trip to 51 rue de Montmorency. This is the home of the real-life Nicolas Flamel — bookseller, philanthropist, maybe-alchemist. Did Flamel ever discover how to turn other elements into gold? That's unlikely, but his home is indeed a treasure. The house at number 51 was built by Flamel in 1407, and it's the oldest stone home in Paris. Today, it's a restaurant called Auberge Nicolas Flamel, but there are plenty of mysterious symbols carved into the exterior that are still visible today. If you're a true Flamel fanatic, note that a Paris street near the Louvre has been named for him; it intersects with the rue Pernelle, named for his wife.
4. Paris's Merry-Go-Rounds
Do you fancy a spin on the manège? That's French for "merry-go-round" or "carousel," and there are several delightful ones tucked around Paris. Two of the most charming are just a few steps from an attraction that's undoubtedly already on your must-see list: the Eiffel Tower!
The Trocadéro Carousel (also known as the Carrousel de Paris) is next to the Fountain of Warsaw at the waters of the Jardins du Trocadéro. The entire area is as pretty as a picture, and on a clear day, you can get great photos of the Eiffel Tower reflected in the water.
Close by, and even closer to the Tower, is the aptly named Carrousel de la Tour Eiffel, also known as Carousel XI. It's better known than the other carousels of Paris, but it's a hit with kids and a great place to take in the cherry blossoms when they bloom each spring.
There are several other carousels scattered around the city. The Dodo Manège carousel in Jardin des Plantes is a little bit more off the beaten path, but it's well worth a visit. The animals represented on this carousel are either extinct or highly endangered. It's thought to be the only one of its kind in the world. The nature theme is especially fitting, since the carousel is located next to the National Museum of Natural History.
5. Musée De La Sculpture En Plein Air
On Quai Saint-Bernard, not far from the Jardin des Plantes, is an incredible open-air sculpture museum, the Musée de la Sculpture en Plein Air, which is free to the public. Noted artists such as César, Brancusi, and Schöffer are represented there, and, unlike at most Parisian museums, touching the art is absolutely permitted. Kids will enjoy a museum experience that's free from rules, while adults will love the peaceful stroll along the Seine — so chic! — and the great views of Notre Dame. The museum has no official hours and is a great attraction for families on a busy schedule.
6. The Paris Catacombs
Tampering with artifacts is always prohibited, but at one Parisian attraction, the theft rate is so high that departing guests must have their bags searched. The Parisian Catacombs, an enormous set of interconnected underground ossuaries, is the final resting place of some 6 million Parisians. If the idea of hanging out underground with an endless display of human skeletons is off-putting to you, I'm here to tell you that it's one of the most intriguing things I've ever done.
I'm not alone — word is getting out, and there are sometimes long lines at the entrance gates. It would be wise to purchase tickets ahead of time. While the catacombs are a bit macabre, there's nothing frightening or sinister about them. I actually found them rather peaceful! The temperature in these underground vaults remains at about 57 degrees, making them the perfect place to spend a hot summer afternoon. Visitors are required to stick to the marked paths and not pursue independent excursions. It's a warning to take seriously. In 2017, two teenagers got lost in the catacombs and had to be rescued! Stick to the well-marked path and remember that your bag will be checked for any souvenirs you've picked up along the way. (Yes, people really do steal the bones!)
The neighborhood of Montmartre is mostly neglected by tourists, save for the crowds that head to Sacré-Coeur Basilica. But time spent off the proverbial beaten path will prove hugely rewarding for those in search of Parisian hidden gems. While there are a few tours offered in the neighborhood, the absolute best focuses on locations from the movie Amélie. This charming 2001 French comedy (with helpful subtitles!) shares the whimsical world of a shy waitress who works in Montmartre. Watching it is a delightful way to prepare for a trip to Paris, but even if you haven't seen it, taking an Amélie-themed tour is a great way to see an entirely different side of Paris. The film was shot at real locations and businesses around Montmartre.
8. Piscine Joséphine Baker
If the cheese, baguettes, macarons, and other Parisian delicacies are weighing you down and you're craving some exercise, Piscine Joséphine Baker is the place to go. This 82-by-32-foot swimming pool is located on a barge that floats on the Seine. You can drop in for lane swims for 3.80 euros. Other amenities include a sundeck, a sauna, a children's wading pool, and a gym. And if you're trying to combat jetlag through exercise, you should note that the pool is open until 11 p.m. on Thursdays (and on every weeknight during the summer).
Photo Credit: Neirfy / Shutterstock
Photo Credit: Nataliya Hora / Shutterstock