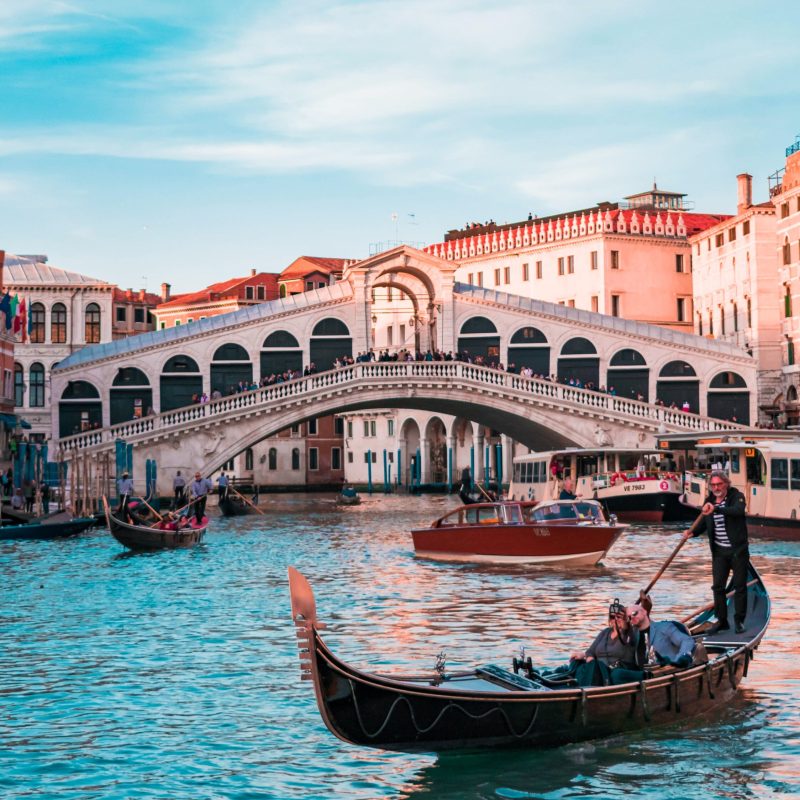 Venice, Italy is one of the most dreamlike and romantic places on earth. You've probably grown up seeing idealized images of Venice in magazines like National Geographic that provided a fantasized version of what Venice, Italy is like: the traditional gondolas, the stunning canals, the endless bridges… So, the question remains: Is this what Venice is like in real life?
When you first get off the plane in Venice, it seems hard to believe that a stunning canal-lined city surrounded by the Adriatic Sea exists just a few short miles away. It's not until you hop into your water taxi and are driving down the Venetian Lagoon that you realize you really are in Venice, and that it really is like those photos you grew up seeing.
Venice is a city in northeastern Italy and is the capital of the Veneto region. It is nestled amongst a group of 118 small islands separated by canals, and linked by over 400 bridges, hence where it gets the nicknames the "City of Canals" and the "City of Bridges."
The following information will provide you with everything you need to know in order to plan a trip to this unparalleled and unique Italian city, including the weather, best things to see, what to eat, where to stay, and how to get around.
Weather In Venice
Average High/Low Temperatures by Month
January: 45°/32°F
February: 48°/33°F
March: 55°/40°F
April: 62°/47°F
May: 71°/55°F
June: 78°/62°F
July: 83°/66°F
August: 82°/65°F
September: 75°/58°F
October: 65°/50°F
November: 54°/41°F
December: 46°/33°F
Months with the Most Rainfall
June: 11 days
November: 11 days
August: 9 days
The Climate in Venice
Venice has a Mediterranean climate with hot weather and high humidity in July and August. July is the hottest month in Venice with an average temperature of 73°F, and it is also the month with the most daily sunshine hours. Violent thunderstorms and flooding are common in Venice.
June and November are Venice's wettest months, and winter months see chilly weather. Winter in Venice welcomes frequent and sometimes freezing fogs, especially in January.
The Best Time to Visit Venice
The best time to visit Venice is during spring months. Spring offers favorable temperatures ideal for sightseeing, especially in May. In May, the cold of winter diminishes and days are comfortably warm.
The Carnival of Venice is one of the biggest celebrations in Italy, occurring each year in February. Though February is a cooler month in Venice, it is a great time to visit, due to this world-renowned celebration.
What to Pack for a Trip to Venice
Since Venice sees four seasons, it's important to pack for the weather when planning a trip to Venice.
If you're visiting during winter months, be sure to bring warm clothes. If you're traveling to Venice in summer, be aware that it can get very hot, so you'll want the works: sunglasses, sunscreen, hats, light clothing, and, of course, comfortable walking shoes!
If you happen to visit Venice during its rainy season, namely in November, make sure you come fully prepared with rain boots and an umbrella.
Best Things To See In Venice
There are endless things to see and do in Venice, from its bustling plazas to its stunning canals, bridges, and basilicas.
1. Piazza San Marco
Commonly referred to as St. Mark's Square, Piazza San Marco is the city's principal square, with several prominent buildings and landmarks, including St. Mark's Basilica, Doge's Palace, and St. Mark's Clocktower. Spend the day touring these sites, watching the hundreds of pigeons that frequent the square or indulge in some delicious Italian favorites at the plaza's many surrounding restaurants and cafes.
2. Grand Canal
Forming one of the major water-traffic corridors in Venice, Grand Canal follows a natural channel that traces a reverse-S from St. Mark's Basilica to Santa Chiara Church. Travelers can take a traditional poled gondola ride along Grand Canal, or watch as motorized water buses and private water taxis zip through the area.
3. St. Mark's Basilica
Situated in Piazza San Marco, St. Mark's Basilica is the cathedral church of the Roman Catholic Archdiocese of Venice. It's undeniably the city's most famous church and is best known for its Italo-Byzantine architecture.
4. Rialto Bridge
The oldest of four bridges that span Venice's Grand Canal, Rialto Bridge is a stone-arch bridge built at the end of the 16th century. The bridge is renowned as an architectural and engineering achievement of the Renaissance.
5. Bridge of Sighs
Another prominent bridge in Venice, the Bridge of Sighs gets in name from a suggestion that prisoners would sigh at their last glimpses of Venice, just before being taken to their cells. Made of white limestone, the Bridge of Sighs passes over the Rio di Palazzo, connecting the New Prison to interrogation rooms in Doge's Palace.
Best Food To Eat In Venice
1. Sarde in saor
A sweet-and-sour (agrodolce) dish, sarde in saor consists of fried sardine fillets marinated in vinegar, onions, raisins, and pine nuts. It was originally consumed during the Middle Ages as a means of preservation for Venetian sailors and fisherman. The word saor itself refers to the technique of marinating food in vinegar.
2. Bigoli in salsa
In Italian, bigoli are long, thick, whole-wheat pasta noodles that resemble spaghetti. The sauce on bigoli consists of onion and salt-cured fish, namely sardines or anchovies. Bigoli in salsa is traditionally served on lean days, such as Christmas Eve and Good Friday. This simple dish is bursting with flavor and will have you saying, "Now, that's amore!"
3. Dried and salted cod
Venetian salted cod, called baccalà mantecato in Italian, is one of the most popular ways of preparing cod in Italy, especially in Venice. The salted cod is typically beaten with milk and peanut oil until whipped. It is usually served on a bread crostini or atop baked polenta.
4. Cicchetti
Known as Venetian antipasti, cicchetti are delicious, cheap dishes unique to Venice. Cicchetti is small plates or finger foods, similar to tapas in Spain. These small plates are usually enjoyed out at a restaurant with friends and family, accompanied by a glass of wine or spritzer and good conversation.
Other Things To Do In Venice
Take an Italian Cooking Class
One of Italy's greatest appeals is its cuisine, and what better way to spend your time in Venice than learning to cook like a true Italian?
There are endless cooking classes held throughout Venice, but Mama Isa's Cooking School is our pick and was awarded as Italy's top cooking school by the New York Times.
Travelers can choose between a half-day, full-day, or pizza cooking class. Mama Isa herself is a chef, cooking class teacher, and "sfoglina," known in Venice as a pasta specialist. She has more than 10 years of experience hosting cooking classes in Italy, teaching visitors how to make their own homemade pasta, toss their own pizza dough, or make risotto from scratch.
Hop on a Gondola Ride
It wouldn't be a trip to Venice without hopping on a gondola ride and being serenaded by a gondolier. While riding a gondola in Venice may be a slight tourist trap, it's one that no traveler should be ashamed to partake in.
Gondolas have been a primary form of transportation in Venice since the 12th century, up until speedboats started taking their place in the 20th century.
While gondolas are still considered a mode of transportation in Venice, their main purpose is to guide tourists through the picturesque canals of the city, while gazing upon centuries-old Baroque buildings and breathing in that fresh Adriatic Sea breeze.
Best Kept Secret In Venice
Libreria Acqua Alta
Arguably one of the most unique bookstores in the world, Libreria Acqua Alta has rejected Venice's constant state of flooding by keeping its collection of books in boats, gondolas, canoes, and tanks.
Located in Calle Lunga Santa Maria Formosa, Libreria Acqua Alta sells a massive collection of books in all languages that cover every topic imaginable, including art, food, sport, cinema, fiction, and non-fiction.
Open daily from 9:00 a.m. to 8:00 p.m., the out-of-the-ordinary bookstore is a must-see when visiting Venice. This dream-like attraction invites visitors to explore its endless"bookshelves" and get lost with some literature in its encyclopedia-lined staircases.
Best Areas To Stay In Venice
Neighborhoods in Venice are called sestieres, and there are several wonderful areas to choose from when looking for accommodations in Venice.
1. San Marco
San Marco is situated in the heart of Venice and is home to the largest number of museums, tourist attractions, and monuments. Though this is arguably the most beautiful area to stay in Venice, keep in mind it may also be the most crowded, and the most expensive.
2. Cannaregio
Cannaregio is a more authentic alternative to neighborhoods like San Marco, and is home to Venice's Jewish Ghetto, one of the oldest throughout all of Europe. This is a great choice for travelers that like to get a bit off the beaten path. Sites to see in Cannaregio include the Church of Madonna dell'Orto and Church of Santa Maria dei Miracoli.
3. Castello
Castellois the largest sestiere in Venice, dating back to the 13th century. It's yet another very local and very authentic neighborhood in the city and is a great option for those who are looking to save on accommodations.
4. Dorsoduro
A true tale of two cities, Dorsoduro is known for having both a tranquil daytime ambiance and a bustling nightlife. Dorsoduro is home to the Gallerie dell'Accademia, Venice's most renowned art gallery.
How To Get Around In Venice
One of the main aspects of Venice that makes it so unique is its presence of canals in place of roads. Venice is made up of more than 150 canals, thus there are no cars in the city. It's undeniably what gives Venice it's romantic appeal, but how does one get around without road transportation?
Since Venice is quite small, the best way to see the city is on foot, and you can easily walk to all of the city's main attractions. Though Venice can be seen primarily on foot, there are some options for those that wish to take advantage of Venice's water transportation. There are bus-boats that serve as public transportation in Venice, though it costs a pretty penny. A one-way fare that's good for one hour costs €7.50.
A more affordable alternative to Venice's bus-boats is something called a "traghetto." A traghetto is a gondola-like boat that takes visitors from one side of Grand Canal to the other for only a couple of euros. There's nothing fancy or romantic about these boats, but they're used by locals and will give you a more authentic take on public transportation in Venice.
Key Phrases To Know In Italian
While Venice is, in fact, a very popular tourist destination, I myself was surprised to discover that not many Italians spoke English when I visited the beautiful canal-lined city a few years back.
When you are visiting touristy areas throughout Venice, namely Piazza San Marco, Rialto Bridge, Saint Mark's Basilica, etc., there will be more people that people English, such as restaurant and hotel employees. But don't expect this to always be the case!
It would probably be in your best interest to learn and practice some key Italian phrases before heading to Venice. You probably already know a few Italian phrases or words without even realizing it!
The following basic phrases will undeniably help you navigate your way through Venice. Even if you don't use them in conversation, being able to recognize the following words or phrases on signs could help make your trip a little easier (like knowing how to read the word for "bathroom," for instance).
Hello: Ciao
Good morning: Buon giorno
Goodbye: Ciao
Please: Per favore
Thank you: Grazie
Yes/No: Si/No
You're welcome: Prego
Excuse me: Mi scusi
How much?: Quanto?
Bathroom: Bagno
Can you help me?: Me potete aiutare?
Do you speak English? Parla inglese?
Things To Know About Italian/Venetian Culture
1. The Art of Ordering Coffee
Italians have a very particular way of drinking coffee, and you'll get some head scratches or maybe even some under-the-breath chuckles if you don't follow suit. The best way to prove you're a foreigner in Italy is by not knowing how to order coffee.
In the morning, Italians only drink cappuccino or macchiato. Anytime after 12 p.m., you no longer consume any beverage that contains milk, thus will be ordering espresso and only espresso if choosing to drink coffee in the afternoon or evening.
Coffee is also known for costing exactly €1.30 throughout Italy, so never pay more than this. There also is no such thing as coffee to-go, so expect to stand at a bar or sit at a table while consuming your morning or afternoon coffee.
2. Siesta: It's Important
Like Spain, Italy takes its midday nap time very seriously. Except for the city center in major cities throughout Italy (Rome, Florence, Venice, etc.), shops, restaurants, and businesses will close during siesta.
Siesta in Italy normally occurs between 1-4 p.m. It's a time for Italians to go home, eat lunch with their families, and relax before heading back to work.
3. Eating Late
Italians are also known for eating dinner quite late, and restaurants will follow this schedule. Don't expect dinner restaurants to be open until about 7 p.m. or later throughout Italy.
More To Read…
If you're like us here at Travel Awaits and want to learn as much about a destination before you travel there, there are several helpful articles, books, and travel guides that will fully prepare you for your trip to Venice.
Helpful Articles About Venice Travel
1. To get some ideas on where to stay in Venice, be sure to check out Luxury Hotels In Venice, Italy and Best Budget Hotels In Venice, Italy.
2. For more information on all of the wonderful things to do in Venice, read Venice, Italy: Must See And Do In This Magical City.
3. To learn about the reason Venice may not exist in the future, head to Why Future Generations May Not See Venice.
Venice Travel Guides
Here is a list of some of the best travel guides for Venice:
1. Fodor's Venice (Full-color Travel Guide)
2. Lonely Planet Venice & the Veneto (Travel Guide)
3. Michelin Green Guide Venice and the Veneto (Travel Guide)
4. Blue Guide Venice: Ninth Edition
5. The Monocle Travel Guide to Venice: The Monocle Travel Guide Series
Venice Books
For some excellent fiction and non-fiction material, both about Venice and by famous Italian authors, be sure to read:
1. A History of Venice by John Julius Norwich
2. The City of Falling Angels by John John Berendt
3. Death in Venice by Thomas Mann
4. In the Company of the Courtesan by Sarah Dunant
5. If Venice Dies by Salvatore Settis