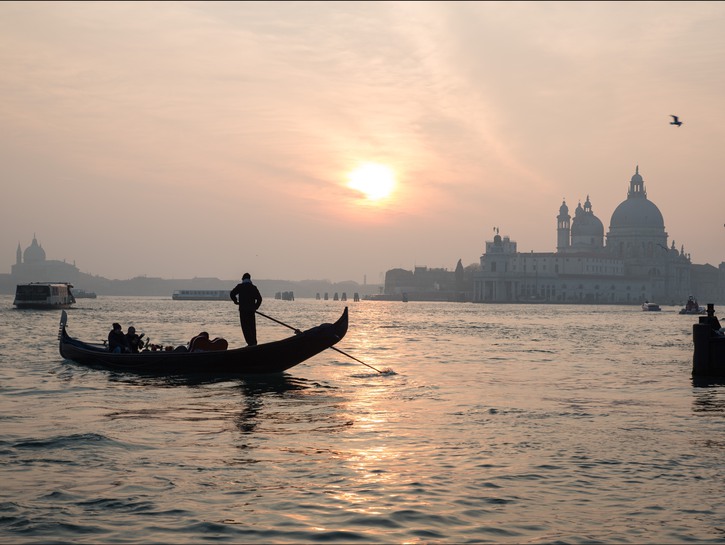 Legend tells us that the city of Venice was founded in 421 AD by Roman villagers fleeing barbarian invasions from the north. No doubt they were relieved to discover this secluded lagoon with its string of marshy islands just off the coast of Northern Italy. Over the centuries, they stuck their wooden poles deep in the mud, using them to prop up the wooden platforms and marbled piazzas that would come to form the literal basis of the Venice we know and love today.
Many generations of visitors have marvelled at this floating city, its arterial canals spanned by renaissance bridges, its rich culture of art and mask-making, its famous gondoliers ferrying lovers to and fro.
If you're going to visit one of the swankiest cities on earth, it might be worth considering some high-end accommodations. So here are the 10 most luxurious hotels in Italy's most romantic city.
TripAdvisor rating: 5/5 (2018 Travellers' Choice Winner)
Cost: USD $329 per night and up
For quality and luxury, the Hotel Moresco is the unchallenged Venetian champ, winner of TripAdvisor's coveted Travellers' Choice 5 years in a row! Located right on the Rio Dei Tolentini canal in a discrete corner of Old Venice, the Moresco is no more than a half hour walk from the Piazza San Marco — and what a breathtaking walk that is!
Moresco embodies the Italian tradition of hospitality, with a cocktail hour accompanied by music, a wide range of fresh food options, and staff who go far beyond the call of duty to ensure your stay is everything you dreamt it would be. The decor is stunning and eclectic, with eastern touches hearkening back to Venice's legacy as a renaissance trading power with one foot in Europe and one in the orient.
There's a library full of books detailing the history of the city and people, and a walled courtyard garden where guests can recline and enjoy the quieter side of Venice.
TripAdvisor rating: 5/5 (2018 Travellers' Choice Winner)
Cost: $550 per night and up
If the price sounds a little steep, consider that the Al Ponte Antico is a renovated palace dating back to the 1550s, and that it offers guests an unreal view of the world-famous Rialto Bridge. You'll get your own terrace looking out onto the most famous canal in the world, personal service, and a breakfast to die for. (Guests especially recommend the crepes, which are made onsite by staff.)
You'll be staying right in the heart of Venice, with virtually immediate access to shopping, theatre, and the Piazza San Marco — including the must-see Doge's Palace.
TripAdvisor rating: 5/5 (Certificate of Excellence)
Cost: $348 per night and up
If you're looking for something smaller, something downtown but in its own quiet alcove, the Corte Di Gabriela has you covered. This ornate, historic hotel has only 11 suites, so you know your needs will be seen to promptly by the staff. The suites are really more like mini apartments; one of them even comes complete with its own courtyard! The decor seamlessly blends the pomp and circumstance of a 19th century palace with the comfort and functionality of a 21st century boutique hotel. Plus breakfast lasts until 11:30, so you can sleep in and dine in at the same time.
TripAdvisor rating: 5/5 (Certificate of Excellence)
Cost: $272 per night and up
Another palacial boutique hotel, the Canal Grande is situated on the Grand Canal — as the name would suggest. The building is an old palace from the 1700s, recently restored and furnished with pieces characteristic of the Rococo style. The Grande is conveniently located near the train station, and it includes a terrace with a spectacular view of the canal that guests rave about.
TripAdvisor rating: 5/5 (2018 Travellers' Choice Winner)
Cost: $341 per night and up
Hugged by canals on two sites, the Ai Cavalieri is characterized by its restored 18th century frescoes, plush accommodations, and its genuine Venetian glasswork. Like many of the best hotels in the city, it's within walking distance of all the major attractions, but also tucked away from more touristy areas. There's a 24 hour help desk where staff wll be happy to help you plan tours of the city, and water entrance so you can come and go by gondola!
TripAdvisor rating: 5/5 (2018 Travellers' Choice Winner)
Cost: $475 per night and up
Ca' Maria Adele bills itself as the most romantic boutique hotel in the world. With its location in the artsy district of Venice, across a capillary canal from the Basilica di Santa Maria della Salute, it advances a pretty strong claim. It's also just a gondola away from the busier parts of town, around St. Mark's. There are only 12 rooms here, so you'll be in exclusive company. It's hard to envision a better place for a romantic rendez-vous with your significant other.
Guests, many of them honeymooners or folks celebrating milestones, can't say enough about Ca' Maria's combination of intimacy and luxury, and the superb service offered by the staff.
TripAdvisor rating: 5/5
Cost: $799 per night and up
Perhaps the most remarkable thing about this hotel is it's history. The building dates back to the 15th century (though its frescoes are from the 18th). It was once the family home of Doge Agostino Barbarigo, who ruled Venice from 1486 until his death in 1501. He actually gave this palace away as part of his daughter's dowry.
Today, it's a 4-star hotel, though one guest noted on TripAdvisor that it has 6-star service. The hotel is furnished like the palace of a great Doge, and lit by chandeliers of Murano glass — a Venetian signature.
Intriguingly, this sense of history is complemented by a modern art gallery on the first floor of the hotel.
TripAdvisor rating: 5/5
Cost: $442 per night and up (Certificate of Excellence)
This isn't a hotel, but a block of three apartments you can rent — and an extremely slick, modern block of apartments as well. Outside, a gothic palace, but within, every modern amenity, and a perfect rental for a family or group who are more interested in exploring Venice independently while also staying in style.
The apartments are located smack in the middle of town, between the Rialto bridge and Piazza San Marco, the perfect jump-off point to tour Venice on foot. There's a private dock, a courtyard, WiFi, and a kitchenette where you can do a little Italian cooking of your own!
If you're planning a trip to Venice in the near future, we hope we've given you some food for thought. For an anniversary or another special occasion, it really is worth splurging on a high-end hotel in this extraordinary lagoon city. Happy trails!