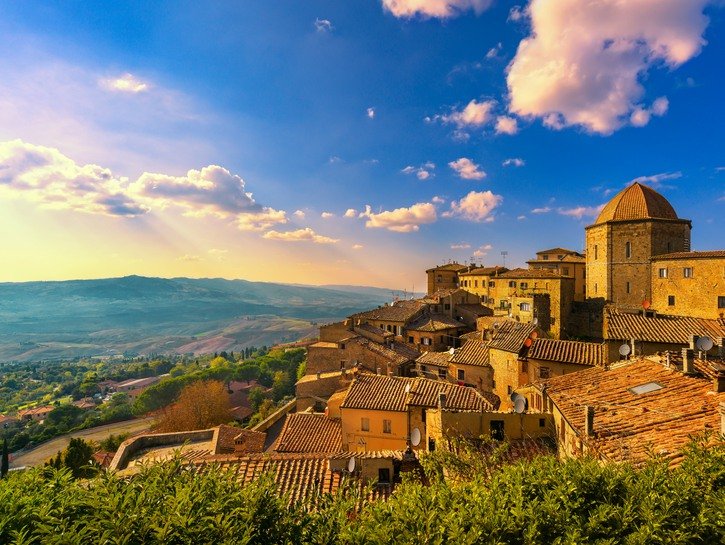 If you've never heard of Volterra, you're not alone. It's a tragically underrated destination. But here are 8 reasons you'll fall in love with the place if you take the time to visit.
You May Just Have It All To Yourself
Volterra's old town, population 6,000, is connected to the rest of Tuscany by bus, not train. While it's only a two-hour ride to Siena, Florence, and Pisa, Eurail powered backpackers and travellers in a rush who rely on fast connections often skip the town altogether. As a result, foot traffic is greatly reduced compared to nearby villages. In fact, visit mid-autumn and you may very well feel like you're the only tourist in town. Just be aware that some restaurants and a few attractions close or reduce their hours come November. A late October visit is the perfect mix of convenience and quiet.
Small Town = Big Base
Despite its small size and reduced tourist traffic, Volterra makes a surprisingly good base. Occasionally, small towns run the risk of being high on charm but low on practicalities. But not in Volterra! The town center is home to pharmacies, bookstores, gourmet food shops, a Saturday morning farmers market, a movie theatre, and even a dry cleaner and self-serve laundromat.
There's one catch, however: driving is a bit of a challenge. In fact, non-residents are not allowed to drive in the town center. If you're arriving by car, speak to your hotel about parking arrangements. My favourite hotel, Hotel La Locanda, has a lovely location inside the town walls which is conveniently close to the northern gate, Porta Fiorentina. Here, visitors will find the best parking options.
Pro tip: Hotel La Locanda offers homemade cakes and tortes at breakfast, and, while it's not well advertised, they will also provide delicious, made-to-order scrambled eggs!
Romance and Ruins
An evening spent strolling along Volterra's ancient walls, gazing out over the rolling hillsides, vineyards, and manor homes at sunset will have even the most jaded traveller convinced that the romance of Tuscany has not been overrated or overstated. This is the Tuscany that every traveller dreams of!
While you're meandering along, don't forget to take in the view of the Roman Theater, which dates to the first century. Remarkably, it wasn't unearthed until the 1950s. In fact, it was once the site of the town dump and centuries of garbage protected the ruins from the ravages of time!
Become Acquainted With The Ancient Etruscans
Volterra's Etruscan Museum is one of the last remaining tributes to once was the most influential and powerful society in the world. From about 900 BC to the first century AD, everyone who was anyone was Etruscan. They were masters of agriculture, irrigation, and maritime navigation for 10 centuries — until suddenly they weren't.
Today, the greatest concentration of Etruscan artifacts lies in Volterra's Etruscan Museum. It's heavy on elaborately carved funeral urns and light on modern curation and English language descriptions, but there's something about it that is captivating. How did these pillars of industry and the arts become a footnote in history, their language obliterated and culture lost? And what lessons can the empires of today draw from the Etruscan's demise?
All In For Alabaster
Volterra is the world's alabaster capital. The town is filled with workshops and galleries, featuring everything from modern art to household accessories. For centuries, artisans have shaped this persnickety material into altarpieces, carved busts, and even razor-thin window panes. You can learn more at the Pinacoteca and Alabaster Museum, see craftspeople at work at workshops across the city, and pick up souvenirs just about anywhere. Take care to respect signs discouraging photography at some shops.
If you're dreaming of taking home a bespoke alabaster souvenier of your own, I'm a fan of La Bottega Toscana, a small shop specializing in easy to pack items like earrings and picture frames as well as olive wood kitchen products.
Volterra Is A Foodie's Dream
It might not have the culinary chops of Florence or Rome but Volterra is one of the best places in Italy to eat authentic Tuscan food. The combination of fewer tourists and a close-knit community means that restaurants cater to the local population's tastes and budgets. At La Carabaccia, located close to the Etruscan Museum, the menu changes daily and sticks to the kind of old-fashioned Tuscan recipes you'd find in a grandmother's home. Local cheese and cured meats compliment mains like lamb stew, beef rolled around root vegetables and cooked with tomatoes and beans, and homemade noodles tossed with minced chicken and spices. A jug of the house wine rings in at just a few Euros.
At La Vecchia Lira, eating as the locals do is highly recommended. Come lunch, construction workers, retirees, and busy families choose from a variety of hot main dishes and sides, which the staff divvy out cafeteria style. Grabbing a takeout container is a popular option, and frugal-minded travelers could easily have a hearty meal for under €10. If you do opt to eat in with the a la carte menu, be sure to wander towards the back to look at the dessert case!
If you're craving hot, cheesy comfort food, Ombra della Sera serves up the best pizza in town, as well as gigantic calzones. Selection is generous, the atmosphere is very kid friendly, and you can even call ahead to order some take out — perfect for tired road trippers keen on a night in.
It's A Frugal Foodie's Dream Too
Some things in life feel too good to be true, but the Italian custom of aperitivo isn't one of them. Imagine a delicious, filling, happy hour buffet that's entirely free and you'll start to get the idea. Every evening, many Italian bars and cafes put out a small spread of completely free delicacies to encourage visitors to stay and linger over a drink or three. And for a small town, Volterra has a great aperitivo scene.
My personal favourite spot was VolaTerrA (yep, those oddly placed capital letters are indeed part of its name). There I munched on savoury toasted crostini, mozzarella and tomato salad, wedges of focaccia baked with herbs and pizza-style tomato sauce, and veggies with dip. In fact, I loved it so much I dropped by several nights in a row! Glasses of local wine rang in at just €5 and the staff couldn't have been more friendly or welcoming. For travellers keen to augment the aperitivo offerings, their small a la carte menu of Tuscan dishes contains a respectable amount of gluten-free, vegetarian, and vegan offerings.
Volterra, like many Tuscan towns, is a bit more sedate at night, especially in the offseason. Making friends with the staff and locals at an aperitivo hotspot is a good way to pass chilly evenings and make some great travel memories.
Volterrans Are Proud, Friendly — And Rebellious Too
While most visitors come for much more ancient history, relatively recent events are equally intriguing and reveal a lot about Volterran character. In World War II, the occupying Nazi forces demanded that Volterra's 2,000-year-old Etruscan archway be destroyed and reduced to a pile of rubble in order to slow down the Allied forces. However, proud residents found an alternative way to save it and managed to convince the Nazis to give their idea a try.
Working tirelessly through the night, town residents ripped up paving stones and plugged the gate, transforming the void into a solid, impenetrable wall. The precious arch was saved, without raising the ire of Nazi command, and undoubtedly countless other irreplaceable landmarks were protected from the scars of war. This independent streak and pride of place is part of what makes Volterra so irresistible — and such an unforgettable destination.