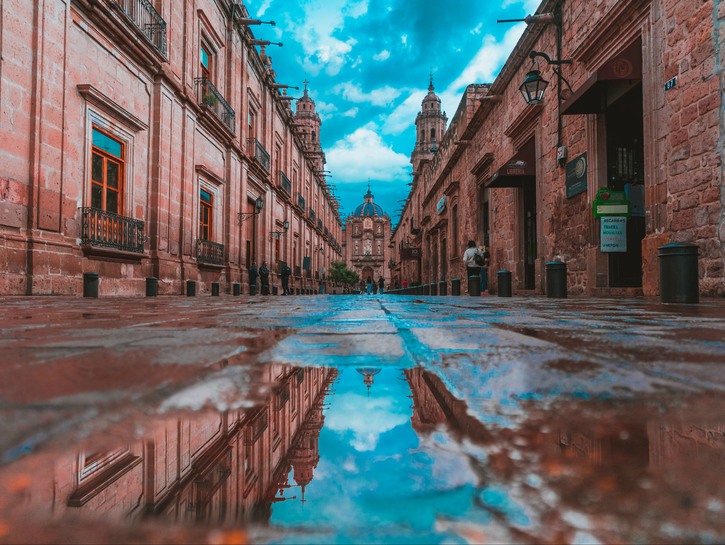 Nestled between the U.S. and Central America, Mexico remains a holiday hub particularly for American and Canadian travelers due to its close proximity, affordable flights, and favorable year-round tropical weather along the country's vast coastlines.
Whether you're seeking an upscale vacation destination or a budget-friendly getaway, Mexico's fast-growing economy and traditional culture sets the stage for every type of traveler. Situated among an assortment of luxury and economical resorts, these top tourist towns boast some of the world's best diving, untouched white sandy beaches, and authentic Mexican cuisine.
Best Luxury Destinations
1. Cancún
Top Beaches: Xpu-Ha, Akumal, Playa Maroma
Top Luxury Resort: Nizuc
Top Restaurant: La Habichuela
Arguably Mexico's most popular resort town and vacation destination, Cancún's unblemished design was, believe it or not, selected and drafted in the '70s using computer models.
A diver's dream, Cancún's Underwater Museum invites visitors to view submerged sculptures via glass-bottom boat, snorkeling, or scuba diving. The nearby Isla Mujeres boasts some of the best diving and snorkeling in the world, and come every June to September, the water stirs with hundreds of massive migrating whale sharks.
2. Cabo San Lucas
Top Beaches: Bahía Chileno, Playa Solmar, Playa del Amor, Divorce Beach
Top Luxury Resort: The Resort at Pedregal
Top Restaurant: El Peregrino Restaurant Bar
Cabo San Lucas has been attracting the swankiest of travelers for decades, explicitly beckoning to Hollywood's elite since the '70s. A walk along its shores will reveal endless opportunities for scuba diving, fishing, surfing, sailing and, of course, sunbathing.
This resort city is situated on the southern edge of Mexico's Baja California Peninsula, inviting anyone and everyone from celebrities, families, wealthy jet-setters, and championship golfers. Photos of Cabo San Lucas almost always depict the city's most prevalent attraction, the Arch of Cabo San Lucas.
While visiting Cabo, don't miss out on traditional cuisine local to the area, such as Mexican chocolate clam, shrimp and fish tacos, smoked Marlin, and tamales.
3. Tulum
Top Beaches: Playa Ruinas, Las Palmas, Playa Paraíso
Top Luxury Resort: Dreams Tulum Resort & Spa
Top Restaurant: El Asadero
Tulum is a town on the Caribbean coastline of the Yucatán Peninsula and, while not as popular as the above-mentioned vacation hotspots, is yet another luxury vacation destination and home to (debatably) the country's most pristine beach along the Riviera Maya.
A trip to Tulum will be filled with eco-adventures, visits to the area's historically significant Mayan archeological site, snorkeling in Gran Cenote, a limestone sinkhole, and days spent at its famed national park, Parque Nacional de Tulum.
While in Tulum, don't miss out on the Sian Ka'an Biosphere Reserve (a UNESCO World Heritage Centre), Punta Laguna Nature Reserve and dancing Voladores, a truly unique Tulum experience not to be seen anywhere else.
4. Ixtapa-Zihuatanejo
Top Beaches: Playa La Ropa, Playa Las Gatas, Playa La Madera
Top Luxury Resort: La Casa Que Canta
Top Restaurant: Carmelitas Café
An up-and-coming luxury resort town, Ixtapa was only recently discovered as a vacation terminus when it was founded in the early '70s by FONATUR (the National Fund for Tourism Development).
Zihuatanejo, Ixtapa's sister-city, is located four miles south, a bona fide Mexican fishing town. With the Pacific Ocean to the west and the Sierra Madre mountain chain to the east, these twin cities offer visitors a paradoxical combination between old and new.
Scuba diving, surfing, and deep-sea fishing are just a few activities one can indulge in while visiting Ixtapa and Zihuatanejo, and a trip to this region wouldn't be complete without visiting its plethora of white sandy beaches, including Playa Linda, Playa Larga, Playa Quieta, and Playa El Palmar.
Best Budget Destinations
1. Playa del Carmen
Top Beaches: Playa Calle 10, Playa Mamitas, Parque Fundadores
Top Budget Resort: El Acuario Hotel
Top Restaurant: Imprevist
Near Cancun rests Playa del Carmen, a great option for those seeking an alternative to Mexico's many luxury resort towns. Playa del Carmen attracts high volumes of international backpackers, thus the area offers endless hostels, guesthouses, affordable hotels, and budget-friendly resorts.
This Maya Riviera coastal town is home to Fundadores Park, a seaside park with Mayan dance performances and mystifying sculptures. Be sure to taste some tacos al pastor while visiting Playa del Carmen, a favorite cuisine amongst locals.
2. Loreto
Top Beaches: Ensenada Blanca, Playa Nopola
Top Budget Resort: Loreto Bay Golf Resort & Spa
Top Restaurant: Mi Loreto
With apartment-style cabanas and hotel rooms ringing in at around $70 per night, Loreto is calling out to travelers who wish to wallow in a tropical retreat without breaking the bank.
Loreto is a prime destination for wildlife watching, with the Sea of Cortez serving as an essential breeding ground for dolphins, whales, seals, and other sea animals, due in part to its gentle waters.
Located on Mexico's Baja California Peninsula, Loreto is backed by the Sierra de la Giganta mountain range, with trails leading to prehistoric cave paintings. This small Mexican town is lined with colonial buildings, and those visiting should be sure to check out Misión de Nuestra Señora de Loreto, a 17th-century church founded in 1697.
3. Mazatlán
Top Beaches: Playa Los Cerritos, Playa Bruja, Playa Norte
Top Budget Resort: Torres Mazatlan
Top Restaurant: El Presidio Cocina de México
One of Mexico's oldest international resort towns happens to also be one of the most affordable in the entire country, with long-term travelers able to rent apartments for as little as $400 per month in Mazatlán.
Bird watching, golf, surfing, horseback riding, and mountain biking are the area's top outdoor activities, while sport fishing remains this resort town's greatest global appeal. Other popular activities in Mazatlán include Aquatic Park Mazagua, Plazuela Machado, Mazatlán Cathedral, and Acuario Mazatlán.
Travelers tend to spend extended amounts of time in Mazatlán, and due to its 16 miles of golden beaches, vibrant nightlife, and authentic ambiance, it comes as no surprise. Mazatlán is a quintessential destination for snowbirds looking to get away during winter months.
4. Todos Santos
Top Beaches: Los Cerritos, Punta Lobos, La Cachora
Top Budget Resort: Hotel Casa Tota
Top Restaurant: Los Adobes de Todos Santos
Perfect year-round weather, fewer tourists, and a one-of-a-kind Día de los Muertos (Day of the Dead) celebration make Todos Santos an ideal budget-friendly vacation in Mexico.
Rustic granite streets and multi-colored stained buildings depict the spirit of Todos Santos, and views of the Pacific Ocean can be spotted throughout this quaint Baja California Peninsula town.
A pivotal culinary hub, Todos Santos recently opened Todos Santos Brewing, a new local favorite for craft beer, artisanal soda and an extensive lunch, and dinner menu with vegan and vegetarian options.
We hope we helped you narrow down your choices for a Mexican getaway, whether you're looking to splurge or tighten your belt. Happy trails!