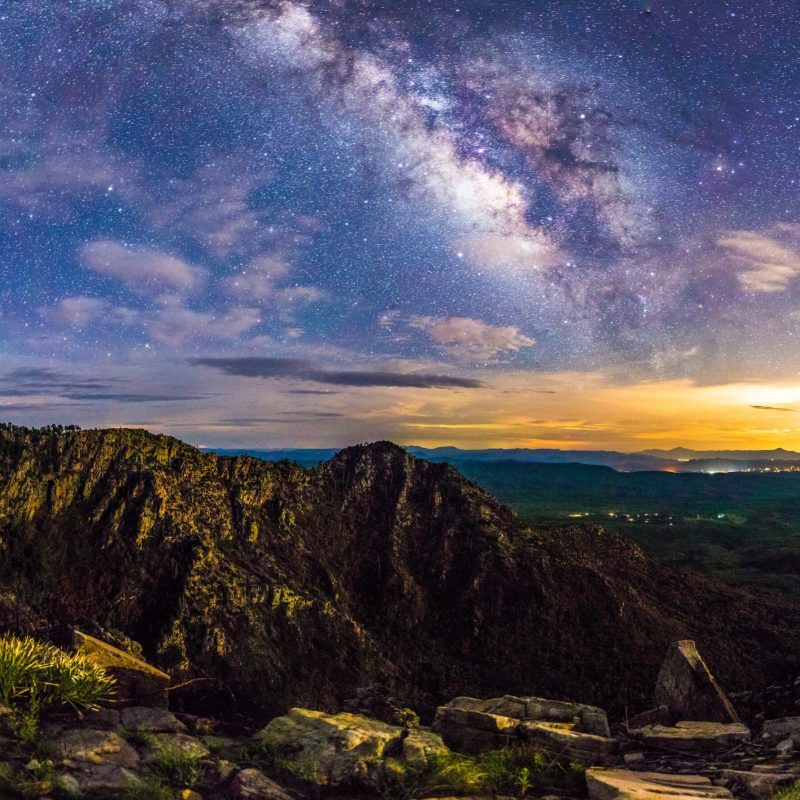 Less than one hundred miles northeast of Phoenix, Arizona, giant rocks and towering pines replace the desert scenery of the Valley of the Sun, and the rugged escarpment of the Mogollon Rim offers up its expansive views for miles around. If you're in Phoenix and looking to get away for a day, this is an opportunity you can't miss!
The backdrop of the drive to the Rim is also spectacular. The Beeline Highway, State Route 87 between Greater Phoenix and Payson, climbs and snakes its way through mountain terrain and diverse landscapes. The elevation of Phoenix as measured at the Sky Harbor Airport is 1,124 feet. During the first part of the drive, saguaros, other cacti, and low desert shrubs pepper the mountains around you. As you ascend in elevation, the saguaros thin out and eventually disappear. By the time you reach Payson, at the edge of the Mogollon Rim at an altitude of almost 5,000 feet, you'll be hugged by evergreen forests.
When you turn east onto Arizona State Route 260 at Payson and continue toward the Rim itself, you'll pass campgrounds, RV parks, and resorts. This is a popular vacation area for Phoenix area residents, who come to escape the heat of summer, admire the fall colors, or experience snow in winter.
Here's everything you'll want to know about the Mogollon Rim, one of the best day trips you can take from Phoenix.
The Mogollon Rim
The Mogollon Rim is a roughly 200-mile-long limestone and granite cliff carved diagonally across the state of Arizona, reaching 7,000 to 8,000 feet above sea level. It was formed by upheavals followed by flooding and erosion during the Mesozoic Era (252-66 million years ago). Although ponderosa pine forests dominate its slopes and plateau, you can also find oak, chapparal, and pinyon-juniper woodlands. The area offers many recreational opportunities, with campgrounds, lakes, trails, and lookouts.
There are two stories as to how the Mogollon Rim got its name. One story claims it was named after Juan Ignacio Flores Mogollon, the Spanish colonial governor of New Mexico from 1712 to 1715. According to the other story, the name comes from the Spanish word for mistletoe, an invasive plant in the area that can harm ponderosa trees. Whatever the true story of the origin of its name, the Rim's scenery is dramatic.
Scenic Rim Road
Thirty miles past Payson you come to Rim Road (Forest Road 300). You needn't drive very far along the road to be treated to breathtaking views. It is just a few miles to Military Sinkhole and Rim Lakes Vista, where you'll find expansive unobstructed views. Standing on a rugged cliff overlooking forests and hills dropping thousands of feet below you can fill you with awe. It can also be a bit unnerving if you have any fear of heights. If you want to take some time to walk while enjoying the view, Rim Lakes Vista Trail #622 is a popular, mostly paved hiking trail running just a few feet from the Rim's edge. The trail is 3.5 miles long, making for a round-trip of seven miles, but if you want a shorter hike you can turn back at any point along the trail.
After you've had enough of enjoying the view and breathing in the fresh, clean scent of the air, you can continue the drive on Rim Road or head back to Route 260 to return to Payson.
Rim Road (Forest Road 300) continues in a westerly direction for about 40 miles until it joins State Route 87. The eastern end of the Rim Road is in the western edge of the Apache-Sitgreaves National Forest. As you travel west, you'll enter the Coconino National Forest. The road takes you through pine forest and grassy meadows, along drop-offs with spectacular views, and past campgrounds, lakes, and hiking trails. You may see wildlife along the way.
The road follows closely what was once part of the Crook Trail. General Crook took charge of the Arizona Territory in 1871 and waged a series of Indian campaigns to force the Apache onto reservations. He built the original trail, which was about 200 miles in length, between 1872 and 1873 to get supplies from Fort Whipple near Prescott to Fort Verde and Fort Apache.
You'll also pass turn-offs to a number of recreational areas, including the Woods Canyon Lake, Bear Canyon Lake, and Knoll Lake. Kehl Springs Campground is a scenic spot for a picnic.
The road is well-graded gravel. The drive will likely take around two hours. Check road conditions before heading out. Snow and other winter weather conditions may result in road closures.
When you reach State Route 87, you can turn south and head back to Payson.
Best Things To Do Near Mogollon Rim
There are a number of opportunities to get active in the Mogollon Rim. The rugged forested escarpment contains a large system of hiking trails ranging in difficulty from easy to strenuous and in distance from half a mile to 32 miles. The trails take you through forests, grasslands, and valleys where you'll see wildlife, old cabins, and spectacular mountain-edge vistas. Check the USDA Forest Service site for trail information in the Black Mesa Ranger District of the Apache-Sitgreaves National Forest and trail information in the Mogollon Rim Ranger District of the Coconino National Forest. Note that many of the trails are not open in winter months.
Woods Canyon Lake
Several lakes in the area offer opportunities for boating, fishing, picnicking, and wildlife viewing, as well as access to hiking trails. Note that Arizona fishing regulations apply at all lakes and all anglers must hold valid Arizona fishing licenses. Each lake has its own restrictions as to the type and size of boats allowed.
Woods Canyon Lake, at an elevation of 7,510 feet, is set in a heavily forested area. Trout fishing is popular here. Woods Canyon Lake Store and Marina rents boats and sells fishing licenses and supplies.
Knoll Lake
Secluded Knoll Lake, also surrounded by dense ponderosa pine forest, is a scenic setting for a canoe or small boat ride. Fishing for rainbow, brown, and brook trout is good here. Roads to this lake are closed in winter.
Bear Canyon Lake
The narrow, canyon-bound, deep Bear Canyon Lake draws visitors despite being several miles down a dirt road with limited amenities. It is regularly stocked with rainbow trout and is accessible by snowmobile in winter.
Willow Springs Lake
Willow Springs Lake is located off Route 260 a few miles beyond the Rim Road intersection. It is a trout fishing lake set in tall pines. Ice fishing is popular in winter, but be sure to check official reports on ice conditions before venturing onto the lake.
Christoper Creek Loop
Christoper Creek is a short, scenic road running off Route 260 about 14 miles west of Rim Road. It makes for a pretty diversion on your way to Rim Road (or on the way back to Payson if you choose not to drive the full Rim Road). The road passes through the mountain village of Christopher Creek, which sits on the banks of a creek and boasts wide-open views of the jagged cliffs of the Mogollon Rim, before rejoining Route 260.
Things To Do In Nearby Payson, Arizona
Payson is a modern town very near the geographic center of Arizona. If you have time on your way back to Phoenix, stop and visit the art galleries and antique stores on Historic Main Street. The Beeline Cafe on Route 87 in Payson is a good place to stop for a bite to eat. The family-owned restaurant serves basic American food in a diner that still features a lunch counter. It is known for its pies.
Rim Country Museum And Zane Grey Cabin
While in Payson, you may wish to visit the Rim Country Museum, where you'll find displays about the Apache people, the Payson Rodeo (the world's oldest continuous rodeo), the history of early loggers, blacksmiths, miners, and pioneers in the area, and the Zane Grey Cabin.
Zane Grey was a storyteller of the American West. Between 1903 and his death in 1939 at the age of 67, he published almost ninety books: 60 westerns, 24 that have Arizona as the primary setting, and 14 that are set above or below the Mogollon Rim.
Grey first came to Rim Country in 1918. He built the original Zane Grey cabin, which he called his hunting lodge, in 1921. He came to that cabin in the fall to hunt and to write. A disagreement over a hunting license in 1929 led to the cabin being left abandoned for 30 years, but in 1963, Bill Goettl purchased and restored the cabin. After his death, his family turned the property into a private museum.
Sadly, the cabin burned to the ground in the Dude Fire of June 1990. The Dude Fire also destroyed 58 other homes and 28,000 acres of forest land and took the lives of six firefighters. The Zane Grey Museum, dedicated in 2005, is housed in a Zane Gray cabin replica made from local ponderosa trees.
The Rim Country Museum is located in Green Valley Park on West Main Street in Payson. The museum is open Wednesday to Saturday from 10 a.m. to 4 p.m.
The temperature in the Mogollon Rim can be 20 to 30 degrees Fahrenheit cooler than Phoenix. Dress accordingly. Take a sweater or jacket, water, and good walking shoes. And don't forget your camera!
Looking for more ideas for Arizona outings? Check out our tips on driving the Apache trail.