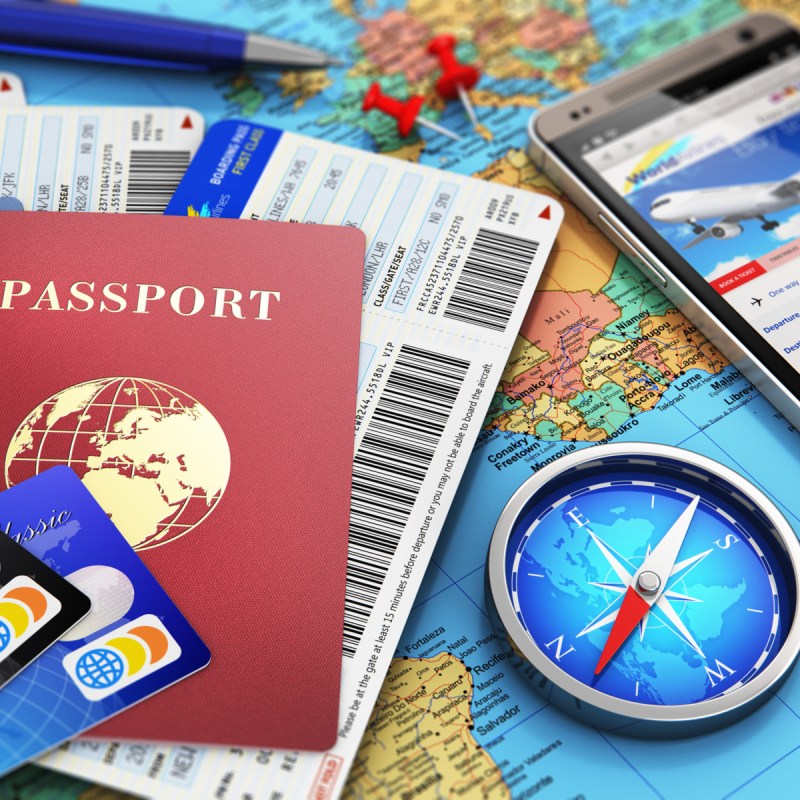 Doing research and preparing for a vacation in a foreign country can be the difference between a great time and a terrible time. It only takes a couple hours to "know before you go" on many important topics which will be invaluable to you on your journey. Check these out:
1. Travel documents
If you are travelling to another country, you will near;y always require a passport or equivalent to enter and return home. Make sure yours is valid for at least 6 months past the last day of your travel, and make a photocopy of the picture page to keep in a separate location. Other travel documents you should have handy (with you) are your printed itineraries, tickets, tour vouchers, inoculations certificate (where applicable), medical insurance (either a printout of your travel policy or your base policy if it covers you), and trip insurance (this is helpful in the event your baggage is lost, as trip insurance usually helps in these cases). Keep these together in a small sealable folder.
2. Medical considerations
Some countries and regions will have vaccination requirements. Check with your doctor, or government websites, for each country you plan to visit. Make sure your inoculations are up to date and you can prove it. Always bring extra medication that you may need in the event that your trip is unexpectedly extended. Some medications are hard to get in foreign countries. Check with your doctor if there are restrictions in your destination for any of your drugs. Most of the time, you're required to have a prescription for your drugs. The bottle label is enough as long as it has your name, the name of the drug and a valid prescription number on it.
3. Currency
If possible exchange a small amount of currency in advance at your bank. It can sometimes take a few days to get the foreign currency, but is worth the wait compared with airport rates. Buy enough for a few taxi rides and tips. It is best to pre-pay for as much as possible from home, as you can benefit from travel and return policies offered by your credit card. Also, exchange rates on your credit card tend to be the best you can get. Avoid airport currency exchange booth or "Bureau de Change" places as they typically have the worst rates. Travelers checks are not popular anymore, so they are not recommended. Bring at least 2 credit cards if you can, but call them in advance to advise of your planned itinerary. Avoid buying more local currency than you need, as it may be difficult to return it at the end of your trip (in some countries). Also, it's not a good idea to carry "too much" cash at any time, both for safety reasons and the fact that in many countries, carrying more than a few thousand dollars' worth across borders may be restricted.
4. Pre-planning
Having a detailed travel itinerary is always best wherever possible. Divide your days into thirds (morning, afternoon, evening), and jot down where you plan to be, and what you will be doing. This will help ensure you have things like tickets and transportation, and make it easy to let your friends and family know your whereabouts.
Sometimes you just want to wing it; this can be safe and fun in some places, but not all. Check the international travel advisory on the US or Canadian government websites for all your destinations to get an opinion before you "wander". Pre-planning can add safety and comfort to your trip as well as managing your expectations.
5. Travel to and from
Booking flights may seem pretty easy, but there are some important things to consider. For example, if your plans require you to be at a specific place by a certain time, consider traveling a day in advance (and booking an extra hotel night) to eliminate risk that your flight is late. Also, jet-lag is a pretty real phenomenon. Some people experience its effects more than others. Having an extra day to adjust before starting your adventure can be very helpful. Flights going east to west and red-eye flights tend to be the worst for this. It's a good idea to have the international phone numbers for all the airlines you're using noted on your travel documents in case there are changes. If possible, set up alerts for your flights on your phone so you'll be aware of changes in advance.
6. Travel within
If you plan to rent a car where you're going, be sure you have your license and insurance. Note that some countries also require you to have an international driving permit before they will rent a car to you. It is wise to check to see if there are major differences regarding which side of the road to drive on and speed limits (miles vs. kilometers). If you're using public transportation or taxis (or ride-sharing services like Uber), make sure you understand if they will be able to pick you up from the airport. Spending a few minutes figuring out how to get from your hotel, to an outing, and then back to the airport will minimize frustration.
7. Important things to bring
When traveling to a new place, especially if it's unfamiliar, you should bring things you need but may not be able to get. The most obvious are prescription drugs and toiletries. Non-prescription medications for headache, cold, and stomach problems are a smart choice too. If you bring brands you recognize, it saves you from having to figure out which local products are best. Next on the list is an adapter to charge all of your electronics. Check the government travel sites to see which countries use which adapters – they're not all the same. Sanitation may not meet your expectations everywhere you visit. It's a good idea to bring a small hand sanitizer and a pack of wet-wipes.
8. Language
If you travel to a country whose citizens do not speak English as a first language, it's safe to assume that many locals will not understand you if you speak (or yell) in English. People usually have some degree of knowledge of the English language in major tourist destinations, but the more you can prepare yourself by learning a few key phrases in the native tongue, the better off you'll be. You may find that locals provide better service if you at least try to communicate in their language. Even if they reply to you in English, more often than not, people will appreciate your efforts. Bring a pocket phase dictionary or get an app installed on your phone to help with basic translations.
9. Local customs
Paying attention to local customs can be fun and educational. From tipping to handshakes, you can learn some of the key customs of many nations on American or Canadian government travel sites. Take a few minutes to review these before travelling to get even more out of your trip.
10. Local laws
It's also a very good idea to browse the country profiles for your destinations on the US, Canada or UK government travel sites to understand unique local laws. You might be surprised, for example, to find out that chewing gum in public in Singapore is a fairly serious crime. This is an easy 5-minute lookup that can save you a lot of trouble. Visit your government's travel advisory website.
11. Communication
Communicating with your loved ones while you travel not only adds comfort, but also safety to your trip. Check with your mobile phone provider before you travel to make sure international calling and data are enabled. Most providers will offer you a travel package to reduce your roaming fees. It's a good idea to understand what's included in the package and not to exceed that usage to avoid a surprise on your bill when you return home. Some destinations do not have access to cellular communications (such as Antarctica or very rural places). Devise a plan to communicate on days you know in advance you'll be near cell-towers to prevent your relatives and friends back home from worry about you.
12. Securing your belongings
The best advice to protect the most valuable items on your trip is simply not to bring them. Lots of jewelry, cash, or unnecessary electronics just adds to your security risk. Protect what you do bring by keeping it on your person (without it showing) or locking it in your hotel safe. For higher value items, you're better off bringing it to the hotel lobby where they often have a safe, and get a signed receipt for your items. Hotel room safes are a good idea, but they can be defeated by clever employees or burglars. Avoid using your back pockets or open purses as they attract pick pockets.