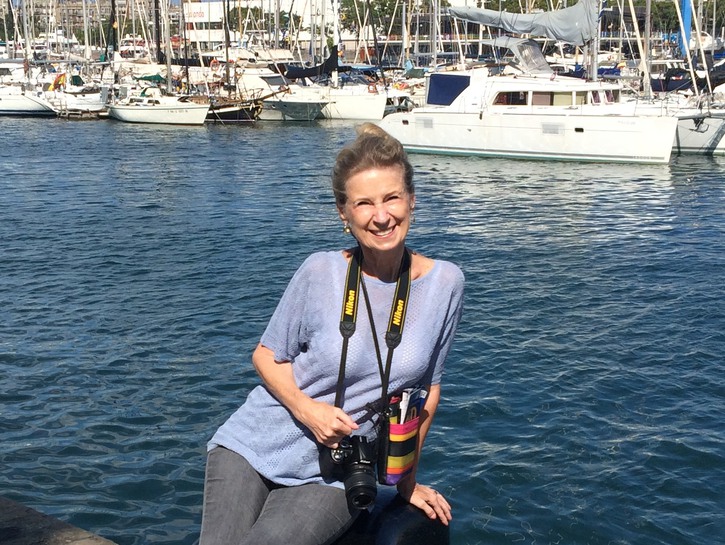 "I'm a Baby Boomer who travels with style. For me, that means discovering meaningful — and fun — experiences, cultures and cuisines. I'm a Chicago-based freelance journalist who specializes in travel, home and fashion. Favorite experiences include swimming with whale sharks in Cancun, fishing for piranha in the Amazon River, and viewing the annual sandhill crane migration in Nebraska. Plus, eating dark chocolate."
You can read more about Pamela McKuen's adventures at her website, All The Write Places. She was kind enough to answer a few of our travel questions below…
TA: How many years have you been traveling and what got you hooked?
Pamela: I've been traveling for about 20 years. Before that, I mostly took beach vacations, which generally aren't travel experiences. Then I was talked into a group tour that sounded like the ultimate beach vacation: the French and Italian Riviera. It wasn't, but it was so much more! On that first "real" trip, I strolled the harbor in Portofino, one of the most romantic spots on earth. I played slot machines in Monaco and bought a darling cashmere twinset at an outdoor market in San Remo. And I developed a passion for trompe l'oeil, especially on building facades. That was the beginning of my explorations. Travel is about stories: Stories of people, of cultures, of experiences, of history. It's the stories that got me hooked, and I want to know more.
TA: Do you specialize in a particular type of travel?
Pamela: Couples, girlfriend getaway, international and domestic.
TA: What is the best vacation you've ever taken?
Pamela: My best vacation experience was to the Okavango Delta in Botswana. We took a little 7-seater airplane from Kasane Airport to a remote landing strip, where we were picked up by our guides and driven an hour to Mapula Lodge. The lodge and cabins are very rustic, but the food was divine and the bed linens were luxurious. By day, we drove for hours to view animals in the bush. By night, we heard hippos moaning in the delta. And the stars were brilliant!
TA: What's one place you've always wanted to visit?
Pamela: I'm headed there this month: The Pushkar Camel Fair in India.
TA: What's one thing you ALWAYS pack when you travel?
Pamela: A handful of metal binder clips: I use them to attach documents to my passport, separate foreign and American paper currency, and fix a loose hem.
TA: If you could only give a traveler one piece of advice, what would it be?
Pamela: When planning your activities in an unfamiliar city, check out the "overview" or "best" tours on sites like TripAdvisor and Viator. Their itineraries will give you an idea as to what the highlights are. Then you can either book a tour or pick the ones you want to see and go on your own.
TA: What are some of your favorite travel blogs and communities?
Pamela: Binders groups on Facebook.
TA: What are the top 3 websites you use for research/inspiration when planning a trip?
Pamela: Viator, TripAdvisor. Also, many hotel websites have sections about nearby attractions.
TA: What is the best piece of travel advice you've ever been given?
Pamela: Zoom with your feet. You'll get better photographs by getting close to your subject rather than standing back and zooming in with your camera.
TA: What's a travel scam travelers should be wary of?
Pamela: I had an expensive leather duffle bag stolen at the airport in Las Vegas. We had just landed and were taking a shuttle to our hotel. The attendant told us to hop in the van, and he would put our luggage in the back. The shuttle was full of people and their luggage, but our hotel was the first stop. When we got out, my bag was not on the shuttle. It was never found, so we figure it was handed off to an accomplice in the chaos of the shuttle staging area. The shuttle company compensated the theft (not enough), but I had to go shopping for shoes and toiletries. Since then, we make sure to watch anyone load our luggage and shut the hatch. And I take cheap luggage.
TA: What is the most beautiful and affordable city you've ever visited?
Pamela: Lima, the capital of Peru, is a modern metropolis with bold artistic expressions and a taste for world-class cuisine. It is a colonial city that remains deeply connected to its centuries-old roots. It's gorgeous, historic and very affordable. Among the highlights: The Cathedral of Lima, where explorer Francisco Pizarro is buried, in the Historic Center. The exquisite tilework at the Parque del Amor in the Miraflores neighborhood. Be forewarned: Lima traffic congestion is insane!
TA: What's something that other tourists do when traveling that drives you crazy and why?
Pamela: Everyone wants to take pictures of the same waterfall. Take your shots and move out of the way. Don't push someone else aside to get yours. The waterfall will still be there in two minutes.
TA: Which underrated destination deserves to be more famous?
Pamela: Grenada. The Southern Caribbean gets glossed over in light of its northern (and pricier) counterparts, but Grenada welcomes its tourists. The small country offers top-flight hotels, gorgeous beaches and rainforest waterfalls, outdoor adventure and international cuisine. Plus, Grenadian rum is delicious and addicting!
Learn more about Pamela:
Visit her website All The Write Places.
Follow her on Twitter here.
Find her on Facebook here.
See her photos on Instagram here.
Read her CV on LinkedIn here.
Or connect with her on Pinterest here.
Thanks for taking the time to talk with us!