More than any single spot, Yosemite is responsible for the continued protection of America's many scenic areas. Though Yellowstone holds the honor of being the first park created, it was Yosemite that inspired John Muir's love of nature and, in turn, his lifelong mission to share that love and preserve the objects of his affections. His journeys in the Sierras led him to write a number of books and campaign for the protection of Yosemite.
What led to all of this is quite obvious. Yosemite is full of incredible vistas and mind-boggling monoliths. There are a multitude of opportunities to hike, with trails both long and short, easy-going and strenuous. The park is famous for its stunning waterfalls as well, most notably the towering Yosemite Falls.
Due to increasing visitor numbers, Yosemite recently implemented a reservation system. This can be circumvented by finding accommodation within the park boundaries or visiting outside of peak months. In any case, it pays to plan in advance, do research, and take tips from those in the know.
Most of Yosemite is open — and shimmering with beauty and scenic wonders — year-round but certain roads are closed in the winter months, usually from November to April. Crowds are busiest in the summer.
A Vrbo vacation rental is an excellent way to enjoy the park, especially for those keen to explore during the quieter but colder off-season. Here are 10 Yosemite National Park cabin rentals to help you discover what changed John Muir's life all those years ago.
The Merced River is part of a system that begins in the high Sierras and eventually flows out under the Golden Gate Bridge, sustaining the rich agriculture of central California in the process. Somewhere along the way, it passes through the Yosemite Valley and runs by this well-placed cabin inside the park. Luckily enough, the river widens to create an excellent swimming hole just in front of the cabin, complete with perfectly safe jumping rocks for those brave enough to take the plunge. The home features rustic touches like a wood-burning stove and simple wooden beds, but also includes modern appliances and granite countertops. The three bedrooms are on the small side, but the vaulted ceilings in the living room more than make up for it. The home is near the Wawona Hotel and the park's grocery store, so no need to stock up in advance.
Dreaming of Wawona – your dream vacation awaits you
Top guest reviews
The property is lovely and we'll maintained. The view is superb. Unfortunately there was something wrong with the hot water system and it couldn't be fixed during our brief stay. So we had no hot water for our two nights in residence. We still had a great time, but this is an issue that definitely needs looking into.
This spot is absolutely amazing. The little river/stream in the backyard is amazing- so picturesque. We had to he most unfortunate thing happen on our trip- we were evacuated because of the Washburn fire- and Kip was beyond helpful and kind.
I liked it and will stay again. I enjoyed being close to the peaceful sound of the river.
We fully enjoyed this house. It was so cozy and had everything we need. The location is perfect being right on the river and away from the hustle and bustle of the valley. But close enough to make the day trip. We will be back!
Perfect for our family if four! View from the deck was amazing. Relaxing!
Read Less ∧
Read More ∨
For those looking to avoid the crowds, this family-friendly chalet east of the park's border is an excellent hideaway. Most visitors enter Yosemite through the western entrances and head straight to the Yosemite Valley. Far too few go the extra mile to take in the Tuolumne Meadows. These scenic pastures are just 45 minutes from this luxurious chalet, as are Pothole Dome and Lember Dome, impressive, hikable, and generally overlooked granite monoliths. The spacious cabin is full of wonderful touches, from the clawfoot bathtub and hydrotherapy tub to the oak bar and the trees growing straight through the deck. Enjoy great mountain views here. The park is about 5 miles away and the June Mountain ski area is even closer.
Dreaming of June Lake – your dream vacation awaits you
Top guest reviews
Location is great for various hikes and entry into Yosemite. Located at June Lake where paddle boards, kayaks and boats are a must. House is extremely spacious and family friendly! Beautiful Mountain Views from all the bedrooms. Great hike straight out the back door. Excellent vacation spot.
Perfect base of operations for June Lake, Yosemite, Bodie, and NE Sierras. The house is roomy but cozy. Nice kitchen. Only complaint was a fishy smell from the fridge, but we cleaned it and got rid of most of the odor. Will definitely rent here again!
While the location is wonderful, communication with owner, prompt, architecture beautiful, ammenities are outdated — our guess circa 1970's. It simply wasn't "modern" nor "luxurious." Spa never warmed beyond bath temperature and spa cover is so old with cracks it can't keep the heat in. Kitchen was an irritant rather than a relaxing and enjoyable space — cupboard doors clap loudly when closed, microwave is circa 1970 (Amana radar range), cookware is mostly a mismatch of what may have bought also in 1970's. It was an irritant to use. There are no curtains on windows in the master bedrooms – very early morning sunshine directly on our faces forced us to an early rise until we chose to buy eye masks. We thought we were paying for a "modern and luxurious" home to enjoy cooking, hot jacuzzi's, and late morning, wake ups in addition to the magnificent June Lake Loop. While we loved the lakes, we'll return next time to true "modern and luxurious" Mammoth Lakes rental.
Read Less ∧
Read More ∨
When you think of a Yosemite National Park getaway, Walk-A-Bout is the idyllic cabin that comes to mind. The closest Yosemite attractions being Chilnualna Falls Trailhead and Wawona Swimming Hole, get out and explore the park, or relax under the shade that the surrounding trees provide this cozy cabin.
With two bedrooms, one bathroom, and room for six, Walk-A-Bout offers all the expected amenities, including Wi-Fi, cable, and a fireplace. Be sure to book now; reservations are going fast.
Dreaming of Yosemite National Park – your dream vacation awaits you
Top guest reviews
Our cabin was still being cleaned when we arrived and the manager offered us wine and a place to wait. Very accommodating and much appreciated
My husband and I just loved this cabin. It was cozy, clean, and very well maintained. There are lots of builtin cabinets, drawers and closets and we appreciated the craftsmanship. TV, comfy furniture, A/C and heat were nice to have after a long day of hiking. We both agreed we would stay here again. Super nice folks at check-in and the store, too!
Our family had a great time at Walk-a-Bout cabin. Everything was wonderful except the internet connection which kept timing out. I think it was all of our photos/video being backed up to the cloud which kept causing issues. Did not take off a star as that is probably AT&T or whatever. The cabin itself was clean, well-appointed, and had tons of options. Because Yosemite is so amazing and huge, we didn't spend tons of time in the cabin. But it was great while we were there.We also went to a high school fundraiser down the street at the little store nearby. They had barbecue and dancing and a ranger program. The next day, we went to the ranger program right there in Wawona where we learned how to write Yosemite in Chinese characters and learned about Chiura Obata, a Japanese artist who painted some lovely landscapes of Yosemite in watercolor.Would definitely stay there again!
Property is nicely located inside the park and within walking distance to a lovely swimming hole that provided a refreshing end to some very busy, hot days sightseeing within the park. The cabin was well stocked with everything we needed for our stay. The bbq was especially nice and the kitchen was well stocked with pots, pans and dishes. If you plan to stay, know that you should be sure to bring your own spices, cooking oil, etc. and shampoo, soap, etc.
We loved this cabin and the Redwoods in Yosemite area. The mattresses were very nice, the deck was great for grilling and eating dinner, everything was clean and comfortable. We are planning to return in the future.
Read Less ∧
Read More ∨
Located in Foresta, a small cluster of dispersed homes within the park's borders, this cozy cabin is excellent for a couple or small group. Hikes abound, and Yosemite Valley is just 10 minutes away by car. The building is simply furnished. The main space serves as a living room, kitchen, and dining area, and is enriched by the presence of a wood-burning stove. The bathroom is downstairs between two queen bedrooms. The upstairs area has a full bed, workspace, and a door leading out to a small deck.
Dreaming of Mariposa – your dream vacation awaits you
Top guest reviews
Complete house 10 minutes to the valley floor.
My family and I stayed here during our family vacation to see Yosemite. I wanted to stay inside of the park, to avoid having to use the lottery system to gain access to the park, that is how I found this place, but this place gave us so much more. It was like being at home, as far as how it was stocked, Everything you might need as far as seasonings, oil, pots and pans, it was perfect. The location is very close to the main valley floor, so it really cut the drive time every morning and night, and even though we did not do this, it would have been easy to get back for lunch each day. The location is so relaxing and peaceful, I wish our schedule would have given us more time to just relax in the yard at the house, but being our first time in the park, we spent most of our time out on the trails. Booking was easy, finding it was easy and there is nothing bad I can say about this place, other than I wish it had a second bathroom, but I knew that going into it.
Great stay – the house is in between Tiago road and the Yosemite Valley. House was wonderful and had lots of necessary items like hiking poles and batteries (we did replace)Over delivered and everyone was please. Plenty of toilet paper and paper towels and laundry detergent but no bounce sheets.
This rental is very nice. We've stayed in Foresta in another rental and definitely recommend this area as a base for exploring Yosemite. It's close enough to the valley floor to go do something in the morning, come back in the early afternoon for lunch and venture out again. Or pack up and spend the whole day out and about to return to the beauty of this property the end of the day. The house was clean with plenty of amenities for cooking, eating and enjoying meals. The beds were comfortable and the room sizes generous. This would be a terrific rental for two families with young kids, there's a whole loft area where kids would just have a blast! The surrounding area is lovely, the yard well kept and the resident ravens are entertaining. We also saw a herd of small deer one night while stargazing. Annie is an attentive and responsive host. This property is comfortable and a good value.
This is the 3rd time I've stayed at this cabin and I'm still very happy with the accommodations. The location is very private and quiet. I spent the afternoons just relaxing on the deck, listening to the radio and enjoying my adult beverages. Being so close to Yosemite Valley yet far from the crowds make Foresta a wonderful place.
Read Less ∧
Read More ∨
Done right, modern architecture works just as well in the montane wilderness as it does in any suburb. This wonderful Yosemite cabin rental, completed in the spring of 2022, demonstrates this fact splendidly. Located inside Yosemite National Park's boundaries, guests need not worry about acquiring permits, nor concern themselves with long waits entering and exiting the park. The chief concern will be getting the most out of Yosemite's many natural treasures. Even this is made all the easier thanks to the home's many comforts. It not only looks nice but comes with everything you'll need to prepare for your drives and hikes and remain well-fed. Ideal for families, the home has two large bedrooms and a third with two brand-new bunk beds.
Dreaming of Yosemite National Park – your dream vacation awaits you
Adding to the pure variety of these Yosemite cabins, the Tree House at the Redwoods provides a woodland spin with its trees running right through the base of the outdoor patio. With just enough room inside for a small family, the Tree House is a childish escape from normal life to the wonders of Yosemite. 
You'll have access to free Wi-Fi, a washer and dryer, and a TV. Pets are also welcome to join you on your getaway. Located right in Wawona, south of Yosemite, you can't go wrong with this fun and unique cabin.
Dreaming of Yosemite National Park – your dream vacation awaits you
Top guest reviews
A wonderful cabin sitting among the redwoods. The cabin itself was perfect and worked well for us. However, sitting out on the deck, in the beautiful grove of various trees, listening to the sounds Chilnualna Creek was the best part. What a treat.
We loved our stay in this cabin! The cabin has been renovated and well kept. Shows great pride of ownership. It's rustic with great modern touches and very clean. The deck above the River and waterfalls was so peaceful (although not much of a view), listening to the sound of the water was mesmerizing. Loved that we could bring our dog to enjoy Yosemite. I have one complaint and it's not a reflection on the cabin….. The fees and taxes added an additional six hundred and twenty three dollars to my four night reservation. Just a heads up when booking.
We couldn't have been happier with our experience. From the cabin and it's placement to the hiking options from the front door!I have already encouraged family and friends to try to secure the same cabin. I know we will again!
Wonderfully peaceful and serene. A great escape from the stressor of modern living and technology. The bench swing facing the trees was divine. Definitely a place to return to for future relaxation retreats.
We stayed here for our wedding trip to Yosemite. The cabin was private and it allowed pets. This was one of the main reasons for booking since we needed to bring our dog with us. Checking in was super easy. They were very helpful to communicate with someone before booking and answer my questions. The kitchen was really nice and the house's layout was fun. There was a weird smell in the house, probably from the old wood. The deck looked nice in the photos but the swing was rotting and the other furniture needed cleaned. The carpet could also use replacing. We probably wouldn't stay here again but it was nice for what we needed during our visit. It was close to the Wawona Hotel where family and friends were staying. It's also close to a market.
Read Less ∧
Read More ∨
Given the park's great popularity, you won't have any issue convincing a large group of friends or family members to join you in Yosemite. This fine cabin is ready to accommodate any large crew. It's located on a residential street in Wawona, steps away from the small grocery store. The home has two living rooms, a grand rustic chamber centered around a beautiful rough-stone fireplace, and a smaller, more modern space on the opposite side of the building. There is also a large deck with a hot tub, and free wifi for those needing a working vacation.
Dreaming of Wawona – your dream vacation awaits you
Top guest reviews
It was a very nice stay but the house felt dated and in need of some maintenance. It did not take away from our enjoyment. We even used the hot tub one night. They do have a lot of light switches and it would have been nice if they would have been labeled or had more instructions in the guest book.
What a wonderful place to stay! The property was perfect for 4 families. The location was breath taking. The large deck was a must as we spent our evenings there. We will definitely go back! Thank you!
Kitchen was well stocked. Beds were comfortable. Common room was comfortable. Covered porch was great for dining; we pushed the two tables together so the whole group could eat family style. Hot tub was hot. Location was super as it is inside the park so we did not have to wait at the park entrance station each day and we did not have to get a separate park entrance pass.
Great place to take your family and enjoy Yosemite!
The home is Absolutely beautiful great location and comfortably fit our family. The house was well stocked with kitchen stuff and games and was just an overall great experience. Location is gorgeous and we would love to go back.
Read Less ∧
Read More ∨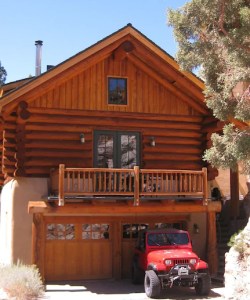 Another great gateway into the quieter eastern part of the park, this cabin is a dream for any couple ready to spend time together in the great outdoors. Of course, if you stay here, the indoors will seem pretty good too. This is a cozy cabin with various flourishes, including certain southwestern touches and a clawfoot bathtub. There is a full kitchen and restaurants, bars, and spas within walking distance at the base of June Mountain — the sight of which will surely draw guests upwards. Hiking trails are right outside the front door and the stunning features of eastern Yosemite are about 45 minutes away.
Dreaming of June Lake – your dream vacation awaits you
Top guest reviews
Sweet quiet beautiful spot. Ian was a fabulous host. Hiking in the area stunning. Thank you.
Very lovely, attractive, clean, and comfortable log cabin. We had everything we needed. Beautiful view from the deck! Highly recommend.
My fiancé has a stroke and we had to relocate our wedding. I was told by the owner I would "receive a full refund." Three months later, I was called and told to meet him to pick up the keys. Then, after I reminded him that I called him in April and canceled because my fiancé (now husband) had a stroke, I was told I had to also contact Vrbo as well. In my distress, I never even thought of that since the owner told me I'd "receive a full refund" from Vrbo. Over a month later, and at least 6 phone calls of 30 minutes to an hour with different Vrbo representatives and managers…as well as getting disconnected twice with no one ever calling me back, I still have not received a refund. Unbelievable! I would look for a different property.
Ian makes the check in absolutely seamless. We loved the location. Trail head convenience and the Double Eagle restaurant made it so pleasant. Cool house!
Beautiful views from an exceptional property. The cabin was lovely with everything you need and was perfect for a couple. Thank you, Ian!
Read Less ∧
Read More ∨
Given the home's placement overlooking the South Fork of the Merced River, it's no surprise the owners have fitted this large a-frame with floor-to-ceiling windows. There's also a large deck to observe the water or simply take in some fresh air before venturing to the giant sequoias at nearby Mariposa Grove. The house rental has two queen bedrooms on the ground floor and a king above. All three beds have beautiful headboards of cedar which look as though they came straight off the tree. The kitchen was remodeled in 2022 and is ready to supply home-cooked meals and trail sandwiches. Ingredients can be brought in or purchased at the nearby grocery store in Wawona.
Dreaming of Wawona – your dream vacation awaits you
Top guest reviews
Overall the place was neat with plenty of amenities and can comfortably accommodate 6 people and an extra 2 on couches. There is no car garage and 2 cars can park one behind the other on a long driveway. In winter if it is snowing one will have to shovel the snow from the car but in all other seasons this is more than adequate. We also found an EV charging station 0.4 miles from this place which was awesome. It was not a super charger. We left our car for charging overnight. The charging rate was about 17 miles per hour and by morning it was fully charged. We recommend this place for a party of 6!
Beautiful, clean cabin! Wonderful kitchen with first rate appliances and conveniences. Well stocked with dishes, glasses and cooking gear. A tray of packaged snacks was a nice touch. Very comfortable beds and living room furniture with large excellent TV with Dish service. Also loved the deck, so nice to sit there and hear the river.
Our family of five adults thoroughly enjoyed our week-long stay at River View. The town of Wawoma has a camp-like vibe — very relaxed and laid back. This home appears to be one of the nicest properties in Wawoma. Yosemite Valley is 45 min. drive from the cabin (prepare for switchbacks), but we preferred being near the south gate and away from the crowds. We had plenty of time to hit the local sites: Wawoma Hotel for lunch (and relaxing on the veranda), the Pioneer History Center, the swinging bridge, hiking at the Mariposa Grove (giant Sequoias), Chilnualna Falls Trail, and Wawoma Meadow. We also enjoyed several dips in the river behind the cabin after a long day. The Pine Market is only minutes away and surprising well-stocked for a small rural grocer. We had great communication with the owner and the local property manager was responsive to a few needs that came up during out stay. We found River View to be a very comfortable and well-appointed home. I believe another reviewer mentioned that the bathrooms look a little dated/tired, but the kitchen was newly remodeled this year and was a treat to cook in.
Excellent cabin in the woods. Was better than expected. Wonderful deck overlooking nature. What a gift we gave ourselves. Thanks Susan!!!
Nice updated kitchen. We enjoyed the grill in the deck.
Read Less ∧
Read More ∨
Whether you're planning a large family reunion or a rare get-together with friends, this large cabin 5 miles from Yosemite can service big groups ready to explore America's favorite park. Appreciate the privacy afforded by a spacious 4-acre property and enjoy its festive atmosphere. The home has fireplaces indoors and out, and there are many a neat diversion, from the small swingset to the bocce ball facilities. The home consists of the main building and a bunkhouse with three queen bedrooms and a common room fitted with two bunk beds. The larger structure includes the kitchen, primary living spaces, and bedrooms (two queens and a loft area with three doubles and a single). Minutes away from the park, guests can expect to reach the awe-inspiring sights of the Yosemite Valley after a 45-minute drive.
Dreaming of Groveland – your dream vacation awaits you
Top guest reviews
We had a great stay at Gene's property! The house and bunkhouse were amazing! We loved all of the outdoor activities for the kids, and the fire pit was perfect for cooking hotdogs and marshmallows in the evenings. Gene was quick to respond when we had questions or issues. It was a close proximity to Yosemite, which was great for getting to the park early. Overall, a fantastic stay!
We had a small reunion here that included 13 lids under 12. It was the PERFECT location, and the property was rife with things to entertain kiddos.
We had an amazing stay. The cabins and amenities were great – both inside and out. The location was very convenient. The hosts were great before and during the stay. I am hesitant to recommend it since if I do I am afraid I will not be able to book it again.
Nice place, beautiful surroundings and location. Close to the entrance of Yosemite. The house could use some TLC.
Gene was super responsive. Great owner and great experience. Would recommend to anyone.
Read Less ∧
Read More ∨
To discover how to make the most of your trip to Yosemite, check out: