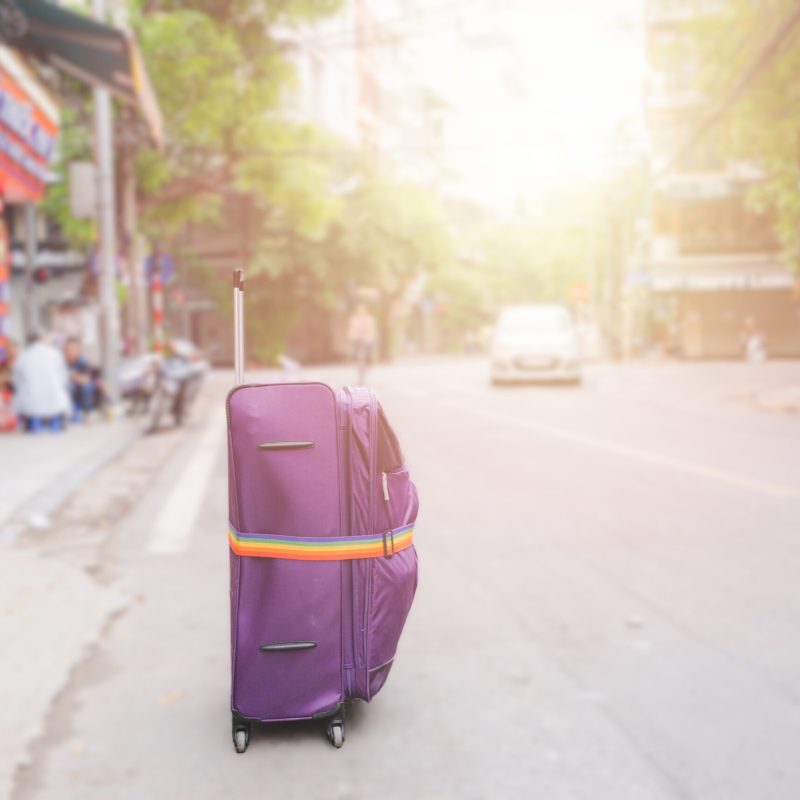 At one point, I thought that luggage straps were an unnecessary expense. Then, on a trip to Japan, my luggage zipper came undone, sending my possessions all over baggage claim. I was able to repair my bag for the trip back home, but for the entire flight, I worried about my stuff, which wasn't ideal, given that the flight from Chicago to Tokyo takes about 13 hours.
Needless to say, I picked up some luggage straps prior to my next trip. They provide peace of mind by protecting your belongings, and many options have additional features to make your travels easier.
Here's a look at some of the best luggage straps currently available, along with key information about the advantages and disadvantages of the various options. We've also included a detailed buying guide at the end of this piece to help travelers make their purchases with confidence.
The Best Luggage Straps
Buy Now
$11.99
"I've been using 4-Pack Luggage Straps by Untethered for years, and they're my best recommendation. These high-quality straps are incredibly efficient and flexible, fitting any luggage size. They never got broken, and they were easily workable. They support over 400 lbs of luggage, perfect for extended trips when you have more items to carry.. The uniquely designed buckle makes sure that everything stays tucked in tightly.
One of my favorite things that comes as a bonus is that it adds a little fun to the luggage's design. This way, it's very easy to spot your luggage when you claim it. Aside from all these, it adds life to your bag." – Alison Meacham, Everything Mouse
Buy Now
$6.95
"I always use a luggage strap when I check a bag, as my bag is not a unique color, and I want to be able to identify it easily on the baggage carousel. I also dread my bag popping open and doing the circuit of shame! I used an IME Adjustable Luggage Strap when I last traveled to China, and it stood up perfectly to the long-haul flight, internal flights and being lugged on and off trains." – Coralie Thornton, Grey Globetrotters
Buy Now
$16.59
"I grew up as part of a boating family.I have been fortunate to visit many different countries and meet many different people. Boating has taught me a lot about responsibility, teamwork, and, last but not least, resilience and problem-solving. One such problem I often have to deal with is traveling on a boat with luggage. It is really important to make sure that your luggage is secure at all times, as the boat can easily hit rough waters. This means that you
should pack your belongings in a way that will prevent them from moving around too much or falling overboard.
I'm a huge fan of luggage straps when it comes to traveling with luggage on a boat. They help keep my luggage secure and in place, which is especially important on a boat where there is often limited storage room. Also, straps are less likely to damage my luggage than other methods of securing it, and they can also be used in conjunction with other methods to help keep luggage safe, giving you one less thing to worry about when at sea.
I use Luggage Straps Suitcases-Belt approved by the Transportation Security Administration (TSA) for use on suitcases. The straps are made of strong, durable material, and are adjustable up to 86 inches with a quick-release buckle. This buckle is designed to allow easy access to the contents of the suitcase while also providing security and peace of mind when traveling. The strap is also machine washable, which is a real bonus when using it for travel on a boat." – Jon Callahan, Boat Biscuit
Buy Now
$14
"Samsonite is a top brand and one I highly recommend. They're strong, sturdy, and come in multiple colors. Amazon sells them for $7.50 a piece or $13 if you get one with the combination lock." – Larry Snider, VP of Operations of Casago Vacation Rentals
Buy Now
"This is what I personally use for all of my travels. Aside from it's very durable, one promising feature of this strap is its built-in luggage identifier. Thus, you don't have to exert an extra effort in putting luggage tags. But, what I love the most about this strap is it's very user-friendly most especially to those who aren't good at remembering lock combinations. It's a quick-release buckle but isn't that easy to undo if done accidentally, so it's safe and secure." – Owen Redford, Things To Do
Buy Now
$9.01
"I recommend the Travelon Luggage Strap. It is a durable, adjustable strap that can be used to attach your luggage to your rolling suitcase. The strap is made of nylon and has a buckle that can be adjusted to fit any size suitcase.
One thing I like about the Travelon Luggage Strap is that it can also be used as a handle for your rolling suitcase. It has a wide, sturdy build with two loops for each hand. The strap is long enough to attach to both of your rolling suitcases and it will stay firmly in place without the need of Velcro or any other fasteners." – Jen Jones, Your Dog Advisor
Luggage Straps Buying Guide
Granted, luggage straps aren't the most complex travel accessories you'll purchase before a big trip, but they can provide some notable benefits at a fairly low price. Before ordering, measure your luggage and make sure that the straps will fit (this won't be an issue for the vast majority of buyers, but a quick measurement is always worthwhile).
Here are a few of the most important factors to consider:
Closure Type
The vast majority of straps have plastic closures, which are both durable and easy to use. However, they're also a potential point of failure — if the plastic breaks, you're out of luck. Look for thin closures that don't stick out from the rest of the strap. If a closure doesn't seem to latch correctly, replace it or pack an extra strap just in case.
Note that many manufacturers will replace luggage straps that have obvious defects in craftsmanship, so if your strap fails, don't throw it away, and do keep your purchase information.
Additional Features
Luggage straps often have additional features designed to entice travelers, but for the most part, these are features that add to the cost without providing meaningful utility. A combination lock might be a worthwhile add-on, but remember, if someone wants to steal your stuff, they can simply cut through your straps. More importantly, TSA agents might lose patience with locked straps if your luggage is tagged for an inspection.
Generally speaking, you're better off using luggage with built-in locks as your first line of defense. If you get a strap with a lock, check to make sure that it has TSA approval. Approved locks will be openable by a TSA agent's master keyset and will have some labeling to indicate compliance with the agency's standards.
Another useful feature: luggage tags, which can be used to identify your bags in an emergency. While standalone luggage tags are worth a look, straps with integrated address cards can save you some money.
Visibility
Bright colors can help you identify your bags at a distance, which could shorten your time at the baggage claim. As every traveler knows, the less time spent waiting to grab luggage, the better.
With that said, luggage straps are available in a variety of styles and colors, so if you can't find anything you like from one manufacturer, keep looking. Style isn't the most important consideration, but it's certainly up there.