While we have loads of vacation rental recommendations, ranging from quaint cottages in the north to beaches in Florida, South Carolina, Hawaii, and beyond, we're taking our picks a step further. It's time for private island rentals!
Yes, that's right — you can actually rent a private island and have it all to yourself, and we've compiled a list of 10 opportunities to do so, all available through Airbnb.com. Each of these islands comes highly rated with a good number of reviews, is the only rental on its respective island, and is in North America.
In the past, there have been a couple of different articles done about private islands, but these articles did not focus on places only in North America. Now, we've compiled a fresh list for you to pick from — and odds are, they're closer to home. Happy vacationing!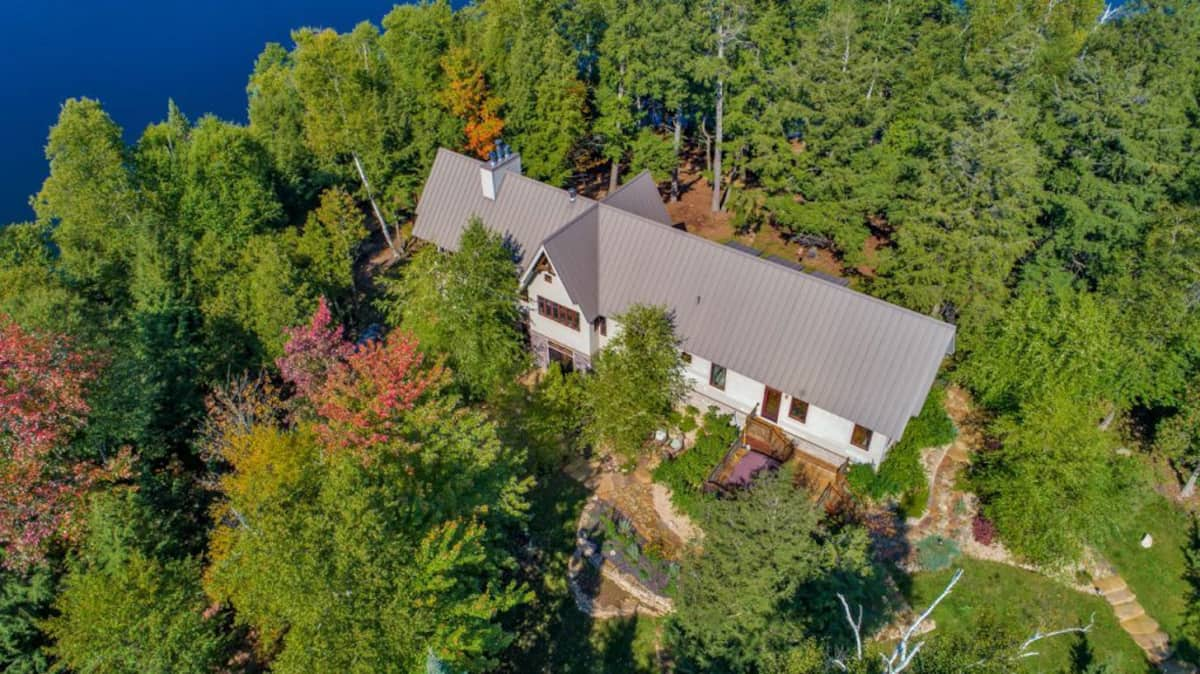 Rent Now
$1,285/nightly avg
Traveling with a larger party, a group of friends, or hosting a family gathering? This nice-sized home on a 4-acre island that sits on Katinka Lake offers over 2,100 feet of frontage and a granite walking path throughout. With space for up to 16 guests, this is a spacious home that welcomes your furry friends, too!
Note: There are limited railings and the terrain is uneven, something to consider for those with mobility issues. You will also need something to get you across the water. The host can help you secure a pontoon rental if needed.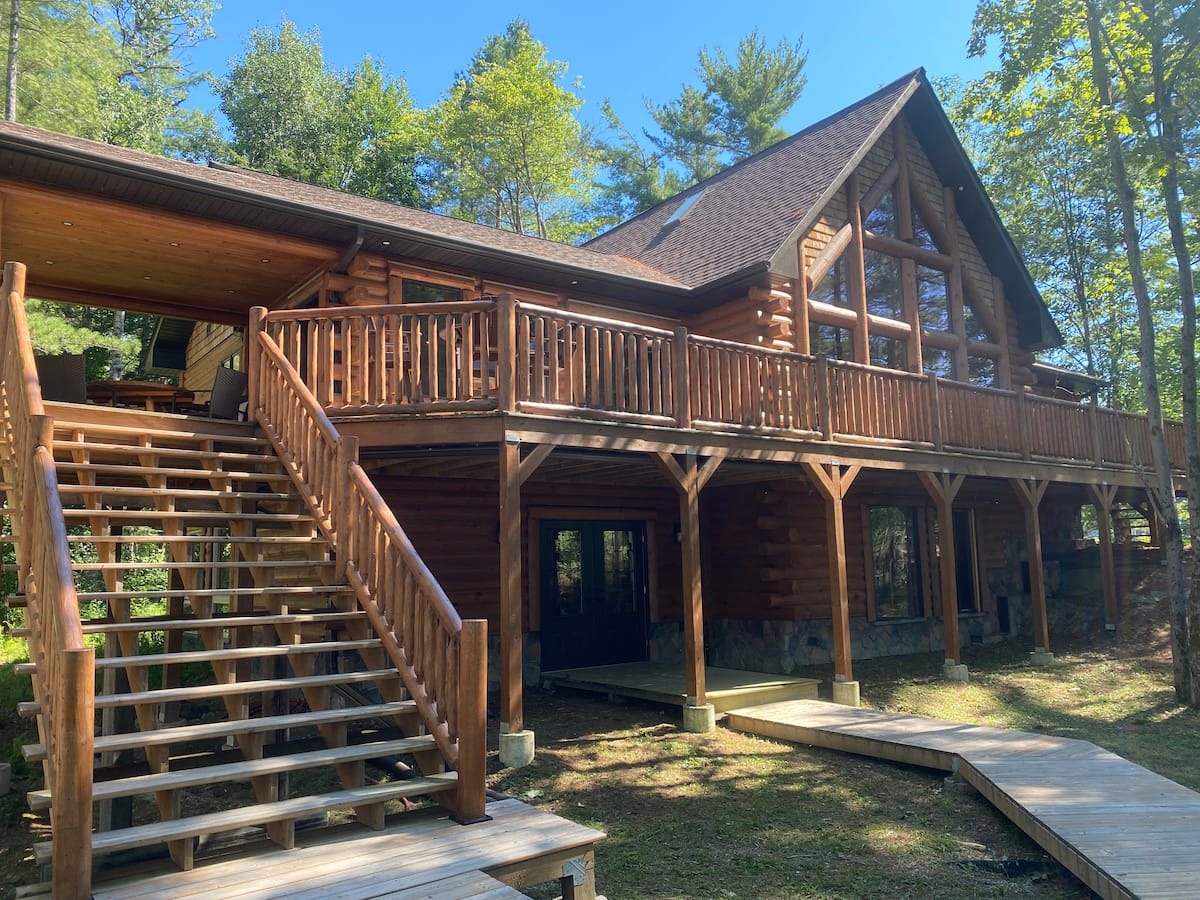 Rent Now
$527/nightly avg
This stunning log cottage is just 30 feet from your private dock and waterside deck on an island located in Muskoka. You will love the warm feeling you get in this beautifully decorated cottage that comes with a fully equipped kitchen, laundry, and whirlpool tub.
Outside, you can enjoy the many seating areas that include a hammock and large covered porch that offers beautiful lake views. A canoe and paddle boat are provided for you, but the host recommends you either bring or rent a boat to best enjoy full access to the lake. Note: Weather can occasionally keep you from being able to leave the island for short periods of time, so be prepared prior to your visit.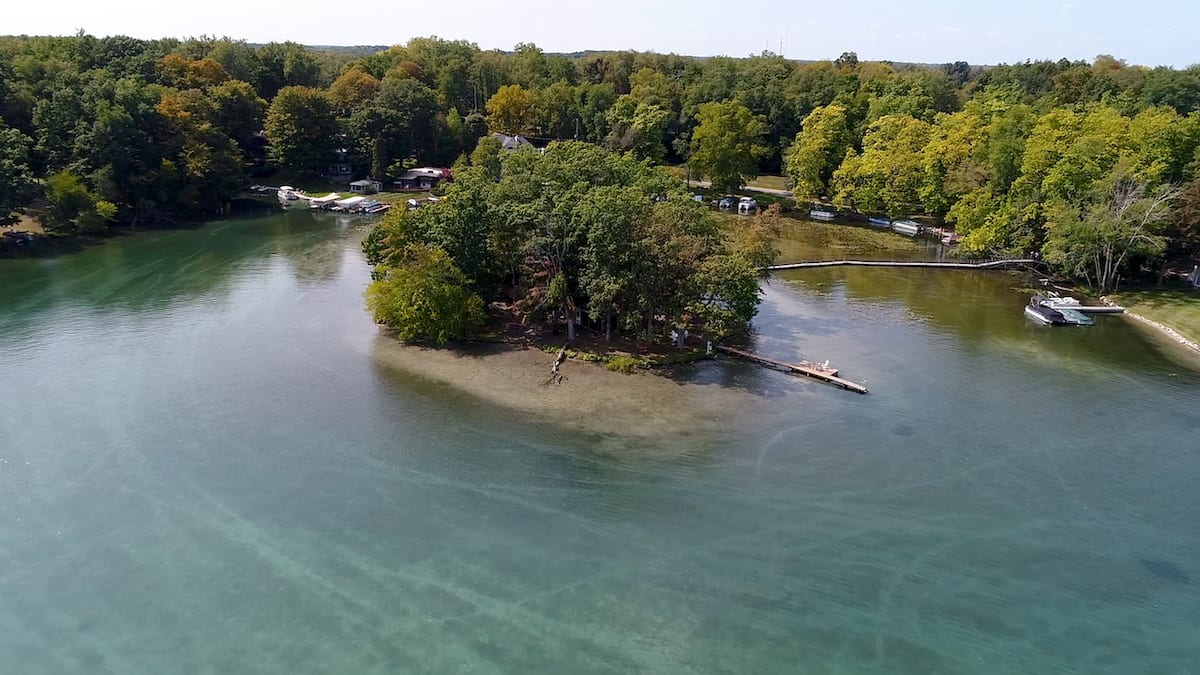 Rent Now
$428/nightly avg
This quaint cottage known as the Island Haus is on a private island that's a wonderful spot for relaxing and making forever memories. Accessible via a private pedestrian bridge, this is a perfect spot for couples to enjoy some privacy or for families to enjoy together. Located on Gull Lake, you will love the over 600 feet of water frontage, hanging out by the fire pit, or relaxing in the hammock.
Beach towels, two paddle boards, five kayaks, a propane grill, and lots of amenities in the kitchen are provided for your use. If the weather fails to cooperate at any time, take advantage of one of the two screened-in patios or spend some time lounging in the living room that has a smart TV. This one has so much to offer — definitely worth a look!
Rent Now
$248/nightly avg
Located on Nym Lake, this 1.2-acre island with a rustic private cabin is waiting for you. Featuring Voyageur-inspired decor, a stone fireplace, and a lakeview screened-in porch, you'll create great memories here at the firepit or watching sunsets on the private dock. The photos posted by the host on the listing suggest amazing views — definitely worth checking out!
Rent Now
$240/nightly avg
This brand-new cottage, known as the Paddle Inn on Heron Hideaway Island, offers abundant privacy and endless outdoor adventure along with a charming interior. You can head out to the back deck to go fishing, swim in the lake, relax on the covered porch, and take in all the nature you would like while staying in this cute red cabin.
There is a canoe and two kayaks available for your use, as well as a microwave, refrigerator, coffee maker, electric burner, crock pot, dishes, and more!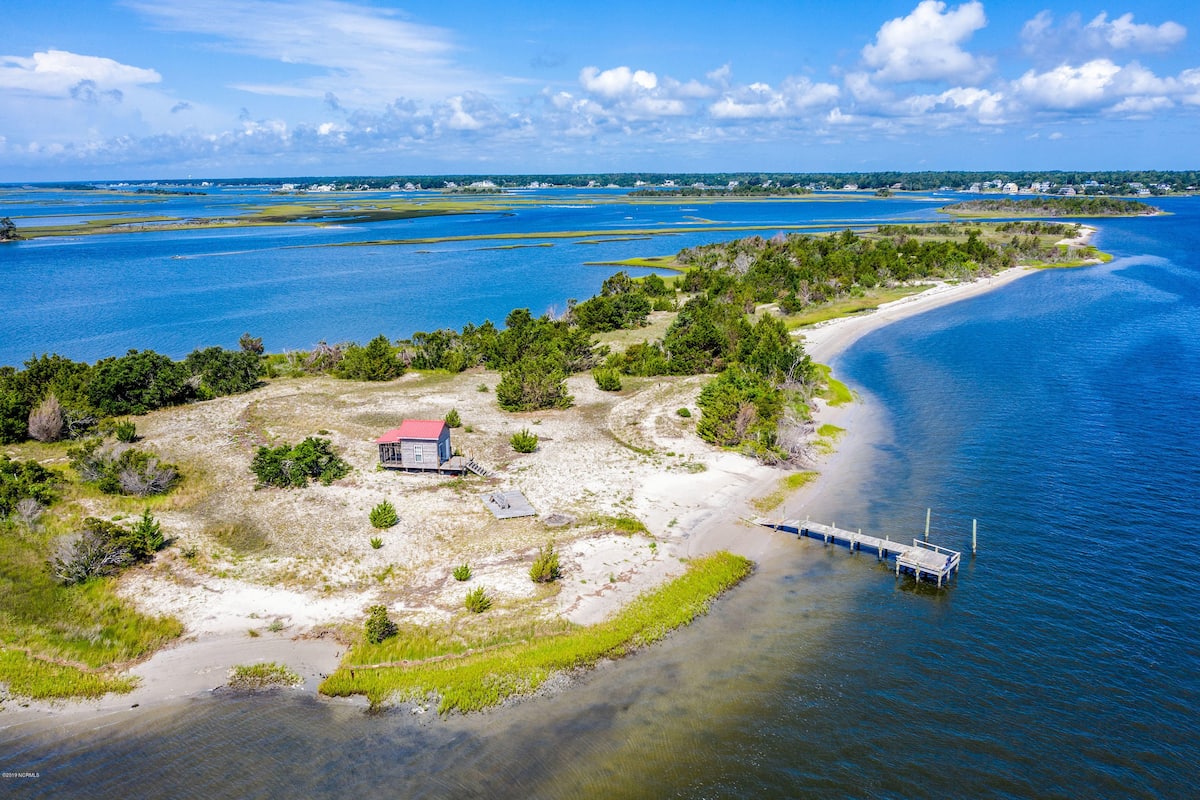 Rent Now
$239/nightly avg
This tiny cabin sits on a completely private island that offers 360 degrees of shoreline, a 40-foot private dock, heat, air-conditioning, and even a boat if you need one! You will also have access to four kayaks, a fire pit, a charcoal barbecue, and a generator. There is even a licensed captain who can get you to and from the island — included in your booking — if you have that need. The host recommends that you prepare for this trip as though you are preparing to camp in a tent — just to be safe.
There are several marinas and a town just across the waterway if you want to leave for dinner or other vacation activities.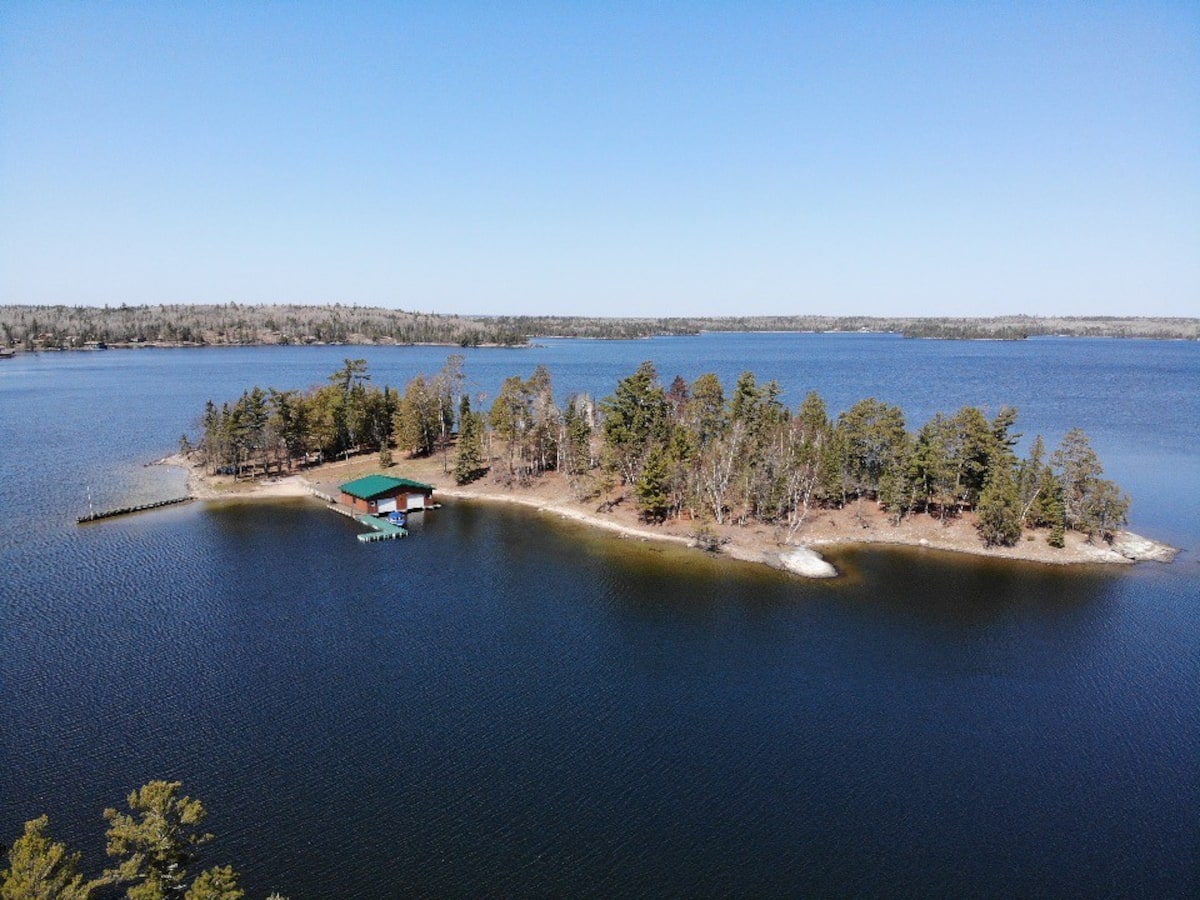 Rent Now
$226/nightly avg
Situated on a private 10-acre island, this gorgeous four-season cottage is accessible by boat in the summer months and a private ice road during the winter months. This cabin, located in what many consider the "deep north," comes equipped with fresh linens, kitchen cooking supplies, and more. The photos offer a great view of just how cool this island is. Be sure to read the entire listing to get a full understanding of some of the critters you may encounter during your stay!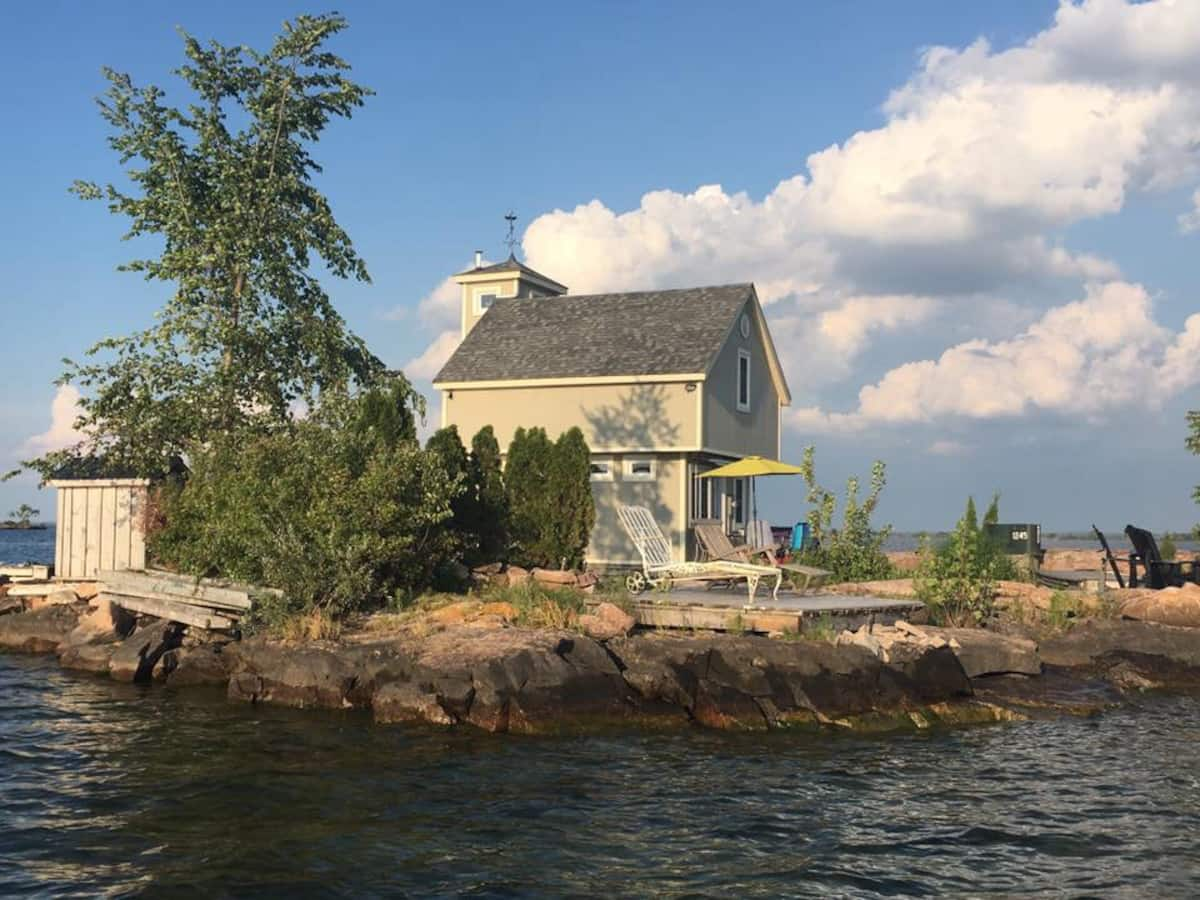 Rent Now
$223/nightly avg
You're gonna need a boat, as this island is boat-access only. This rustic cottage sits on a pink granite rock island on the St. Lawrence River, offering you peaceful living with boating, fishing, swimming, and more! You will be a short boat ride from the 1,000 Island National Park in this small but well-equipped cottage.
You will have electricity, but there is no running water — so be prepared. The host does supply bottled water, and the kitchen includes a small refrigerator, a wine refrigerator, a small oven, and several other amenities. Note: Read the full description carefully so you can be best prepared for this awesome island experience.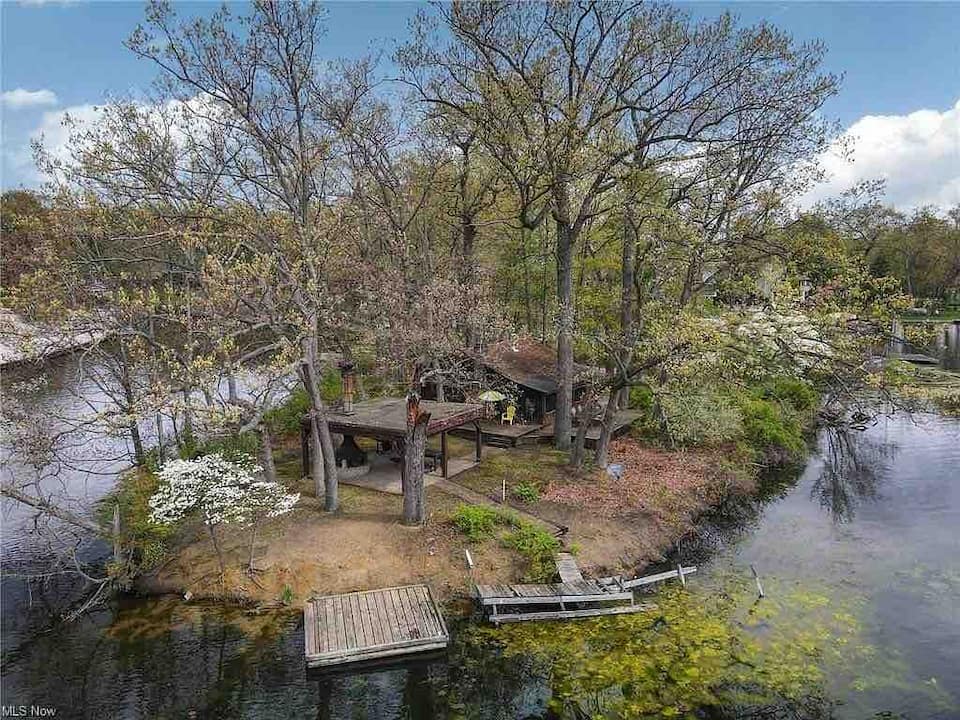 Rent Now
$218/nightly avg
Built in 1917, this historic waterfront cabin is a private island retreat! There is one private bedroom with a second bedroom in the open area of the cottage. This island is accessible by land, and there are restaurants and bars within walking and boating distance.
You can bring a boat or you can rent a boat. The host also offers kayak rentals and private boat tours. There is firewood available as well as a gas grill. Book your stay soon!
To discover more bucket list travel destinations, check out: