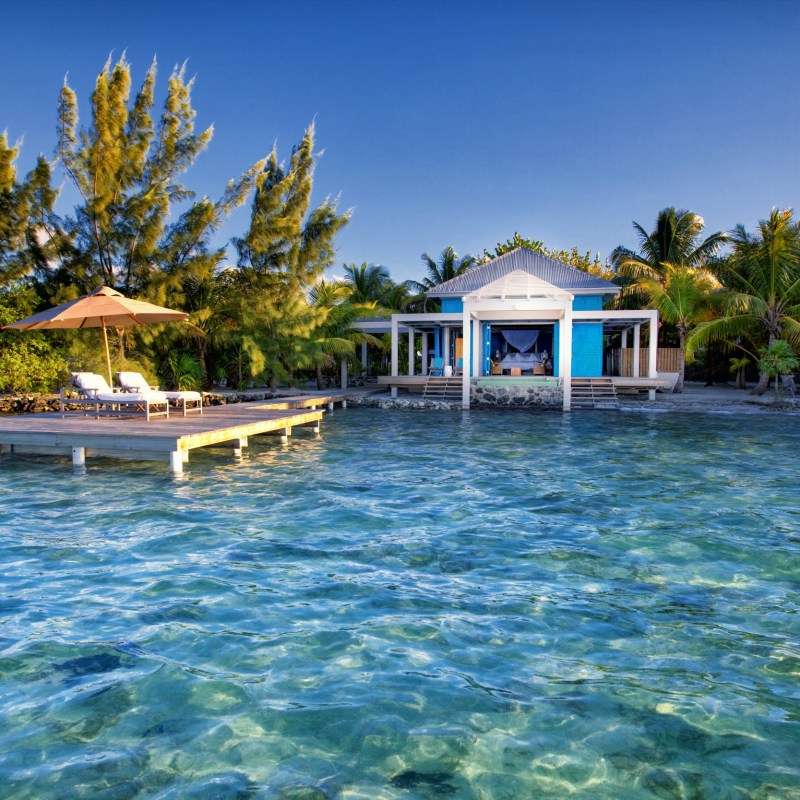 We know what you thought when you read that headline. Who can afford to rent a private island?
Well, you, for one. With the rise of vacation property rental sites like Airbnb and Vrbo, complete isolation is only a few clicks (and, typically, a few hundred dollars) away. Most have ample amenities, some of which are comparable with those offered by all-inclusive resorts, so when you're looking for a relaxing retreat from your everyday hustle, private islands deserve some consideration.
If you find the idea of a deserted beach appealing, here are a few of our favorite options.
1. Fort Morgan Cay, Honduras
Just off the coast of Roatan, Fort Morgan Cay has a full-time staff and can host up to 16 guests. The beautiful main house has a rustic appeal, but you'll likely spend most of your time on the gorgeous white-sand beaches or sitting by the pool.
The hosts provide three meals daily along with fresh fruit and other snacks, as well as complimentary amenities including snorkeling gear, a volleyball net, a two-person catamaran, fishing gear, and various day-trip options. Additional amenities include entertainment options like fire dancers, fireworks, and spa services. Not bad, considering that the base price is around $250 per night.
2. Seabird Key, Florida
You don't necessarily need your passport to enjoy the luxuries of private island life. Seabird Key in Florida is an exceptional option for American travelers, and it's truly private; while a full-time manager is on call at all times, you'll be the only person on the island after you check-in.
Up to eight guests can stay in the elegant villa, which features a large dock with a 19-foot Boston Whaler (available to guests), kayaks, and a paddleboard. The fully equipped house has amenities for families, including a crib, and the host is happy to provide babysitter recommendations for when you're ready to head out on a romantic moonlit cruise. Rentals start around $1,100 per night, which is a bargain if you're planning a family vacation.
3. Brother Island, Philippines
Located near El Nido in the Philippines, Brother Island is a wonderful place to spend a few days (or weeks, for that matter). The property features a preserved jungle and bamboo forest, a coral reef, and plenty of room for up to 16 guests.
Snorkeling gear and kayaks are available for rent, and the list of optional amenities is extensive. You can book music, get a massage on the beach, or even schedule a drone-assisted photoshoot. The base rate is under $300 per night, though rates vary greatly from season to season.
4. Batholmen, Norway
If you're looking for a different type of private island experience, this delightful Norwegian property should suffice. It's completely off the grid — there's no running water, though free water is available from a nearby grocery store, and the only electricity comes from solar panels. In other words, be prepared to unplug yourself from your digital life.
While you're not far from civilization, you'll feel like an early settler. Explore more than 100,000 square feet of land, go for a swim, take a ride in the motorboat, or simply relax with a book.
At the time of writing, Batholmen was closed for renovations, but the property will become available again in 2020. Rental rates start at about $200 per night, and the small cabin can house up to four adults.
5. Gladden Island, Belize
Gladden Island is easily the most expensive island on this list, with an average price of around $3,000 per night. Still, if you're looking for true isolation, no other island can compare — the owners even provide a "privacy meter" to warn guests if a member of the staff is on the main island (the staff is always available, but they stay on a small island behind Gladden).
That's part of the reason that Gladden is one of the most perfect places in the world for a romantic getaway. The others are fairly obvious: Set in the heart of the Belize barrier reef system, it's a breathtaking Caribbean paradise.
Guests can book spa treatments or enjoy local dishes prepared by a private chef. Whale sharks congregate once per spring several miles off the coast of the island, and canoes are available for exploring the coast.
When booking a private island, timing is key. Try to plan your trip as far in advance as possible to keep rates low, especially if you're using a property sharing website, since the least expensive dates will go quickly. If you're traveling with a large group, make sure to inform your host, and take care to understand the available amenities before you leave for your trip.
Finally — and most importantly — remember to brag to your friends and family when you've finished booking. After all, you've just rented a private island. How cool is that?