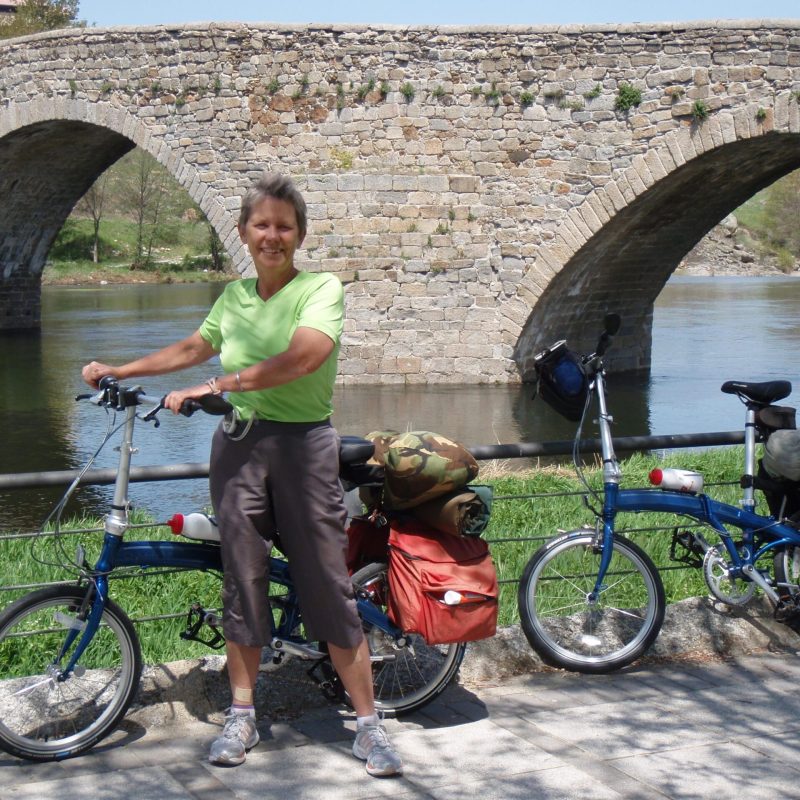 Whether my husband Barry and I are driving just 30 miles in our van, or flying 3,000 miles to the other side of the country, I never leave home without the following 11 items.
Although each is different, they have several things in common: they're lightweight, they don't require checking on an airplane, and they're affordable.
Here's what I pack in my bag:
Shop Now
Wherever I am, my journal accompanies me. Like the author Mary Gordon, I love shopping for journals when I travel, but I'm notoriously picky; the "wrong" size or shape will never do. My requirement for the notebook is for it to be 5 inches by 7 inches, the size of a trade paperback. Its lined pages must lie flat, it must be hardback and ideally about 80 pages long, and it must be free of those drippy cutesy phrases at the top of the page!
Whenever we visit Barry's relatives in England, I stock up on what the Brits call "A5 notebooks." 
My journal is not necessarily a diary describing what I did each day. It's the safe place where I celebrate, grieve, and say nasty things that I would never say out loud. It's where I unscramble my life — and may have nothing to do with where I happen to be. 
My only rule is that I include the location and date. In my early journals, I thought it looked hip to skip the date. Now, it's a pain trying to find an entry back in the annals of my history.
Shop Now
Was it a sign of my future profession that when I was a teenager I got caught shoplifting a pen? I know plenty of people who keep a journal on their iPad, but I'd be lost without the mind-body connection I feel when I scribble words across a page. A pen feels like an extension of my body. On the rare occasion when I forget to bring it, I always feel "off."
I discovered black felt-tip PaperMate pens when they were in the supply drawer of the Seattle community college where I taught English as a second language 40 years ago. It's been my pen of choice ever since. I'm relieved you can still buy them, though I can only find them online.
Turns out, I'm not the only writer who's fussy about her pen, as this article discusses. I'm so possessive of mine. I don't even like lending them to Barry. 
Shop Now
Every woman's best friend! Mine's a Hitachi Magic Wand, bought years ago. I also have an electric vibrator for home use, but I rarely travel with it, because it's too heavy.
I used to have a compact but powerful vibrator that tragically melted away in a campfire. Oh, how I grieved. It was so small and lightweight, the perfect size for traveling. I spent days trying to find it again on the marketplace, without success. That's the trouble with the modern world — products go in and out of existence way too fast.
Still, I'm happy with my Hitachi. I don't usually bring extra batteries, since you can buy them anywhere. When packing, I remove the batteries to be sure the vibrator doesn't accidentally start in transit (which has been known to happen!).
Shop Now
In my travels, I've discovered the world is divided into late-rising and early-rising cultures. The U.S. is an early-rising culture, but much of northern Europe is late-rising. 
For example, try finding an open cafe at 6 a.m. in England. Good luck! And in Guanajuato, Mexico, where we live part of the year, we can't find an open coffee shop until 7 a.m. 
Since cafe hours vary greatly, and I'm an extreme early riser (as in 3:30 or 4 a.m.), I carry a lightweight plastic mug for early morning coffee. It's amazing to me that instant coffee, which I would never stoop to drink at home, tastes pretty good when there's no other choice!
I discovered small hot water immersers — which boil water in a minute or less — in Mexico, where every ferretería (hardware store) sells them. I've never seen them sold retail in the U.S., but you can find them online.
Shop Now
These days, Barry and I are more likely to stay in a rental than a hotel. One of my favorite activities in a new town is to walk through neighborhood streets to a food store, so I always pack a shopping bag and several used vegetable bags for produce.
Shop Now
Because I have a chronic injury in my right ankle, packing the right shoes is an ongoing challenge for me. My latest hiking shoes are slightly heavier than the last pair. But I wore these all over Bulgaria in June, and my bad ankle was pretty happy, so I decided they were worth the extra weight.
I also pack these comfortable lightweight sandals to wear inside.
Shop Now
It has taken me not years but whole decades to find the perfect, right-sized bra. Having finally found a brand I like, I take several of these comfortable bras wherever I go.
Shop Now
I can't be bothered to go to a laundromat when traveling, but my sister gave me a travel clothesline as a gift a few years ago: It coils up into a tiny bag and is just the thing for hanging clothes I hand-wash, or for wet bathing suits.
Create Your Own
A few years ago, Barry and I began creating a business-sized card with a photo of both of us, along with our names and emails. It's simple: Before we leave home, we take a photo of us, add the text, and print them. We hand these out to folks and invite them to stay in touch. With our photos on the card, people are more likely to remember who we are.
Shop Now
When Barry and I first visited the Greek Islands in the '70s, I would stare, mesmerized at the leathery old Greek men huddled together, swinging their worry beads from hand to hand behind their backs. The day we left, Barry bought me a set of brushed silver worry beads. Somewhere over the years I lost them, but now I have another set. They feel sensual to play with, they're beautiful, and they make a fun clackety sound.
Shop For Your Own Alice
Our floppy-eared stuffed bunny rabbit, Alice, is many things to Barry and me: a member of the family, a companion when we travel, and the oracle we consult when we can't agree or face a tough decision. I often go to sleep before Barry and she's right with me, in my arms. When he comes to bed, Barry carefully places her on a nearby surface.
Before I can experience the magic and beauty of other places, I need to be psychologically ready. Some of these items are practical necessities, others are comforting reassurances. Together, they provide me with a sense of calm so I can embrace the unknown.
For more travel packing inspiration and ideas, check out: