There are good reasons why the UN named the Amalfi Coast a World Heritage Site. They are the same reasons that have led tourists to pour into the region since the 1700s: incredible views, picturesque towns, fine local handicrafts, and great food.
Named after the area's largest town, the Amalfi Coast is a strip of rugged coastline between the cities of Sorrento and Salerno. Each of the dozen-odd towns offers unique charms and well-researched travelers reap rewards by moving around. A trip to Amalfi offers an array of unforgettable activities.
Whether you come for the clifftop villas of Ravello, a scenic boat trip from the marina in Positano to the famous island of Capri, the fabulous shopping in Amalfi itself, or to find yourself breathless after walking the Path of the Gods, the Amalfi Coast will not disappoint.
Of course, The most rewarding things in life don't come easy, and it's no different on the Amalfi Coast. Home to some of Italy's most stunning vistas and prettiest towns, the region is characterized by vertiginous slopes offering jaw-dropping sea views. So, because of its topography, there are a lot of stairs. It is also famously crowded during the summer season (definitely consider visiting in the offseason, either in October or early spring — many restaurants, shops, and attractions are closed from the middle of November till spring). But for those willing and able to take the necessary steps for a great vacation, there's nothing like Amalfi.
Though relatively small, the Amalfi Coast is a diverse region with many places to stay, dine, and visit, and we've curated this list of 10 great places to stay.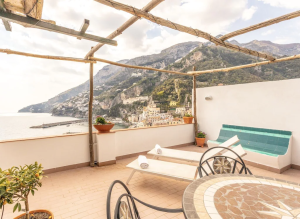 Where better to begin than in the town of Amalfi itself? This apartment has all the features of 21st-century life but retains the timeless Mediterranean style that draws millions to places like the Amalfi Coast. This recently renovated accommodation is just a few hundred feet from the water, so the walk up is very mild. That also means it has incredible views of the Tyrrhenian Sea, easily enjoyed from the comfort of the balcony. The bus stop and taxi stand are just around the corner, providing you easy access to the rest of this fabled stretch of coastline.
Dreaming of Amalfi – your dream vacation awaits you
Praiano is a great home base for any Amalfi Coast vacation. Situated between the region's two biggest towns (Positano and Amalfi), Praiano itself is one of the quieter towns on the strip. This doesn't mean it falls short when it comes to views, sites, or incredible restaurants. And this wonderful home promises easy access to Praiano and the area.
In addition to the timeless beauty of the Mediterranean, the balcony has an unobstructed view of the town's medieval fortification. The apartment is divided into two floors, each with a bedroom. Among other nearby delights, the seaside cuisine of Il Pirata Ristorante and beach club are just about a hundred (stair) steps down. Fine food and ocean spray make the climb well worth it. 
Dreaming of Praiano – your dream vacation awaits you
Top guest reviews
Perfect stay on the Amalfi Coast! The flat could not have been anymore wonderful! Everything was just perfect! Adele is so special!
We truly enjoyed our experience at this apartment in Praiano! From the day we booked, Adele communicated with us and was available if we had any questions. The apartment is exactly as pictured with spectacular views! We rented a car and Adele was able to confirm a parking spot for us in town. Adele met us upon arrival and spent a few minutes with us going over how to navigate public transport and gave fabulous recommendations for restaurants in the area. Staying in Praiano we were able to easily get around and we're conveniently located across from a grocery, etc. I would absolutely stay here again! Thank you!!
Difficult to put into words the amazing hospitality and attentiveness of owners, location of home and cleanliness and details put into every room. So thrilled we stayed in Praiano when visiting the Amalfi coast but this house specifically was PERFECT!! Hard to believe perfect reviews but trust me every person before us that said it was amazing was 100% honest!! We are already planning another trip for next year and will never consider staying anywhere except for right here hosted by Adele (best host ever bless her) and her sisters! ❤️❤️❤️
Amazing apartment with a gorgeous view! The apartment was very clean, tidy, and well-stocked. You can't beat the views from either balcony, especially the roof top one. We have traveled extensively in Europe for over 20 years and haven't met anyone as warm and helpful as Adele. She is such a genuine and sweet human and it was such a pleasure meeting her. She goes above and beyond ensuring your check in and stay is wonderful. She takes great pride in her apartment, as she should, it is beautiful! Thank you for the wonderful stay at your apartment, Adele. We hope to come back one day soon.Leigh and Rick
First, let me say that our host, Adele, hheart and soul
Read Less ∧
Read More ∨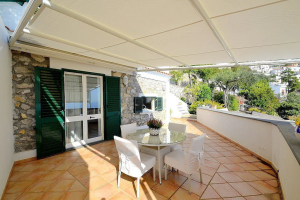 This two-story house is another great option to consider for your stay in Praiano. The only danger is that the amenities here might prevent travelers from experiencing all Amalfi has to offer. With two large terraces (the higher one protected by a retractable awning), a full suite of kitchen appliances, a laundry room, and a large verdant, 750-square-foot garden, you may just decide to stay home and miss out on the fantastic local restaurants. The views, needless to say, are absolutely postcard worthy. 
Dreaming of Praiano – your dream vacation awaits you
Top guest reviews
Great quiet location, walking distance to several restaurants and small grocery/wine/beer. It was very clean and terrace was beautiful.Need bus or taxi transport to visit other Amalfi Coast locations.Host was awesome (Gianluca) and very responsive.
We loved Villino Blu! Beautiful views and plenty of seating area out on terraces!The owners were wonderful and helped us with everything. We even arrived early and they accommodated us. We highly recommend Villino Blu!Summer In Italy is terrific! All the details and quick responses to questions made our Italy trip so easy and smooth!!!
I would recommend everyone to stay at Villino Blu if they are going to visit the Amalfi Coast. An absolutely outstanding view and a fantastic location, close to the supermarket and restaurants.Luca at Summer In Italy was absolutely fantastic and answered all concern and questions, a really good host.Would definitely return. Everything was great.
We thoroughly enjoyed our stay at the Villino Blu. Great location in the more quiet Praiano in lovely house.Gianluca was so helpful with great tips and explaining everything to us.
Lovely setting and view, well-stocked.Gianluca was so helpful and responsive.Summer In Italy was very responsive to emails, informative prior to trip, very helpful with directions and check-in.
Read Less ∧
Read More ∨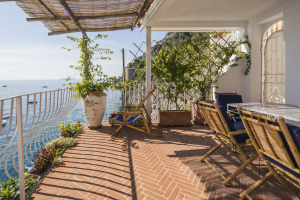 This house in Positano is ideal for those looking to avoid too much strain on their knees while walking home — you'll get enough of that on your day trips! It is just 20 vertical steps from the water, a very small amount for the Amalfi Coast. What's more, those 20 steps will lead you directly to the dock where you can catch a ride to Amalfi or Capri, or simply enjoy a pleasure cruise. The area around the dock has two beaches and some of the finest restaurants and shops in town.
Dreaming of Positano – your dream vacation awaits you
Top guest reviews
This villa was a great substitute to the neighboring hotel, Covo dei Saraceni. The villa was spacious and had a huge terrace, which we utilized the most. Having in unit laundry was also an added bonus for the length of our trip. The kitchen was perfect and provided us the opportunity to skip a night out for dinner, grab ingredients at the market, and prepare an Italian meal in. Would highly recommend this listing, and it's responsive and kind hosts. Thank you!
We had very high expectations after seeing the pictures of the property, but it far exceeded those expectations. It could not have been a more perfect stay. And Giuseppe and Diego were amazing hosts. Very quick to respond when it came to directions, arranging our transfer from Naples, etc. HIGHLY RECOMMEND
Read Less ∧
Read More ∨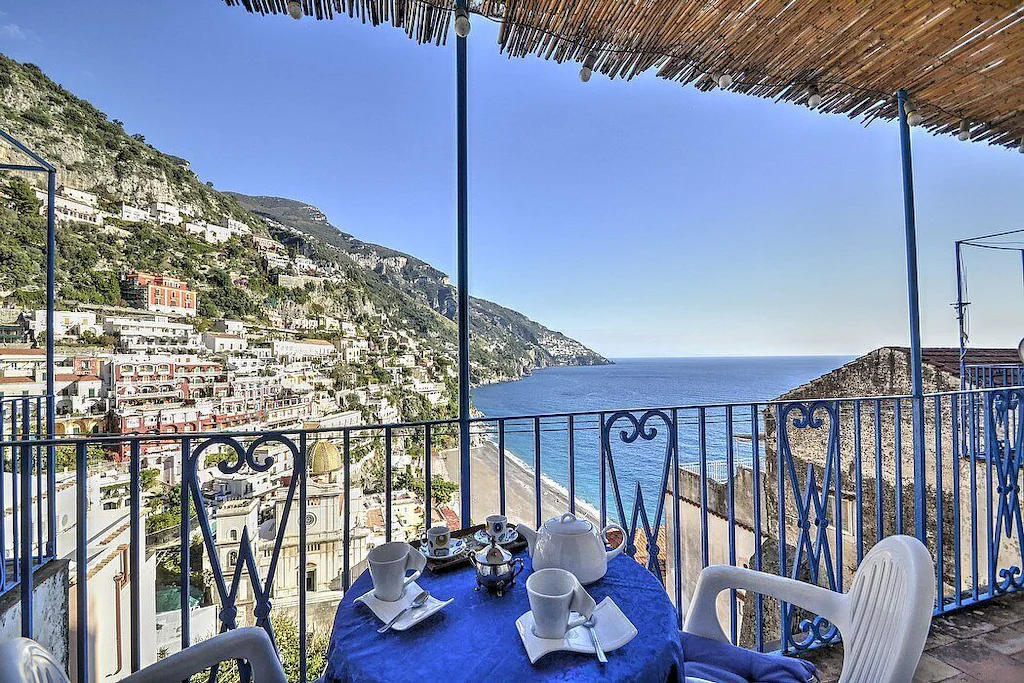 Casa Edda is conveniently located just 36 steps below the main road in Positano. This means that while heading down to the beach and docks will be a bit more strenuous, there's easy access to the buses and taxis that will shephard you to other towns. The bus stop is right outside the entrance way. You'll appreciate the convenience of having a home on the street level after a long day of walking up and down the steps of Amalfi. 
The house itself has a large terrace with a clear view of Positano's churches and beaches. The high-ceilinged living room has a sofa that can also serve as a double bed.
Dreaming of Positano – your dream vacation awaits you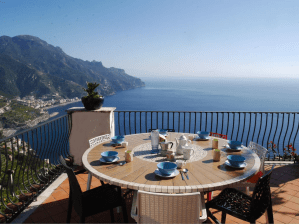 Spacious and grand, this villa in Ravello is great for families or larger groups of friends traveling together. Unlike the other towns covered so far, Ravello isn't directly on the coast but rather sits 1,100 feet above sea level, perched above the town of San Cosma. As you will see from the spacious balcony at this villa, its imposing height gives Ravello some of the best views in the whole region. The town is quieter than those on the coasts but still boasts memorable attractions like the gardens and Infinite Terrace at Villa Cimbrone and the 800-year-old Villa Rufolo. In addition to the remarkable terrace, this villa has five bedrooms, each with its own balcony.
Dreaming of Ravello – your dream vacation awaits you
Top guest reviews
Our stay at the Villa was very pleasant. John and Paola could not have been any more hospitable. They went above and beyond to accommodate our needs. We had plenty of room for all our family and guests. The Villa was very well supplied with all amenities.The only obstacle we found was with was the window shutters. All rooms have stunning views, but we were forced to keep the shutters closed due to the mosquitos (we do not like mosquitos!). It would have been nice to have screens on the windows and doors so that we could have enjoyed the views more with the shutters open. The shutters also limited the air flow into the house.John and Paola were very helpful with directions, how the buses and shuttles worked, and the best places to eat, shop, etc. Paola is very knowledgeable about the area.Ravello is a wonderful town, but keep in mind that it is remote and traveling around the area from there does take some time and effort. This is a perfect Villa for relaxing and enjoying the views.
Thank you John and Paola for a wonderful time in your villa. Very spacious and steps from the center of town. We hope to be back someday!
Great hosts, clean, comfortable and sizable home in a quiet location but close to town. Ideal for walkers and hikers. We stayed with 8 adults and 2 young children and had a great time. They even supplied a pack and play! The view and outside seating areas are amazing. We would definitely stay here again. It's a 10 min walk up to town center and a 25 min walk down to minori. We highly recommend it!
We stayed at this property in September with four adults and two teenagers. The home has breathtaking views from the many terraces facing the ocean. The bedrooms are all on the top floor and they share one bathroom. There are 2 bathrooms on the main floor near the kitchen and living areas. I appreciated the washing machine since we tend to have laundry to do while on vacation. The home also offers Wi-Fi which worked well. There was also parking for one car in the owner's garage but we actually chose to park on the street which was safe and more convenient. There are stairs to the home from the street parking or the parking in the garage. Not too many stairs but enough to be mentioned in case you decide to pack heavy luggage. We enjoyed taking the stairs into the town of Ravello. The town center is very small and quaint with cafés to enjoy a coffee or beer/wine and people watch. Lots of cute stores to shop in and many local items for sale.We also walked to Minori and Amalfi this included many stairs but was a highlight to me during the one week vacation in Ravello. If you walk to Minori you can rent beach lounge chaises and enjoy the water. The walk to Amalfi was long but well worth the stairs to see areas you would never enjoy by car/bus. We took a ferry from Amalfi to Positano and had a great day. You can also make it to Sorrento by ferry from Amalfi. Driving in this area is crazy but the views and coastal towns are worth the stress. The owners answered my many email questions and were very easy to communicate with prior to our arrival. On the first night they even made us a yummy frittata to enjoy which I appreciated because I was too tired to cook anything that evening.This home was spacious enough for all six people and I would highly recommend it for a memorable vacation in a beautiful area.Thank you John and Paola for a great stay in your family home.
Lovely and welcoming hosts – they waited for us at thw house with home made pasta nad wine. They were very helpful and offered a lot of tips around the area. House has 3 tarasses with astunning view over the sea and mountains. Amazing spots to relax and enjoy a glass of wine or have a breakfast.House is spacious but seems a bit worn-out especially on the bed side – old and totally soft or hard beds doesn't offer a decent sleep. Overall a good experience.
Read Less ∧
Read More ∨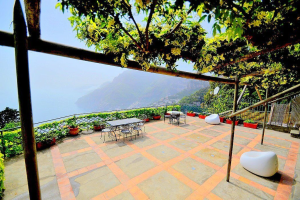 Those seeking luxurious semi-seclusion can hardly find a better choice than Villa Tecla B, a large villa in the hilltop hamlet of Nocelle. Perched 1,380 feet above Positano, Nocelle is famous for its lemon drinks. Staying here also gives one easy access to the Path of the Gods, a stunning and moderately difficult hike that passes through the town. 
Villa Tecla is a two-story building with a large terrace complete with a private swimming pool. With three bedrooms and easy access to Nocelle's shops, it is a perfect place for a family or friend group to relax for a quiet day or two — relaxation which will be much needed after walking the Path of the Gods.
Dreaming of Positano – your dream vacation awaits you
Top guest reviews
Villa Tecla B was fantastic, in a great location and stunning views.
Villa Tecla B was fantastic, in a great location and stunning views.
Wonderful time, great location, friendly people… I want to live in Italy!!
Wonderful time, great location, friendly people… I want to live in Italy!!
Spectacular view, well kept, air conditioned, excellent, small pool.
Read Less ∧
Read More ∨
While Capri isn't technically on the Amalfi Coast, no visit to the region is complete without a trip to this storied island. It is absolutely possible to experience the island by way of a day trip, but once you're there, you'll surely want to stay. Why not choose this house?
Amenities include a fine kitchen, outdoor cooking space, and a spacious terrace complete with a jacuzzi. It is only about halfway up the mountainous island's slope, making it easier to access than many other options.
Capri's many attractions include luxurious 19th-century villas, premier shopping, and the palace from which Tiberius ruled the Roman Empire for over a decade. Note that walking is required to visit most places on the island.
Dreaming of Capri – your dream vacation awaits you
Top guest reviews
We had an great stay at this rental in Marina Grande. The view of the water and outdoor space are amazing. The property manager was very accommodating, communicated well and provided great local recommendations at checkin. There is a great grocery store just down the street. There is a bus stop close, but the marina is an easy walk and you can take the funicular to the upper Capri area. We will be back!
This spacious home was wonderful for our mini Capri vacation. The home is clean comfortable. The large terrace has an amazing view of the harbor. It was nice having breakfast on the outdoor patio. Short walking distance to supermarket. Bus stop was right outside but we walked to Marina. Isabella greeted us and showed us around. She was such a help when we had a question. We found it to be in a perfect location. Would definitely recommend!
We had a wonderful time at this property while on Capri. Location was good, located between the marina and Piazzetta. A local market is a very short walk from the villa. The villa was spacious for family of five. There are a few dogs in the villa above, although we only heard them only a few times and didn't bother us. If you choose not to walk, there is a taxi service on the island that will pick you up from the villa and take you where you choose to go. While on the island we took a three hour private boat ride around the island which made a stop at the blue grotto which was fabulous. Overall was a great villa for our family from the USA.
We had a wonderful time staying in Capri at this property. The Villa was clean and had all the amenities. We highly recommend this place for your stay in Capri.
Read Less ∧
Read More ∨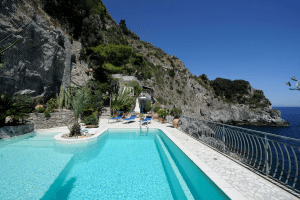 For waterfront privacy and luxury in one of Italy's most famous vacation spots, look no further than Villa Azurra. This breathtaking property is located in a hamlet halfway between Praiano and Amalfi. You will have to descend 230 steps from the main road to get to the villa, but the walk is well worth it. A further 100 steps down a private stairway brings visitors directly to the water.
If you're not up for that, the house has a large swimming pool on its roomy terrace. This villa is perfect for a small group of holidaymakers keen to enjoy the busy sights and waters of the Amalfi Coast while preserving a sense of privacy at home.
Dreaming of Conca Dei Marini Salerno – your dream vacation awaits you
Top guest reviews
Amazing spot to spend time on the Amalfi coast. The house has everything you need and the outside patios and pool are tremendous. Ideal spot for a relaxing and gorgeous getaway.
We thoroughly enjoyed our stay at Villa Azzurra. Spectacular property with mature gardens and a large, well maintained pool. We would go back.
Everything was just as it was presented and more! Just be aware that there are many steps down…and obviously as many steps up. Our only other comment was that the pool furniture could have been better. But overall, fantastic!
What a great experience we had. Rosella was was great to work with. I would recommend location to my family and friends.
What a great experience we had. Rosella was was great to work with. I would recommend location to my family and friends.
Read Less ∧
Read More ∨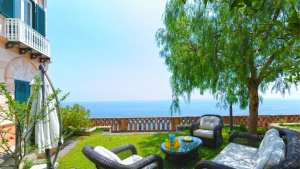 Zaffiro is one of four private apartments in a 19th-century villa. It has two bedrooms, a kitchen, and direct access to the historic hanging garden that makes the villa stand out. The gardens and pool are accessible to residents of all four apartments. The complex is just south of Amalfi on the main road, providing easy access to the docks, beach, and main part of Amalfi without requiring the use of stairs. Multiple Michelin-reviewed restaurants are within walking distance.
Dreaming of Amalfi – your dream vacation awaits you
To learn more about the Amalfi Coast, check out: