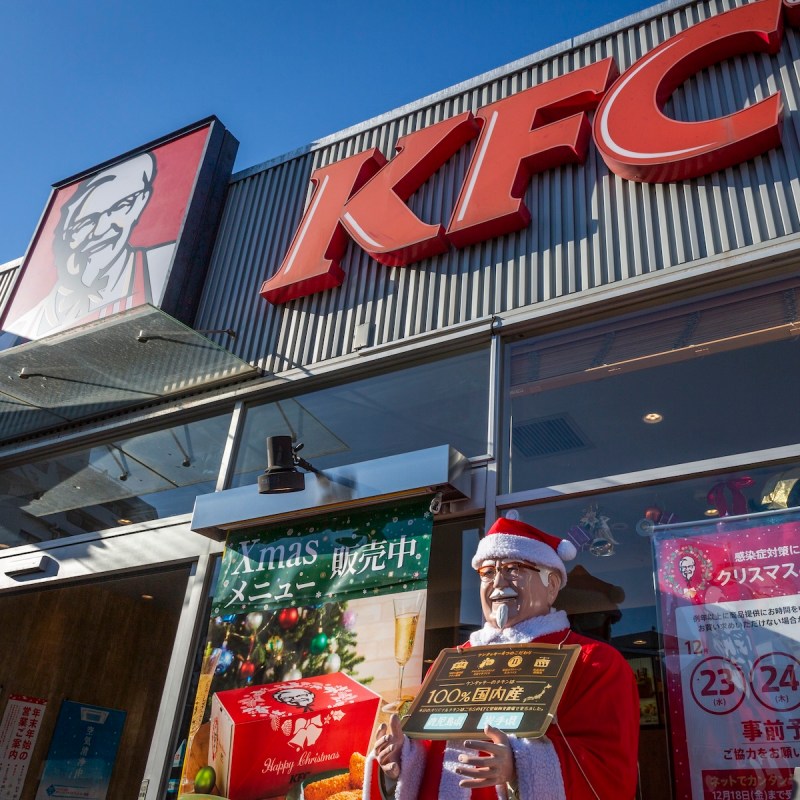 Spending the holidays overseas is always an alluring thought. How fun would it be to celebrate the special season while traveling to exotic locales, immersed in another culture? If a Christmas or New Year's holiday in a far-flung place isn't in the cards for you this year, grab a cup of hot chocolate and explore interesting holiday celebrations in other parts of the world from the comfort of your favorite chair. If nothing else, you'll be prepared for that holiday trip next year!
7 Weird Holiday Traditions Around The World
1. Hunt For An Almond In Rice Pudding
Denmark
Danes like to have a lengthy Christmas dinner. The traditional roast pork or duck, boiled potatoes, red cabbage, and gravy are consumed over a few hours. The real fun happens after dinner when dessert is served. The traditional risalamande — rice pudding topped with cherry sauce — includes a whole almond hiding in the dish. If you're lucky enough to find the almond in your bowl, you get a prize!
2. Indulge In KFC For Christmas Dinner
Japan
Christmas isn't a traditional holiday in Japan because most Japanese people aren't Christian. Still, many celebrate the holiday. As funny as it sounds, the Japanese love to dine on KFC for their Christmas dinner. Where this tradition started is debatable. Some say the tradition is due to a creative marketing ploy by one of the KFC managers in Japan that indicated Americans traditionally eat KFC on Christmas. Whatever the origins, KFC is no joke in Japan on Christmas. People routinely place their KFC orders months in advance so that they'll be dining on "original" or "extra-crispy" as they celebrate the Christmas holiday.
3. Jump Into Chilly Waters For A Christmas Swim
Ireland
If you're in Ireland for the Christmas holiday and want to participate in local celebrations, you may want to have your swimsuit on hand. Yes, the particularly hardy and brave like to go for a frigid swim on Christmas Day. The waters are indeed chilly on Christmas, so for some participants, it's a quick jump from the rocks into the swirling Irish Sea, then a shivering run towards the cover of a warm blanket. The most famous place to swim on Christmas is Forty Foot Rock. Hundreds gather here on Christmas Day to hurl themselves from the rock into the freezing sea. Most of the time, all the foolish fun is done for charity.
4. Experience The 13 Yule Lads
Iceland
In Icelandic folklore, the 13 Yule Lads of Christmas are trolls that bring gifts for children. Lucky for the Icelandic children, the Yule Lads leave Christmas gifts every night for 13 nights, until the night before Christmas. According to legend, the parents of the 13 Yule Lads lived in a cave and ate naughty children. (All the more reason to be on the nice list!) Nowadays, the 13 Yule Lads appear on the 13th day before Christmas Eve. They bring gifts and leave on the 13th day after Christmas on January 6, or the Epiphany, which signals the end of the Christmas season.
5. Throw Kitchen Dishes For Good Luck
Denmark
It's hard to know where some New Year's traditions got their start. For instance, on New Year's Day in Denmark, if you walk out your door to see lots of broken dishes on your doorstep, this is a good thing. Tradition dictates that the more broken dishes on your doorstep, the more lucky the new year will be for you and your family. So grab your friends and start smashing those plates!
6. Eat Lentils On New Year's Eve
Italy
Italians are all about feeling lucky on New Year's Eve. In reality, they're doing all they can to ensure they ring in a prosperous New Year. According to Italian tradition, since way back in Roman times, lentils have been considered a symbol of good luck. And eating them on New Year's Eve is said to bring money, prosperity, and health. As with many centuries-old traditions, the origins of such customs aren't totally clear. In the case of the Italian lentils, some say that they symbolize longevity because they are long-lasting, thus eating them promotes good health. Still, others say that lentils are a symbol of prosperity based on their appearance; they look to some like ancient gold coins.
7. Wear Red Underwear
Spain
Getting dressed with a fresh pair of underwear is always a good idea. However, on New Year's Eve, the Spanish go all in on this tradition. The Spaniards believe donning a pair of red underwear will bring luck their way in the coming year. Of course, the red underwear must be brand new to be lucky.
Whether you want to go for a dip, try your luck throwing dishes, eat lentils, or even wear red underwear, there's a special country for you to visit during the holidays.