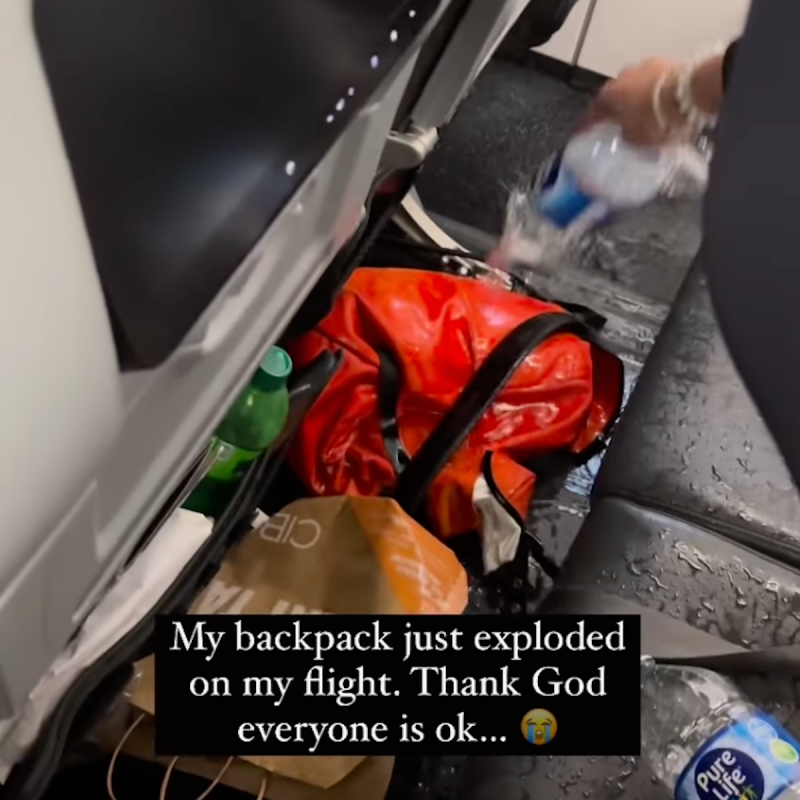 The Federal Aviation Authority said it is investigating last week's battery fire onboard a JetBlue flight just before take-off from John F. Kennedy Airport.
Details about the incident on October 30 became public through a video shared by Jimmy Levy, an American Idol contestant turned conservative political rapper.
In the video posted to social media, flight attendants are seen emptying bottles of water into a container, passengers rushing to exit the plane, and then the flight attendants dumping more water onto a bag sitting on the floor in front of a seat.
Levy explained in the caption that he had fallen asleep before take-off but was "jolted awake by a sudden and terrifying wave of heat, seemingly shooting towards my face."
"I immediately opened my eyes and noticed my backpack, which was initially tucked underneath my seat, now in a (sic) exploding and floating ball of fire," Levy wrote, adding that he pushed his bag to the ground and stomped on it before the fire could spread.
In media interviews, Levy said he initially thought he was being attacked because of his celebrity status and political advocacy, but later learned that the fire was caused by an electrical device inside of his bag.
In statements to TravelAwaits, neither JetBlue nor JFK gave consistent answers about what type of electronic device exploded, but the presumption was that it was a lithium battery or battery charger. If damaged, lithium batteries can overheat and ignite.
They also confirmed that no one was injured in the incident because crew members took immediate action by extinguishing the fire and evacuating passengers from the plane. They added that all passengers were rebooked on other flights. 
According to the FAA, there have been 60 verified lithium battery incidents in 2023 and a total of 491 documented since 2006. However, the agency advises that it is not a complete list of incidents. The FAA said it updates its data on the fifth of every month.