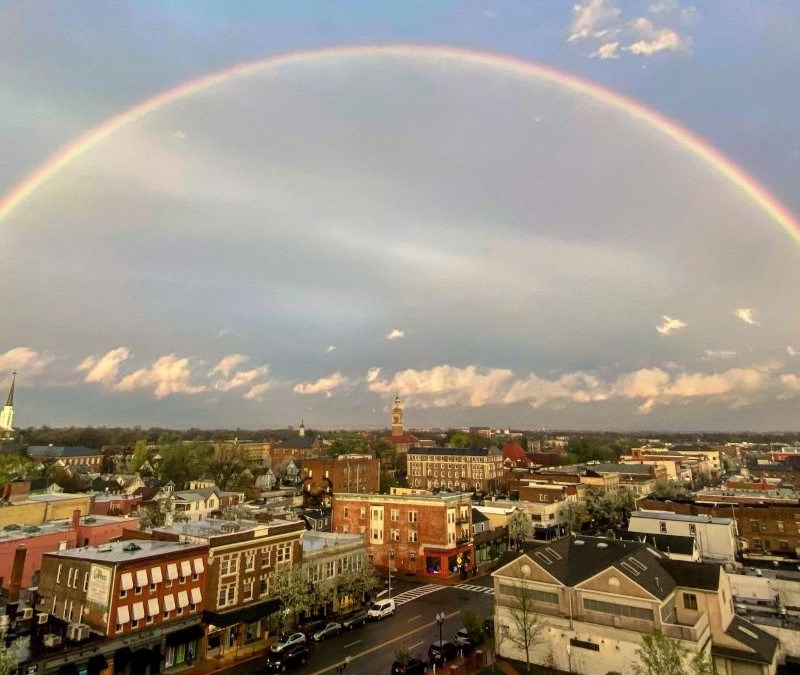 Just east of the first mountain in the Watchung Mountains range, Montclair, New Jersey, derives its name from the French "mont clair," meaning "clear mountain" or "bright mountain." Home to a number of celebrities, it is situated only 12 miles west of New York City, and serves as an alluring landing spot for many who wish to have easy access to the city but with room for a backyard at home. It is known for its vibrant arts scene and is home to the Wellmont Theater, the Montclair Art Museum, the Van Vleck House & Gardens, and Montclair State University (the second-largest university in the state after Rutgers).
And amidst all these attractions, Montclair is also attuned to the dietary needs of its visitors and residents. With the rising awareness of celiac disease (an autoimmune condition in which the ingestion of gluten, a protein found in wheat, rye, barley, and their hybrids, leads to damage in the small intestine) and gluten intolerance, or non-celiac gluten-sensitivity (a non-autoimmune condition in which gluten consumption causes sickness after eating), finding a good meal between taking in the sights has never been easier. (A happy fact for the roughly 1% of Americans with celiac and 6% with gluten intolerance.)
If you're on a gluten-free diet, here are some of the top restaurants that are reported to have gluten-free menus or options in Montclair, New Jersey. (Remember to always alert your server to any dietary restrictions. Some of the venues listed here may not be safe for those with celiac or who are sensitive to cross-contamination. Be sure to call the restaurant ahead of time with any concerns.)
Gluten-free restaurants in Montclair, New Jersey
1. Le Salbuen Cafe Market
97 Walnut Street, Montclair, NJ 07042
1-201-622-8473
Specializing in "global inspired organic farm-to-table meat, vegetarian, vegan, and gluten-free dishes," this eatery offers options that are or can be made gluten-free. With Portuguese, French, Indian, and Mediterranean influences, the dishes are fresh and flavorful creations made with an eye toward the seasonal harvests.
2. Samba Montclair
7 Park St, Montclair, NJ 07042
1-973-744-6764
Featuring authentic Brazilian cuisine, the entire menu at this restaurant in naturally gluten free, owing in part to the use of yuca (also known as cassava) in traditional Brazilian methods for making flour. Certified by the Gluten Intolerance Group (GIG), this restaurant features drinks, brunch, lunch, dinner, and dessert menus and also offers some vegan items.
3. Le Souk
51 Watchung Plaza, Montclair, NJ 07042
1-973-707-2333
Offering authentic Middle Eastern flavors, many of the dishes at this establishment are either naturally gluten free or can be modified to be, and many are also vegetarian or vegan. Enjoy options such as Stuffed Grape Leaves, Chicken Fatteh, Moussaka, and Chicken Kabobs, then top off your meal with some sweet gluten-free Halvah for dessert.
4. Plum Bakery
179 Glenridge Avenue, Montclair, NJ, 07042
1-973-509-PLUM (7586)
Craving a sweet treat? This 100% gluten-free bakery has you covered! With items including pies, cakes, donuts, cinnamon rolls, cannolis, cookies, and more, you can pick out your perfect dessert, worry free. A number of savory items, such as quiches and cheddar chive biscuits, are also available.
5. SLA Thai
596 Valley Road, Montclair, NJ 07042
1-973-509-0111
Run by a family of chefs from northern Thailand, this restaurant is sure to hit the spot when you're craving Thai food. Options run the gamut from Cauliflower Tempura to Salmon Salad to Chicken Sate to Sweet Sticky Rice With Mango. Look for the "GF" symbol on the menu when ordering.
6. Mesob
515 Bloomfield Avenue, Montclair NJ, 07042
1-973-655-9000 or 1-973-655-9099
This establishment is known for its authentic Ethiopian dishes, many of which are naturally gluten free. In addition to its wheat-free, barley-based injera (Ethiopian flatbread), Mesob also offers a gluten-free version using teff flour. (The restaurant recommends providing at least 2 hours advance notice if a gluten-free patron will be visiting.)
7. Stuffed Grass-Fed Burgers
150 Valley Road, Suite 1, Montclair, NJ 07042
1-973-893-5805
Sometimes, nothing quite hits the spot like a juicy burger. If that's what you're craving, you're in luck. Build your own burger on a gluten-free bun, then add sides like fries, sweet potato fries, milkshakes, and more. A salad more your style? Those are available with gluten-free options too. (Note that this establishment will be changing its name to Dan & Day's Burgers & Shakes and moving to 598 Valley Road sometime in 2024.
Enjoy the view and dine in style in Montclair
As you savor the sights of Montclair's "clear mountain," your culinary journey doesn't need to be overshadowed by dietary restrictions. Whether you're indulging in the rich flavors of Ethiopian cuisine, enjoying the cozy ambiance of a European pub, or treating yourself to the delightful creations of a farm-to-table meal, Montclair's dining scene ensures that your gluten-free needs are met with both style and substance. So, take a seat, enjoy the view, and rest assured that in Montclair, gluten-free dining is both a priority and a pleasure.
Disclaimer of Medical Advice: This information does not constitute medical advice or recommendation of any kind, and you should not rely on any information contained in such posts or comments to replace consultations with your qualified healthcare professionals to meet your individual needs.