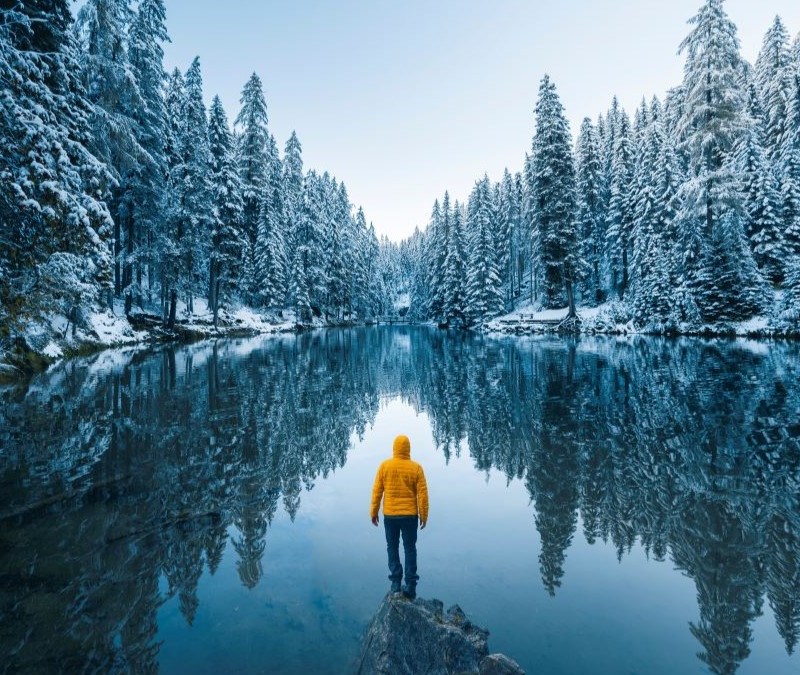 If you'll be embarking on a travel adventure this month, you likely have a checklist of items to keep track of, from securing transportation and hotel accommodations to packing your suitcase and planning out a schedule of activities at your destination. But there's one crucial aspect many overlook when preparing for a trip this time of year: maintaining a skin care regimen.
Skin care needs in the winter
Although keeping your skin healthy is important year round, there are some challenges that are unique to the colder months. For one thing, the icy temperatures, low humidity levels, and howling winter winds all draw moisture out of the skin, according to Intermountain Health, while sun reflecting off the snow can increase the risk of sunburn, even on cloudy days. (In fact, snow reflects sun even better than water and nearly doubles a person's ultraviolet [UV] exposure, according to the World Health Organization [WHO].) Dry indoor heating can worsen the issue, sometimes leading to cracked or even bleeding skin, which is more susceptible to infection. If you have a skin condition such as eczema or psoriasis, it may flare at this time of year.
Let's flesh out some of the best ways to keep your skin in tip-top shape as you're hitting the road this winter.
Hydration tips for travelers
Internal hydration
One of the most important steps to keep your skin healthy year round is getting adequate hydration. According to the U.S. National Academies of Sciences, Engineering, and Medicine, this is about 15.5 cups (3.7 liters) of fluids each day for men and 11.5 cups (2.7 liters) of fluids each day for women from both food and beverages. Having trouble getting the suggested amount of water? Here are some tips from Mayo Clinic to boost your hydration:
Add some flavor. If your standard glass of H20 just isn't cutting it, try adding some tasty fruits or veggies — lemons, limes, oranges, cucumbers, and strawberries are some favorites — to infuse your water with a flavor boost.
Link it with a routine you already have. For instance, drink a glass of water every time you brush your teeth, eat a meal, or use the restroom.
Eat foods with a high water content. This includes fruits and vegetables like lettuce, melon, cucumbers, and celery.
Keep track of your intake. Just knowing how much (or little) you're drinking can encourage you to up your intake. Invest in a fancy water bottle that links to your smartphone and records how much you drink, or set an alarm and record your intake with a good old pen and paper.
Challenge a friend. Embrace some healthy competition and see whether you can both meet your daily hydration recommendations.
Bring a bottle to go. To ensure you're getting enough water while out and about, fill up a reusable bottle before you leave your accommodations and refill it throughout your day (or once you get through security at the airport).
Alternate your beverages. If plain water just won't cut it for now, drink a glass of water first before switching to your beverage of choice.
And while you're thinking of what you should eat and drink, it's also important to consider what you should avoid. Caffeinated coffee and tea, soda and other highly sugared drinks, and alcohol can all be dehydrating. Cured meats, soy sauce, and other salty foods; high-protein meals; and beets, artichokes, and asparagus are all among the foods that can cause dehydration.
External hydration
While internal hydration plays a crucial role, it's equally important to address external hydration to combat the harsh elements of fall and winter. Because of the moisture-stripping characteristics of the fall and winter, be sure to choose more gentle cleansers (which remove excess dirt and oil while leaving the protective skin barrier intact) and choose thicker, oil-based creams and ointments for moisturizing (which prevent moisture from evaporating from the skin as easily) and contain humectants such as vitamin E, glycerin, or glycol (which draw moisture to the skin), notes Dr. Angela, J. Lamb, MD, Associate Professor of Dermatology at the Icahn School of Medicine at Mount Sinai. (If you are prone to acne, avoid petroleum- and oil-based products and choose those containing lipids instead.) Wear minimal makeup to ensure any hydrating products you put on your face can be properly absorbed.
Using a humidifier at home or on the road can add moisture to the air and counteract the effects of drying heat systems, notes the Mayo Clinic. For travel, small portable versions are available that can be brought along and set up in a hotel room. And if you'll be flying, remember that airplanes are notorious for their dry cabin air. In addition to drinking plenty of water and avoiding the dehydrating items mentioned above, breathe through your nose. This prevents excessive moisture loss through your mouth.
Adjust your skin care routine for winter travel
In addition to choosing gentler cleansers and heavier moisturizers (with humectants) during the cold-weather season, there are a few additional steps you may want to add to your skin care routine at this time of year.
First off, consider gently exfoliating your skin several times a week. Because of the low-humidity winter air, skin cells tend to dry out and die off faster. Exfoliation removes this layer, allowing more moisture to reach the skin layers below, says Dr. Joshua Zeichner, MD, a New York City-based board certified dermatologist.
Also, think about products that can help increase your skin's moisture levels overnight. A hydrating sleep mask used 1 to 3 times a week and moisturizing sleep gloves and socks can help keep your face, hands, and feet hydrated while keeping messy creams and oils off your sheets.
Finally, be sure to include sunblock in your bags, even if you'll be traveling to a location that is typically cloudy in the winter. The American Academy of Dermatology Association recommends a version that is broad spectrum, SPF 30 or higher, and either water resistant or very water resistant for up to 40 or 80 minutes. Apply about 30 minutes before you go outside, and reapply frequently if you are outdoors for a long time.
Make sure you pack travel-size selections of any liquids (3.4 ounces [100 milliliters] or less, according to the Transportation Security Administration) in any carry-on luggage.
Lifestyle tips for skin health
External products can go a long way in helping your skin stay healthy and hydrated, but it all starts with the foundation you're building through healthy lifestyle habits. Here are some tips to improve your skin — and your overall health.
Get enough sleep
According to the Sleep Foundation, the body repairs and restores while we are asleep, including increasing circulation to the skin and releasing the production of growth hormone. In terms of the effects on the skin, these activities can help decrease wrinkles, improve and even out complexion, and reduce dark circles.
Manage stress
Stress can negatively impact the skin by increasing inflammation and slowing wound healing, says the American Academy of Dermatology Association. According to the U.S. Centers for Disease Control and Prevention (CDC), for some quick activities to help reduce stress, try taking a brief break to be active by dancing, lifting weights, or engaging in a favorite sport; close your eyes and take some deep breaths or meditate; write down three things for which you are grateful; check in with yourself to evaluate how you're feeling; think of something that makes you laugh; or listen to an inspiring quote or song.
Shower the right way
Although they can feel soothing in the moment, hot showers can strip protective oils and moisture from the skin, and the longer the shower, the more dehydrating it can be, says Dr. Emily Mckenzie, MD, at the University of Utah Health. Opt for warm or lukewarm water instead. Harsh detergents and soaps are also rough on the skin, stripping away natural oils and potentially leading to irritation, particularly if they contain fragrances. Read the labels of your skin care products and be sure to opt for products that are fragrance-free and don't include sulfates or drying alcohols (some alcohols in skin care items, such as cetearyl alcohol, stearyl alcohol, and lauryl alcohol, are hydrating).
Special skin care considerations for travel
When preparing to hit the road, there are many skin care principles you can take with you. However, it's important to do a little research beforehand: Determine what sorts of changes in products and routine (if any) you will need to adapt to a climate that is colder or drier (or hotter and moister) than your home base. Also be sure to keep an eye out for signs of skin irritation stemming from the use of hotel soaps and shampoos, different detergents, and new irritants in the air such as smoke from cigarettes or wildfires. If you'll be changing time zones, take steps to minimize jet lag such as gradually adjusting your sleep schedule beforehand to match your destination's time zone and seeking natural light exposure when you arrive.
Winter-proof your skin
As you get ready to embark on your adventure, remember to tuck your moisturizers, face masks, and water bottle next to your passport and warm socks. Let the spirit of the season warm your heart and the benefits of hydration boost your glow!
Disclaimer of Medical Advice: This information does not constitute medical advice or recommendation of any kind, and you should not rely on any information contained in such posts or comments to replace consultations with your qualified healthcare professionals to meet your individual needs.