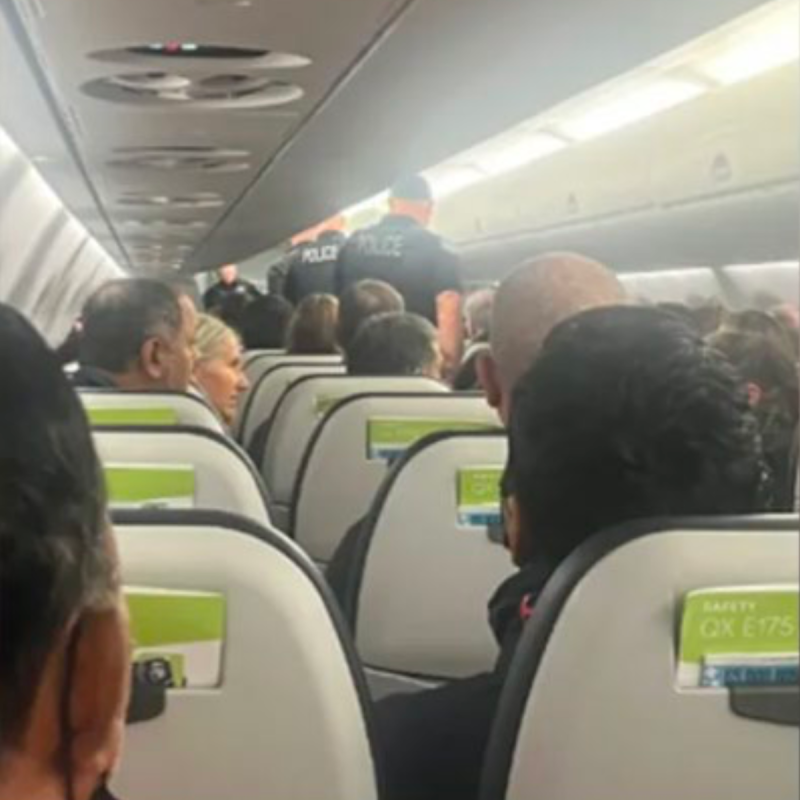 Passengers onboard the flight an off-duty Alaska Airlines pilot tried to crash last month filed a class action lawsuit against the airline, alleging the pilot should not have been allowed inside the cockpit.
The civil complaint cites details in the charging documents against pilot Joseph David Emerson, saying he had used drugs and hadn't slept in over 40 hours prior to take off.
The lawsuit argues Emerson "did not meet federal minimum requirements for pre-flight rest" and was having a "mental crisis" during the flight.
Daniel Laurence, the attorney for the class, said in a statement that "the airlines need a wake-up call" and need to ensure that "every pilot who shows up at the gate is rested, sober, and in the right state of mind to fly."
"Emerson's statements while in the air and shortly after his arrest show that had the airlines here done so, he would never have been allowed aboard," Laurence said. "Our clients suffered needlessly as a result. Only luck prevented it from becoming a mass disaster."
The plaintiffs in the case filed in a Washington-state court include Matthew Dolan, of San Francisco; Theresa Stelter, of San Francisco; and Paul Stephen, of Kenmore, Washington.
According to court documents, Emerson was riding in the jump seat of the cockpit during a Horizon Air flight from Everett, Washington, to San Francisco, California, on October 22 when he tried to down the plane. Horizon is a subsidiary of Alaska.
After interviewing the pilots and crewmembers, investigators said during the flight that Emerson yelled "I'm not okay" and then tried to activate the aircraft's emergency fire system, which would shut down the plane's hydraulics and engines, but the pilots stopped him.
Immediately following the incident, the flight was diverted to an airport in Portland, Oregon, where Emerson was arrested. During an interview, Emerson told investigators that he had been struggling with depression for six years and that a friend of his recently died.
Although investigators said he did not look intoxicated, Emerson said he had consumed "magic mushrooms" roughly two days before the flight.
Since the incident, Emerson has been charged with 83 counts of attempted murder in Washington, for which he pleaded not guilty, as well as one count of interfering with flight crew members in federal court.
In the civil case, the class is asking the court to award damages to cover the cost of the ticket as well as treatment for psychological and emotional injuries.