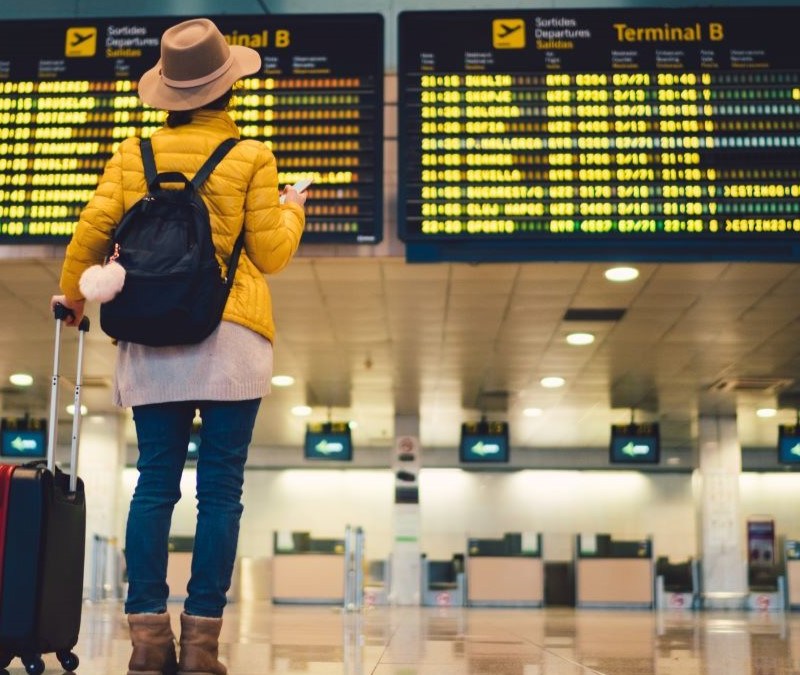 It's that time of year again: Holiday travel season is starting to ramp up, and right along with it, cold and flu season is kicking into high gear as well. Although the exact timing varies, flu activity tends to start increasing in October, according to the U.S. Centers for Disease Control and Prevention (CDC), typically peaking between December and February and sometimes lasting as late as May. Colds, meanwhile, are most likely in the fall and winter months, says Johns Hopkins Medicine, with activity ramping up in late August or early September and lasting until March or April. 
The increase in these viruses during the colder months is thought to be caused by a number of factors. For one thing, when the weather is cold and dry, the nasal passages also become drier, which makes them more vulnerable to respiratory infections. Additionally, the cold weather typically has people gathering in close quarters indoors — both at holiday gatherings and in crowded travel hubs such as airports, train stations, and bus terminals.
Regardless of the cause, the crucial question is: How can you avoid the cold and flu while traveling?
The risks of cold and flu while traveling
Colds and the flu are both primarily spread person to person. Most experts believe that flu spreads via droplets that are made when people who are infected cough, sneeze, or talk. The droplets can spread roughly six feet away and be inhaled or land in the mouths or noses of those who are nearby. Touching a shared surface, from an airplane tray table to the buttons on a vending machine to a restroom door, that has been contaminated with cold or flu virus and then touching your mouth, nose, or possibly eyes is another way these viruses can be spread, the CDC notes.
In most people, the flu virus can be detected up to one day before symptoms develop (and up to five to seven days after symptoms develop), and they are generally most contagious in the first three to four days after their illness begins. (Some people, including those with weakened immune systems and young children, may be contagious for longer.) This means that someone can be capable of spreading the virus before they've even begun experiencing symptoms themselves. Colds can also be contagious before symptoms are present, according to Piedmont Healthcare, and can be spread as long as symptoms are present, typically being the most infectious in the first two to three days (when symptoms are at their worst).
All of which is to say that the close quarters and shared surfaces characteristic of most modes of travel represent a heightened risk of exposure to these viruses.
The importance of flu vaccination
So, what can you do to stay healthy? Although there is currently no vaccine for the common cold, one of the most important steps you can take to avoid the flu is to get the annual flu vaccine, says the CDC. The vaccination can help prevent illness, medical visits, hospitalization, and even death, and it can help reduce the severity of illness in those who do get sick.
Who should get the flu shot?
According to the CDC, the flu vaccine is appropriate for most people, with different flu shots being approved for people of different ages. It is recommended that people who are pregnant or who have certain chronic health conditions get the flu shot. And for those with an egg allergy, the CDC notes that "People with egg allergy may get any vaccine (egg-based or non-egg-based) that is otherwise appropriate for their age and health status. Beginning with the 2023-2024 season, additional safety measures are no longer recommended for flu vaccination of people with an egg allergy beyond those recommended for receipt of any vaccine, regardless of the severity of previous reaction to egg."
Who should not get the flu shot?
Children who are younger than six months of age are too young to get a flu shot. Those who have severe, life-threatening allergies to any ingredients in a vaccine should not get that vaccine, and those who have had a severe allergic reaction to a dose of flu vaccine in the past should speak with their healthcare provider to determine whether vaccination is appropriate.
Additionally, those who have ever had Guillain-Barré Syndrome (a severe paralyzing illness) and those who are feeling sick should also speak with their healthcare provider about whether vaccination is right for them.
Where can you get a flu shot?
Flu shots are widely available at doctor's offices, pharmacies, community health clinics, and via employer-sponsored programs. Vaccines.gov can help you find a location near you.
Maintaining good hygiene while traveling
In addition to getting the flu shot if vaccination is suitable for you, there are steps you can take to maintain good  hygiene while on the road to reduce your risk of flu, colds, and other contagious illnesses.
Wash your hands
Be sure to wash your hands frequently. Use clean running water to wet your hands, turn off the tap, and then apply soap. Rub your hands together to create a lather, and lather the backs of your hands, between your fingers, and under your nails. Scrub for at least 20 seconds, says the CDC. Rinse well, then dry using a clean towel or air dryer. Key times to wash your hands include before, during, and after food preparation; before and after eating; after shaking hands; after using the toilet or changing a diaper; after blowing your nose, coughing, or sneezing; and after touching garbage.
Using hand sanitizers
You should use soap and water to wash your hands whenever possible, but if these aren't available, hand sanitizer is an alternative. The sanitizer should have a strength of at least 60% alcohol and should be used when your hands are not visibly dirty or greasy.
Keep your hands off your face
Although easier said than done, it's also important to keep your hands away from your face, and particularly your eyes, nose, and mouth, where cold and flu viruses enter the body.
Sanitize shared surfaces
To reduce the likelihood of picking up a cold or flu bug from a contaminated surface, disinfectant wipes can be used to sanitize areas such as airplane tray tables and armrests.
Support your immune system
In addition to the measures above, it's important to give your body every advantage it can get to fight off the cold and flu.
Eat well and stay hydrated
There is some truth to the old saying, "An apple a day keeps the doctor away." To keep your immune system in top shape, be sure to eat a balanced diet rich in vitamins and minerals. Foods such as citrus fruits, leafy greens, and berries have been found to be especially helpful for supporting immunity and helping to reduce symptoms. It is also vital to stay well hydrated, as this helps keep the nasal passages moist so they can catch invaders before they enter the body, helps the blood circulate more easily, and helps improve the blood's oxygenation levels.
Get adequate sleep and reduce stress
Along with helping you feel better and stay mentally sharp, getting adequate restful sleep is also crucial for supporting immunity. According to the National Institutes of Health (NIH), experts recommend that adults get between 7 and 9 hours of sleep each night. Because long-term stress can weaken the immune system, it's also important to engage in practices that help you relax. This can include deep breathing exercises, meditation, going for a stroll, listening to music — whatever practices help you feel better.
Be prepared to avoid cold and flu
To help reduce your likelihood of catching a cold or the flu while on the road, and to ensure you're ready if you should come down with one of these viruses, it's important to take a few vital steps as you prepare for your journey. Firstly, as you're packing your suitcase or travel bag, be sure to include a small health kit. This should contain items such as hand sanitizer, tissues, cough drops or syrup, over-the-counter cold or flu medicines, and a thermometer. Also, make sure you're choosing travel times that allow you to get adequate sleep. This may mean skipping the red eye or a very-early-morning flight and arriving at your destination a bit later, but feeling rested and well. And finally, consider getting travel insurance that will cover expenses if you get sick prior to or during your trip.
What to do if you catch the cold or flu while traveling
Sometimes, despite all the planning and preparation in the world, it's just not possible to outrun a cold or flu. So, what should you do if you catch one of these bugs while on the road? First off, be sure you can recognize the symptoms. Cold symptoms, according to the CDC, include sneezing, stuffy nose, runny nose, sore throat, post-nasal drip (mucus dripping down the throat), watery eyes, and fever (although fever is rare with a cold in most people). Flu symptoms include fever, chills, cough, sore throat, runny or stuffy nose, headaches, muscle or body aches, fatigue, and vomiting or diarrhea (more common in children than adults). It is important to note that not all people will experience all symptoms — symptom combination and severity does vary.
For a cold, the Mayo Clinic states that for adults, if symptoms are getting worse (or are not getting better), you have a fever greater than 101.3 degrees Fahrenheit (38.5 degrees Celsius) that lasts more than three days, a fever that returns after a fever-free period, shortness of breath, wheezing, or an intense sore throat, headache, or sinus pain, you should seek medical attention. For the flu, Wesley Healthcare states that adults should seek medical attention if they have a sustained fever of more than 102 degrees Fahrenheit (roughly 38.8 degrees Celsius) and any combination of difficulty breathing, severe chest or stomach pain, vertigo and lightheadedness, severe vomiting, and dehydration. Care can be found at local pharmacies, urgent care centers, and the emergency room, if needed. (There can be an overlap between the symptoms of a cold and the flu, so be sure to seek professional guidance if you're unsure.)
And whether you need to seek medical attention or not, be sure to cover your coughs and sneezes, wear a mask, wash your hands, and limit contact with others to prevent spreading the illness, according to the University of Iowa Hospitals & Clinics.
Avoiding cold and flu while traveling: an ounce of prevention
As they say, an ounce of preparation is worth a pound of cure. Take proactive measures to avoid the cold and flu bugs this year, and the next time you take a trip, the only thing you'll catch is your flight!
Disclaimer of Medical Advice: This information does not constitute medical advice or recommendation of any kind, and you should not rely on any information contained in such posts or comments to replace consultations with your qualified healthcare professionals to meet your individual needs.