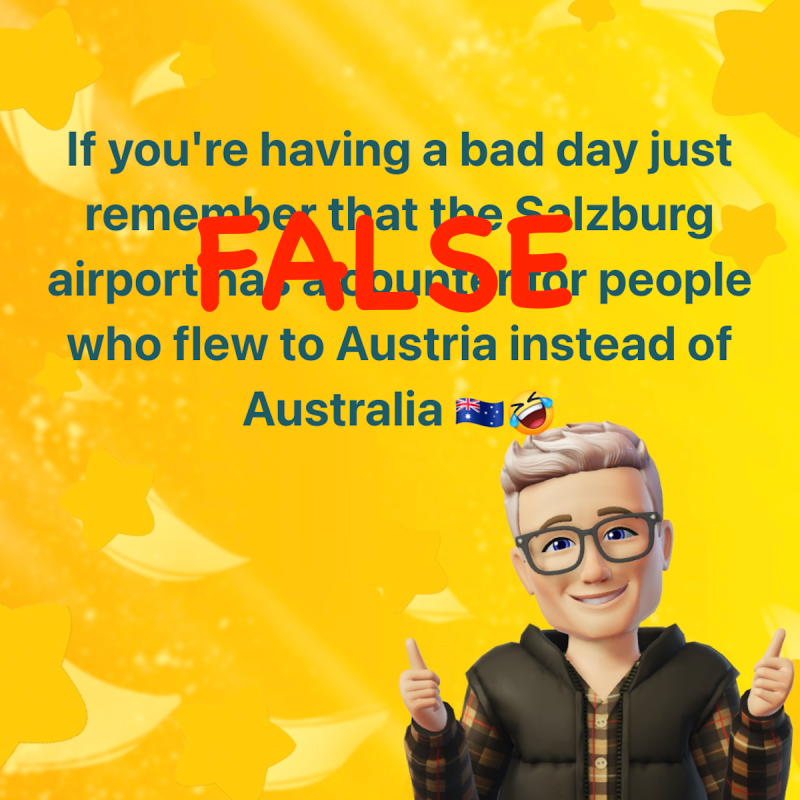 An internet meme resurfaced recently claiming that there's a help desk at the Salzburg Airport dedicated to helping travelers who mistakenly fly to Austria instead of Australia.
It seems like such an unbelievable claim that it has to be true, but it turns out that it's just unbelievable. 
The truth is there is no help desk at the airport in Salzburg, Austria, dedicated to helping confused travelers who spend hundreds or thousands of dollars to mistakenly fly to Austria. 
In an email to Travel Awaits, Susanne Buchebner, deputy head of public relations for the Salzburg airport, explained that "the whole story is no more than a rumor."
"There is no – and never has been – such a counter (there would be no use at all, since – as far as we know – no one ever travels to Austria instead of Australia by mistake)," Buchebner said.
According to reports, the claim has recently been spreading as a meme, but it dates back to 2021 when the image of a sign was posted to social media. The sign read: "Sorry, this is Austria not Australia! Need help? Please press the button." But it was actually part of a series of advertisements by the intercom company Commend.
Even though the narrative is two years old and widely debunked, Buchebner said she's unsure why it's resurfacing now.
Article updated at 3:35 p.m. Eastern on October 31, 2023.