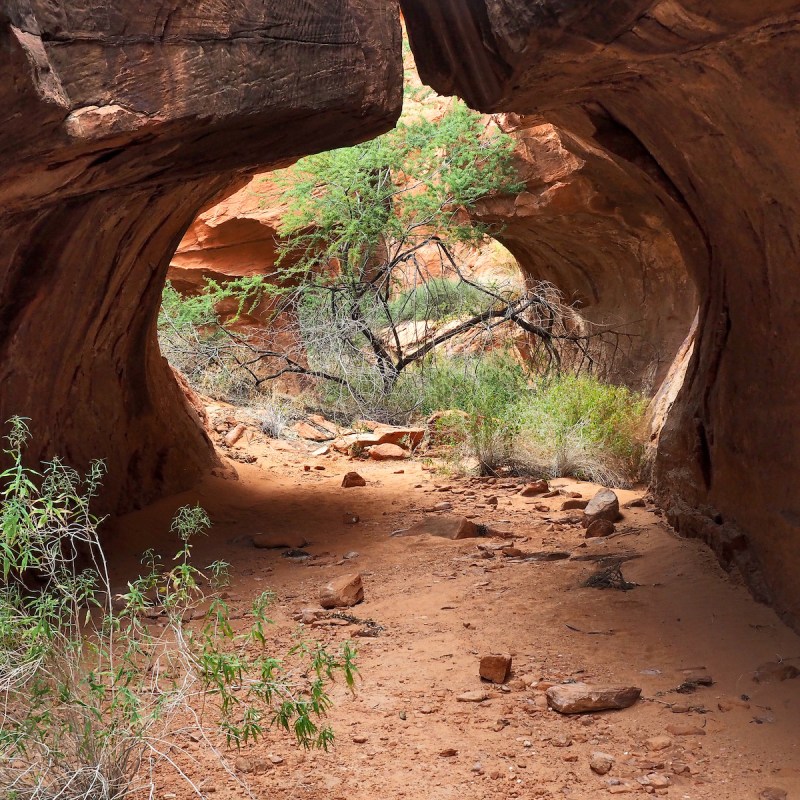 America is blessed with some of the most breathtaking natural wonders in the world. From the Grand Canyon to Niagara Falls to Yellowstone National Park, nature's creativity attracts millions of visitors from across the globe every year.
With its awe-inspiring size and vibrant colors, the Grand Canyon is one of the most well-liked tourist attractions in the United States. Niagara Falls is a majestic display of nature's power. And Yellowstone National Park — with its geysers, hot springs, and wildlife — is a testament to the diversity and richness of America's natural landscapes.
However, there are hundreds of natural wonders that most visitors miss. Each is as magnificent as the Grand Canyon and as intriguing as Yellowstone's geysers. Try one of these six treasures you'll find on the roads and trails less traveled.
1. Thor's Well, Oregon
Thor's Well is a unique natural wonder on the Oregon Coast that draws visitors worldwide. It's a large, circular hole in the rock that appears bottomless. When waves crash in, it fills with water that shoots out in a dramatic explosion, creating a stunning display of natural power.
The best time to see this phenomenon is during high tide, when the waves are strongest. However, it's essential to keep a safe distance from the edge and never turn your back to the ocean, as the waves can be unpredictable and dangerous.
2. Seven Keyholes Slot Canyon, Nevada
Seven Keyholes Slot Canyon is a natural wonder in Nevada's Lake Mead National Recreation Area. Seven Keyholes offers a unique and thrilling adventure for nature lovers. The natural wonder is a series of slot canyons carved over millions of years by the rushing waters of the Colorado River.
A hike through this majestic canyon is not for the faint of heart as it requires scrambling, crawling, and squeezing through narrow passages. However, the reward is well worth it as hikers are treated to unparalleled views of the colorful rock formations, arches, and cascading waterfalls along the way.
3. The Sailing Stones Of Death Valley, California
The Sailing Stones of Death Valley in California are a fascinating natural phenomenon that has puzzled scientists and visitors for decades. These stones, which can weigh hundreds of pounds, mysteriously move across the dry lakebed, leaving long trails behind them.
Despite numerous studies and research, no one has been able to fully explain the phenomenon. Still, it's believed that a combination of wind, ice, and water may be responsible for the movement. Visit Death Valley to witness this wonder for yourself.
4. The Goblin Colony, New Mexico
The Goblin Colony is a unique natural wonder in the middle of the desert in northwestern New Mexico. This impressive geological formation — also known as the Bisti/De-Na-Zin Wilderness — is a maze of towering rocks and hoodoos that create a surreal landscape that looks like a sci-fi movie.
The area is a popular destination for hikers, photographers, and nature enthusiasts who explore otherworldly formations, including petrified logs, strange rock formations, and colorful mineral deposits. The Goblin Colony is a one-of-a-kind destination that offers a glimpse into the fascinating geological history of the American Southwest.
5. Rat Rock, New York
Rat Rock is an astonishing natural wonder in Morningside Heights, New York City. It is a popular destination for climbers and boulderers. The rock is in Central Park and is named after the rodents that used to inhabit the area.
It's a massive boulder that measures about 50 feet high and 150 feet wide, making it a challenging climb for even the most experienced climbers. The area around Rat Rock is also a popular spot for picnics and outdoor gatherings. There are lovely views of the surrounding cityscape. When looking for natural wonders in New York City, Rat Rock is a hiding-in-plain-sight destination.
6. Wheeler Geological Area, Colorado
Wheeler Geological Area is in the La Garita Wilderness Area of Colorado. This natural wonder is a stunning display of geological formations shaped over millions of years by volcanic ash and erosion.
The area is known for its unusual rock formations, including towering hoodoos, giant spires, and intricate arches. When you visit the site, enjoy hiking and camping in the wilderness. Explore fascinating geological formations that make this area a true natural wonder.
Conclusion
Little-known American natural wonders are a travel experience with bragging rights for life. Nature's hidden treasures offer a chance to escape crowds and discover something remarkable.
From the eerie hoodoos of the Goblin Colony in New Mexico to the mysterious sailing stones of Death Valley, these natural wonders are full of surprises. Not only will you have the opportunity to witness some of nature's most awe-inspiring creations, but you'll also support the preservation of these unique landscapes for future generations to enjoy. So, pack your bags and hit the road to discover America's most missed treasures.