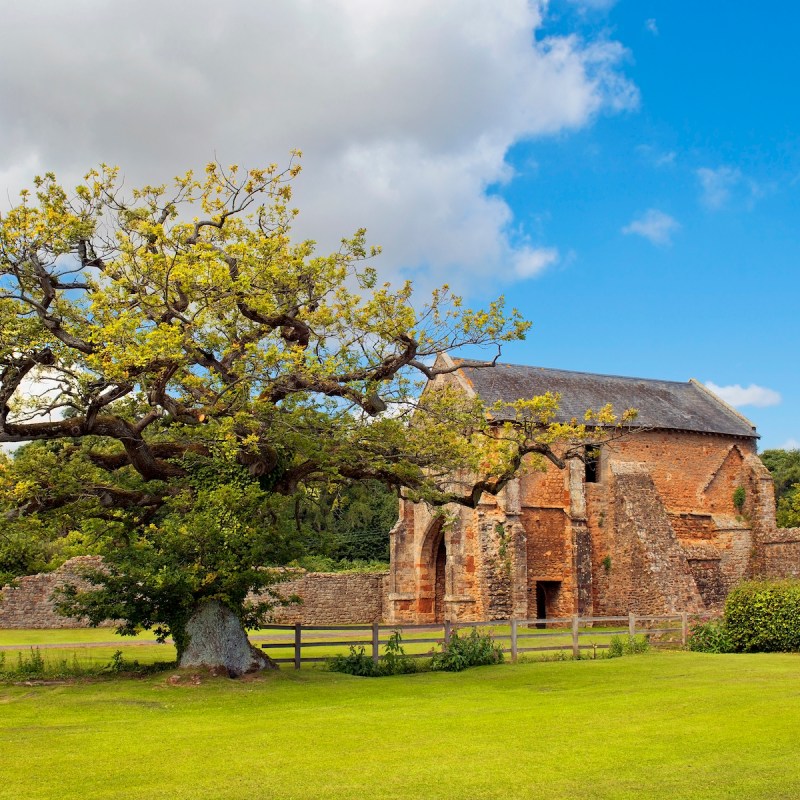 Medieval, mysterious, and marvelous — cloisters and abbeys are historic sites where men and women devoted their lives to religious seclusion. While some are still active, all that remains of others are fascinating ruins that routinely top European travel itineraries. Visitors seeking a sense of peace flock to these devout places for a quiet, reflective break during their journeys. These half-dozen cloisters and abbeys in Europe will take you back in time and be the highlight of your next holiday.
1. Corvey Abbey, Germany
Corvey Abbey, a UNESCO World Heritage Site, dates back to 822. Its Benedictine leaders established the abbey in an area that remains largely rural to this day. Corvey was an imperial monastery, meaning that kings and emperors would stay and worship there while traveling. This also meant the religious leaders at Corvey often had just as much political influence as royalty, elevating the abbey to a spiritual, political, and cultural hub. Corvey's Baroque monastery features gorgeous towers, massive halls, intricate murals, and a library containing 75,000 rare medieval books.
2. Mont Saint Michel Abbey, France
Legend holds that in the 8th century, the archangel Michael appeared to the Bishop of Avranches imploring him to build a monastery. The good bishop heeded the call, constructing the incredible Mont Saint Michel on top of a rocky outcrop just off the coast of Normandy and Brittany. Now one of the most visited cultural sites in France, it also remains an important pilgrimage destination for Christians. The existing granite structure was built from the 11th century onwards, housing Benedictine monks for centuries before becoming a prison in the 1790s. The French government declared it a historic monument in 1874; Mont St. Michel's show-stopping Neo-Gothic spire was added in 1896.
3. Sénanque Abbey, France
Surrounded by vast lavender fields, Sénanque Abbey in Provence is still home to an active community of Cistercian monks who dedicate their lives to prayer and maintaining the gorgeous monastery, along with its grounds. In addition to harvesting lavender, the monks also keep onsite beehives and an olive grove, selling oils and honey to support the abbey's mission. While late June through July is when the lavender is in peak bloom, the church is always open to visitors. It's also possible to join silent spiritual retreats at the abbey.
4. Sant Cugat, Spain
Founded in the 9th century just 15 minutes northwest of Barcelona, the monastery in Sant Cugat holds a treasure trove of medieval art and its Romanesque architecture is some of the best preserved in Europe. The complex consists of a grand church (the third one to be built on the site) with a gorgeous stained-glass rosette; cloister rooms that housed monks for hundreds of years; the Abbot's Palace, where kings of Aragon would stay and pray; and the belltower, which still operates more than 1,000 years after its construction. Soaring more than 120 feet up, it's possible to go up to the sixth floor for an incredible view of the village below.
5. Cleeve Abbey, England
In 1536, King Henry VIII destroyed the church at Cleeve Abbey and converted the Cistercian-founded site into a private manor house. The once bustling abbey declined and was eventually used for lowly farm buildings. In 1984, the English Heritage Trust acquired the abbey and began archeological surveys and extensive restorations. Today, Cleeve Abbey is one of the best preserved medieval monasteries in the United Kingdom. The existing buildings are still roofed and contain many features of interest including the "angel" roof in the refectory where the monks gathered for meals. Another stand-out — the hand-painted tiles decorated with royal motifs dating back to 1270.
6. Monastery Of Santo Domingo De Silos, Spain
One of the most well-known monasteries in Spain, the cloister at Santo Domingo de Silos — with its two floors of arcades — is a stunning example of Spanish-Romanesque architecture. The site, which dates to the 11th century, sheltered the Benedictine monks who made it their home for centuries. It also served as a center of botanical and medical knowledge during the Middle Ages; you can still tour the monastery's pharmacy. While the cloister's extensive garden is long gone, a cypress tree thought to have been planted in 1882 by visiting French Benedictines still thrives. Be sure to keep an ear out for Gregorian chants, as the monks of Silos still sing six times a week during Vespers.
For many visitors traveling to Europe, abbeys and cloisters remain popular places to visit. They are quiet, peaceful places to reflect and pray worlds away from the hustle and bustle of cities and their major tourist areas. If you want to slow down and center up during your own adventure, consider a side-trip to one of these soulful, historic sites.