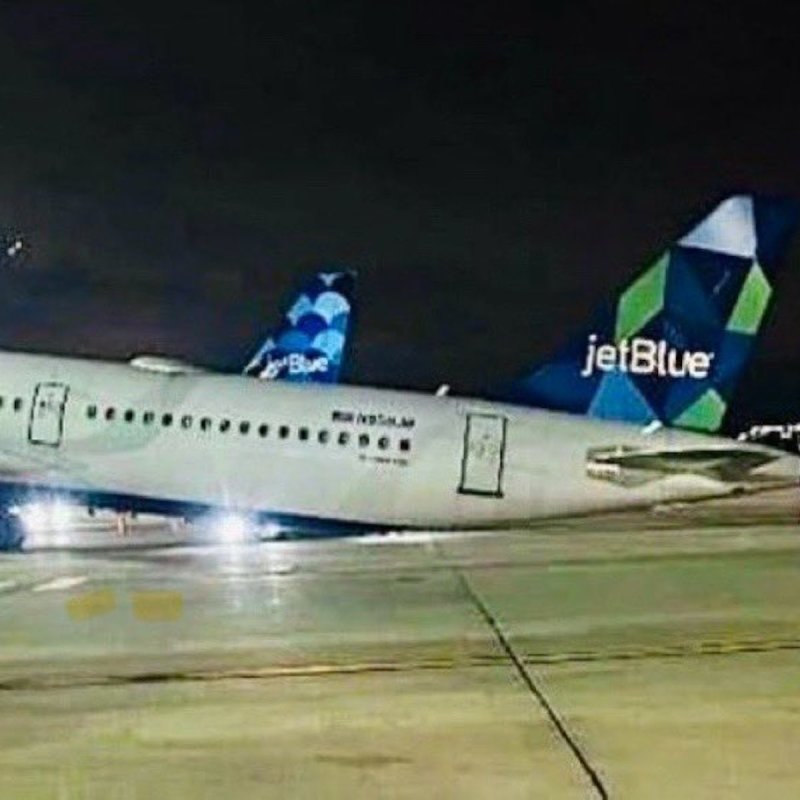 Video emerged on social media over the weekend of a JetBlue plane tipping backward at John F. Kennedy Airport in New York.
Images of the incident show the plane — a JetBlue Airbus after arriving from Bridgetown, Barbados, on Sunday night — with its nose and front wheels in the air as its tail sits on the ground. 
Sinead Bovell, a Tiktoker who said she was on the flight, shared a video from inside the cabin after it tipped. In the video, a speaker overhead can be heard explaining the situation and giving instructions for passengers to safely exit the plane.
Bovell explained that the plane "abruptly" tilted backward after about half of the passengers exited. She added that "thank goodness" no one was exiting when it moved because the jet bridge and part of the plane's door broke. 
She explained that the passengers had to "strategically" place themselves inside the cabin to keep the plane stable and that they had to "strategically exit" the plane two rows at a time to do it safely. 
In a statement to the reporters, JetBlue explained that the aircraft tiled back because of "a shift in weight and balance during deplaning" and that the plane eventually leveled off. 
The company added that no injuries were reported and that the plan has been taken out of service for inspection.