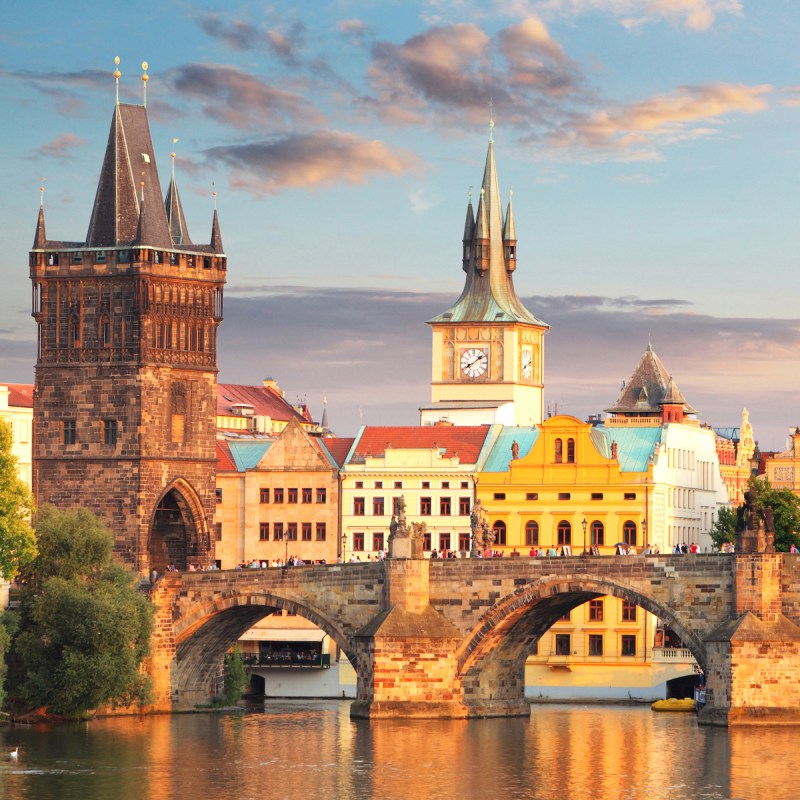 A trip to Europe is on many people's bucket list. But the time and expense getting there can be daunting. For many travelers, combining multiple countries is an ideal way to maximize precious vacation time and save money.
A few years ago, my husband and I spent 5 weeks traveling through Europe. We visited four countries and 10 cities and will never forget the experience. But I'll admit, this trip was an epic feat of planning. We definitely learned a great deal along the way.
I'll share my tips for visiting multiple European countries in one trip and hopefully make it easier for others.
1. Let Your Budget Help Determine Your Destinations
London, Paris, and Rome are the most popular cities to visit in Europe, and for good reason. However, they are expensive. Fortunately, there are hundreds of equally charming destinations that are budget-friendly. First, determine your budget. If you have the money to splurge on one of the best known cities, then go for it. But if not, consider alternatives.
First, look to eastern or central Europe instead of western Europe. I joined my sister 3 years ago on a trip to the Czech Republic and was stunned by its affordability. Accommodations, tours, and food were all reasonably priced. And from Prague, it's easy to head to Poland, Slovakia, Austria, and Hungary.
Pricing amongst western European countries can also vary widely. Portugal, Spain, and Greece tend to have lower prices than the UK, France, Italy, and Germany. If your heart is set on visiting Europe, but not a specific country, you can definitely stretch your budget.
2. Carefully Consider The Timing Of Your Visit
If summer is your only opportunity to visit Europe, then do it. But if there is any way to travel during another season, I highly recommend it. Not only will travel to and from Europe be cheaper, but transportation between countries will be easier as well; thanks mostly to fewer people.
Our trip to Europe began in late September and ended 5 weeks later. The weather was cooler, prices better than summer, and the crowds manageable. I've also traveled for a shorter trip in early spring and had similar results.
If you are visiting in summer, and have flexibility with your destination, try exploring northern Europe where you are less likely to experience crazy heatwaves. We enjoyed a trip through Sweden, Denmark, and Finland in June and found the weather to be comfortable and the crowds minimal. The trade-off is a bigger price tag, but we found it worth the extra money.
3. Balance Overnight Stays With Day Trips
If you want to squeeze in one or two extra countries — or cities — but don't want to take on the additional costs for accommodations, consider adding in some day trips.
During our trip to Prague, we took a day trip to Dresden, Germany. For the cost of a train trip and museum entrance fees, we experienced both a new country and city. If you're staying in the south of France, Monaco and its main city of Monte Carlo is just a short drive. Only the rich and famous can afford hotel rooms here, but anyone can enjoy a few hours in this spectacular seaside town. Thanks to the Schengen area, most borders in Europe are easy to cross, making country hopping for a day trip possible for everyone.
On the other hand, if there are many attractions you are hoping to see in a destination, it may be worth staying for a few nights. I always allow at least three nights if I'm visiting a country's capital, which is often home to major museums, theaters, and historical sights.
4. Understand Your Transportation Options Between Each Country
While it's likely you'll arrive in Europe by plane, you'll have many more options for travel between cities and countries.
Once you've chosen the countries you'll visit, carefully consider how you'll get there. Europe has an extensive and reliable rail system, something most Americans don't consider in their travels, so you'll want to explore train routes available to you.
There are also several affordable, short-haul airlines in Europe like RyanAir and EasyJet. The trick is deciding your best option.
If sustainability is a top concern, take the train. Significantly less CO2 is emitted by trains than airplanes. Trains are also a lovely way to see the countryside. But if you have limited time in Europe, and speed is your greatest need, flying is the way to go.
Keep in mind that airports tend to be located outside the city, so you'll need to calculate the cost and time of getting to your final destination. Train stations are typically found in the city centers and you may even be able to walk to your hotel or AirBnB.
Renting a car and driving is also a nice option, especially if you want more control of your schedule. Allow time to learn the local rules of the road, including which side of the road you'll be driving on.
Planning to visit multiple countries during a trip to Europe is a great way to save money and maximize vacation time. With a bit of planning, you'll make the most of your time on the continent.