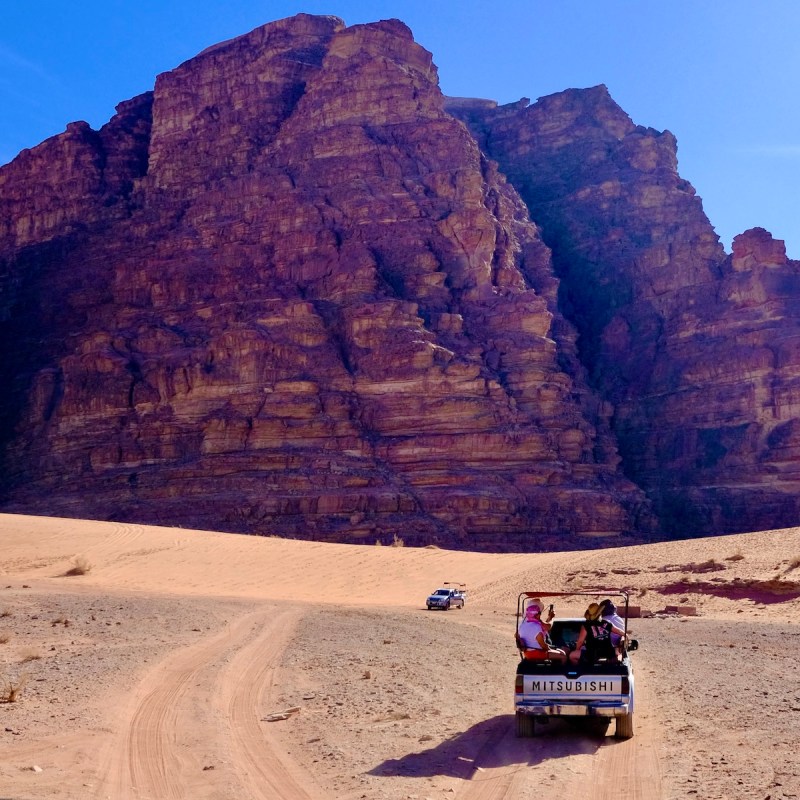 The Hashemite Kingdom of Jordan is one of the world's seven wonders and has played an integral part in the world's most significant religions. Like an open-air museum, its pivotal role in world history spans thousands of years. One of the most impactful experiences is meeting the Jordanian people, who are proud of their heritage and want to share it with visitors. Here are eight of my favorite experiences.
I was part of a small group of writers hosted by the Jordan Tourism Board, but all opinions are my own.
1. Umm Qais
Experiencing Local Life With Baraka Destinations
Umm Qais is a village in the northwestern corner of Jordan; it was known as Gadara when it was part of the Roman Empire. It's famous for its impressive colonnaded streets, vaulted terraces, and ancient theaters. We shared in the lives of residents on three separate tours while in the village.
Ahmad Alomari was our local guide who regaled us with the history and fascinating details of where he grew up and went to school. Before it became a protected archeological site, he used to play among the ruins as a child.
Local beekeeper Yousef Sarah suited us in full gear as he opened the hives and introduced us to the art of sustainable beekeeping. He creates and sells many products from the bees, including ointments, soaps, lotions, and organic, natural honey.
Galsoum Al-Sayyah welcomed us to her home for a sumptuous lunch. Sitting on low-cushioned seating around a center table, Galsoum tempted us with a delectable array of Middle Eastern traditional cuisine. She first started a small business in her home by baking local bread and selling it to visitors. Next came catering to the locals and preparing home-cooked feasts for guests like us. Her hard work has turned Galsoum's Kitchen into a successful enterprise that helps support her family.
2. Jerash
Tasting Traditional Foods At Beit Khairat Souf
Jerash was once a thriving Roman city and is one of the world's most revered and impressive Roman ruins outside of Italy.
The highlight of our day in Jerash was visiting Beit Khairat Souf, a restaurant and community hub nearby. It's a perfect lunch stop to experience the tastes and traditions of Jordanian culture.
This tranquil kitchen and garden serve fresh meals with local produce and provide training and jobs for women and girls to financially support themselves through opportunities for economic development in the heart of Souf.
Our table under the shade-covered patio was laden with shared dishes. Mansaf, the traditional Jordanian lamb dish, was the star, and tasty traditional side dishes like baba ghanoush, grape leaves swimming in yogurt, and pita bread accompanied it. Haifa Bani-Mustafa — the program's founder — joined us, describing the mission to empower women. We couldn't leave without purchasing handmade creations and food items in the fully stocked shop.
3. Amman
Appreciating Street Art During An Underground Amman Tour
Amman is where tradition and modernity meet in the Old City. Jordan's capital and largest city is a mix of old and modern, spanning several empires. Often called the "White City," it has been inhabited since Neolithic times.
Through Local Eyes is a tour experience to show people there's more beyond Amman's recognized tourist sites. It opened a window into Amman's often hidden or "underground" artistic expression, providing a new perspective of this ancient city.
Walking through the Jabal al-Weibdeh District, the walls were covered in colorful murals and graffiti. "This is the destination for artists and poets," founder Anas Amarneh said as he led us down the neighborhood's hilly streets. Enlightened, we began to understand what forces have shaped this fascinating city and how the young people of Amman will contribute to its future.
4. Feynan Ecolodge
Baking Bread Like A Bedouin In Wadi Feynan
We had the rare opportunity to experience authentic Bedouin hospitality while learning to bake bread at Feynan Ecolodge.
A self-sustaining lodge built at the mountain's base along the caravan route from Amman to Mecca, Feynman Ecolodge offers several interactive experiences presenting guests with a unique insight into the lives of one of the remaining Bedouin communities in Jordan.
At the end of a rugged track, we were led to the local community and invited to sit on carpets and cushions in a goat-hair tent. We faced our host, Hussein, who sat cross-legged before us with a bowl of wheat flour and a bottle of water. He showed us the Bedouin way to bake bread in the coals of an open fire. Kneading the sticky mixture until the dough held together, he then formed it into a ball and, after resting a bit, flattened it into a disk. At a small wood fire near the tent opening, Hussein raked the hot embers over to the side, placed the dough on the coals, and covered it with hot ashes to bake.
With the aroma of baking bread wafting through the tent, we were offered hot tea — a Bedouin custom of hospitality. Hussein, with the assistance of a translator, shared the traditions, seasonal tasks, and daily lives of the tribe members in today's world.
When the bread was ready, we all got a taste. I juggled the hot morsels between my fingers, dipping each delicious bite in savory olive oil. This memory will stay with me for a long time.
Pro Tip: Reach out to Feynan Ecolodge for various activities, including hiking, mountain biking, and local community experiences such as bread-making and cooking classes.
5. Petra By Night
The ancient city of Petra is otherworldly at night. Few sites can rival the Nabataean city of Petra carved out of rose-red rock cliffs.
The Petra By Night show starts with a magical walk from the Siq to the Treasury. More than 2,000 candles illuminate the narrow slot canyon. My first glimpse of the Treasury under the stars took my breath away.
The anticipation grew with colorful light displays dancing across crevices and rock formations and washing over the Treasury. A B'doul elder told the story of Petra while a Bedouin flutist mesmerized the crowd with melodic strains that seemed full of woe and joy. After the show, I slowly returned through the canyon, the stars twinkling in the night sky, not wanting the evening to end.
Pro Tip: Petra By Night is offered on Monday, Wednesday, and Thursday. Good walking shoes are essential; prepare for rough ground, uneven stones, and slippery surfaces.
6. Wadi Rum
Bedouin Desert Adventure And Jeep Safari
Wadi Rum, also known as the Valley of the Moon, is on the western edge of the Arabian Desert. The rippled sand dunes have been inhabited since Prehistoric times. Vast, echoing, and "God-Like" is how Lawrence of Arabia once described Wadi Rum. We stayed in the Sharah Luxury Camp, which arranged our excursions in the desert.
Our Bedouin desert adventure began with a jeep safari to explore valleys and narrow gorges and discover ancient rock inscriptions, stopping often to scramble up the dunes. We ended the evening sitting on the sand, watching a magnificent Jordanian sunset unfold.
Camel Trekking
Often called "Ships of the Desert," camels have transported people and goods in Wadi Rum for hundreds of years. Mounting our camels before sunrise and following our guide, we set off into the silent desert surroundings, while the peaking Sun slowly illuminated the surrounding peaks. We dismounted while our Bedouin hosts built a fire for tea and graciously shared an ages-old desert experience. At the same time, we marveled at a spectacular desert sunrise.
Pro Tip: The visitor center provides the main gateway to the protected Wadi Rum area. It has all the facilities, information, and services visitors need, including restaurants and craft shops. All vehicle tours operate out of the center and you can make camel trek arrangements here.
7. The Dead Sea
One cannot leave Jordan without floating in the Dead Sea, the lowest spot on Earth. The salty water is so dense that you'll stay afloat with ease. Unable to keep my feet under me, I surrendered, relaxed, and enjoyed the experience. After a dip, I slathered on the oozy dark mud from head to toe and let it dry. Then, I reentered the Dead Sea to wash it off. The mineral-rich waters and mud are said to have healing properties, but sadly, I don't look any younger after my efforts.
Pro Tip: You can have a mud bath and floating experiences at countless resorts and spas along this legendary waterfront. Don't shave your legs within 24 hours before you enter the Dead Sea; the water might sting a bit.
8. Wadi Mujib
Canyoneering
Canyoneering in Wadi Mujib was my favorite activity of the entire trip. The canyon towers above the Mujib River and flows into the Dead Sea. The world's lowest nature reserve is dubbed the "Grand Canyon of Jordan."
Visitors trek through the water, wading through the canyon toward a beautiful waterfall. We donned life vests, scrambled over rocks, and laughed out loud with delight, experiencing nature in Jordan in such an extraordinary way.
Pro Tip: Wadi Mujib is located about an hour's drive southeast of Amman. Limited numbers can enter at a time, so go early in the morning or late in the afternoon to avoid a long wait.
Jordan is a must-see destination with a long and rich history. The ancient architecture, antiquity sites, desert adventures, delicious Jordanian cooking, and the Dead Sea are just a few reasons to visit. Meeting the locals and sharing unique experiences made extraordinary Jordan come alive.
Related Reading: