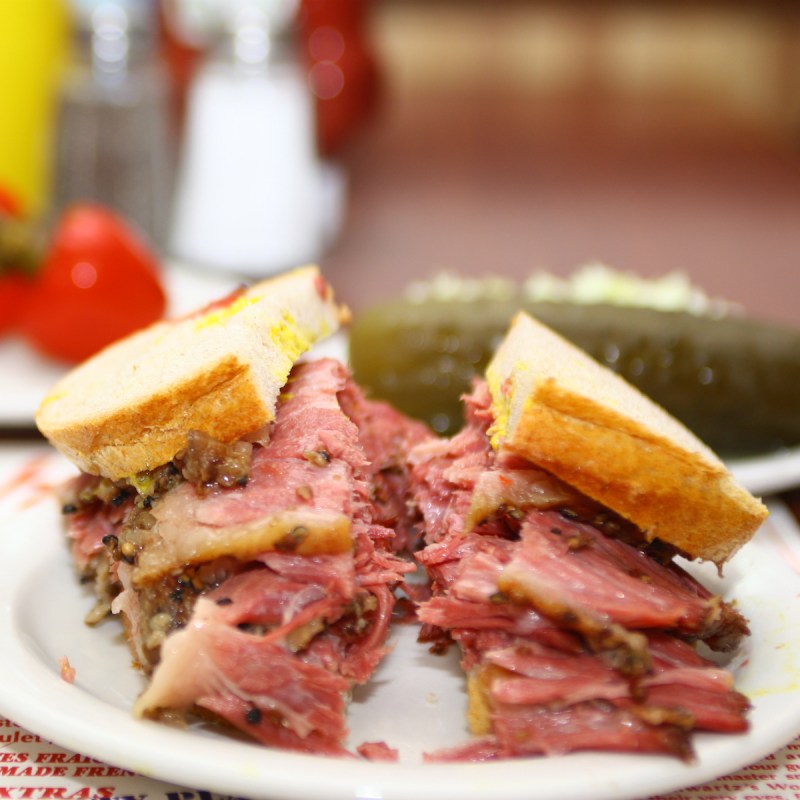 We visited Schwartz's Deli several years ago during a family trip to Montreal. We thought it was hilarious that the Schwartzs could eat at Schwartz's Deli. Little did we know just how much of a treat it would be.
The legendary Schwartz's Deli has served its smoked-meat "sammies" to celebrities, locals, and tourists alike. The name "Schwartz's Deli" is synonymous with overstuffed sandwiches and an old-timey atmosphere. Patrons start to salivate before they even look at the menu!
Here are five reasons you have to try Schwartz's if you visit Montreal.
1. Legendary Smoked Meat
Schwartz's Deli is something of a legend in Montreal. Founded by Reuben Schwartz, a Jewish immigrant from Romania, the deli is still in its original location, and the original recipe remains unchanged.
Today, the deli is an integral part of the Plateau framework. Local storefronts and boutiques populate the trendy neighborhood. Schwartz's trademark experience includes simple ordering and a communal eating style. It was a novel experience for our American family to sit with people from all over the world. We marveled at the camaraderie and thoroughly enjoyed the food and the experience.
Schwartz's prepares its preservative-free smoked meat the old-fashioned way. They prepare it on location, using a secret blend of locally produced herbs and spices. Then, it's marinated for 10 days, smoked overnight, steamed all day, and sliced by hand just before it's needed.
2. Mythical Founders And Famous Owners
There are several unbelievable stories about the origins of the restaurant. If you talk to three different people, you'll likely get three different ideas of who founded the deli. One version is that a Russian composer founded it and tacked on the Jewish-sounding name "Schwartz's" to make it seem more legitimate. Another myth is that two widows founded it. A third version claimed that the outcome of a poker game determined its ownership.
Schwartz's Deli made the news in 2012 when world-famous singer Celine Dion became part-owner. She and her now-late husband, René Angélil, were part of a group of investors who bought the beloved shop for $10 million. Celine Dion and smoked meats? It's not so far-fetched. In the early '90s, Dion was one of the founders of Quebec's largest smoked meat outfit, Nickels Delicatessen.
3. Inspirational Books, A Documentary, And A Musical
As word has spread about its excellent smoked meat, Schwartz's Deli has become internationally famous. The iconic establishment inspired a book, a documentary, and a musical. Anthony Bourdain featured it in his show, The Layover. In addition, Bill Brownstein, Canadian author and newspaper columnist, wrote an article for the Montreal Gazette in which he described Schwartz's dilemma about the possibility of franchising (they ultimately decided not to franchise). Brownstein turned the piece into a book on Schwartz's history. Then, he worked with Bowser and Blue, famous for their musical comedies, to write Schwartz's: The Musical. There are 18 songs, including a gospel number that opens the show.
4. Famous Visitors
While enjoying a Schwartz's smoked meat sandwich, you never know who you will meet. So many famous people have visited that the staff has to rotate the photos and newspaper clippings that decorate the walls. Well-known visitors include actor Ryan Gosling, comedian Chris Rock, late Canadian Prime Minister Pierre Trudeau, late performer Jerry Lewis, actor Angelina Jolie, and the Rolling Stones.
The buzz about Schwartz's Deli is not just hype. This deli is genuinely the "holy grail" of smoked meats. When you go, be prepared to stand in line. And, if you are a Schwartz, get one of their t-shirts like we did; we cherish ours!
5. The Neighborhood
The Plateau, with its "boho-chic" charm and proximity to McGill University, has attracted young professionals, artists, and students. They come for the neighborhood's upscale galleries, restaurants, nightclubs, and boutique clothing stores.
In the decades after Schwartz's was founded, Greek Canadians set up many businesses in the Plateau. Vietnamese and Portuguese settlers led later waves of immigration. Now, you can visit Little Portugal to enjoy its specialty shops and eateries.
If you find yourself in Montreal's Plateau area, stop by Schwartz's Deli. You'll know you've arrived by the mouth-watering aroma — and the line out the door and down the block.
Read these TravelAwaits articles to learn more about Montreal: