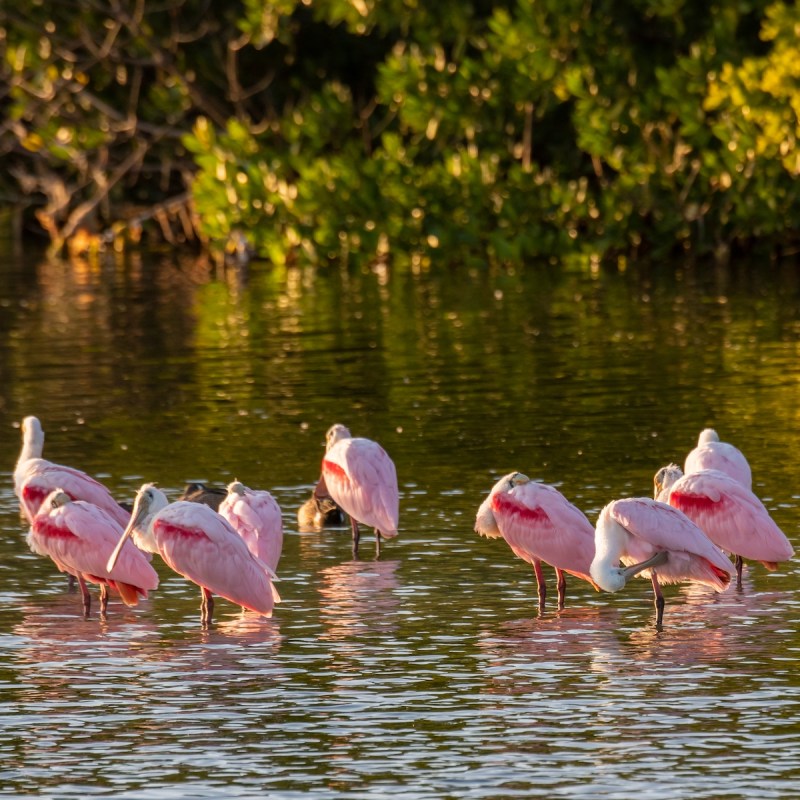 Thanks to the work of its own crew as well as the effort of other crews from across the country, a wildlife refuge on Sanibel Island in southwest Florida, along the Gulf Coast, has now reopened.
"The 'Ding' team, with help from refuge crews around the U.S., has been working nonstop to get parts of the Refuge open so the public can once again view the wildlife, which has made a remarkable comeback since Hurricane Ian, especially the birds," Kevin Godsea, "Ding" Refuge Complex project leader at the J.N. "Ding" Darling National Wildlife Refuge, said in a statement.
"We could not have mitigated the severe damage we suffered this quickly without the incredible support of our wonderful friends group, the 'Ding' Darling Wildlife Society, and all the help we received with cleanup from civic groups, condo associations, students, and just so many other volunteers."
Hurricane Ian "strengthened into a monstrous category five storm (upgraded in the post-season) with 160 mph winds," according to Weather.gov. "Ian weakened slightly before making its second landfall just south of Punta Gorda, Florida, on September 28, 2022, with 155 mph winds."
More than 20 inches of rain fell over the west coast of Florida. What's more, as Ian moved ashore, the storm surge reached 13–14 feet on Sanibel and nearby Fort Myers Beach, according to Fox 4 News (Southwest Florida).
Hurricane Ian also "ravaged refuge habitat and facilities, triggering the closure of all its waters and land to public access," Godsea explains.
About J.N. "Ding" Darling National Wildlife Refuge
Jay Norwood ("Ding") Darling was a Pulitzer Prize-winning cartoonist who also was passionate about conservation. When the General Wildlife Federation — which later became the National Wildlife Federation — was established in 1938, Darling was elected its first president.
He also had a winter home in Florida on Captiva Island. Through the efforts of his island neighbors and the J.N. "Ding" Darling Foundation, a refuge was created on Sanibel Island from land donated by concerned citizens. That land was then acquired by the federal government, creating the Sanibel National Wildlife Refuge in 1945 "to protect endangered and threatened species, and to provide feeding, nesting, and roosting areas for migratory birds," the U.S. Fish & Wildlife Service explains.
The refuge was then renamed in Darling's honor and officially dedicated to him in 1967.
The 6,400-acre J.N. "Ding" Darling National Wildlife Refuge is part of the largest undeveloped mangrove ecosystem in the United States. It's also home to 245 species of birds that pass through the mangrove estuary each year, according to National Geographic.
The Refuge's Reopening
While parts of the refuge have reopened, others remain closed.
For example, the observation tower on Wildlife Drive sustained minimal damage from Ian, and is now accessible, as is a section of Indigo Trail, Wildlife Education Boardwalk, and Wulfert Key Trail. Also, Wildlife Drive is now open from 7 a.m.–5 p.m., Saturday through Thursday. It remains, as always, closed on Fridays.
Finally, the exhibit area in the Visitor & Education Center and the Refuge Nature Store will be open from 9 a.m.–4 p.m., Saturday through Thursday.
On the other hand, part of Indigo Trail — between the Visitor Center and Wildlife Drive — remains closed. Mangrove Overlook and Calusa Shell Mound Trail are also still closed while refuge staff and volunteers continue cleanup work.
Know Before You Go
Godsea, "Ding's" project leader, notes that "cleanup will be ongoing for quite a while."
You can check for updates and find more information at the U.S. Fish & Wildlife Service's J.N. "Ding" Darling National Wildlife Refuge webpage.
For more content like this, be sure to read our national park and state park stories, including: