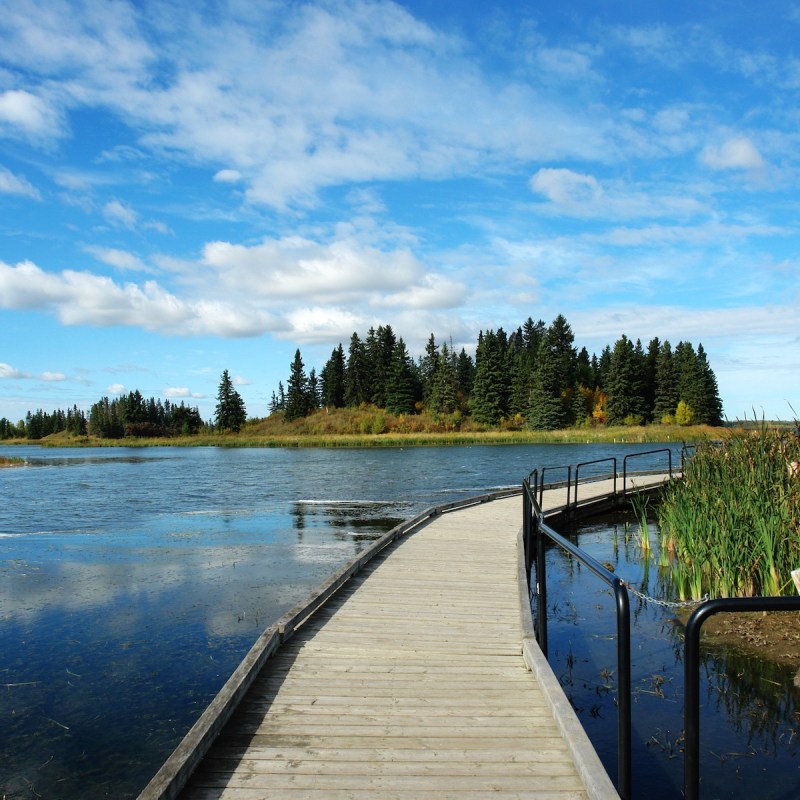 Canada's first wildlife refuge was named for the herds of elk it was created to protect, but what it's best known for today are the 700 resident bison. Elk Island National Park isn't on the radar of many visitors, but this smaller park is a well-preserved prairie habitat loaded with wildlife. It's also a great destination for year-round, leisurely outdoor activities.
Located in Alberta, Canada, just 35 minutes east of the provincial capital of Edmonton, Elk Island is an easy car ride from the city. It's an ideal day trip for anyone looking to get outside and spend time in nature.
An ideal way to start any trip to Elk Island is at the Wahkotowin Visitor Information Centre. There you'll find a fully accessible building with educational displays, indigenous and local artwork, and a life-size bison. Parks Canada staff are available to answer questions and provide directions.
1. Wildlife Spotting
The bison in Elk Island National Park is one of the country's most successful conservation efforts. Canada purchased 700 bison in the early 20th century and moved them here. Thanks to careful management, North America's largest mammal — which is at risk of extinction — has thrived in the park.
You'll see in the Visitor Information Centre a heat map with common gathering spots for the bison. One of these spots is Bison Loop Road which is just a few minutes' drive from the center.
While bison get much of the attention here, there are also elk, moose, cougars, wolves, white-tail deer, and foxes to potentially be seen.
2. Birdwatching
Elk Island is a birder's paradise. 250 species of birds have been recorded in the park including geese, swans, ducks, grebes, hummingbirds, hawks, and cranes.
Be sure to get up early since dawn is the best time of day to spot birds. The park recommends the Amisk Wuche or Lakeview Trails as particularly good birding locations.
3. Hiking
With 11 scenic trails, Elk Island is a great hiking destination, and you'll find something for all abilities and interests. An ideal option for families is the Living Waters Boardwalk which loops onto Astotin Lake. Along the way, look for beavers, waterfowl, and the tiny islands dotting the lake. If you prefer a challenge try the 9-mile Wood Bison Trail. In addition to the bison the trail is named for, you may also see moose and elk.
4. Snowshoeing
When snow falls in the park, hiking turns to snowshoeing. Strap the snowshoes onto your boots and start exploring the park during one of its quietest times. You may see wildlife along the way and you'll definitely see a variety of animal prints in the snow.
To learn more about the park's flora and fauna and the First Nations of the area, consider a guided snowshoeing experience with Talking Rock Tours. This indigenous-owned company offers 3-hour snowshoe tours along Moss Lake Trail. Snowshoes are provided as is a hot cup of herbal tea at the end of the tour.
5. Cross-Country Skiing
All trails in the park are multi-use, and cross-country skiers are welcome to use them during the winter. In addition, the Elk Island National Golf Course becomes a ski destination. What is normally a nine-hole golf course becomes a groomed cross-country ski route.
6. Ice Skating
Like many lakes in Alberta, Astotin Lake freezes over in the winter and makes for a great ice skating destination. The park clears a track on the lake and maintains a space for hockey. Be sure to bring your skates and gear since rentals are not offered.
7. Camping
Extend your time in the park by camping at one of Elk Island's three designated spots: Astotin Lake Campground, Astotin Lake Group Camping Area (minimum of 10 people), and Oster Lake Backcountry Campground.
Astotin Lake offers 75 campsites, all with access to restrooms and showers, firepits, and picnic tables. If tents aren't your style, there are even five oTENTiks, a combination tent and cabin with beds, a table, and heating. The backcountry campground has five sites with firepits and picnic tables, and access to pit toilets.
Just outside the park is Elk Island Retreat offering the unique experience of staying in geo domes, the perfect combination of a campsite and hotel.
8. Kayaking
Astotin Lake is the perfect place to hop in a kayak and paddle around looking for wildlife. The calm waters of this lake combined with the lack of motorized boats make it perfect for new kayakers, families, or anyone just looking for some relaxing time on the water. The boat launch is located on the north end of the lake. Don't worry if you don't have your own kayak; a rental shop is available.
9. Stargazing
While you probably won't see much wildlife at night, you are highly likely to see the stars. The park is part of the Beaver Hills Dark Sky Preserve, so on a clear night, you'll see countless stars. It's also possible to see the northern lights from September to mid-May.
The park offers night sky viewing events, so check the website for dates and times.
Tips For Visiting Elk Island National Park
The chances of spotting wildlife are very good at Elk Island, but it's imperative to be cautious around these animals. Rangers recommend keeping a distance of at least three bus lengths from all large mammals. Be extra cautious during the spring since it's calving season. And while pets are allowed, they must remain on leash at all times for everyone's safety.
This is a popular park for locals and visitors because of its close proximity to Edmonton, so if you're hoping to avoid crowds, try coming on a weekday.
There are limited services in the park, so bring what you'll need for the day including water, food, proper clothing, sunscreen, and a first aid kit.
Related Reading: