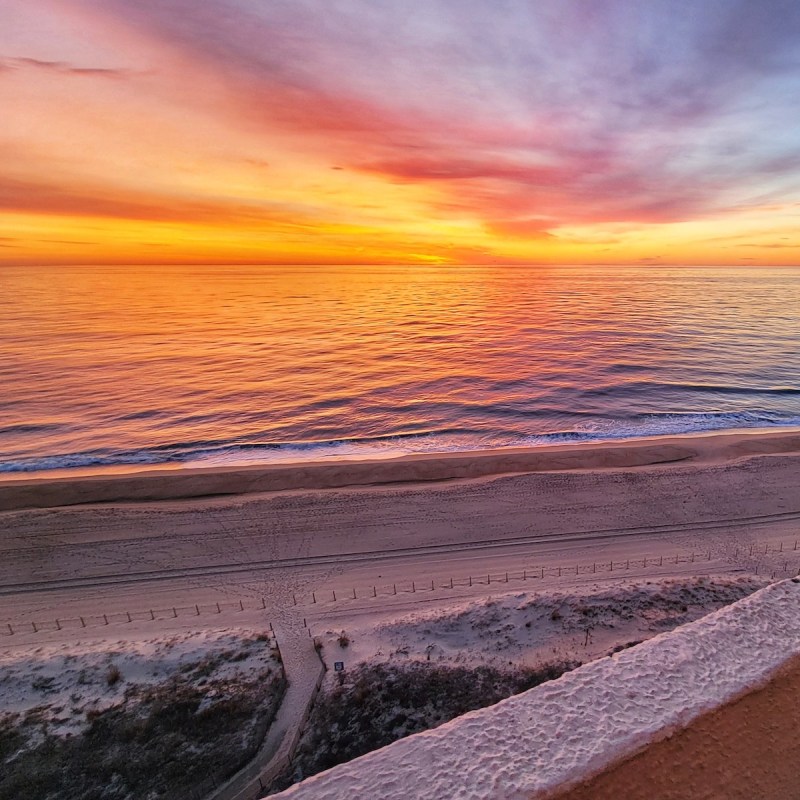 Close-to-home beach escapes are alluring at any time of year. These seaside retreats can be especially appealing during the off-season when the crowds disappear and lodging rates are attractively low. For those seeking an immersive vacation experience, it's wise to select a vibrant beach destination with a diverse choice of accommodations, restaurants, and attractions that are available year-round.
As I discovered on off-season trips, Ocean City, Maryland, fits the bill perfectly. Ocean City is an easy three-hour drive from major Mid-Atlantic cities, including Philadelphia, Baltimore, and Washington, D.C. While millions of people converge on Ocean City yearly, most visit in the destination's prime season from late May through early September. During the off-season, Ocean City is far less crowded and offers superb vacation values and a wide array of memorable experiences.
Here are nine reasons to choose Ocean City for your next off-season trip.
1. Abundant Lodging With Superb Water Views
Ocean City, Maryland, is home to approximately 10,000 hotel rooms and over 25,000 condominiums, as well as townhouses and homes. There are still plenty of units available even during the slower off-season, providing an array of accommodations to match every travel style and budget.
Since temperatures can be chilly during the off-season, it's fantastic to have top-notch accommodations with magnificent indoor ocean views. Ocean City offers gorgeous oceanfront condominiums with attractive features, exceptional amenities, and stunning panoramic sea vistas. Accommodations are widely available on Vrbo, Airbnb, and through various Ocean City vacation rental companies.
Many Ocean City hotels are located directly on the beach and offer beautiful Atlantic Ocean views. Certain Ocean City beachfront hotels, including The Grand and the Carousel Oceanfront Resort Hotel & Condominiums, also feature a wide variety of great indoor attractions. Guests at bayfront accommodations, such as the Lighthouse Club Hotel, can enjoy spectacular sunsets from their lodging.
Pro Tip: If you're seeking accessible accommodations, make sure to ask questions in advance to find lodging that best meets your needs.
2. Low Rates
Vacationing outside the summer months can yield significant benefits. Since Ocean City has such an extensive supply of accommodations, lodging prices can be ultra-affordable during the off-season when demand is low. I compared Ocean City's off-season prices with several other beach destinations within driving distance, and Ocean City's oceanfront lodging rates were a fraction of the cost of other beachfront multi-bedroom vacation rentals. Weekday and winter rates tend to be the least expensive.
Incredible special offers can also be available, such as the time-sensitive "buy two nights, get one free" off-season deal we obtained earlier this year when renting a condominium directly through highly-rated OC Beachfront Rentals. Our spectacular three-bedroom, two-story oceanfront penthouse provided a stellar retreat, and the budget-friendly rate was significantly lower than similar units found elsewhere.
Hotels offer discounted prices and money-saving packages during the off-season, and the cost savings can be substantial. In addition, upgrades to oceanfront rooms tend to be more readily available.
Pro Tip: Check Ocean City vacation rental companies' websites for special direct booking offers. Visit resort and hotel websites for cost-saving deals, too. Ocean City-specific Facebook groups can also be good information sources. In addition, some accommodations waive their registration and parking fees during select off-season months.
3. Miles Of Uncrowded Beaches
Ocean City features 10 miles of golden sand that are well-maintained year-round. While crowds flock to Maryland's popular strand during the summer, we often found ourselves nearly alone on the beach during our off-season visits.
Ocean City's wide beach is a peaceful place to take in gorgeous sea views, build sandcastles, and enjoy a serene walk by the ocean. Fishing and boating are often popular during certain off-season months, and surfers in wetsuits may be seen riding the waves. Dolphins can also be spotted offshore.
Beach passes aren't required in Ocean City and free parking can be plentiful on certain days during off-season months.
Pro Tip: Leashed pets are permitted on Ocean City's beach and boardwalk between October 1 and April 30.
4. Assateague Island
Assateague Island is well-known for its beautiful wild horses. The 37-mile-long isle is a paradise for nature lovers and wildlife viewing can be excellent during the off-season months when crowds are absent. Assateague is located less than 10 miles from Ocean City, and it is a quick drive during the off-season when there's less traffic.
Assateague Island National Seashore has long been one of my favorite places. There are close to 80 wild horses in Assateague Island National Seashore's Maryland herd, and we saw about eight during our recent trip. In addition to Assateague's world-famous horses, we've spotted sika deer and white-tailed deer.
Bring your National Parks & Federal Recreational Lands senior pass, military pass, or annual pass if you have one for free entrance to Assateague Island National Seashore. The park also offers free admission on select dates.
Pro Tip: Assateague Island, Ocean City Inlet, and Sunset Park are also excellent birding locales.
5. Numerous Restaurants And Off-Season Deals
While off-season vacationers at some beach destinations have few dining venues to choose from, that's not the case in Ocean City. Ocean City has an enticing culinary scene with over 200 restaurants. A number are available during the off-season, with options to satisfy every palate. While off-season hours can be more limited, getting a table is generally easier, and outstanding dining deals may be offered.
My husband and I love seafood, and we sampled several dining spots on our trips. Here are several of Ocean City's popular venues that also feature money-saving off-season specials.
Hooked
We had dinner at Hooked twice during our stay, and the food and service were exceptional. During certain off-season times, Hooked offers half-price entrees on Monday through Wednesday from 3 to 6 p.m., crab cake specials, and an inexpensive three-course Sunday supper menu. Their crab cakes, rockfish, and shrimp & grits are outstanding. Don't miss the key lime pie for dessert.
Harborside Bar & Grill
The lively Harborside Bar and Grill is known as the "home of the original fresh-squeezed Orange Crush" cocktail, so you may want to try one while you're there. The waterfront restaurant features seasonal specials, including half-price entrees on Sundays and Mondays and other rotating daily deals. Check their website for details.
The Shark On The Harbor
Guests at this waterfront restaurant can enjoy delicious, fresh, and organic food while being surrounded by beautiful views. The Shark on the Harbor offers off-season specials on select days and a menu of dinner discounts on "Take Me Back Tuesday." Menus change daily based on what's available.
Pro Tip: Restaurants' seasonal operating hours can sometimes change unexpectedly. Call ahead and check websites and Facebook pages for current hours and off-season dining deals.
6. Indoor Attractions And Seasonal Events
Ocean City offers a wide variety of things to do year-round. Some Ocean City condominiums and hotels feature outstanding indoor amenities, making off-season vacations even more entertaining. These include indoor pools, arcades, cinemas, and even an ice skating rink. Other fun attractions include indoor miniature golf, playing at an escape room, visiting the Art League of Ocean City, and shopping at Outlets Ocean City.
Seacrets offers distillery tours at its Seacrets Distilling Company, plus a full entertainment schedule. If golf is more of your scene, the Ocean City area is home to 17 championship golf courses, and fees are lower during the off-season months.
Travelers also flock to Ocean City for popular off-season events. These include festivals such as Springfest and Winterfest of Lights, car and boat shows, parades, and arts & craft fairs.
Pro Tip: Check attraction, activity, and golf course websites for special off-season rates.
7. Ocean City Boardwalk
Ocean City Boardwalk, Maryland's three-mile-long wooden boardwalk, is open year-round. It's a wonderful setting for a relaxing beachfront stroll in cooler weather, and visitors can enjoy its many attractions without the crowds. While fewer stores and amusements are open during the off-season, the boardwalk is still an enjoyable place to check out the exhibits at Ripley's Believe It or Not!, visit the Ocean City Life Saving Station Museum, play arcade games, grab a cup of coffee or some yummy Thrasher's French Fries, and shop for souvenirs.
Some of Ocean City's top boardwalk attractions are open for more limited times during the off-season months, so check websites for details. Family-friendly Trimper Rides is celebrating its 130th season, and it opens in early April. Special seasonal passes are available.
Pro Tip: Biking on Ocean City's boardwalk is allowed during the off-season, but bike rentals can be less available during many off-season months.
8. Local Sweet Treats
A visit to Ocean City isn't complete without sampling some of its local delights. In addition, you can avoid long lines during the off-season.
Dumser's Dairyland
I've been tempted to drive back to Ocean City just to enjoy the amazing ice cream at Dumser's Dairyland again. Founded in 1939, Dumser's Dairyland serves over a dozen flavors of freshly-made ice cream at its multiple year-round locations.
Fractured Prune
Since 1976, vacationers have been heading to the Fractured Prune for their delicious hot doughnuts featuring out-of-this-world glazes and toppings. Choose from varieties like peppermint pattie, O.C. sand, pebble beach, morning buzz, and blueberry hill.
Candy Kitchen And Dolle's
Candy lovers should make plans to visit the Candy Kitchen and Dolle's Ocean City locations. Both are landmarks launched during the first half of the 1900s, and they offer mouth-watering saltwater taffy, fudge, chocolate, and other confections.
Pro Tip: If you're craving more delicious ice cream, stop at the Island Creamery in nearby Berlin, or visit Vanderwende Farm Creamery in Bridgeville, Delaware, while driving home.
9. Gorgeous Sunrises And Sunsets
Ocean City, Maryland, is set on a barrier island between the Atlantic Ocean and lovely bays. Spectacular sunrises and sunsets take place over the water, and the opportunities for viewing and photography are incredible. It's particularly nice to enjoy these serene moments of solitude during the peaceful off-season, and the crowd-free vistas are breathtaking.
We loved watching magnificent sunrises each day from the balcony and beach-facing rooms of our fabulous oceanfront condominium. Fager's Island, Ropewalk, and Seacrets are fantastic places to watch sunsets in Ocean City. Other gorgeous bayfront areas are lined with sea oats and offer beautiful sunset views. Watching the sunset from 58-acre Northside Park is also wonderful.
Pro Tip: Check sunrise and sunset times in advance and plan to linger before and after the event for dazzling views. The vivid colors are often astounding.
For more information on traveling to Maryland, check out these articles: