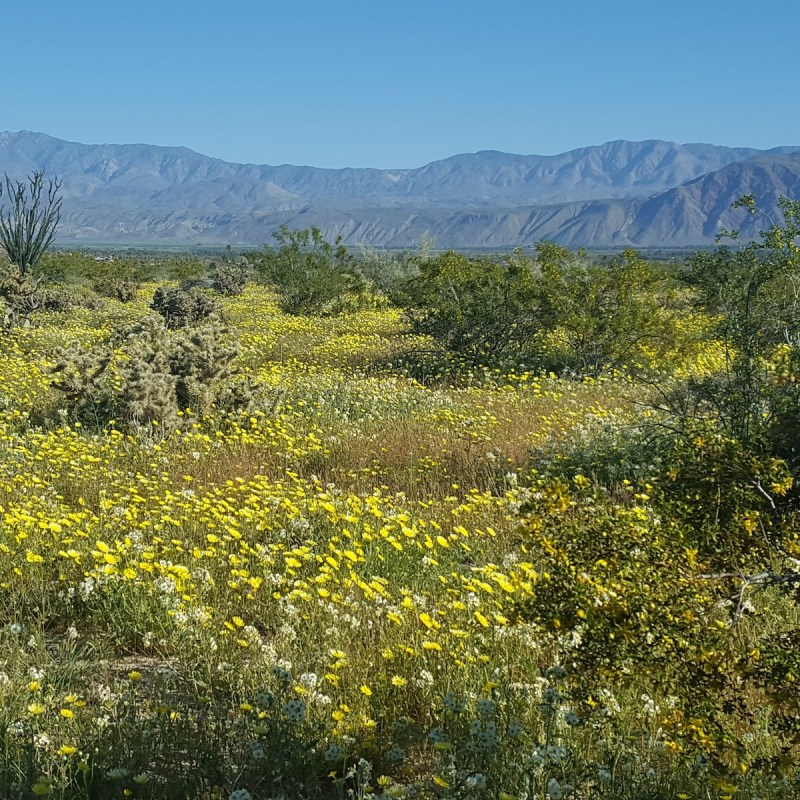 You may have heard of Anza-Borrego Desert State Park, California's largest state park at 640,000 acres. However, given the fact that California has better-known parks, such as Hearst Castle State Park, there is a good chance that you don't know much about it.
Located on the eastern side of San Diego County and including parts of Riverside and Imperial Counties, Anza-Borrego State Park contains 96 percent of California's wilderness areas and enables visitors endless opportunities to explore. There are 500 miles of dirt roads, 12 wilderness areas, and many miles of hiking and riding trails.
This park, in the Colorado Region of the Sonoran Desert in Southeastern California, surrounds the small town of Borrego Springs and features palm groves, hot springs, dry washes, canyons with sedimentary layers of fossils, petroglyphs, bighorn sheep, wildflowers, and much more. The information in this article will get you started on planning a trip to this fascinating California desert park.
1. How To Get There
Anza-Borrego Desert State Park is located about 85 miles northeast of San Diego and 150 miles southeast of Los Angeles. From the LA area, you can drive through the city of Temecula on Highway 15 and CA-79 to go through Warner Hot Springs or take Highway 10 through Palm Springs, then Highway 86, and onto S22 at Salton City.
Pro Tip: If the weather is rainy, I recommend not going through Warner Hot Springs because getting into Borrego Valley from Highway 79 involves traveling down Montezuma Grade, a steep road that descends from 4,000 feet onto the desert floor of Borrego Valley.
2. Weather
Desert weather can be unpredictable, especially in winter and spring. The winter of 2023 has been unusually cold here in the desert, as it has been for other places in California. However, normally average yearly temperatures range from a low of around 48 degrees to a high of 80 between November and April. This is the best time of year to visit the park as the summer months are brutal with temperatures in July and August well above 100 degrees.
The desert is also prone to winds, especially in the afternoons, sometimes at 25 to 30 miles per hour, and gusts up to 60 miles per hour. The best way to prepare for weather from late fall to early spring is to bring clothing you can layer. It cools down quickly in the evening and remains that way throughout the early morning. It's a good idea to bring a lightweight windbreaker, a long-sleeved sweater, and short-sleeved shirts.
Pro Tip: Don't forget a sun hat, a warm wool hat, and gloves for early morning walks or evening star gazing. Borrego Springs is a dark-sky community, so don't forget to look skyward on those dark, moonless nights.
3. Park Information
There are several excellent places to obtain general information about the park and the town of Borrego Springs including specific activities such as guided hikes, lectures on the desert ecosystems, jeep tours, and even musical and theater performances.
Two other locations for information, where you can also purchase items such as books, maps, t-shirts, and gift items are the Anza-Borrego Desert Natural History Association and the Anza-Borrego Foundation store. The staff at both will have specific information about guided hikes and jeep tours, bird watching, lectures, biking opportunities, and the best places to find flowers.
In addition, if you want general information about the town of Borrego Springs, the Chamber of Commerce is located slightly to the east of Christmas Circle, a hub for the town where there is an exceptional farmers market on Fridays and "Art in the Park" every other Saturday during November through May.
Pro Tip: Wherever you go to get information, make certain that you ask for a map and ask for recommendations for nature and hiking trails. The park is immense and it is easy to become a bit disoriented. GPS is not always reliable.
4. Where To Stay
The town of Borrego Springs, which sits like a donut hole surrounded by the state park, has several excellent accommodations and camping opportunities. Both Stanlunds Inn and Borrego Springs Resort have swimming pools. The resort has tennis courts and bicycles to use while you are visiting.
The Stanlunds Inn has been in operation since the early 1960s and there are kitchenettes available. The owners will do everything to make certain that your stay is enjoyable. A tad more upscale, The Borrego Valley Inn with large, airy rooms and southwestern-style architecture is another delightful place to stay. It also has a pool.
5. Camping
Borrego Palm Canyon Campground
There are three campgrounds within the state park that take reservations. Borrego Palm Canyon is the best-known camping area. It has a fully developed campground with 117 individual campsites, including 52 RV sites and five group sites. The campground has shower facilities and seasonal campfire programs. This is an extremely popular campground; thus, reservations need to be made early online.
Tamarisk Grove Campground
Tamarisk Grove Campground is another camping area with 27 sites and coin-operated showers. There are picnic tables and charcoal grills and shade, provided by non-native Tamarisk trees. Sites can accommodate trailers up to 21 feet in length.
Agua Caliente County Park
Located in the southern part of the park, the third campground area that takes reservations is Agua Caliente County Park. It has tent sites and full hook-ups for RVs. It is incredibly popular in the winter because it features three thermal-heated swimming pools.
Pro Tip: In addition, there are more primitive camping areas, such as Bow Willow Campground and Split Mountain. Unlike many state parks, camping is allowed anywhere in the park as long as your vehicle is parked one car length from the road and 100 feet from any water source.
6. Hikes
There are vast opportunities to hike in Anza-Borrego. You can explore any wash or canyon on your own, especially if you have a four-wheel drive. If you want an established trail, here are two of my favorites.
Borrego Palm Canyon Loop
The trailhead for this 2.9-mile loop can be found at the west end of Borrego Palm Canyon campground. A lovely native palm grove rewards your hiking efforts with pools of water tumbling into a stream that runs through a v-shaped gorge. This is the third largest palm oasis in California and in the spring and early summer, there are beautiful annual and perennial blooms adding purple, yellow, and red splashes to the desert terrain. If you are lucky, you may see bighorn sheep that frequent the area. The hike is moderately challenging with some boulder hopping along the stream bed. There is a fee to park and dogs are not allowed on the trail.
The Slot
This 2.3-mile hike rewards you within a short distance with 40-foot-high multi-colored canyon walls that arch above a narrow one-foot-wide section on the canyon floor. It is spectacular, but not for those who suffer from claustrophobia. The hike has a short, steep uphill at one end with a total elevation gain of 300 feet. However, you may avoid the steep jeep road and return through the slot canyon if you choose.
This is another popular hike in the park, so get to the trailhead early, especially in the spring and on weekends. You must pay for parking and no pets are allowed on the trail.
Pro Tip: I recommend wearing long pants and a light, long-sleeved shirt when hiking in the desert, as it is easy to scrape against rocks or cactus spines as well as bushes with thorns. Carry a comb for pulling out "jumping cholla," a cactus that sheds its spiny stems on the desert floor. They can be painful.
7. Nearby Attractions
Metal Sculptures
Besides enjoying the unique desert environment through hiking, walking, sunning by a pool, and taking wildflower photos, there are other attractions to see. One of the most unusual is the collection of 130 metal sculptures spread around the town of Borrego Springs. The sculptures are fashioned from huge pieces of metal that tower over the desert floor. The artist and welder Ricardo Breceda was commissioned by the owner of the Galleta Estate to create sculptures of animals that once roamed the desert hundreds of thousands of years ago. Animals, such as camels, mammoths, and saber-toothed cats, as well as fanciful creatures like the giant serpent and farmworkers working in the vineyards that once covered parts of the valley. You can find a map to locate these fabulous works of art from the visitor center.
Pro Tip: Another place of interest is the Borrego Art Institute near Christmas Circle. Also, check out the Performing Art Center for a possible night of musical theater or music.
The vastness of Anza-Borrego State Park, limited development, relative obscurity, and distance from any noisy, urban centers give it a special quality, unlike any other park I have visited in our amazing state.
For more information on visiting California, check out these articles: