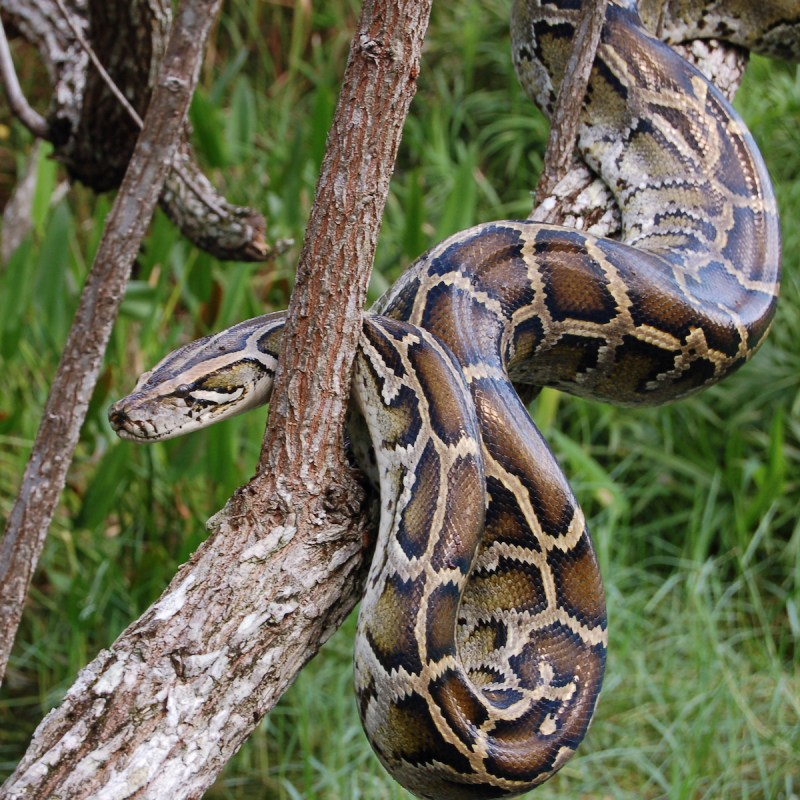 There's no other way to put this: The number of Burmese pythons in Florida has simply exploded in recent years.
Indeed, it's now estimated that there are tens of thousands of the invasive snakes in the Everglades, according to the United States Geological Survey (USGS), a U.S. Department of the Interior bureau. Consequently, Burmese pythons are now found throughout the entire southern third of Florida, from Lake Okeechobee in the north and Fort Myers and Naples in the west to the southern tip of Everglades National Park, according to new research.
"Burmese pythons have severely impacted native species and ecosystems in Florida and represent one of the most intractable invasive-species management issues across the globe," according to Burmese Pythons in Florida: A Synthesis of Biology, Impacts, and Management tools, a new paper written by researchers at USGS. "The difficulty stems from a unique combination of inaccessible habitat and the cryptic and resilient nature of pythons that thrive in the subtropical environment of southern Florida, rendering them extremely challenging to detect."
Burmese pythons are among the world's largest snakes, the Florida Fish and Wildlife Conservation Commission explains. The adult Burmese pythons caught in Florida generally range from 6 to 9 feet in length.
Then again, they can grow larger. Last summer, for instance, biologists from the Conservancy of Southwest Florida captured and euthanized a 215-pound, 18-foot-long Burmese python in Florida. The python, which was the heaviest ever captured in the state, also had 122 developing eggs in her abdomen.
The snakes' growing numbers pose a significant threat to Florida's wildlife, including mammals ranging from rabbits and raccoons to deer and hogs, as well as all types of birds and reptiles — including alligators. Importantly, their diet has also been known to include pets such as dogs and cats.
An Invasive Threat
Burmese pythons are native to parts of Southeast Asia.
The nonvenomous snakes, which are usually found in or near water, were introduced to Florida in the 1970s and 1980s when thousands of Burmese pythons were imported to be sold as exotic pets. Then, whether it was intentional, accidental, or both, the snakes began to be released into the wild. That, in turn, led to the snakes breeding and establishing a population in Florida.
Since then, the snake population has continued growing throughout the Greater Everglades Ecosystem which encompasses much of southern Florida. That's because the Greater Everglades Ecosystem is composed of a network of parks and preserves including Everglades National Park, Big Cypress National Preserve, Collier-Seminole State Park, and Biscayne National Park as well as numerous public and private conservation lands and property managed by the South Florida Water Management District and the Florida Fish and Wildlife Conservation Commission.
Today, the snakes can be found from the southern tip of the Everglades to West Palm Beach, to Lake Okeechobee, and in areas around Fort Myers and Naples.
"While Burmese pythons may expand into urban areas, or occur in proximity to the urban interface, research thus far indicates they tend to avoid highly urban areas," Jacquelyn C. Guzy, from the U.S. Geological Survey, Wetland and Aquatic Research Center, and lead author of the USGS paper, said, according to the South Florida Sun Sentinel. "This may be because urban areas have expansive development and less favorable habitat, which may result in higher rates of detection and removal."
Efforts To Control The Snake Population
One of the reasons the snake population is growing is that in the U.S., they face few predators other than humans due to the snakes' size. What's more, Burmese pythons are tan with dark blotches that act as camouflage and make them difficult to see. Of course, there's also an ample food supply in the Everglades. Finally, females typically have clutches of 11 to 84 eggs.
So far, there are few tools or practices to make it easy to capture and remove the pythons.
If you do see a Burmese python, the Florida Fish and Wildlife Conservation Commission asks that you report the snake immediately. You should take a photo of the snake, make a note about your location, and then report your sighting by calling the Exotic Species Hotline. That phone number is (888) Ive-Got1, or (888) 483-4681. You can also report the sighting using the IveGot1 mobile app or online at IveGot1.org.
On the other hand, while biologists are working on practical large-scale plans to capture and remove the pythons, the Florida Fish and Wildlife Conservation Commission notes that Burmese pythons are not native to Florida and are considered an invasive species that represent a threat to native wildlife.
"Like all non-native reptile species, Burmese pythons are not protected in Florida except by anti-cruelty law and can be humanely killed on private property with landowner permission," the Florida Fish and Wildlife Conservation Commission continues. "This species can be captured and humanely killed year-round and without a permit or hunting license on 25 Commission-managed lands in south Florida."
Be sure to read all of our Florida content, including