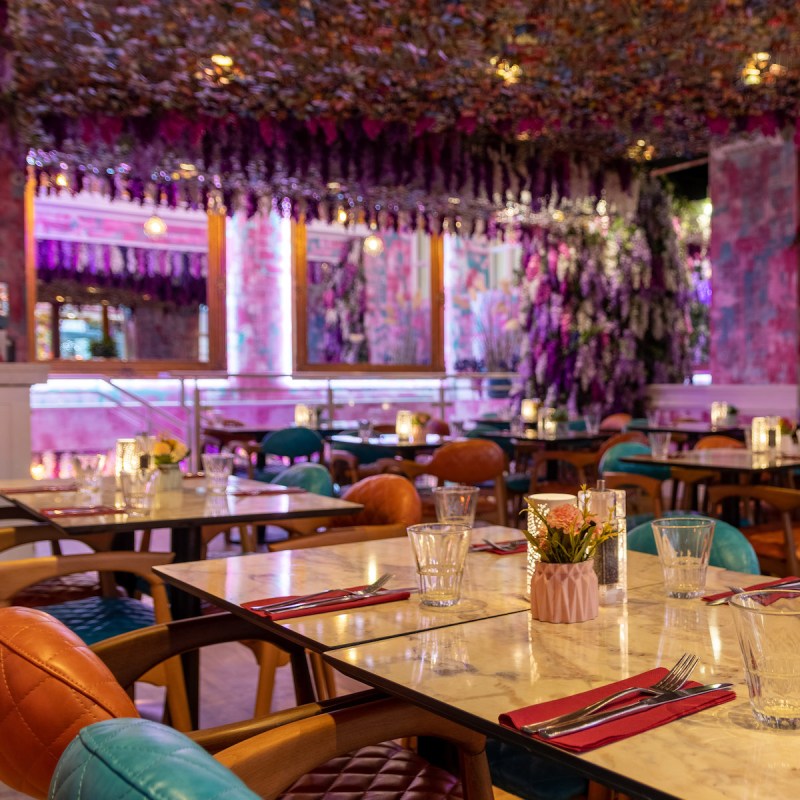 There's something very special about good food in a romantic setting. The food seems to taste better somehow. It's almost as if the atmosphere of belonging brings a kind of comfort and relaxation that makes every mouthful more satisfying. The whole experience is fuller. Low lighting, real fires, cozy seating, candles, and good wine all add to the experience of eating out — whether it's for a romantic occasion or not.
It is a romantic time of year right now, but I love a romantic restaurant all year-round. Most of these restaurants I've been to, like Fleur, and some are on my list to visit the next time I'm in the area. But they are all super romantic places to eat.
1. Cycene
Shoreditch, London
What first drew me to this intimate restaurant was the name. Cycene means "kitchen" in old English, and it's definitely the kitchen that's at the heart of this place, just like in any home. The restaurant only seats 16 people, making it very personal, and it really does feel like you're dining in someone's house. The first course of the 10-course menu is served downstairs in the bar, where you can also order cocktails or wine. You are then led upstairs to the dining room to enjoy the rest of the evening. It feels like an old Parisian bistro or an underground restaurant no one knows about. It's the intimacy of it and the personal attention that makes it so romantic; that and the candlelit tables in a stripped-back dining room. It's all about you, your love, and the food.
What To Order At Cycene
The tasting menu is very seafood-focused, with flavor influences from Asia and Australasia. Standout dishes are oysters topped with cucumber sauce and Oscietra caviar, scallops with brown butter, Schrenkii caviar and kombu, and the cavatelli with sea urchin and kinome, a fresh Japanese herb. They do an excellent butter-washed old fashioned, and for wines, a pairing is the way to go. Here, the sommelier knows exactly which wine should go with each dish, but the list features some really interesting bottles from South Africa that are definitely worth asking about.
2. The Drunken Butler
Farringdon, London
The owner of The Drunken Butler, Yama Hashemi, has created a Persian delight inspired by the family dinners he enjoyed growing up. It's an intimate restaurant, seating just 20 people, and the décor is that of a Persian home. Once you sit down at The Drunken Butler, the table is yours for the evening. There's no feeling pushed to leave for the next party, and you can take your time over the food and wine, which I love. Along with the table seating, there's an option to book a seat at the chef's table. Just two or three guests can sit at the kitchen counter and watch the chefs work, chat with them about the food, and get an immersive experience. The romance here is in the stories of the food, décor, and photographs in the restaurant. It's personal, intimate, and gives you a true taste of Persia.
What To Order At The Drunken Butler
There are no menus at The Drunken Butler. But this is by no means a bad thing. To give you an idea of what to expect, the meal might include noon-panir-sabzi, which is a Persian starter of cheese, herbs, and pickles served with flatbreads and a selection of Persian dips. The main event of the meal is a roasted chicken served with barberries (a tart Persian fruit) and saffron-infused rice tahdig, which is steamed until a crunchy golden crust forms.
Definitely order a negroni. The Drunken Butler does two types. One is a vintage negroni made with bottles of spirits Yuma has collected from around Europe. The second is a plum negroni batch made and steeped with umeboshi plums for a delicate and very moreish drink. There is a wine list to choose from, but I would recommend going with a blind wine pairing, where Yuma will introduce you to some incredible grapes and vintages — some of which have been made especially for The Drunken Butler.
3. Fleur
Leeds
For a restaurant that's literally dripping with love, Fleur in Leeds is the perfect spot for romantic décor and an unusual, photo-worthy setting. Curved booths with pink soft-studded seats and an incredible canopy of wisteria strewn right across the ceiling make this a unique and very romantic restaurant. Pink and white flowers are literally everywhere and there's even a swing seat for couples to cozy up on. It's one of the most unusual settings you'll ever dine in, so be ready to take lots of photos. The restaurant has recently opened a conservatory for extra seating, which is a lovely light-filled area to dine in; very different from the flower festival inside the main seating area.
What To Order At Fleur
It's a pretty simple menu that tugs back to the days when Fleur was called Fleur Café. Now that it's firmly in restaurant territory, the menu has expanded, but it's still beautifully simple. It's hard to categorize the kind of food that's served here, but it's definitely worldwide foods. I'd recommend the pulled beef brisket beef bao buns to start, followed by the king prawn udon noodles with a fried egg. The cocktail menu is full of dessert-style cocktails that are very sweet and really reflect the atmosphere of Fleur. The Fleur mango martini is a must while you're here. The signature dish at Fleur is on the dessert menu. The French toast served with a berry compôte is very popular and it's the dish that Fleur is best known for. Personally, I love the saffron milk cake.
4. Chesil Rectory
Winchester
Part of the romance of Chesil Rectory is in the building itself. It dates back to 1450 and was built by a wealthy merchant. It was once owned by Henry VIII who gifted it to his daughter, Mary Tudor. She gifted it back to Winchester as a gesture of goodwill to make up for her very expensive wedding in the city, which the people of Winchester ultimately paid for. It's now been a restaurant for 70 years, and it's a cozy, comforting, romantic place to eat. The original beams, open fireplace with real fire, low-lighting lamps, antiques, and soft furnishings make it atmospheric and easy to relax in the ambiance of the place. The romance is in the history of the building, but also in how it's used today.
What To Order At Chesil Rectory
It has to start with a glass of Hattingley, an award-winning English sparkling wine from nearby Hattingley Valley Vineyards. Once you've raised a glass to Mary Tudor, a starter of the delicate, local chalk stream trout is a good way to begin your meal, followed by the local venison, which arrives with an 80-percent chocolate sauce. There's a big focus on local ingredients and local suppliers at Chesil Rectory. I'd definitely recommend choosing any of the locally-sourced dishes, including the wine. If you like cheese, I'd end with the cheese board, as it also includes some local cheese and homemade chutney.
5. Hjem
Hexham, Northumberland
Hjem, pronounced yem, is a Northumbrian and Scandinavian word meaning "home." You can feel the Scandinavian influence as soon as you enter Hjem. It is very much like a Scandinavian home. It's sparse in its design and the minimalist atmosphere is everywhere. Though there is a bar area that's cozy and quaint, the romance of the restaurant comes in the simplicity, the beauty of the surroundings, and the food. They go to great lengths to source everything locally, which doesn't only mean the food. The tableware has been handmade by a local potter and the beer on offer is brewed down the road. It's quiet and very relaxing in Hjem, and the food is a work of art, filled with romance and love.
What To Order At Hjem
Hjem serves a tasting menu with delicate bites and larger plates, made with ingredients all sourced from local farms and gardens. Though the tasting menu is subject to change, you can expect delights like the local Lindisfarne oysters, barbecued quail, seabass, turbot, and horseradish ice cream. The sommelier will advise you on wine pairings and staff will take you through 13 courses, explaining each dish to you. This is an experience rather than just a meal.
Related Reading: