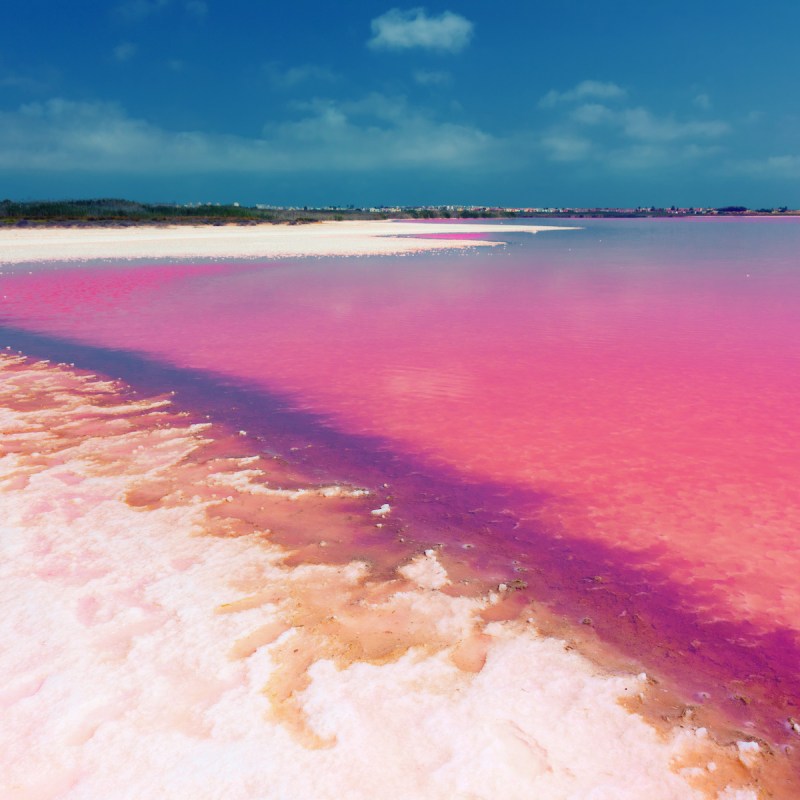 With its golden beaches, therapeutic pink salt lake, citrus orchards, and the origination of paella, Vega Baja del Segura on the Costa Blanca is quietly gaining popularity as a can't-miss destination. Though not as popular as its northern White Shore resort towns or its Costa del Sol neighbor, Vega Baja offers a quieter Spanish coastal experience.
Although northern Europeans, predominately Brits, know it well, the sun-kissed Mediterranean resort destination between Alicante and Cartagena has remained under the radar for many of us. Nearby beach resort areas might get more attention, but places like this 30-mile stretch of beach and inland small towns are what we love to discover.
In no specific order, here are five unique small towns to visit in Vega Baja del Segura on Spain's spectacular Costa Blanca.
1. Jacarilla
Jacarilla, a small town with over 2,100 people, lies in the center of Vega Baja. Most importantly, surrounding citrus and fruit groves support the local economy. Primary fruits grown around Jacarilla include lemons, mandarins, oranges, medlars, and almonds.
Jacarilla has become a popular vacation spot for those who enjoy a quiet family atmosphere and small-town appeal. Our British friends Glenn, Donna, and their Shih Tzu, Dino, prefer vacationing in more low-key Jacarilla than coastal towns.
In the town center, a historical palace complex built by the Marquis of Fontalba in 1920, Publico Palacio Marques de Fontalba Garden, was designed for a relaxing getaway. The two-story palace sits inside a delightfully landscaped park-like setting with a grotto, a sun clock, statues, fountains, palm trees, and lush greenery. Jacarilla also has an excellent public pool with a tapas bar.
Outside of town, take a hiking trail or bike throughout Vega Baja's sun-drenched countryside. Or, drive 10 minutes south for stunning views of the mineral-rich turquoise reservoir Embalse de la Pedrera from several observation points. A drive around the reservoir takes about 30 minutes.
Downtown has classic small Spanish shops such as a bakery, butcher, a supermarket, a few bars, and restaurants, including tapas.
Where To Eat And Drink In Jacarilla
Teteria la Cueva is a peaceful cave bar and teahouse on the edge of town in a quiet natural setting surrounded by orange groves. Whether sitting at a traditional table with chairs or stone tables and benches, the cave bar is an experience you'll never forget. Seating is available outside under the shade of mature trees or inside the cave, where you can order various teas, cocktails, wine, and milkshakes. The wine at Teteria la Cueva is extraordinary, but food is not served.
Pro Tip: Purchase tea to take home.
However, for an excellent midday meal, consider Cafe Bar Stamberg, known for its hearty menu del dia for a little over $10. A meal consists of a salad, a starter — typically a cocido or similar stew — an entree, bread, dessert, coffee, and a bottle of wine for two. If you enjoy snails, then order Caracoles Conejo.
Jacarilla Events Not To Miss
Jacarilla Fiesta Virgen del Belen: Jacarilla honors the patron saint Virgen de Belen during the fiesta in early September. On opening night, a dynamic fancy costumed parade involves dancing and floats, with most villagers participating, to start the celebration. The following nights include parties, concerts, a traditional ribbon race, a flower offering, and fireworks that typically last into early mornings.
Easter: Donna's favorite time of year in Jacarilla is Easter. After attending church on Good Friday, worshippers follow giant statues of Jesus on the cross and the local patron saint that participants carry around the village. Even for non-religious people, she feels the event is highly emotional and a must-have experience for lovers of culture.
2. Benijofar
15 minutes west of Southern Costa Blanca's beach resort town of Guardamar, Benijofar is another quiet community favored by ex-pats. Eat at The Yellow Rose of Texas for Mexican cuisine, then enjoy Benijofar's slower pace by visiting the Parque Canada Marsa, where ducks and geese wait for handouts. On Sundays, visit El Zoco Market on the outskirts of town for unique shops, crafts, food stands, fresh produce, and cheese.
3. San Miguel De Salinas
Halfway between Jacarilla and Torrevieja, San Miguel de Salinas sits on a hill offering a sweeping view of the Mediterranean Coast and the salt flats of Torrevieja. The small town of 8,000 also includes many ex-pats who enjoy its proximity to the coast.
With about 165 stalls, the Wednesday local market remains a year-round highlight, mainly because of its abundant fresh fruit and vegetables. Nearby Hipica Gilillo offers horseback riding tours from 1 hour to longer in tandem with equestrian facilities. For food and drinks with an outstanding Mediterranean atmosphere, look into Marimba Blue. Eat lamb chops and chicken fingers under the shade alongside its sizeable rectangular pool. Plus, the restaurant is dog-friendly.
Pro Tip: Climb the steps to the top of San Miguel Arcangel church's bell tower for an impressive view over the Vega Baja.
4. Guardamar Del Segura
Guardamar del Segura is another acclaimed small Spanish seaside resort town in Valencia's southern Alicante province. 7 miles of first-rate light brown beaches adjoin 2,000 acres of Mediterranean pine forest along its dunes. Orchards surround the town, while local shops, restaurants, and tapas bars are easily found inside city limits. On Wednesdays at the open market, purchase locally made goods and food and also get a haircut. Or, support shelter pups by shopping at S.A.T., a local animal rescue charity shop.
Pro Tip: For a nice view of Guardamar del Segura, visit Castell de Guardamar del Segura. Climb the top of the castle's fortress wall for a photo of canons overlooking the town and sea.
Guardamar Del Segura Beaches
Guardamar del Segura beaches each have distinctive characteristics ranging from boat charters to rows of umbrellas with food and drink stands nearby. For example, Playa de Tossals has significant sand dunes and thick vegetation for its nudists' privacy. At the same time, seafront cottages line the beach at Playa de La Babilonia. So whether your list includes family-friendly or more private experiences, Guardamar del Segura has enough varieties to meet your needs.
Guardamar Del Segura Food Specialties
Paella, Guardamar del Segura's most acclaimed cuisine, originated in this seaside town. The Valencian Mediterranean rice dish is usually served with seafood, poultry, or rabbit combinations. However, this Spanish region's most recognized paella ingredients are Guardamar king prawn and nyora, a sweet dried red pepper. Guardamar del Segura's premium king prawns and nyora are limited, but Guardamar del Segura produces the highest quality of each worldwide.
Where To Eat In Guardamar del Segura
Dine on the beach a few feet from the sea at Jaime Playa. Get an order of crispy hand-battered onion rings along with freshly grilled sardines. Check the schedule ahead of time since the restaurant closes in the off-season. Or, take a relaxing 5-minute walk from Jaime Playa through Parc de la Reina Sofia to eat at a favorite restaurant of Spanish locals, Terraza Sotavento. Finally, for a delicious meal overlooking a marina, go to the port on the Segura River for excellent fish dishes and a good menu del dia at Club Nautico Guardamar.
Hotel Guardamar
Only 50 meters from Playa Centro's downtown light brown beach, Hotel Guardamar offers exceptional accommodations at reasonable rates. Swim in a rooftop pool or a ground-level pool close to the restaurant and bar. One side of Hotel Guardamar has seaside views from spacious Mediterranean-styled rooms. However, rooms on the opposite side look over the charming downtown. From the hotel, guests can easily walk to downtown and nearby attractions Reina Sofia Park (.4 miles), Museo Arqueologico de Guardamar (.7 miles), and Castillo de Guardamar (.8 miles). The hotel's restaurant, bar, and cafe only serve food found on the Mediterranean diet for a healthier dining option.
5. Torrevieja
Torrevieja, yet another favorite beach resort town for ex-pats, lies 45 minutes south of Alicante between the shores of The Pink Lake of Torrevieja and 12 miles of sandy Costa Blanca beaches. The village was originally a quiet salt mining and fishing village until the 1980s when tourists discovered its beautiful beaches and the health benefits of the salt lakes. In addition, travelers enjoy its countless restaurants, tapas bars, and local shops. Above all, locally caught fresh seafood is a culinary highlight.
Now a favorite tourist destination in Vega Baja, Torrevieja offers many things to do for travelers. Visit local sites like Torre del Moro Park with its Moorish watchtower, which helped protect the Spanish coast from pirate attacks, or the Neoclassical church Parroquia Arciprestal de la Inmaculada Concepcion for history and culture lovers. For modern attractions, tour the S-61 Delfin Submarine Museum, Aquapark Flamingo, or local markets for locally grown produce and fresh fish caught from community fishing boats. For shoppers, Avenida de los Marineros provides an impressive esplanade lined with palm trees, fun shops, and several restaurants.
The Pink Lake Of Torrevieja
The Pink Lake of Torrevieja lies on the western outskirts of Torrevieja. Heavily condensed salt water mixed with a rare type of algae creates pink water rich in healthy antioxidants. Additionally, pink salt from the lake is harvested for its health benefits and then shipped to European countries. Around January to May, approximately 2,000 pink flamingos live on the lake during migratory seasons.
Pro Tip: Guided tours that take about 1 hour are available.