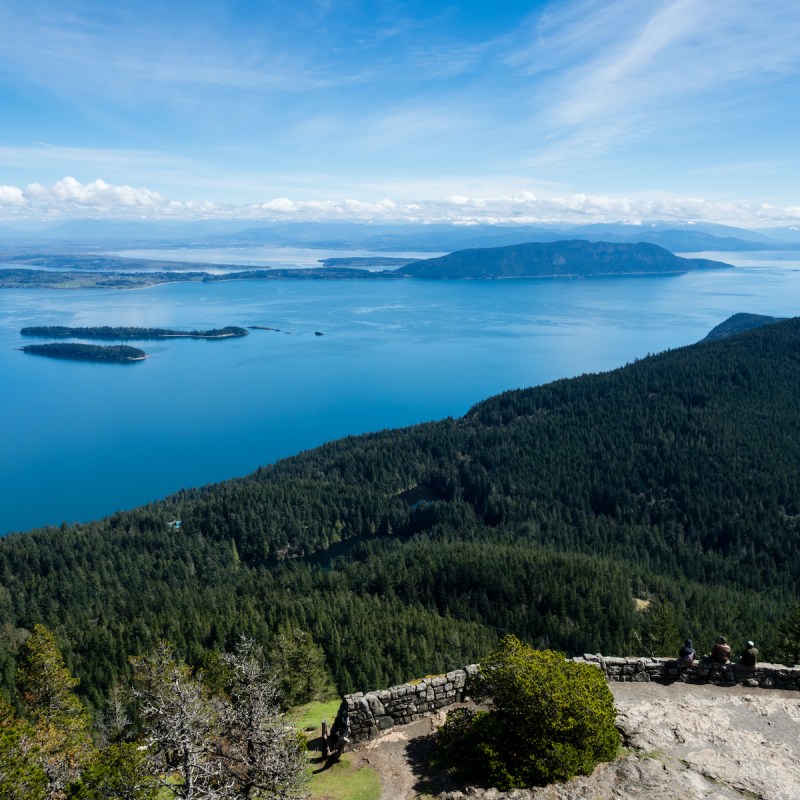 Go with the slow is a phrase used in the San Juan Islands referring to kicking back, taking the pace of life down a notch, and enjoying what the day brings. Living in the Pacific Northwest, I love everything the San Juan Islands offer outdoor adventurists, history buffs, artists, and wildlife lovers. My partner and I visit these beautiful islands frequently via our sailboat or hopping on our e-bikes and enjoying the ride aboard a Washington State ferry.
Wintertime, when the rush of tourists has vanished, leaving quiet streets to wander, is a wonderful season, also known as the shoulder season, to explore these islands in the upper Northwest corner of Washington State.
Each small town on these islands holds its own charm. Have a leisurely stroll through the local shops, now free of the tourist crowds, to find artisan gifts, antiques, or the perfect novel to curl up with in a beachside cabin. When you have turned the last page and read the final word, it may be time to head outdoors to savor the San Juans. Here are six suggestions to get you started.
1. Winter Birds
The very word winter may conjure up thoughts of hunkering down, but for avid nature lovers, the San Juan's are a haven for an array of migrating birds, many of who only flock here between the fall and spring months.
Hop aboard a Washington State Ferry and soak in the beauty of nature as you wind through the islands' inlets on your way to the three main islands the ferry system serves: San Juan, Orcas, and Lopez Islands. Then, lace up those boots and grab your binoculars, it's time to go bird watching in the San Juan's.
The Puget Loop Of The Great Washington State Birding Trail
Orcas, Lopez, and San Juan Island are participants in the Puget Loop of The Great Washington State Birding Trail, where birders can easily access locations of current regional species. Some of the most common winter birds to be spotted are the majestic trumpeter swans. Usually seen around ponds, lakes, and marshes such as Egg Lake on San Juan Island, these swans mate for life. They commonly are seen traveling together in pairs, in family groups, and even with the more common Canadian geese.
There are many varieties of ducks to be seen on the shores of the islands including Harlequin ducks, known for the distinct white spots near their ears. For a real treat keep your binoculars scanning the shoreline for a glimpse at the visiting Pacific loons bobbing up and down amongst the waves. With very good luck, you may even spot a Southern Resident orca whale.
Cattle Point and South Beach on San Juan Island are advantageous viewing areas. The list of wintering birds is long indeed and can be seen at the San Juan Islands Audobon Society.
2. Forest Bathing Hikes And Beach Combing Walks
Escaping the hustle of daily life, even for a short period, is beneficial for our health, which is why time spent immersed in nature, slowing down with an activity like forest bathing, feels good to us.
Forest bathing is simply taking in the forest atmosphere around you, and it is easily incorporated into walks and hikes. During winter, these simple, quiet, wooded walks, especially strolling in solitude along stormy beaches, offers a meditation of rolling waves.
Editor's Note: Want to learn more about forest bathing? Read fellow traveler Jill Browne's take on forest bathing for the first time.
American Camp National Historical Park
The perfect place to forest bathe and beach comb is at American Camp National Historical Park on San Juan island. Hike through the grassy meadows and along the cliffs overlooking the Strait of Juan de Fuca, a perfect vantage point to watch a storm roll in, feeling the awesome power of Mother Nature. Below, the longest public beach on the islands stretches along for 2 miles. Beach comb through the piles of driftwood while listening to the waves crash or scan the pebbly shore for a souvenir to remember your time walking these island beaches.
Moran State Park
If you fancy a wooded walk for a day of bathing under the forest canopy, head to Moran State Park on Orcas, where a 4-mile hike around Mountain Lake leads you through a pristine, tranquil forest of cedar and fir trees.
Pro Tip: There is a free inter-island ferry serving passengers between Orcas, Lopez, and San Juan Islands, making sightseeing between islands effortless.
3. San Juan Island Museums
With the Pacific Northwest known for its rainfall, the San Juan Islands generally escape this wet weather by being in a rainshadow. Receiving as little as 15 inches of annual rainfall (compared to Seattle's 40 inches), these islands lean closer to a mild, temperate climate, making the cooler months of the year an enjoyable time to visit. But when the wind kicks up ducking indoors becomes a favorable retreat. On days like these, begin with brunch at a local cafe in Friday Harbor, Eastsound, or Lopez Village followed by a leisurely afternoon tucked away inside one of the many enchanting museums or art galleries.
The Whale Museum
A favorite place to visit while in Friday Harbor is the Whale Museum. A natural history museum founded in 1979, the Whale Museum inhabits two floors full of exhibits as well as educational resources, all on marine mammals throughout the Salish Sea. There is a primary focus on the resident orca pods including a chart showing their lineage throughout the decades. But what is most impressive is the museum's stewardship of these whales through various educational and research programs, leaving you with a sense of hope for the future that these great giants will not be lost.
San Juan Islands Museum Of Art
Friday Harbor is home to many artists. The San Juan Islands Museum of Art, located right on Spring street, is a haven for local art exhibits, including Indigenous art from all around the Pacific Northwest.
4. San Juan Island Lighthouses
San Juan Island is graced with not one but two lighthouses, Lime Kiln Lighthouse and Cattle Point Lighthouse, and during winter you'll find them less crowded. Both of these majestic sentries have been guiding vessels entering the Haro Strait and waters of the San Juan Islands from the Strait of Juan de Fuca for over a century.
Cattle Point Lighthouse
Located inside Cattle Point Interpretive Center, near American Camp, a short path through meadow grass leads you to Cattle Point Lighthouse. The picturesque views stretch out to the Olympic and Cascade Mountains and over the surrounding islands. Seals and sea lions enjoy lounging on the rocky hillsides below this historic building. One full of rich stories involving armies, ships, and, of course, cattle (hence the name).
Lime Kiln Point State Park
Spend an afternoon inside Lime Kiln Point State Park enjoying the informative visitor center, trails along craggy shores, and, of course, wildlife. This lighthouse, a designated historical site, looks out over Haro Strait and has become a popular spot for whale watchers (sometimes known affectionately as Dorcas for their obsession with orca whales).
Pro Tip: The Southern Resident orca whale pods are wild animals. They follow the native salmon runs throughout the Salish Sea. Sadly, with diminishing salmon populations, the orcas sometimes must hunt for food further out to sea, meaning their time spent around Lime Kiln Point is unpredictable and less frequent than it once was.
5. San Juan Island Spa Experiences
After a day hiking, walking, and exploring in the elements, nothing is better than treating yourself to a massage or perhaps a long, hot soak. Wherever your trails lead you, the islands have many spas to soothe your body and soul.
In Friday Harbor, a few blocks up from the ferry landing, find Lavendera Massage. Here they specialize in couples massage, pampering both of you for an afternoon. Their highly experienced therapists tailor each session to meet your every need.
The Spa at Earthbox, located in the center of town, will indulge anyone's senses in luxury as will the Spa at Rosario on Orcas Island. At this resort, all your tensions lift as you swim in the warm waters of their beautiful, historic indoor pool.
Where To Stay
Once the shopping, hiking, or birding expeditions are done for the day, head back to one of the cozy hotels or bed and breakfasts found on the island.
Many are within walking distance of restaurants and shops, such as Island Inn in Friday Harbor. Literally steps from the ferry and float-plane docks, this eco-designed boutique hotel boasts sophistication and a switch-on fireplace perfect for snuggling up in front of with that good book you purchased in town. Combine your fireside read with a glass of local wine from Madrone Cellars (just up the street) and you have created a perfect evening.
Island Inn looks out over the harbor, making this an advantageous spot for viewing the incoming ferry as well as storm watching, all while you remain tucked inside.
On Orcas Island, find Rosario Resort, a haven of quiet elegance overlooking the bay, or try Doe Bay Resort, where guests receive access to their world-famous hot springs and sauna. Watch the steam from these pools swirl into the crisp air as you release your worries and sink into the moment. Certainly an experience not to be missed. It's very soothing after a day hiking Moran State Park or exploring the island.
Pro Tip: Do note Doe Bay's hot tubs and saunas are clothing optional.